Retail trade businesses worldwide have experienced hard times due to the pandemic. People had to limit shopping on-site due to the lockdown and overall financial crisis. However, such circumstances have caused the rise of mCommerce - online shopping via mobile devices. It helped many retail companies not only to survive but also increase their profits in such challenging times. If you still operate as an offline retailer, it is a great time to move your trading activities online.
The mCommerce trend is going to grow in the next few years. The question is how to create a retail app that will help your business to reach the most of your target market and strengthen your brand's position among competitors. Here are the key points to consider before starting the development.
Why Should You Make Your Own Retail App?
While online purchasing is not new, the market share of online retail trading is actively growing. The retail market is actively extending its online segment, and according to Statista, 22% of all retail sales will be made online by 2023: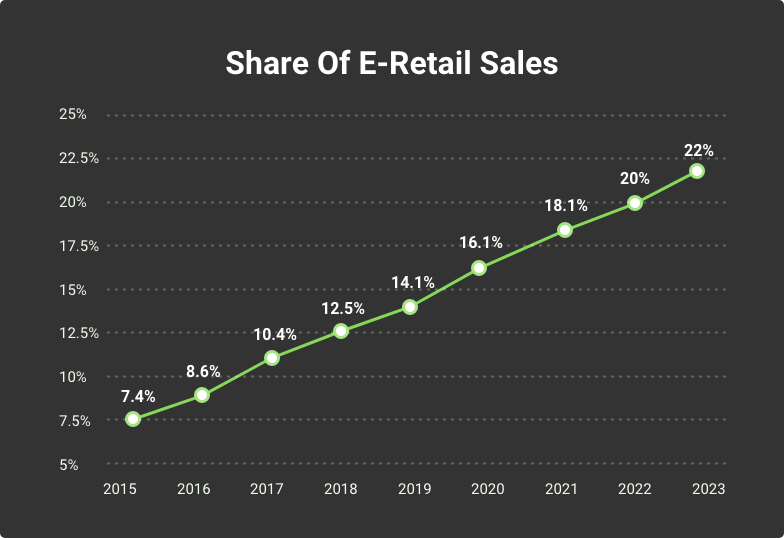 Worldwide e-commerce share of retail sales 2015-2023
The rise of online purchasing is due to a combination of numerous factors, including:
The growing use of smartphones worldwide
The growth of mobile shopping popularity
Social media and social commerce
Changes in shopping behaviors among Baby Boomers, Millennials, and Generation Z
Limitations due to the COVID-19
It wouldn't be fair to say that only lockdown has caused the rise of online retail apps. Yes, customers were physically limited from going to stores to shop as usual. However, today it is a general tendency of numerous activities: people prefer to do things via their mobile devices. There are many advantages: it saves time, it is accessible from anywhere at any moment, and it is very convenient. Among other activities, the compound annual growth rate (CAGR) of global at-home use of mobile shopping apps between 2017 and 2021 is estimated at 40%: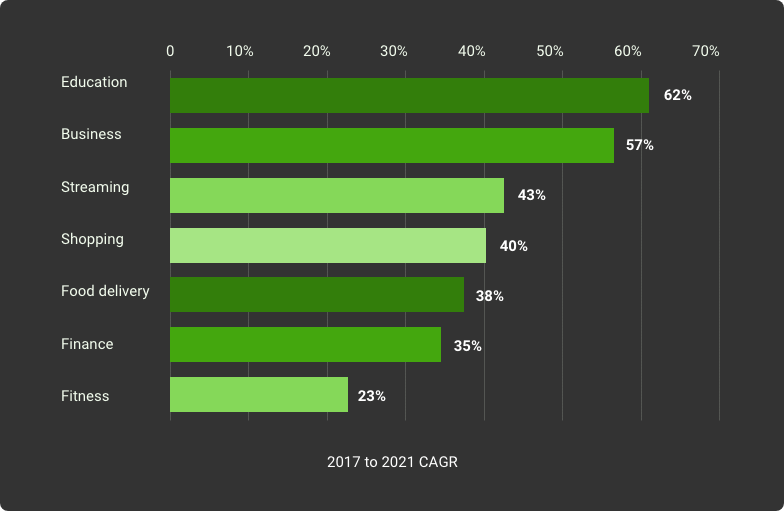 CAGR of time spent on mobile app activities globally 2017-2021
One more Statista report states that in 2021 mCommerce will generate 72.9% of global retail e-commerce sales. It means that 72.9% of purchases will be made from mobile devices, mainly smartphones.
To be clear, a mobile user can shop online both on the website or inside an app. But statistically, more than 90% of internet time is spent on mobile apps: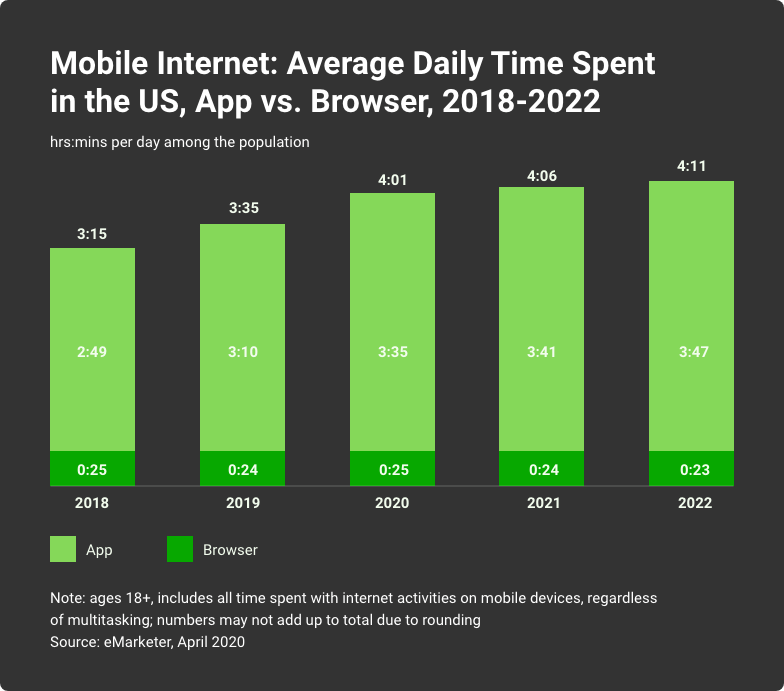 Average Daily Time Spent on Mobile Devices Connected to the Internet
Benefits of Mobile Retail Apps
People tend to use mobile apps more than websites. That is why offering retail services via a mobile application is more likely to please customers than forcing them to make purchases via a website. Better customer satisfaction means more sales and higher loyalty to a brand. Here are more reasons to think about custom mobile app development for retail business:
1. Retail App Helps to Expand Your Audience
Some customers shop via apps only. And it is almost impossible to make them change this habit. It is much easier to reach this part of your target audience by developing a handy retail application. Due to the pandemic, more people simply got used to shopping through apps and won't go back to shopping offline after the pandemic.
Having a handy channel for online sales extends the geography of your customers. Considering that mobile users prefer apps over websites in approximately 90% of cases, the mobile application is a must-have for a modern retail business.
2. Mobile Applications Cater to Cross-Channel Customers
A modern user is omnichannel. Google states that 6 in 10 internet users begin shopping on one device and continue or finish on another. About 82% of smartphone users find product information online and consult regarding the purchases they are going to make in a store. That's why it is essential to provide cross-device personalization to close purchases. Such personalization is possible if you make a retail app that saves all user history and displays personalized content regardless of the mobile device.
Another significant value of retail applications is their capabilities for providing a cross-channel approach to blur the division between the online and offline shopping experience. Customers tend to spend more when they can easily switch between smoothly connected channels.
3. Boosting Your Customer Loyalty
A mobile application is a powerful loyalty tool, as it allows tightly keeping in touch with customers wherever they are. You can send useful information to each customer based on individual preferences and activities and provide personalized exclusive offers and discounts. By launching a mobile app, you get plenty of marketing tools to boost loyalty to your brand.
4. Apps Help to Deeper Analyze Consumer Behavior
Within the app subscription, you can track the shopping behavior of each customer much better. Collect information about your consumers' purchasing habits to make more grounded business decisions. Such analytics also provides a highly personalized shopping experience for more robust customer engagement and higher conversions.
5. Enhancing the In-Store Shopping Experience
You can allow store checkouts via a mobile app that will help customers to avoid queues. Also, you can get instant access to stock availability information and item location and provide mobile receipts. All these features make in-store shopping more convenient and enhance the customer experience with the brand.
6. Utilizing Smartphone Features
Smartphone features allow implementing additional functionality for retail apps that is not available for web applications. Camera, GPS, accelerometer, contact list, and many other features make the user experience more interactive and exciting. It allows optimizing the customer journey from observing the product list to checkout. For example, you can simplify payments using Apple Pay and NFS. Apps allow using a phone camera for credit card scanning, auto-fill personal details, etc. All this increases usability and makes it faster to complete an order. Better automation and convenience help reduce cart abandonment, and therefore, increase sales.
7. Ability to Work Offline
While mobile applications require an internet connection to perform most features, they still offer basic functionality and content in offline mode. Once loaded while the app is connected to the internet, the content remains accessible in offline mode. Users don't need to re-login to use the app, browse goods, read reviews, calculate delivery, etc. An app that works offline gives a much better customer experience. Accessing an app at any moment from any location, regardless of the internet connectivity, leads to higher customer loyalty and retention.
Creating retail applications with customers in mind is our specialty. Get a high-end solution to match your marketing needs with your customers' expectations with KeyUA.
Get In Touch
TOP Features for a Retail App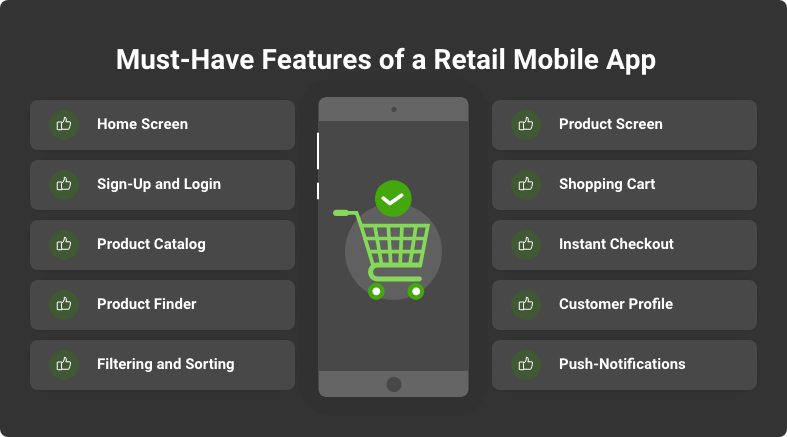 Must-Have Features of a Retail Mobile Application
Before you develop a mobile app for a retail business, think over the desired functionality based on the provided services and your target customers' needs. There are two main types of purchases that can be done via a mobile application:
Online order: a customer orders goods from an online store and they are delivered to the specified location.
Retail order: customers purchase goods in physical stores and process payment online via the app to avoid queues.
Some applications offer only one type of order, while many offer both at once. For instance, the Walmart application combines functionalities for both online shopping and in-store experience.
Below let's consider the TOP list of features currently on demand for retail mobile app development. Your own choice may vary, as each case is unique. However, you will have a clear picture of what options your future app may provide to customers.
1. Home Screen
It is the first screen a user sees when entering the app. It should display the main app features, such as search bar, product categories, menu, profile, shopping cart icons, special offers, and other important announcements.
The content of the home screen may vary. It should not overload the user with information or contain too many small elements that are hard to navigate. To optimize usability, you can dedicate the main area to product categories or new arrivals and hide other features under the menu icon. This way, a user will have quick access to all available options while focusing on products.
2. Sign-Up and Login
The latest retail apps allow customers to browse products and make orders without sign up or log in. Creating a profile should be optional yet bring additional benefits for users. Also, a customer should not be asked to re-login every time they open the application.
While login is not a mandatory requirement, users should get additional comfort when authorized. For instance, you can provide:
More personalized product lists
Special offers relevant to the customer's previous orders
Pre-filling order details for a quick checkout.
Another helpful add-on is keeping the chosen items in the cart after a user closes the app. The next time they return, the cart should be updated according to the current product availability in stock. Also, take care of multiple sign-up and login options, including login/sign-up via social media accounts, email, phone number, and standard login and password. Users might have personal preferences on this.
3. Product Catalog
As a rule, there are many product categories. It makes sense to have a separate product list for each category. Visualization is crucial for usability. That is why usually, each category is represented by a product image and a category name. Some applications prefer to list categories with their names only. The method used depends on the type of product. The product catalog can also contain additional lists, such as:
Sales items: products that currently have discount prices
Trending: the most popular items or those currently in demand (useful for clothes, accessories, and other product types sensitive to fashion, season, or certain events).
New arrivals: this list contains the latest items added to the catalog. Users often want to see what's new first.
4. Product Finder
A smart product search option is a must, even if your catalog doesn't contain hundreds of items. Many users want to find what they are looking for in the shortest possible time. A customer needs to search items by various keywords, including product name, size, color, category, brand, etc. Product finder options should be available from most app screens for user convenience.
5. Filtering and Sorting
Filtering options help a customer to extract product items that fit their set of criteria. If you create a retail mobile app for a clothing store, the filtering parameters should contain:
Product category
Size
Color
Season
Brand
Materials
Style
Details
Pattern
Availability in stock
Sometimes filters also feature 'Discount only' or 'On sale' options to display products currently offered at lowered prices.
Sorting helps to order products in the catalog or search results by the chosen parameters. Usually, it is price, popularity, latest first, discounted, and size.
6. Product Screen
This screen contains all details related to a product. Depending on the type of goods, it displays various characteristics, prices, images, and videos. If it is clothes, shoes, cosmetics, or jewelry, it is worth adding "Try-on options" that utilize augmented reality (AR) technology. Customers can check how items will look on them. Another try-out option for retail apps is the ability to reserve products and try them out further in-store.

Product Details Screen with Try-On Options
Try-on capabilities help for making better choices and convince customers of product suitability. When shopping online, it is essential to give an in-store-like experience and save users' time while choosing products.
7. Shopping Cart
By analogy with an in-store cart, online customers can add various items to their virtual shopping cart for further payment. Here, they can add or remove items, change the quantity, go to the product page, and quickly get to the checkout screen.
8. Instant Checkout
The checkout screen allows choosing delivery and payment options, insert coupon codes, and finally, place an order. All this should take minimum time for a customer to complete the order. Users don't like to fill in lots of details, travel through multiple pop-ups and lose time finding all the necessary delivery information. They also do not want to be met with various additional fees on the last step before clicking to pay. It is one of the most popular reasons for cart abandonment. When you build a retail app, make the checkout process contain the fewest steps possible.
To streamline the checkout process, avoid making customers enter the delivery address every time, display the previously used payment method as chosen by default. Such things simplify the process and enable more sales.
9. Customer Profile
A customer profile screen may display personal details, product history, wish lists, delivery addresses, and confirmed payment details. It can also display the available coupons and special offers, loyalty programs, and other specific user details. The profile screen should also provide the ability to edit these details.
10. Push-Notifications
This is one of the vital marketing options to stay in touch with the customer in a personalized and effective manner. It should be optional: when opening a mobile app for the first time, a user is asked if they want to get notifications from this application.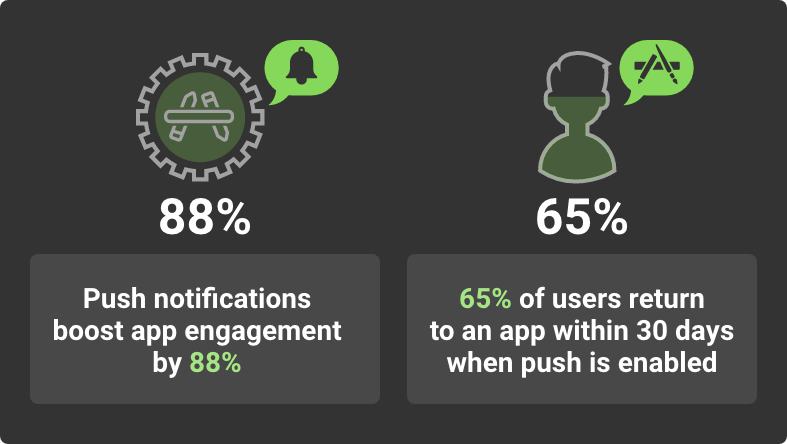 The Marketing Effectiveness Of Push-Notifications
A key point here is that push-notifications should be personalized and valid for a customer. When a user sees something interesting in the notification pop-up, they will open the application and continue their experience. Standard types of content for such notifications are:
Reminders of the products left in a cart
Special offers, discounts, sales, etc.
Information about new arrivals
Personalized product selection
Changed prices for wishlist products
By collecting information about customers' activity, you can produce highly convertible push-notifications. They will keep them interested in active interaction with your brand and increase your profit.
There are more features that your custom retail app can utilize. For example, you can integrate some navigation features like finding the stores near your location, checking the product availability in a specific store, etc. Or an in-store experience like scanning the product barcode to get the complete information.
International brands should think about providing multi-language support for the app UI. Multilingual apps adapt text content and provide automatic currency conversion, time localization, and other add-ons.
The development scale and the selected features depend on your goals, budget, and available time frame. Some companies prefer to start with basic functionality followed by further updates with new features. Other companies prefer to launch a mobile app for a retail store with all features on-board. It takes longer yet gives customers a more comfortable and fun application experience.
Cost of a Custom Retail App Development
Chosen features don't just define the final project price. It also affects other factors, such as the development platform selected (native or cross-platform), design complexity, backend infrastructure, required administrative tools, and more.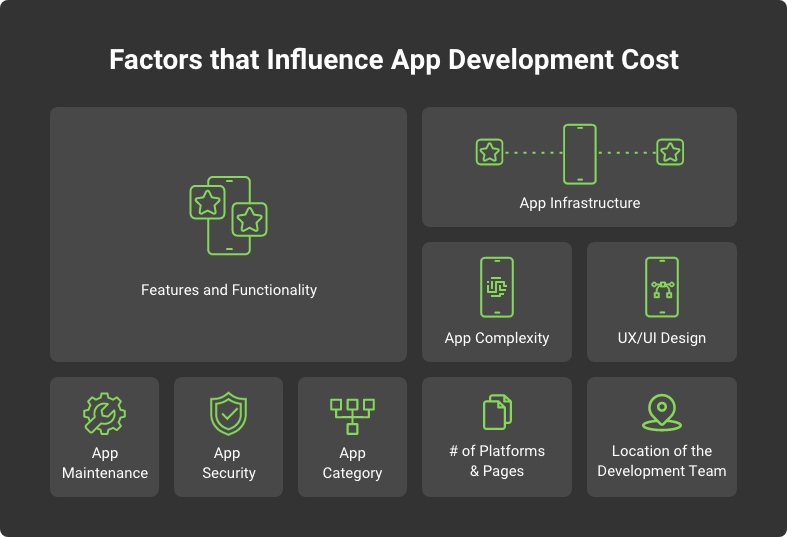 Factors that Influence App Development Cost
Depending on the project complexity, you will need retail mobile app developers with different expertise levels and pricing. Moreover, the rates highly vary from country to country. Here are the mobile app development cost statistics from a recent GoodFirms survey:
| | | | |
| --- | --- | --- | --- |
| Region | iOS(Avg. $/Hr) | Android(Avg. $/Hr) | Cross-Platform(Avg. $/Hr) |
| Canada | 90 - 130 | 100 - 130 | 90 - 130 |
| The USA | 110 - 150 | 100 - 150 | 100 - 150 |
| Latin America | 40 - 50 | 35 - 50 | 35 - 50 |
| The UK | 60 - 75 | 60 - 75 | 55 - 75 |
| Europe | 35 - 55 | 35 - 55 | 30 - 50 |
| Ukraine | 30 - 35 | 30 - 35 | 30 - 35 |
| South Africa | 45 - 80 | 40 - 80 | 40 - 80 |
| India | 20 - 30 | 15 - 25 | 20 - 30 |
| Southeast Asia | 35 - 45 | 30 - 45 | 30 - 45 |
| Asia | 25 - 35 | 20 - 30 | 25 - 35 |
| Australia | 90 - 120 | 100 - 120 | 90 - 120 |
Average Hourly Rates for App Developers in Different Countries
The project cost also depends on the development time: various teams can give you different estimated time frames. Let's take the average minimum and maximum developer hourly rates at $65/h and $100/h respective for rough budget calculations:
| | | | | |
| --- | --- | --- | --- | --- |
| Mobile App Complexity | Features Included | Time frameIn person-hours | Total Cost at $65/Hr | Total Cost at $100/Hr |
| Simple App | Basic User Features & App Admin | 382 - 910 | $24,830 - $59,150 | $38,200 - $91,000 |
| Complex App | Complex + Basic User Features & App Admin | 555 - 1310 | $36,075 - $85,150 | $55,500 - $131,000 |
| Advanced App | Advanced + Complex + Basic User Features & Admin | 915 - 2110 | $59,475 - $137,150 | $91,500 - $211,000 |
The Approximate Development Time and Cost For Retail App Development
A simple mobile app for the retail industry can be implemented using ready-made solutions adjusted to specific needs. More complex functionality usually requires custom retail app development with unique solutions written from scratch. Often, clients mistakenly think that custom retail software development is overpriced. However, in many cases, it would take much less time to build an application from scratch than rewriting existing solutions, adapting them to specific requirements.;
The practical process of creating an app starts with an MVP development. MVP stands for Minimum Viable Product, an early product release that contains the essential unique features. It takes significantly less money and time to deliver a product to the market and start getting valuable feedback from real customers. Based on that feedback, you will clearly see what else your customers expect to see in the application and which features are worth investing in.
One of the best ways to save a decent amount of money is outsourcing the development to a software company from countries with cheaper rates. Teams from Eastern Europe provide robust yet affordable development services. Paying $30-$35 per hour instead of $100-$150 per hour will help you optimize the budget and develop additional features.
The Best Retail Mobile App Samples
Here are a few apps from the retail market leaders.
1. Walmart

About one-third of the US population shop in Walmart stores every week. Its mobile application allows ordering goods online or optimizing their in-store shopping experience. Customers can plan shopping trips on their mobile phones. They also can check the availability and prices in a specific store, set up regular re-order and delivery, and do many other goodies. That is why Walmart is the second most popular mobile shopping application in the USA after Amazon.
2. IKEA

Besides standard handy product catalogs and product info functionality, Ikea offers a very cool option: customers can 'try-on' various furniture and other products in their houses. It is the best possible way to check how a particular product matches your interior. It is provided via a separate IKEA Place app that is currently available for IOS users only.
3. Sephora

The Sephora application is popular well beyond the market regions it covers. Cosmetic lovers worldwide use it to read genuine reviews about the best products from the cosmetic industry. It also features virtual makeup try-on for eye, lip, and cheek products and lots of beauty tips.
Download and test these apps in action to see their pros and cons and get inspiration for your project. They are the results of thorough marketing research and expert designers and developers.
Final thoughts
Today's retail mobile applications are not only an additional way to make orders. They allow improving in-store experience, developing customer loyalty, and standing out from competitors. The app's effectiveness in all these aspects depends on understanding your target customers' needs, app usability, and stability. To unlock this potential for your business's growth, hire a professional retail app development team.
KeyUA experts can assist you in every stage of app design, from initial specs brainstorming to the development, testing, and maintenance. Based on your needs, we will suggest the optimum solution within your budget and time expectations. Improve your commercial success with a robust retail application!
Get a mobile application that customers will be happy to use for shopping online. Hire the TOP mobile developers.
Contact Us