It was once hard to imagine that there would be no need to travel to have a business meeting or fly thousands of miles to see loved ones. Video calling applications became game-changers in communication. And during the Covid-19 pandemic, these highly popular platforms have helped dozens of corporations keep their workers safe. Lockdowns forced companies to transfer their employees to work from home, but maintaining communication remained highly crucial. That is where Zoom, FaceTime, GoogleMeet tools came in handy.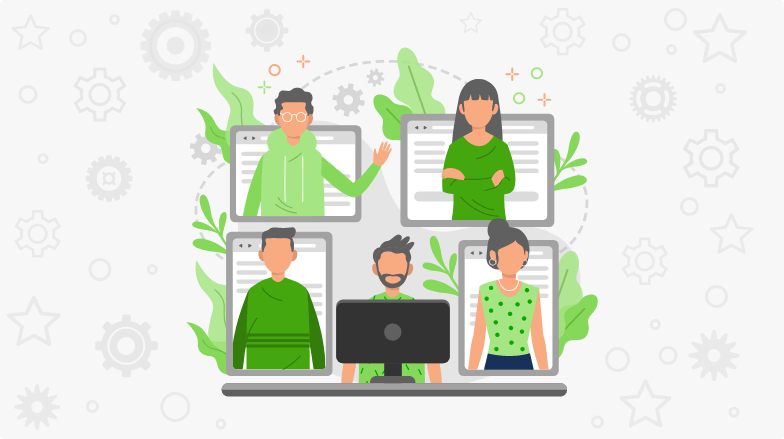 Web Conferencing App During COVID-19 Outbreak
Video conferencing apps have become an integral part of maintaining businesses during a worldwide pandemic situation. Companies that never felt the need to develop an app like Zoom started using such platforms daily.
Houseparty, Microsoft Teams, Zoom Cloud Meetings, Hangouts, and other popular software solutions are now actively used in all countries and various industries. As of the beginning of lockdown in March, the world saw 62 million downloads, which is 2000 times more than the same period in 2019.

The average number of video conferencing app downloads weekly
The Importance of Using a Cloud Meetings App in Business
In business, not using technologies puts entrepreneurs at a severe competitive disadvantage, causing a loss of customers and shareholders. Developing a video chat app drives modern companies in many ways.
1. Reduced Costs on Labor
A significant number of companies realize that having employees work from home not only saves costs but also considerably increases productivity and efficiency. The critical concern here is how to manage remote teams, and the answer is quite simple - video and calling conferencing applications.
2. Video Conferencing is Engaging
I may have only seen you on Zoom, but when paths finally cross, it no longer feels as if I'm meeting a stranger. We recognize one another,

as claimed by Srini Koushik, the CEO of Magellan Health.
Phone calls can't show emotions and feelings, but including video makes the conversation more interactive and efficient. You can see body language and establish eye contact, which is quite useful for gaining reliable communication.
3. It Allows to Have Teams Across the World
Dispersing teams to operate in different countries is no longer a surprise or shocking occasion. With software solutions and mobile apps, development teams can work from any distance: a US company can hire professionals in Ukraine, a German company can have employees in Romania, and Switzerland can have 40% of its R&D operations in West Europe.
Types of Video Chat Applications
Building a calling app may seem like a straightforward deal, with only a few features included. However, there are several different types of platforms.
Video Conferencing Platform
Google Hangouts, Zoom, and Cisco WebEx are the most popular software solutions for connecting teams at a distance. Besides the apparent video sharing features, these applications allow you to record the conference, add/remove teams, and customize the profile.
While conference applications are designed to communicate with more than two people, video calling platforms are better for one-to-one conversations. Whether you need to conduct an interview with a candidate or discuss periodic issues, this simple application is a perfect match.
Since these types of applications were initially created as social media entertainment platforms, their main focus is not video conferencing. The main ones include Instagram, Facebook Messenger, Viber, and JusTalk. Besides video calls, they offer chat, information channels, and photo-sharing, among other features, so businesses do not use them to conduct official conferences.
List of the Best Video Conferencing Apps in 2021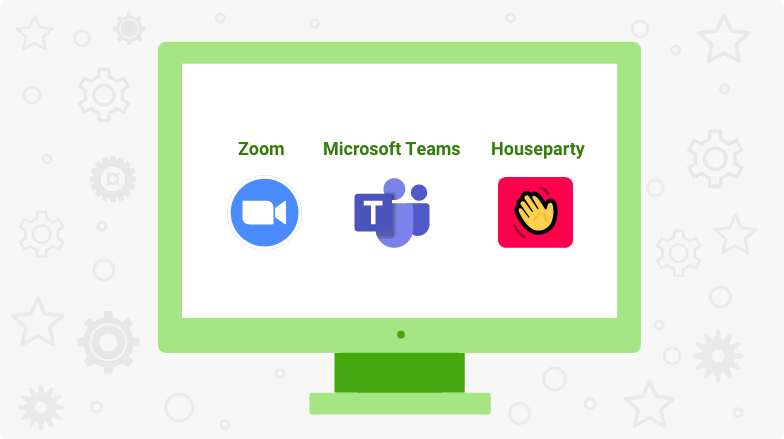 To design multi-functional and distinctive applications to hold video calls, we have collected a chain of the most-used platforms to see their brilliance and convenience in use.
Zoom
From governmental establishments to religious organizations, Zoom has gained recognition for several reasons. First, Zoom does not require an account; a person only needs to have an application on the phone or other device and a link-invitation. Zoom also has calendar integration, meaning that both parties of the conference may mark the events, set notifications, and respond to the invitations. The application operates on Windows, iOS, Linux, Android.
Houseparty
Houseparty is a less official application that is not as popular among companies as Zoom. It is a social media platform that can gather up to 8 people. The "conferences" are called "rooms," and a user can easily switch between them. The platform is connected to Snapchat, so the process of signing up is easy and fast.
Microsoft Teams
This video meeting app allows its users to share information, create tasks, track its completion, send greetings to new members, and send birthday cards. Moreover, it has the latest security certificates such as ISO 27001, SOC 2, and HIPAA, which guarantees all data exchange protection.
Why Do You Need to Create Your Own Video Call App in 2021?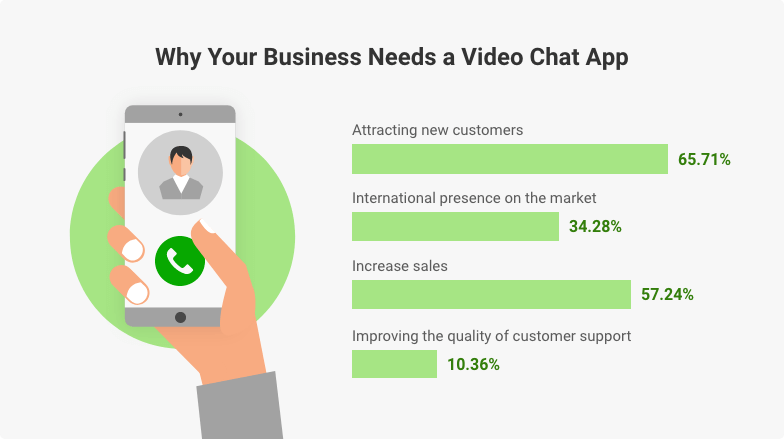 Investing in developing a web conferencing app can bring enormous benefits to your business in a digitalized market. For your clear understanding, let's see the key benefits of directing your strategies for designing a cutting-edge video meeting application.
Endless business opportunities. Creating a video conferencing platform means having new customers worldwide, an international presence on the market, and more recognition.

Increase sales. This benefit refers to eCommerce platforms that deal with services and goods. If a customer is confused about the purchasing process or wants to have detailed information about the item, the sales manager can offer a video call to provide thorough guidance.
Customer support services. These days, the bar must be raised for online assistance, and with a cloud meeting app, this feature is possible. People feel much more secure when they see a person responding to their concerns rather than talking to a robot.
MVP Application: Things to Know
Creating an MVP (Minimum Viable Product) allows you to run a product with a minimum set of features, and thus requires fewer costs. It lets you test the application, analyze customers' responses to it, and see if they accept it. Moreover, by collecting feedback from users who use the MVP, you can revise the weaknesses and improve quality. Here are examples of features for a video conference MVP.
Create a Profile
Whether your application will require registration or not, every user needs to fulfill key information to build an account. They must be able to indicate an email or phone number, set the password, insert a profile picture, add their date of birth, and include personal data.
Contact List
Typically, a contact list can be created manually or through integrating the application with the phone's contact list. MVP testing will allow you to see if users find integration useful and practical or prefer to build an in-app contact list manually.
Video and Voice Calls
The primary feature to add to your MVP is voice and video calls. Text chatting is also a critical component to include participants to exchange documents and photos.
Push Notification Feature
Indeed, notifications are essential in every similar application. The users want to be informed of incoming and missed calls, new messages, and updates.
How to Create a Video Chat App: Step by Step
Now that you've come up with the decision to create a video calling app, let's delve into the development process's peculiarities, including what specialists you need and how to manage each stage of project execution.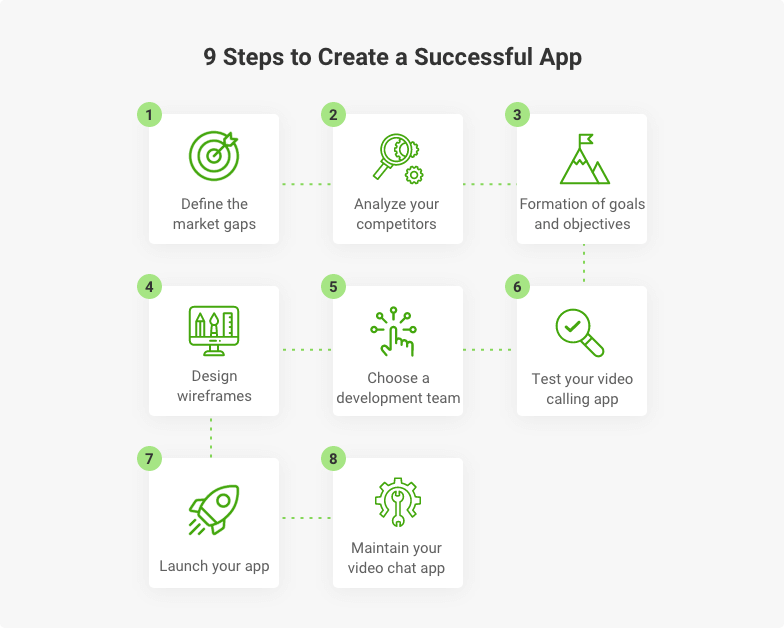 Step 1: Define the Market Gaps and Analyze Your Competitors
A successful business must start with thorough market research, or your impetuous idea is doomed to failure. The mobile app market is changing quite dynamically with new trends and needs evolving by the moment. With this in mind, you must answer the following questions:
Who is your competitor, and what are their product's weaknesses?

Who is the target client? What's the best way to reach them?

What are the customers' needs, expectations, and behavior?

What are the perspectives on the global market?

How are video conference apps monetize?
Step 2: Shaping the App's Purpose and Goals
Now it's time to build the core of your product. Since you have created a profile of your potential user, and know in-depth aspects of competitors' products, map out your application's profile.
What will be the primary and additional features?

What is the biggest problem for modern users, and how will I solve it with my app?

What payment integration and subscription options should be included (free, monthly, and annual membership, business plan)?
Step 3: UI/UX Design
The app should not only be functional and easy-to-use but also have an appealing and convenient interface and distinctive design. Therefore, consider how the following will look:
The color and logo of your future app

The onboarding screen and sign in field

The menu bar and other buttons
Step 4: Hire a Development Team
There are numerous ways to build a professional team of IT experts: outsourcing, freelance workers, or traditional in-house. No matter which hiring model you choose, the positions to consider include:
Project Manager - a person that will take responsibility for staff management, timeframes, and the overall project stream.

Backend Developers - "behind-the-scenes" of your application is done by backend developers, who use different tech stacks to align with your requirements.

CTO (Chief Technical Officer) - an expert who takes care of all technical matters (highly useful if you lack technical skills).

Mobile developers - hiring full-stack developers is a good idea; however, to hit the spot and target a specific OS, it is better to hire iOS developers or Android coders accordingly.

UI/UX designers and QA Specialists.
Step 5: Test and Release but Update and Maintain
All apps require testing and debugging. Quite often, the application may show bugs during use, thus maintaining the platform is as crucial as other stages. Moreover, every existing mobile application offers constant updates, including extra features, more convenient and affordable membership plans, referral programs, and an opportunity to download the app to devices that weren't available initially.
What Tech Stack to Use to Develop a Video Chat App?
With such a variety of coding languages available, it can be quite challenging to find one that meets all your mobile application's needs. When you target Android and iOS operating systems, the best technology to refer to is native mobile development.
Android Mobile App
The two most-used programming languages for building Android apps are Kotlin and Java. Kotlin is preferred by 72.6% of developers globally, and Java is used and loved by 53.4%. Java is recognized among developers for its open-source nature, various frameworks and libraries, and an extensive set of features. Kotlin is gaining momentum due to its lightweight and clean pattern, which allows users to overcome deficiencies more easily than with Java.
iOS Mobile App
Objective-C and Swift are two popular tech stacks that present clean and errors-minimum code. Both languages have dynamic libraries that can be uploaded directly into the memory, thus considerably decreasing the application's size. The libraries also enable developers to develop the app quickly and guarantee excellent app performance.
How do Video Conference Apps Make Money?
As of the first quarter of 2020, Zoom representatives noted 169% sales growth compared to the same period in 2019. Today, the corporation's revenues are $328 million, and sales will continue growing as the number of users increase.
Let's define the ways video conference apps make money and how monetizingbetter than Zoom.
1. Subscriptions
Even though most video call platforms are free to download and use, they all offer paid plans. For example, Zoom has the following choices: Pro Plan - $14.99 a month (larger cloud recording, profile management control, and customized personal meetings), Business Plan - $19.99 (customer support, admin dashboard, a customized interface for corporate branding), and Enterprise Plan - $19.99 (larger hosts, no limitations in cloud storage, Zoom Rooms access).
2. Pay for Call
This model, adopted by Skype, charges money for calls in mobile phone numbers or landlines. This model is less popular than the one mentioned before, but still quite useful if users don't need an app account.
3. Ads
Integrating ads to the application helps video conference calls make money too. If you choose this monetization model, it is crucial to filter the ads that go through your app not to annoy your users.
Video Chat App Development: Calculating the Costs
Partially mentioned before, you may build your team via three different models: outsourcing, in-house, and freelance. Each of these has its advantages and drawbacks. Thus, we will explain why outsourcing is attractive for startups and why it can work best for your app development. The data in this section will tell you the cost to develop an application in the US and Ukraine (via outsourcing).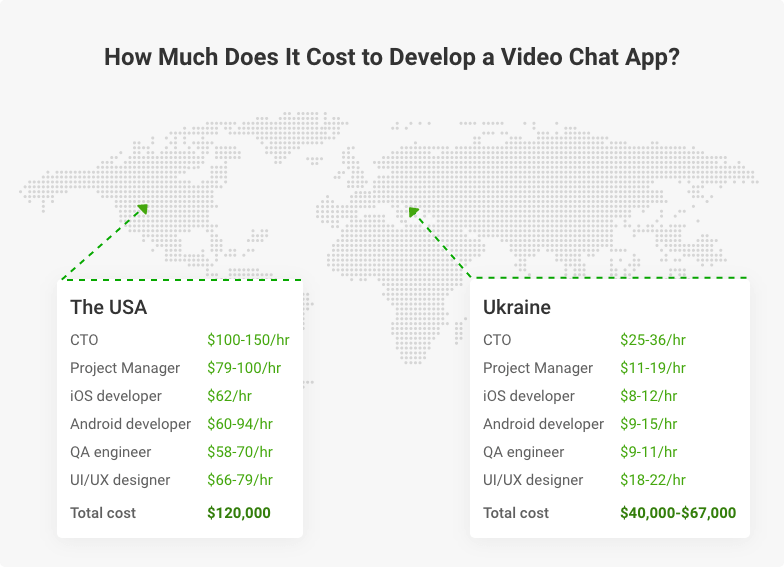 On average, a US startup will spend around $120,000 for app development. This includes: iOS developer - $62/hr (Android developer - $60-94/hr), QA - $58-70/hr, Project Manager - $79-100/hr, CTO - $100-150/hr, UI/UX designer - $66-79/hr.
In contrast, if you decide to outsource and make a video chat app in Ukraine, the overall costs will be around $40,000-67,000. The salary rates are as follows: iOS developer - $8-12/hr (Android developer - $9-15/hr), QA - $9-11/hr, Project Manager - $11-19/hr, CTO - $25-36/hr, UI/UX designer - $18-22/hr.
End Word
Video calling applications have brought immense opportunities for large and small companies to conduct their business internationally. With these platforms, businesses maintain communication with their partners, remote employees, and shareholders worldwide. There are many features to offer to a modern user to make communication even more interactive and convenient. So why wait? Make an app like Zoom or even better, and gain world recognition.