According to Statista, in 2019 income from the dating app industry reached an estimated $1.7 billion. Market analysts predict a stable 5% annual growth with an average of $5 in revenue per user. The days of meeting future partners in malls, restaurants, or parks are long gone.
Dating applications have been on the market for over a decade but there is still enough room for entrepreneurs and developers to gain a share of the industry. From time to time new dating apps emerge, and the opportunity still exists for others who want to enter the market.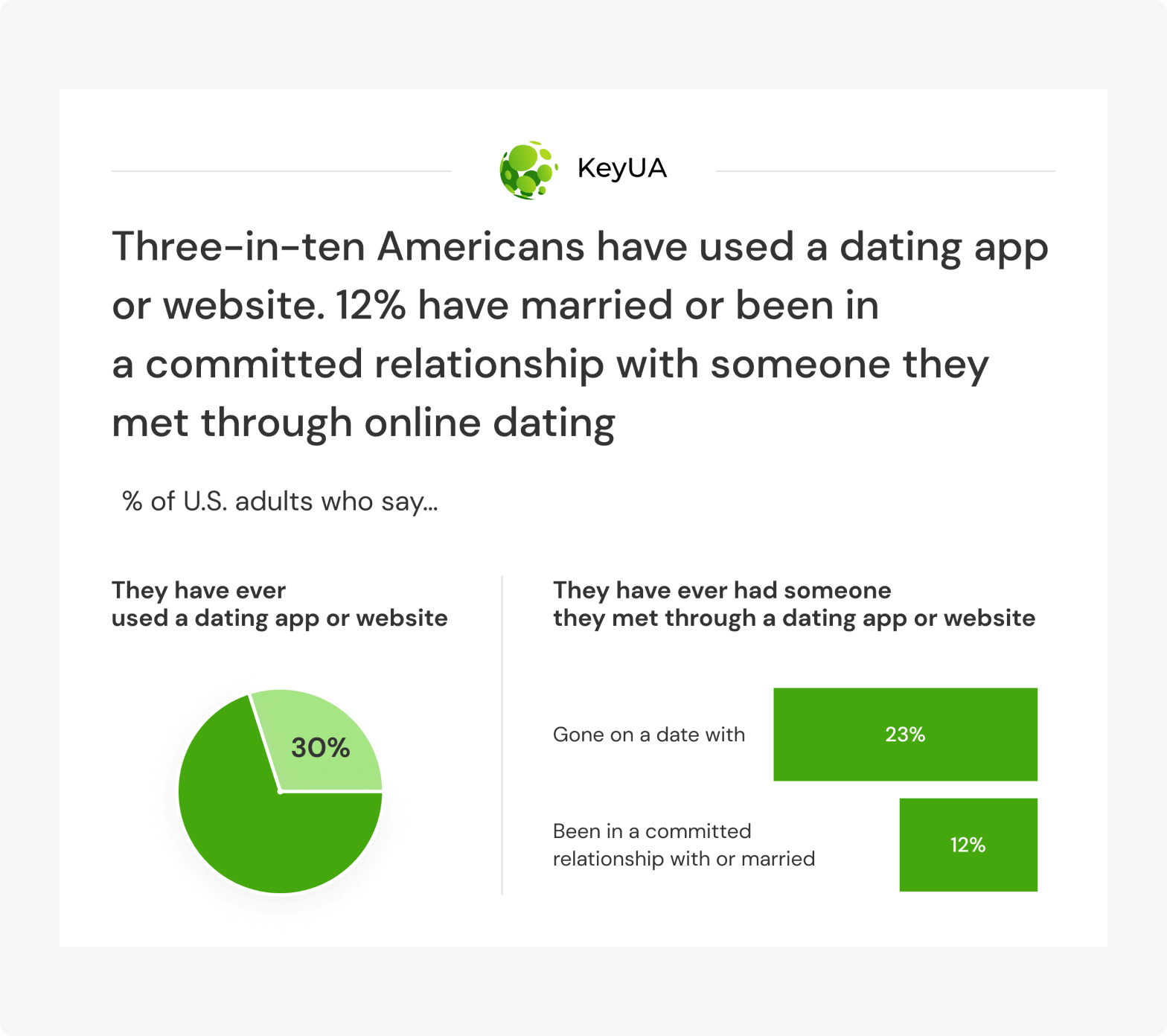 According to Pew Research surveys, 48% of 18 to 30-year-olds and 38% of people between the ages of 31 and 49 have used a dating app or dating website.
Here are some of the topics we will cover in the article:
Stages of dating app development;

How to be competition in this market;

The size of investments and how much you can earn.
After reading this blog post, you'll know how to create a dating app and easily market it. Let's start with the first steps you need to take.
Do Market and Competitor Research
When a new product is created, the first stage is to conduct thorough research of the market and its players. There are hundreds of dating apps and if you want to be the best, the research is worth the money and time. Here's what you should do:
Make a list of both successful and failed applications;

Read reviews on each of them to understand what users like and dislike;

Test the platform to make up your own mind;

Get information on the number of users as well as their gender and ages, to understand what your target audience can be;

Write two lists: one for the mistakes to avoid, and one for everything you like and want to include in your app.
If you don't possess the necessary skills or want to conduct a qualitative competitor analysis, hiring analytics and marketing specialists is a great idea.
These valuable lessons will be of great use when deciding how to make a dating app and what features to include. Once the market research is completed, you can start to work on the basic functions and capabilities.
What Key Features Should Dating Apps Have?
You may have a noble goal of creating a unique application that would change the market for good, but it's necessary to face the reality that there is a certain set of features which should be integrated into the app.
When creating a dating app, certain rules should be followed to launch a working & viable model with a high dating app retention rate. Below you'll find the features which make up the basis of a winning dating website or application.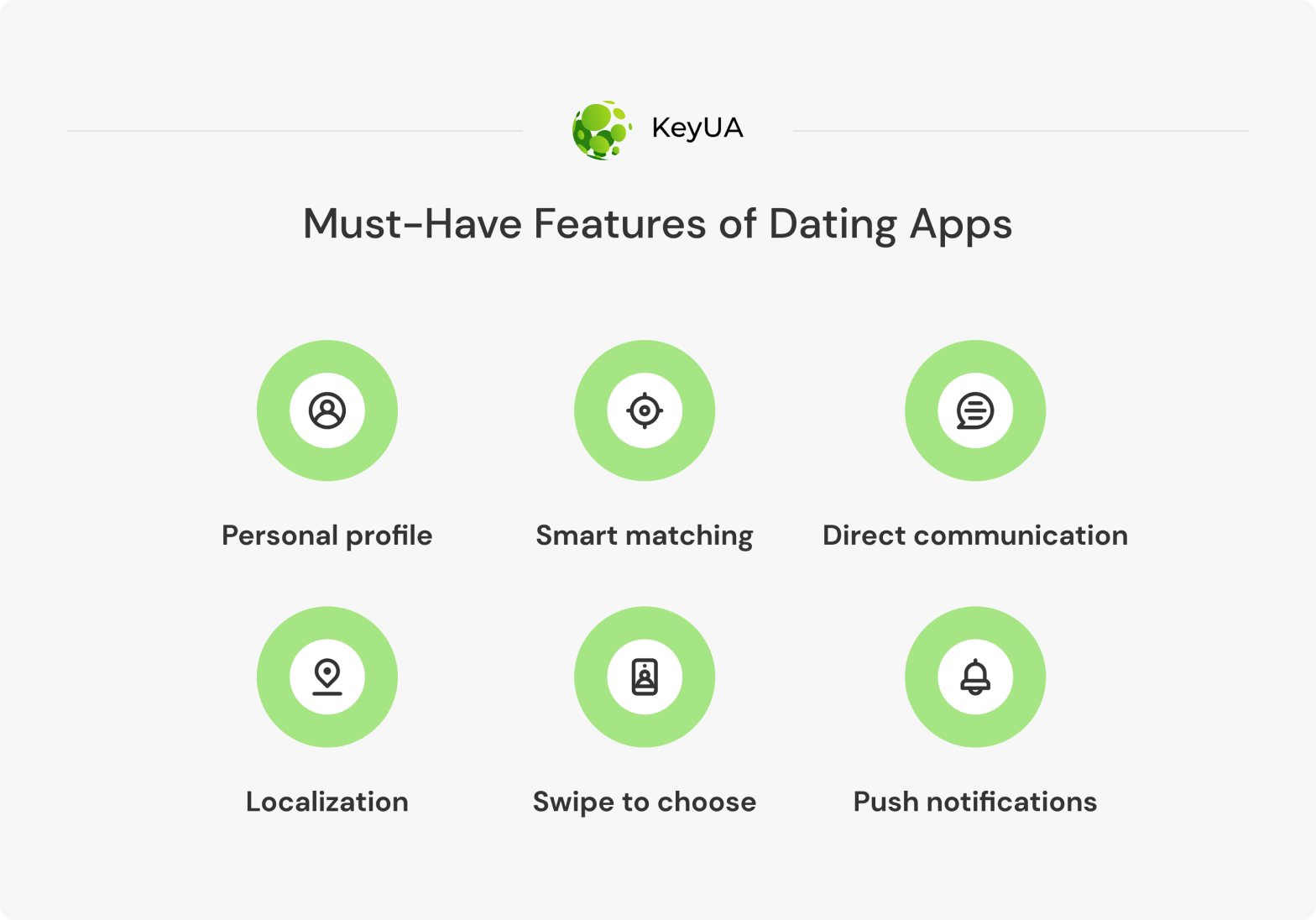 Sign-in
The time-consuming registration process is outdated, so having a sign-in feature is definitely a must. When joining a new dating app, users should have access to the following features:
Guide on using the app;

Sign-up via email / phone;

Sign-up via Facebook, Instagram, or another integrated social network.
Allow users to register via social media platforms like Facebook, LinkedIn, Instagram, and Twitter to avoid wasting time on creating an account and confirming the email address. Users love saving time and will appreciate your efforts in adding speed and comfort to the registration process. As a bonus, social media sign-ins are a great opportunity to share the application via other social platforms, making it a win-win feature.
Personal profile
This may be rather obvious but every user must have a profile with indicated interests, preferences, and hobbies. You may include automated extraction from social media accounts, so users won't need to spend time filling in all the boxes.
A profile should consist of multiple sub-features:
View my personal profile;
Edit profile (add information and interests, photos/videos, etc.);
Verify profile by Facebook/Instagram/email or phone number security checkers;
Track popularity record;
Credits (if you are planning to launch a dating app with built-in purchases);
Boosts and charms.
Personal profiles are extremely useful because they allow users to understand what others like or dislike, and thus decide whether these are the things they are looking for in a partner.
Localization
Geolocation is another must-have for dating applications because it helps to choose a concrete region. Thus, users can find friends or soulmates in their own city or in nearby locations. Even if you decide to launch an app for finding a match abroad, it would be useful to see where a person is from. For example, a user may want to find a match from Rome or to meet for a coffee during a work trip to London.
While some dating apps prefer going the simple route by just indicating the city and country in personal profiles, we recommend going one step further. Integrating GPS data into the platform will make your localization faster and more accurate.
Smart matching
Artificial intelligence has taken modern technologies to a completely new level. Due to its integration, dating apps can implement smart matches based on age, sex, location, hobbies, and preferences.
The more features - the more accurate the result is. Searching for a perfect partner becomes simple and fast, and users may find their future spouse based on their own needs and expectations. The chances that the users will return to the app on a regular basis are much higher if they get what they want.
Swipe to choose
If you like the traditional model and want to create an application similar to Tinder, the swipe feature is a must. When browsing photos of other users, swiping right shows that you like a person, and swiping left indicates that you are not interested. This feature is extremely simple yet brilliant because it adds gamification to the process and makes it fun and quick.
Direct communication
Another crucial feature that any dating app should have is a chatting system. Once users swipe each right on each other (thus creating a match), they can talk privately and exchange messages.
Your application will need the following:
Chat feature;
Video call feature;
View user's profile;
View connections;
Upload pictures and audio in the chat.
Push notifications
While some users turn off push notifications right after signing-in, dating apps won't do without this feature. It allows the sending of alerts about new matches or messages when users are not in the app. This feature is a great reminder so users don't forget about the app and to make them want to utilize it on a regular basis.
Security
Even though dating apps are created for entertainment purposes, as a developer you shouldn't forget that they are a popular source of harassment. That is why it's important to consider security issues and offer a chance to search for a partner anonymously.
Another feature to implement is the profile's verification. Your app should check social media accounts of a new user and make sure that the person is real. Finally, there should be a chance to report if someone is causing trouble. If not, you risk losing a user for good.
Personal settings
To make the process convenient, it's important to add functionality and grant customization. Thus, the settings feature should allow utilizing various filters, selecting categories, enabling sounds, etc. Any mobile app should contain a page with private settings. Here's what you should include:
General information about the app and its Terms and Conditions.
Contacting the support team.
Setting up notifications and filters.
Linking a profile to other pages.
Deleting an account.
How Your Dating App Can Compete With Tinder
Tinder is rightfully considered one of the most popular dating apps with more than 57 million users globally. Due to its swiping feature (right for like and left for dislike), this application became a role model for those who are learning how to build a dating app and want to create a good product.
That is why to compete with Tinder, Bumble, Grindr, and others, you need to understand the concept of their success. First of all, these applications made the process of searching for a partner extremely simple. You sign-in with an existing social media account, use an automated transition of the necessary information, and start swiping photos of users who live nearby.
Another feature that makes these apps stand out is the gaming spirit. Users love swiping and searching for a soulmate at the same time. This adds gamification and entertainment to the process.
When working on your dating app, pay attention to how Tinder or Bumble users can adjust the search settings by sex, age, and location. To monetize this feature, you could set a bigger radius for a free version, and the exact location for a prepaid one.
To take the product to a completely new level, pay attention to the latest AI algorithms. With their help, the app will adjust to users' preferences and will find matches more accurately. This technology is also a great way to check and verify users. For example, AI-running dating apps may check users' ID and award a risk score to create a secure environment and minimize catfishing.
Finally, you should implement spam detection. This clever algorithm allows tracking messages that were sent to several users at the same time.
How to Develop a Dating App Step-by-Step
Building a dating app from scratch consists of multiple stages, each of which should be treated with equal attention. Below we have listed steps that you should take to create a unique and viable dating app.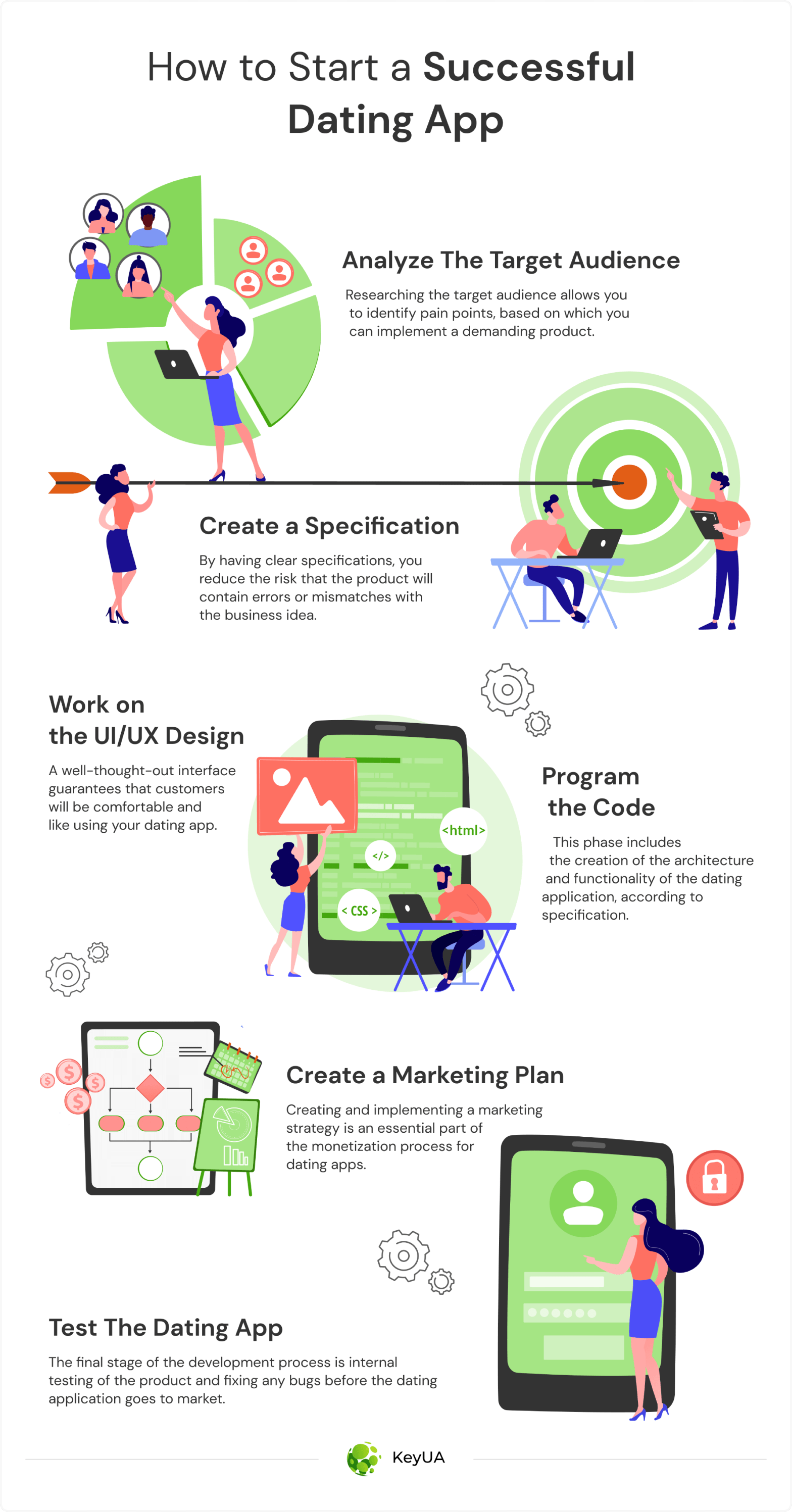 Analyze The Target Audience
To launch a great matching app, it's important to understand what the target audience wants. Yes, you may develop a general application that meets the requirements of different population groups, but the design, set of features, and even the app's title should be tailored based on the target audience.
Create a Specification
Once you have conducted the market research and know your target audience, it's necessary to describe the business processes of the app and its overall structure. The specification is a document where you provide a detailed description of the way you want the app to work - its MVP features, localization mechanism, monetization plan, and any other issues that you want to cover. Based on the specification, developers build the app and designers create the way it looks.
Work on the UI/UX design
The interface of your online platform plays a crucial role and greatly influences the decision of a user whether to stay or to search for another app. The key rule of a good design is keeping it intuitive and simple. Users are expecting an understandable UX design without any confusion. The buttons should be clear and convenient, and the colors should match the overall pattern. If you have any doubts, return to competitors' analysis and see what design features the successful apps apply.
The convenience and satisfaction of users largely depend on UI. It is crucial for making the dating app UI design intuitive and clear. So in the process of making a dating app, you should pay special attention to this step.
Development Stage
This is the most time-consuming part of the process and includes creating each feature of the future dating app. Developers should work on the software, security, as well as geolocation, push notifications, settings, and all the other features that we have discussed above. Explore the latest trends in dating apps development to create a killer product.
Create a marketing plan
While developers and designers are working on the technology, marketers should think about ways of increasing the number of subscribers and their loyalty. A marketing plan involves coming up with a strategy to engage more users and make them stay.
In addition, you should choose the most suitable monetization method. All the options are discussed below. If you want to get an excellent result, turning to KeyUA marketers is a great idea. With many years of experience, we know exactly how to increase the conversion rate and gain users' trust.
Test The App
Last but not the least is the process of testing the application. This is conducted by the QA team and aims to detect mistakes and imperfections of the product. There are many ways the testing stage can be implemented: by the specialists inside the team, by launching the MVP version on the app market, or by uploading it on testing websites where users can try the product and leave feedback.
How Dating Apps Make Money
According to a Baboo.com study, Millenials spend 10 hours a week on dating applications, which gives developers enough space to make profits. However, everything is not as simple as it may seem at first glance, and earning money on a dating platform sometimes becomes a challenge. First of all, the competition is rather dense and you need to have a great app to stand out.
The second key is a big number of monetization strategies, which may be confusing for a novice developer or entrepreneur. Below we have collected the best strategies to help you earn money from a dating app: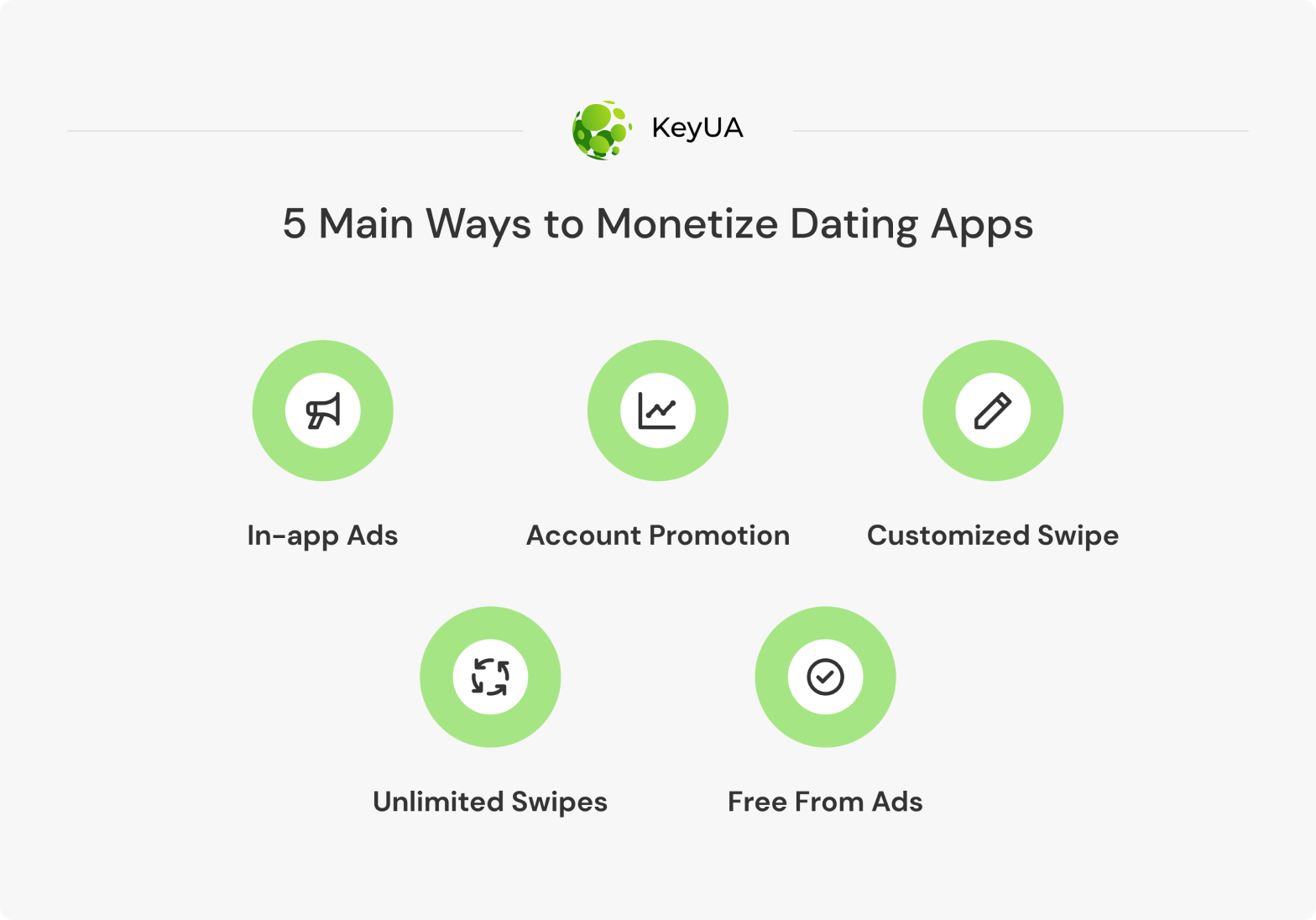 In-app ads. The audience of dating apps is a great target for companies and brands because they already have data on the things that users like, how they spend their free time, and where they dine. Thus, you can advertise restaurants, jewelry stores, coffee shops, and hotels.

Account promotion. For a certain fee, a user can be moved to the front of the search list for a certain amount of time.

Customized swipe. Due to machine learning technologies, you can add a fee to allow the order of the pictures to change based on the preferences of the user who sees them.

Unlimited swipes. Usually, free apps have a certain number of daily swipes to the right, and many users are eager to pay to make the number of swipes unlimited.

Free from ads. Ads may be rather annoying, so for a certain price, users can say goodbye to all advertising content.
The most advanced, yet time-consuming monetization approach is to organize live events. For example, speed dating and parties, where users can find or bring a date. Sell tickets for a certain fee inside the app and make it an additional way of earning profits.
Keep in mind that users are spoiled by having the option between dozens of apps, so your strategy should be perfectly tailored to the niche and your own expectations. Luckily, there are many ways to monetize the app, from launching a premium version to partnering with local gift shops. The only limit is your imagination and persistence.
How Much Does It Cost to Build a Dating App
The cost of building a dating app like Tinder depends on a large number of factors. For example, the operating system you are planning to use (iOS or Android) and the number of implemented features. Here is the average time needed to create each of the features:
Onboarding: 95+ hours;

Personal profile: 160+ hours;

Finding people: approximately 150 hours;

Matching: 80+ hours;

Chatting: 130+ hours;

Security issues: around 55 hours;

Push notifications: 40+ hours;

Settings: 60+ hours.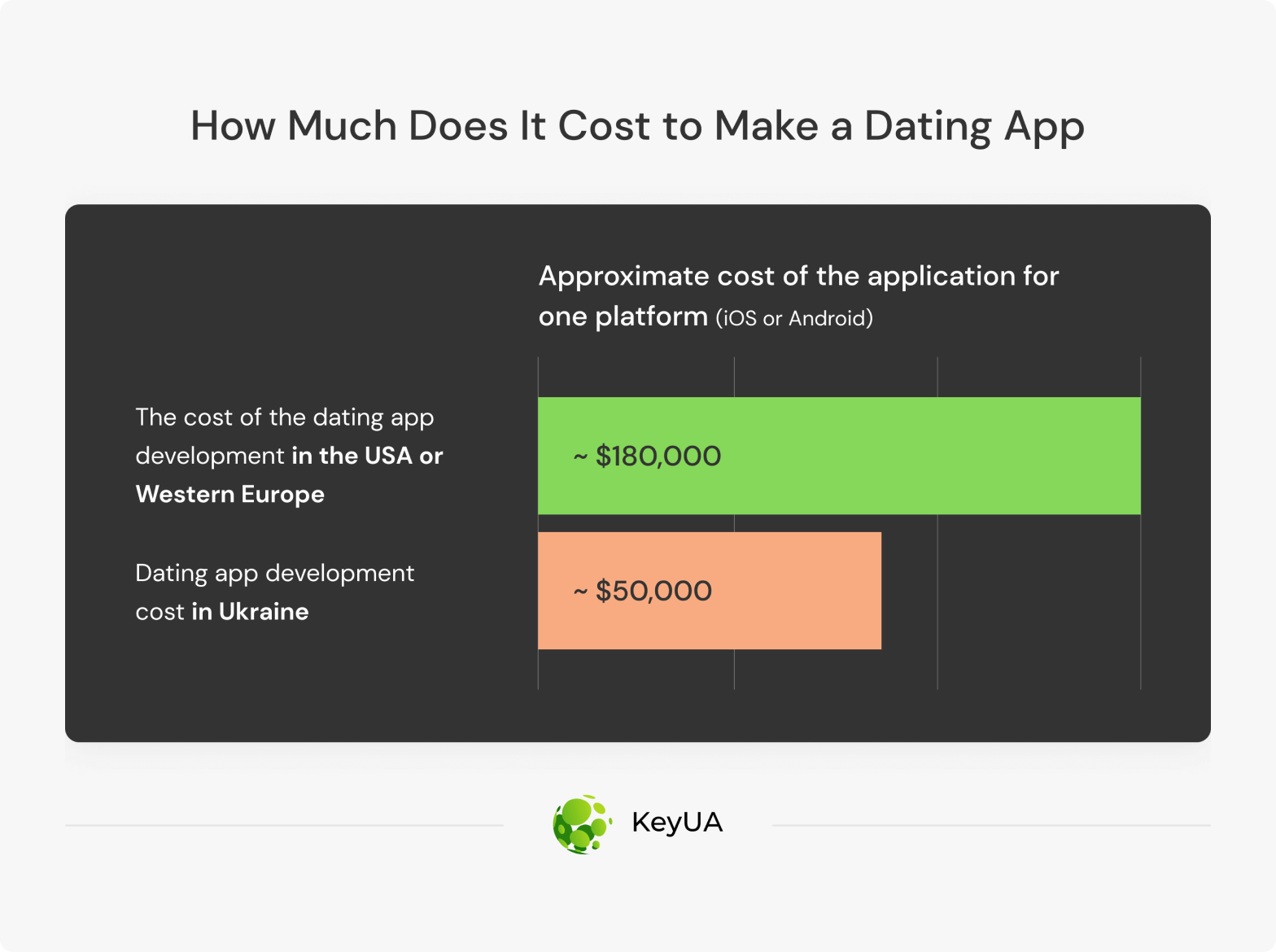 Apart from app developers, you'll need to hire other specialists. As we have already discussed, at the very minimum, you should find a UI/UX designer and QA professionals. You'll also need a good project manager for coordination.
Thus, creating a dating app for iOS will take at least 1400 hours to develop. The price for such an application will additionally depend on the level of expertise and location of the specialists. You need to be ready to pay around $50,000 for an iOS app and $25,000 for the second app, which would run on Android. If this exceeds your budget, you can start by developing a minimum viable product - a version of the dating app which comes with a basic set of features. The MVP can be used to find investors for the project.
Conclusion
According to Pew Research, 40 million Americans are using online dating sites/applications on a regular basis. This means that the interest in dating apps will continue to grow and there is enough room for new applications.
But creating a dating application from scratch takes a lot of effort, from doing market research to hiring professional developers and marketers. If you have a brilliant idea and are wondering how to develop a dating app, our team of experts is here to help.