In the world of mobile development, UI is of paramount importance, as with using the right techniques, it converts potential visitors to customers. According to research from eMarketer, more than 84% of the total mobile time is spent on mobile app usage. This impressive statistic proves that UI is an integral part of successful business development. In this article, we will talk about its essential aspect, namely the application icon, and explain why it matters and how to design an amazing mobile app icon.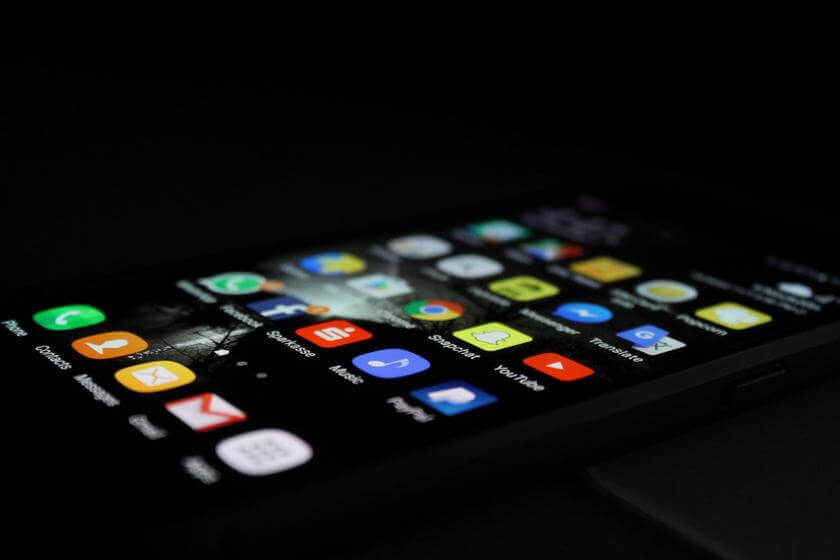 What Is an App Icon
An app icon visually represents a mobile product that is displayed on a device desktop or store. It creates an initial impression of the brand. A mobile icon is often confused with a logo, but they are not the same thing. As we have already figured out, the icon is aimed at the application's essence, while the logo identifies the company. In many cases, the mobile application icon may contain the brand logo.
The app icon should be as well thought out as the product interface itself. Basically, the icon is the first thing that users see before they download the application. Some icons are so attractive that users are ready to install an application without knowing their functions and purposes. Colorcom study shows that 92.6% percent of users pay the most attention to the color factor when buying a product, which once again proves the importance of effective UI/UX design services.
In my opinion, the future of mobile is the future of everything.

Matt Galligan, Co-founder of Circa
The Size and Format of an Icon
Your app will appear in different places and in different sizes. So from a technical point of view, you need to create several similar icons of varying sizes, from 29 × 29 pixels up to 1024 × 1024 pixels for Apple users. In the case of Android apps, it is recommended to prepare pics of 36×36, 48×48, 72×72, 96×96, 864×864 pixels. The correct format is PNG. The picture must be responsive and look nice on the screens of any extension, including display on the desktops, AppStore, and Google Play Market.
When it comes to icon development, you are free to use any styles; however, we still recommend that you follow the guidelines created by Apple and Google. By following these rules, you will have a pleasant and consistent app icon design. Products that follow the guidelines are more attractive and have more downloads.
When creating icons for Android, pay attention to Material Design, new design guidelines that Google has introduced. It contains a set of rules and principles that help design icons for mobile apps and interfaces more coherently. You can read more about Material Design here.
Similar recommendations exist for iOS devices, which are called Human Interface Guidelines. Check out these guidelines if you want your mobile icon to be user-friendly and attractive.
Need a first-class graphic design for your business? Hire seasoned designers from KeyUA.
Discuss the Project
15
Tips to Design an App Icon
Custom guidelines will help you design a good mobile app icon. But actually, this is not enough. We have prepared for you the best 15 tips, based on which you will create a real masterpiece.
#1 Be Unique
Nowadays, there are millions of iOS and Android applications, and all of them have their own icons. It helps similar apps differ from each other. If you want your mobile product to be attractive to users, its icon must be unique. How can this be achieved? Market research is an important step here. A sound icon should reflect the essence of the application and be oriented towards a potential user. Study the market thoroughly to create a target user's portrait and research the experience of your competitors.
#2
Make
It Simple
Another successful approach to creating a good image is simplicity. Don't overload your icon with different elements or color schemes. If you do, most of the objects on the overloaded design will be indistinguishable, making the overall appearance of the icon incomprehensible and repulsive.
A good template should be so simple that even a 6-year-old can draw it. Note that simple design does not mean primitive.
However, the exception to the rule of simplicity is icons for games. Usually, they combine several elements and even the faces of the main characters. But in any case, icons for games should also be moderately drawn.
#3 Reveal Function
Quite convenient is the direction in which the application icon displays the functions of the product itself. For example, when we see an envelope icon, it immediately becomes clear that this is an application for sending messages. This is the technique used by Apple designers; many of their icons demonstrate the application's main functions, making the interface even more straightforward.

If your application's functionality can be put into a simple picture, use this technique, and do not complicate the task. The clearer your design is to the user, the more downloads you will get.
#4 Don't Use Words or Photos
If you have a minimal photo and want to use it as an icon, it is better not to do this. Instead, prepare a vector image of what is shown in the photo. On a small screen, the photo will be lost and will not look beautiful.
The same goes for words. If your picon contains a picture and text, it will hardly be distinguishable on mobile devices.
At the same time, the text itself in the background is another good direction. Thus, the application immediately stands out from the competition. Good examples of designing app icons with words are Uber, Booking, The Weather Channel, HBO max.

#5 Too Much Color Detail is a Bad
Idea
Multiple colors in a picture negatively impact the demand for your product. An overloaded color scheme will not make the app stand out from the competition. The most effective option is to use three colors. You can combine them with their shades. The simpler the icon's color scheme, the clearer and more accessible it is for users.
#6 Signs and Letters
The best example is universal and always includes a minimum amount of detail. It is quite common practice for companies to place their brand's capital letters on their app picture. A good icon is one where everything is clear to the user just by looking at the design. You can also use one symbol that reveals the essence of the brand.

#7 Fit the Brand
A brand is the creation of a unique name, symbol, and design that distinguishes a product from its competitors. It is a marketing strategy aimed at increasing company awareness and sales. Accordingly, it is a good experience when the icon design reflects the brand's color scheme. For example, applications such as Stripe, Tinder, PayPal, Calm have their icons in exactly the same color scheme and style as their website or app interface.
#8 Use Borders
Borders help make the picture stand out. They can exist either around the icon or to wrap the main symbol. For example, Snapchat has a relatively simple color scheme, and the frame around the ghost emphasizes it. The frame itself puts an accent on the content, making it more attractive. It is an excellent trick to enhance attractiveness among the many other apps in the store. By the way, designs for Waze and YouTube Kids were developed in the same way, with the frame putting the focus on the symbol itself.
#9 Think About the Background
A dark mode is now available for iOS and Android users, which they can choose at will. You need to make sure that the icon looks good on both light and black backgrounds. If the picture is too dark, then it will simply get lost among other brighter applications. In this case, it is better to play in color contrast. Remember that the icon should not blend in with a white or dark background.
#10 Light, Shadows, and Perspective
These details may seem insignificant, but they favorably distinguish the application among all others on the market. Correctly placed shadows, light, glare, and so on make a simple drawing more interesting and attractive. But everything should be in moderation. Do not put too much emphasis on perspective; otherwise, the picture will seem incomprehensible.
#11 Research Competitors
Competitor analysis is essential not only for branding but also for product development in general. Why is it so demanded? You can transform your competitors' disadvantages into your advantages. Pay attention to how their pictures are designed. Maybe you will understand what should emphasize in your picture to stand out. Consider choosing a different color scheme to make the icon brighter. It won't take you much time to analyze your competitors, but it is a must if you want your business to be successful.
#12 Design Several Options
Before making the final decision, create several options. It should not be a complete picture, but just templates. Ask your friends and family to rate which icon they like the most. Place your sketches side by side to make it much easier to compare and evaluate.
# 13 Make It Platform-Specific
As we found out earlier, Google Play Market and AppStore have different standards and rules for creating icons. That is why you must create two pictures separately for each operating system. It will make your application look beautiful and professional in both stores.
#14 Use Professional
Tools
You will not be able to create a quality icon without professional software for developing and processing graphic products. The most effective are Photoshop, Illustrator, and Sketch. Photoshop is great for creating raster images (containing shadows, highlights, light effects, etc.). Illustrator is aimed at building complex vector shapes. Sketch provides ready-made templates for many icons, which simplifies the drawing process.
#15 A/B Test Different App Icons
Finally, let the users decide on the most appropriate design. A / B testing is built to determine which set of characteristics brings the most remarkable result. Thus, the developers create several icons with an emphasis on different elements, which are shown to various users in different proportions. Upon the testing period's expiration, the developers compare the download statistics and see which design got the highest user feedback. This function can be easily implemented in the Google Play Market, but it is more difficult to launch in the App Store. In any case, A / B testing provides valuable statistics that can be used to make decisions about custom icon design.
Find out the price of implementing your project in a few simple steps.
Contact Us
When Is It Time to Change an Icon
Do not forget to update your app picture in a timely manner to not be out of date. To do this, follow the latest trends in icons graphic design. Don't be afraid to try something daring or apply new styles. How often the application will be downloaded depends on the relevance and freshness of the icon.
Also, don't forget about seasonality. This is a marketing technique aimed at drawing attention to the application. The point is to add elements to the icon that reflect important events. It is often done for Halloween, Christmas, Easter, and so on.
Multiple Icons
Let users choose the icons to be displayed on their desktop. Instagram, one of the most popular social media apps, was released on October 6, 2010. To celebrate its birthday, the company launched an interesting feature that is available to iPhone users. Going into the application settings, you can choose one from 13 different icons.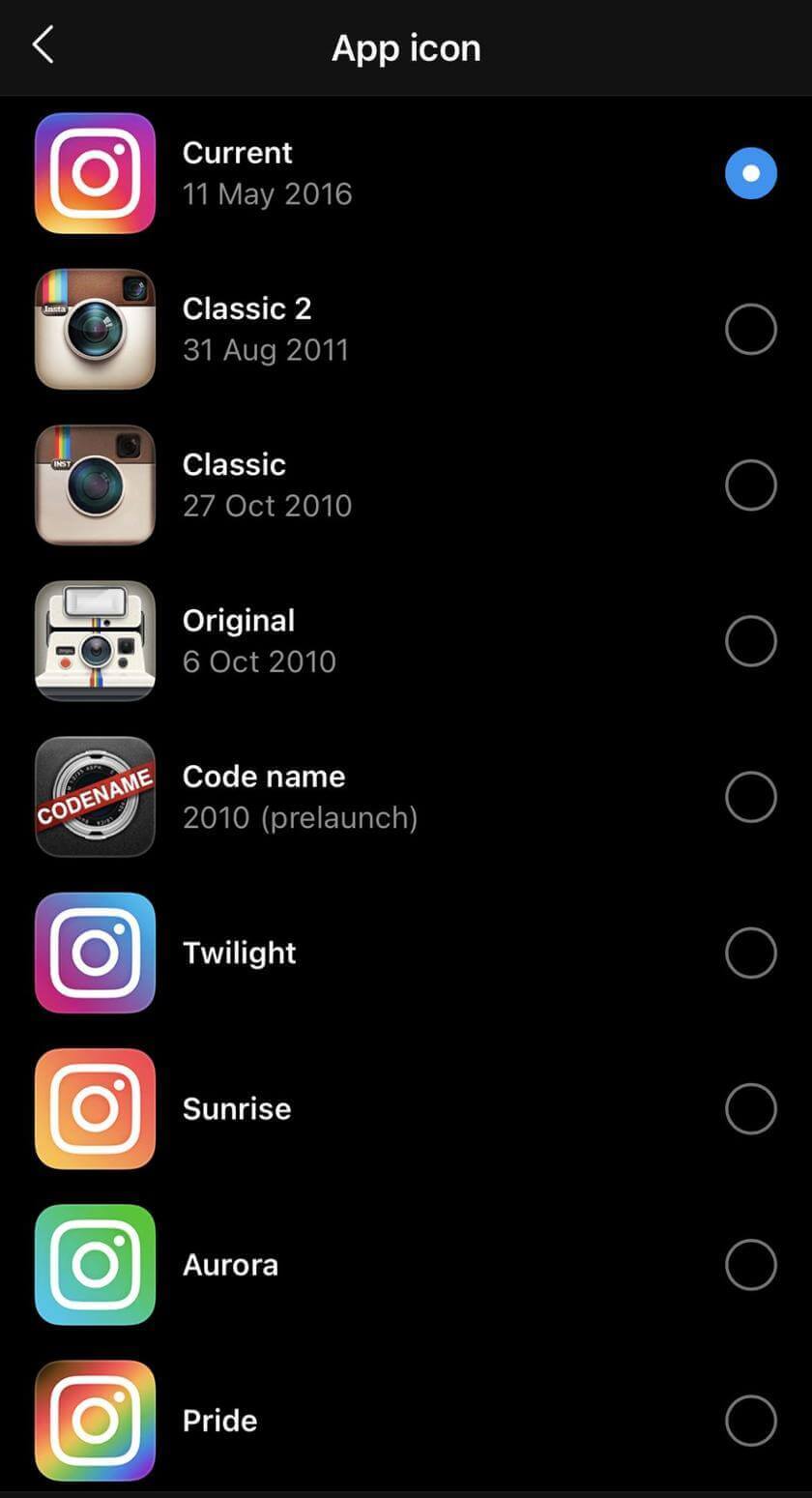 This is an excellent idea for improving user experience. But, this mainly works in the case of recognizable brands. Don't waste your resources on implementing a multi-icon for a startup.
Conclusion
Creating app icons is a demanding and time-consuming step that needs to be based on market research. In this article, we talked about the basic principles of how to design a mobile app icon. Note that this process differs depending on brand awareness. And for startups, the approach is slightly different than for large enterprises. Good icon design continues the purpose of the app. Make the interface of your product and the picture in the market consistent with the brand's uniform style and spirit.
The KeyUA team has a proven track record of creating stunning mobile app cons. We deliver quality solutions for businesses of all sizes. Hire professional designers to defeat your competitors.
Contact Us