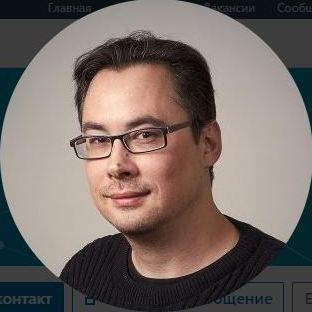 This online platform is a real gourmet find. I like using the app because it makes it possible to get even better service than in a fancy restaurant. We were delighted to work with ChefXChange. It was an interesting project in which we introduced lots of modern technologies.

- Alexey Ilchmann, DevOps Engineer, KeyUA
Challenges and Objectives
In 2014, ChefXChange was just a culinary startup. We developed the project from scratch and covered various tasks, including building a product concept, producing an adaptive design, building a system architecture, researching the market, and ensuring software promotion. We discussed all stages of implementation with the client and concluded that a prototype of the web application should be launched for the Dubai market. Later, the full version became available across all Arab Emirates and captured the market further.
Need seasoned programmers to make a website for the food industry?
Hire reliable software developers from Ukraine.
How KeyUA's Services Helped
This is the success story of creating an online marketplace for personal chefs. Working on this catering & hospitality project, we completed several tasks of varying complexity and focus. Our main goal was to create a powerful and productive system convenient for both chefs and customers. We implemented the ability to search both locally and globally. The system primarily shows nearby chefs, and customers can do an advanced search to find chefs worldwide by using custom criteria. Applying a carefully thought-out promotion strategy, we managed to make a successful release in Dubai. Within a few months, the project brought together 130+ chefs and more than 7 thousand gourmets.
Results
Here's how KeyUA benefited ChefXChange's food-tech business:
It's easy to create a startup for the foodservice industry with KeyUA.
We know all the pitfalls.
Preparation
To create a quality project that helps find a personal chef, the KeyUA team carefully prepared, forming the basis for implementation.

Investigation
In the first phase, we collected all the essential information to understand the project's goals better.
Study of technical specifications
Collecting requirements for product designs
Creating a portrait of a potential user

Planning
Further, the KeyUA team planned all the actions to create an excellent website for chefs.
Selection of the most effective technology stack

Delivery
As a result, we had a solid base that included the following tools.
An effective project management methodology
Formed development & marketing team
Key Ideas
The main goal of this project was the development of a marketplace for private chefs. And to efficiently fulfill the purpose, we have proposed several ideas to increase the product's efficiency.

⠀
It was assumed that users would perform lots of actions on the frontend, without calling the server, so we needed a powerful and fast mechanism to handle the client-side. We used Angular to increase the scalability of the application significantly.

⠀
Our creative unit designed an effective and motivating presentation that attracted new investors.

⠀
It was agreed to build a blog and publish custom articles for a better SEO strategy.
Process
In this case study, we will show the steps we took to build a platform for hiring a personal chef.
We thoroughly discussed the terms of reference so that all team members had a common understanding of the platform's goals and objectives.
2
Step 2. Prepare Wireframes
Next, we started creating templates for website pages.
After discussing with the customers all the features of the visual appearance of the site, the KeyUA designers produced layouts.
KeyUA's technical team began to create a project architecture and write code for a web application.
5
Step 5. Building Marketing
In parallel with the development, we also prepared the main points of the product promotion strategy.
When the prototype's functionality was ready, we thoroughly tested it to release a high-quality web application to the market.
After 4 months of development, we released a prototype for booking chefs for private needs and launched a marketing strategy.
Once the application was successfully introduced to the market, we continued development, ensuring a quality product.
For several years, the KeyUA team has supported the product, including making changes and creating new functionality.
The success of an application in the market depends on two key factors: quality code and well-thought-out marketing.
KeyUA has excellent experience in providing both these services.
Technology Stack
See what tool we use to deliver a beneficial product: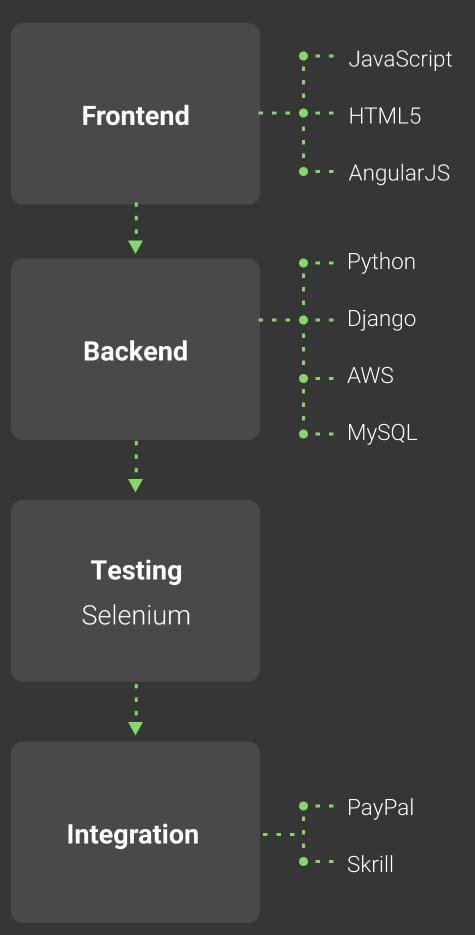 Future Plans
1
Apps similar to ChefXChange are highly popular among gourmets worldwide, as they provide a unique experience of superior service at home.
2
It is also worth noting that ChefXChange is useful for novice chefs to take a master class with professionals.
3
According to various independent studies, the popularity of food & beverage applications has grown by 22-30% compared to previous years.
Other Cases
ChefXСhange
Hire your own private Chef for dinners or special occasions, in a few clicks. They bring their own ingredients and even clean up after themselves!
Let's Work
Is there a challenge your organization or company needs help solving? We'd love to discuss it.
Contact Us
Online Divorce
Online Divorce is an online system that was a pioneer in the online divorce industry that works more than 17 years!