In 2022, outsourcing is still one of the best budget-saving practices to allow businesses to find the most appropriate contractors for their projects. With new globalization opportunities, you can hire a professional team for any project, including a startup or enterprise. Below you can find a list of the best countries to outsource software development.
How to Know if a Country is a Great Outsourcing Destination?
Trying to choose among the best countries for outsourcing software development can become challenging if you don't know what to pay attention to. To find a proper software outsourcing vendor, you should be focusing on the following:
Time zone. When choosing an outsourced vendor with a significant time difference, you need to make sure that you have at least a few overlapping working hours. You can use that time to arrange meetings with your team and receive updates about the project's flow.

Cost reduction. Outsourcing can save you a great deal on development costs since you won't have to pay for setting up a team. You will only be paying salaries for your developers' services for as long as you need them. Outsourcing also allows you to find a vendor that will match your financial expectations.

A developed IT-market. A country with a developed IT-market will have plenty of specialists to offer. You can pick a professional or a team that will be a perfect fit for the job.

Opportunity to have clear communication in English. Communication is one of the many keys to getting the job done professionally. It is crucial that your team speaks the same language as you (if possible) or has strong English skills.

Cultural differences. One of the biggest concerns about this aspect is the difficulty of building a work schedule for your in-house and outsourced teams with considerable differences in national holidays.

A high-quality educational infrastructure. If the country has plenty of educational institutions for IT specialists, the chances are high that you will hire a team of real professionals.
Top 10 Countries For Software Development Outsourcing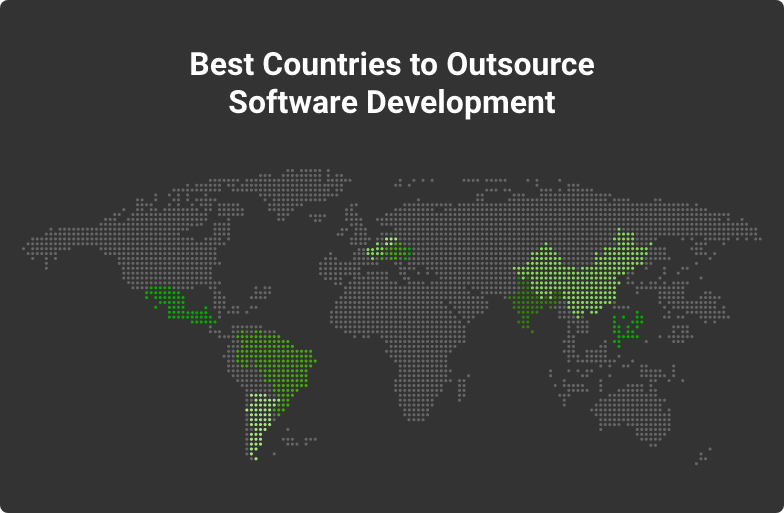 Outsourcing practices are popular all around the globe. However, some places are more attractive than others. Let's find out what are the best outsourcing destinations for 2022 and what makes them so popular.
The Best Eastern European Countries to Outsource
For the Eastern European region, outsourcing services are nothing new. It has long been considered one of the best destinations in terms of price and quality. Below you can see some of the top Eastern European countries for outsourcing.
Software Development Outsourcing in Poland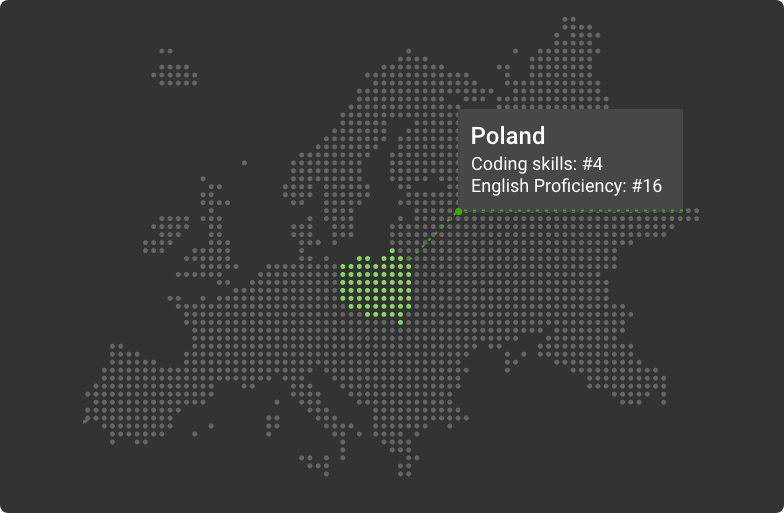 Time zone: GMT+1
Average software developer hourly rate: $35
Popular programming languages: Java, SQL, JavaScript, Python, C++.
Even though Poland is now considered part of Central Europe, it belonged to Eastern Europe back in the day. Poland is an attractive outsourcing destination for many western companies. Polish developers have an impeccable level of skills and a strong command of English, which is being taught to kids as soon as they go to school.
At the moment, there are over 160,000 IT professionals located in Poland, which makes it almost 2% of the world IT market. While some Polish software developers work for local companies, nearly 80% provide their services to clients located in the West.
Poland is a member of the EU, which adds stability to its economy and positively impacts its quality of life.
Software Development Outsourcing in Ukraine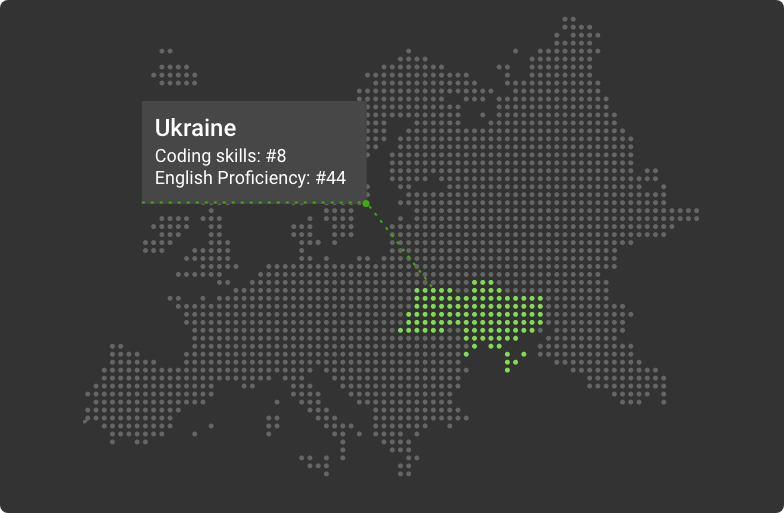 Time zone: GMT+2
Average software developer hourly rate: $25
Popular programming languages: JavaScript, Java, Python, C#, PHP.
Ukraine is the largest country in Eastern Europe and is considered one of the best countries for offshore software development. It only takes a few hours of flight to get there from any part of Europe, and in most cases, you wouldn't even need a visa to do it.
This country has an enormous pool of IT specialists – the market reached 180,000 professionals back in 2019 and has only grown since. Due to the high demand for IT specialists, preparing graduates with computer science degrees became one of the biggest priorities for local universities.
As Ukraine's IT industry is growing rapidly, most specialists in this field acquire a western mindset and cultural traits similar to European ones.
Ukrainian software developers are popular choices as outsourcing specialists for big corporations overseas because of the considerably lower rates and high-quality results they offer. The talent of Ukrainian software developers can't be understated. Popular projects such as Grammarly, Preply, and Depositphotos came out from this country.
Software Development Outsourcing in Belarus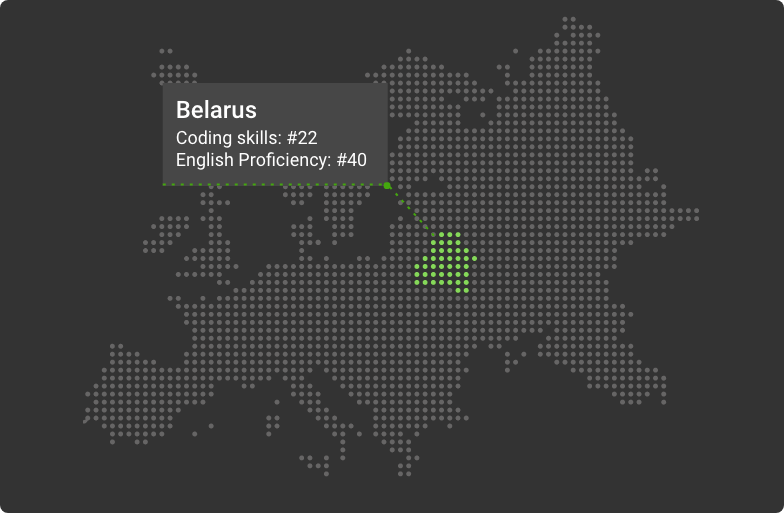 Time zone: GMT+3
Average software developer hourly rate: $25
Popular programming languages: JavaScript, Java, SQL, Ruby, PHP.
Belarus is another attractive destination for outsourcing. Over 60% of all Belarusian developers are engaged in outsourcing practices. It is a perfect choice for companies located in the UK as these two countries are only a few hours apart. Being located not that far away from your outsourcing vendor makes your communication easier and more effective.
Over the last couple of years, Belarus's IT sector has received governmental support, stimulating its growth. This also includes sponsorship for almost 60 Belarusian higher education institutions that provide the country with 4,000+ IT graduates annually.
Software Development Outsourcing in Romania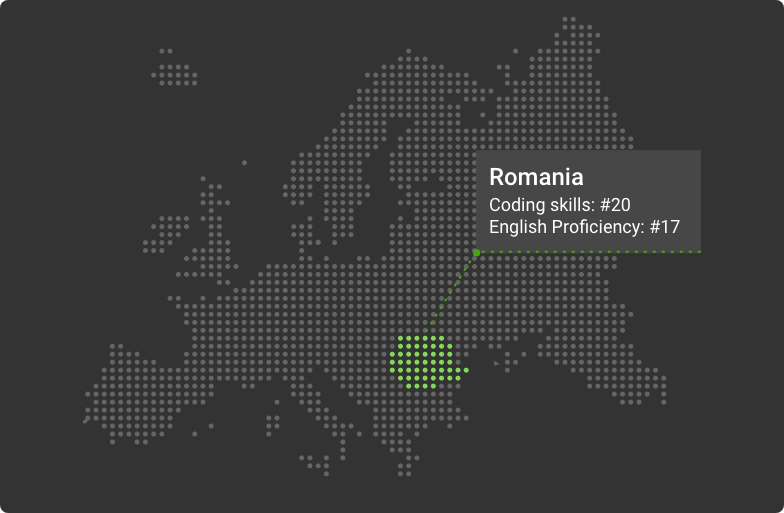 Time zone: GMT+2
Average software developer hourly rate: $35
Popular programming languages: PHP, Java, JavaScript, C++.
Romanian citizens can count on tuition-free high-level education, which positively affects the country's number of IT graduates. Being an EU country, Romania also offers a favorable environment for international companies like Microsoft to open their offices on its grounds, making it a top IT outsourcing country.
You cannot underestimate the importance of mutual understanding between you and your vendor, which sometimes can become crucial for the project's success. Being able to share the same values and attitude towards business from the start is one of the many keys for long and successful cooperation. Since most Romanian developers (just like Ukrainian ones) have a western mindset, this country is a perfect outsourcing destination for businesses from the USA, the UK, and Europe.
Reach out to KeyUA to get the best software development team for your project today!
Contact Us
The Most Popular Asian Countries For Outsourcing
The Asian region became a popular outsourcing destination a long time ago. It's been attracting businesses from all around the world with its reasonable prices and highly skilled workforce.
Outsourcing Software Development in China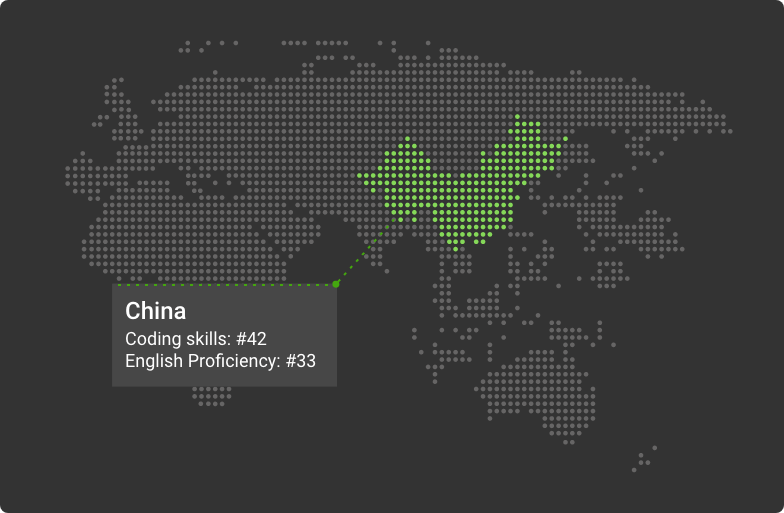 Time zone: GMT+8
Average software developer hourly rate: $15
Popular programming languages: SQL, JavaScript, Java, Python.
Over the last decade, Chinese technologies have made a huge leap, turning this country into one of the world's technological leaders. However, the development costs have remained the same, so it has become really profitable for overseas companies to outsource some of their processes to China. Chinese developers also dedicate a lot of their time to perfecting their English. The better a potential developer's command of English is, the higher their rate will be.
Another great benefit of outsourcing to China is the high number of IT graduates this country produces each year – almost 5 million! You can also be sure of the quality of Chinese software development services. This country has developed several popular software products, including Alibaba, 360 Camera, Baidu, and others.
Outsourcing Software Development in India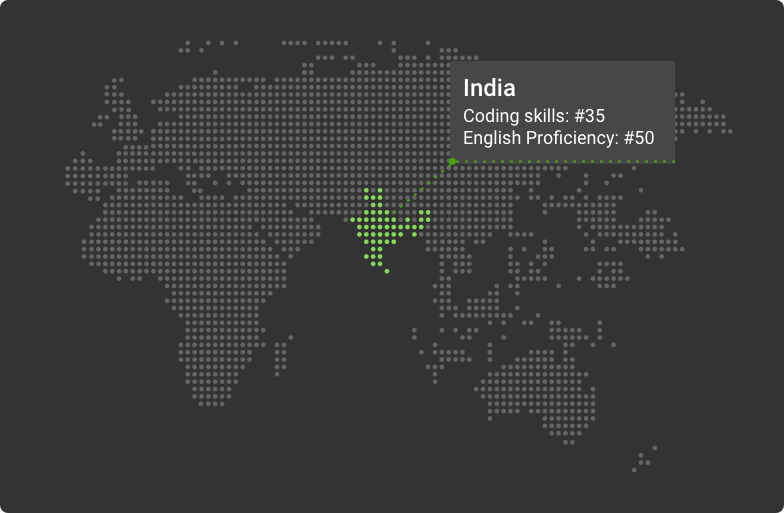 Time zone: GMT+5:30
Average software developer hourly rate: $10
Popular programming languages: Python, Java, JavaScript, C/C++, PHP.
India has become one of the world's most populated countries and now makes up 17.7% of the total world population. So, it's no wonder that India managed to become one of the best countries to outsource software development.
Indian IT market is growing by 60% every year, with software development making up the most significant share of that growth. At the same time, the services of the Indian developers are much cheaper than similar specialists from different countries. You can also feel safe about the quality of your project's execution as most Indian software developers have completed higher education – this country has over 600 universities that prepare IT specialists. Keep in mind, though, that even if it's possible to find Indian developers with fluent English, most of them have a particular accent.
Outsourcing Software Development in The Philippines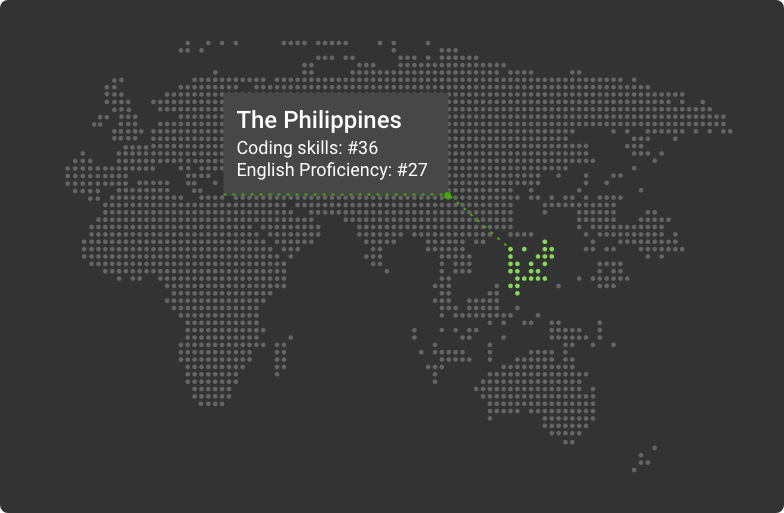 Time zone: GMT+8
Average software developer hourly rate: $10
Popular programming languages: PHP, Java, JavaScript, C#, C++.
One of the biggest benefits of outsourcing software development projects to the Philippines is English fluency in this country. The Philippines surpassed India in 2012 as a leader for outsourcing, mainly due to the increased Indian population at that time. English proficiency among its population has also helped drive the country's economy.
Most developers from the Philippines have a good understanding of business and don't just follow the script. It would be fair to say that outsourcing to the Philippines is a fair deal for many businesses considering the low rates for these developers' services. But remember that not everything that shines is gold, and sometimes low prices go hand in hand with poorly executed projects.
KeyUA is the right place to get your project done flawlessly for a fair price.
Contact Us
The Best Latin American Countries for Software Outsourcing
Latin American countries have become an outsourcing destination for many companies due to the low costs and often slight differences in time zones. However, by choosing countries for outsourcing in Latin America, you should be extra careful as low prices may mean low-quality services in this case.
Outsourcing Software Development in Argentina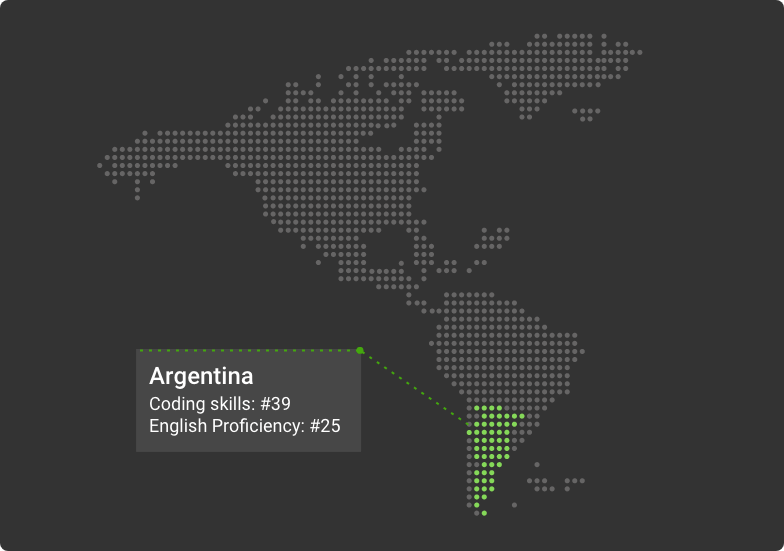 Time zone: GMT-3
Average software developer salary: $13
Popular programming languages: Python, JavaScript, Java.
The IT sector is heavily developed in Argentina mainly because of the free educational opportunities for all citizens. It can even be called one of the most educated Latin American countries with the highest English proficiency level. In 2019 Argentina made it to the top 30 of the countries worldwide with the best education.
There are only two hours time difference between Argentina and the United States and around six hours with Europe. Even better is that it's just four hours away from Silicon Valley by plane, which makes it an amazing strategic location for software and website development.
There are over 200 outsourcing companies in Argentina, so you can freely choose the vendor that will suit your business needs the most. Its booming IT scene can now be seen through tech parks such as Catalinas Norte, Buenos Aires, and the Technology Park of the Litoral Centro SAPEM.
Outsourcing Software Development in Mexico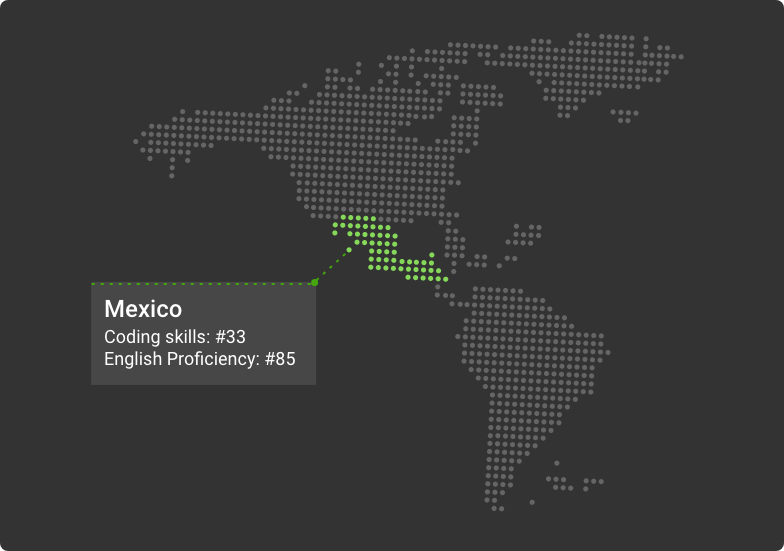 Time zone: GMT-6
Average software developer salary:$17
Popular programming languages: C++, C#, Java, JavaScript, PHP.
Mexico's proximity to North America is one of the main reasons this country has become a significant outsourcing destination for businesses in the US and Canada. Being located almost in the same time zone and having instant communication is very valuable for many companies looking for countries to outsource web development.
Mexico had been one of the leading countries in preparing STEM graduates over the last couple of years, compared to other Latin American countries. As former president of the US Bill Clinton once said: "All we read about is the violence and the drug war. The truth is that the previous Mexican president built 140 tuition-free universities. Two years ago, the Mexicans produced 113,000 engineers. We produced 120,000. They've had very brisk growth."
Outsourcing Software Development in Brazil
Time zone: GMT-3
Average software developer salary: $16
Popular programming languages: JavaScript, SQL, Java, HTML, CSS.
Brazil has over 6 million native English speakers and a government that regularly supports the improvement of the country's educational system. It can also offer one of the world's biggest IT talent pools, with over 475,000 software developers.
Brazil's IT sector can also be called a success due to the educational system in the country. There are over 1,700 IT-related programs that produce approximately 100,000 graduates each year. This means if your business is located in the US and you're looking for the best countries for app development and software development – Brazil might be your best choice.
Best Countries to Outsource [Comparison Table]
For your convenience, we've prepared a comparison data with the main criteria for picking an offshore software development vendor:
Country

Avg. monthly salary

Time zone

Programming languages

Number of IT graduates annually

English fluency

Poland

$35

GMT+1

Java, SQL, JavaScript, Python, C++

63,000

#16

Ukraine

$25

GMT+2

JavaScript, Java, Python, C#, PHP

100,000

#44

Belarus

$25

GMT+3

JavaScript,

Java, SQL, Python, PHP

4000

#40

Romania

$35

GMT+2

PHP, Java, JavaScript, C++

9000

#17

China

$15

GMT+8

SQL, JavaScript, Java, Python

4.7 mil.

#33

India

$15

GMT+5:30

Python, Java, JavaScript, C/C++, PHP

2.6 mil.

#50

The Philippines

$10

GMT+8

PHP, Java, JavaScript, C#, C++

324,696

#27

Argentina

$13

GMT-3

Python, JavaScript, Java

396,021

#25

Mexico

$17

GMT-6

C++, C#, Java, JavaScript, PHP

110,000

#85

Brazil

$16

GMT-3

JavaScript, SQL, Java, HTML, CSS

227,343

#53
From this table, it is clear to see that some offshore software development countries are more favorable than others. For example, Ukraine gives a relatively small number of IT graduates each year, compared to Asian countries, but they are more skilled. Also, Ukraine has over 400 outsourcing companies like KeyUA that provide all kinds of software development services and can help you save up to 70% of your budget.
Final Thoughts
It would be fair to say that there is no single best county to outsource software development for various projects. You need to clearly understand your business goals and expectations towards the project being developed. With this knowledge in mind, you will be able to pick the country that suits your needs the most. Also, think about your willingness to travel (some of the best countries to outsource software development can be located far away from you), cultural and business approach differences, and whether your potential team speaks English fluently enough to deliver you the expected result.
Don't wait for the right moment to come by – get your dedicated software development team now!
Contact Us