The global mobile application market is expected to reach $407.31 billion by 2026, with a compound annual growth rate of an impressive 18.4%. Mobile applications have never more popular, and the demand for software development won't decline anytime soon.
If you are considering an alternative for in-house development, pay attention to outsourcing development companies that can create and deploy your product remotely. 59% of businesses have already turned to outsource agencies to reduce expenses and optimize day-to-day activities. In this article, we will tell you why it is beneficial to use side mobile app development services,how to outsource app development, and what mistakes to avoid.
KeyUA has more than 12 years of development experience. We understand your business needs, use the latest technologies, and are fully committed to your goals.
Contact Us
Benefits of outsourcing mobile app development and some cons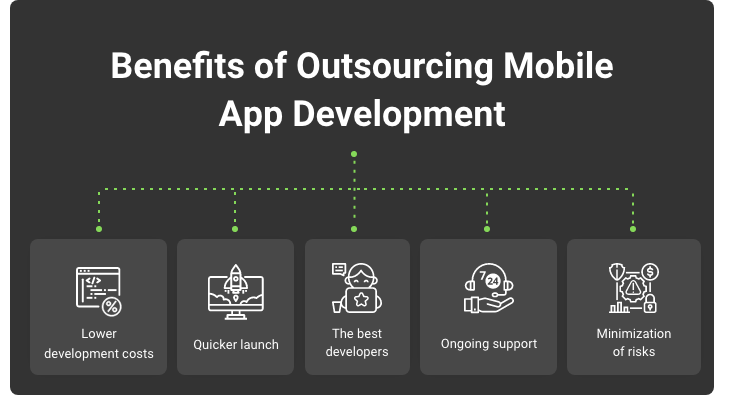 The development process may take place either in your own company or through a third-party group. Both approaches have their benefits and disadvantages, and the in-house vs. outsourcing confrontation still stands strong. Let us enumerate the pros and cons of outsourcing app development to help you decide.
Advantages:
Lower development costs. It will cost you less to hire a third-party company than to create a development department and pay their salaries, insurance, and vacations.

Quicker launch. Once the contract is signed, developers will start working immediately. So you will save lots of time by not having to search for, interview, and hire personnel.

The best developers. You can hire a custom software development company with in-depth knowledge of the industry and outstanding technical skills. The competition is tense, so companies try to hire and train their workers to meet the highest standards.

Ongoing support. Outsourcing companies have the necessary tools to ensure not only successful development but also marketing, launch, and long-term maintenance.

Minimization of risks. You won't be bothered with development issues because offshore companies will take care of everything. Plus, when choosing a reputable company, you get a range of guarantees like transparency and non-disclosure agreements.
Disadvantages:
Time difference. If you hire a development company on another continent, it may be more difficult to communicate because of the time zones. Fortunately, this disadvantage is easily solved if scheduling communication at a convenient time for all parties.

Less control. It is easier to control the process when development takes place in-house. However, this disadvantage is leveled out if you hire a trustworthy and experienced company with a professional project manager.
Outsourcing mobile app development step-by-step
Here are the five steps you need to take when deciding to entrust your application to an outsourcing company.
1. Define your goals and app specifications
The first stage of outsourcing mobile application development is understanding what you want from the app: its functionality and basic features. Yes, you will work on the details together with the outsourcing company's product manager, but it is important to have at least a general picture of the things you want developers to do.
Apart from conducting competitor analysis, you can ponder on the following issues:
Things you want to achieve with the help of your app;

User problems you are willing to solve;

Platforms you want to build the app on (i.e., Android, iOS, etc.);

Key features, for example, user feedback, push notifications, or location tracking;

How to outperform competitors.
2. Estimate your budget
The next important step of mobile application development outsourcing is determining how much money you plan to spend on the app. In the future, this will help you to choose a development company and to decide what features and add-ons you can include in the application.
The average prices for simple apps by outsourcing companies from Eastern Europe are:
Developing an app for iOS: approximately $14,000;

For Android: around $16,000.
When estimating your budget, consider the app's functionality, supported devices (for example, iPhone 7+ or Samsung Galaxy S20), and integration with third-party applications.
3. Pick the outsourcing company's service model
When choosing developers, you should pick one of the three working models:
Project-based. Such an outsourcing model includes a fixed team with a fixed budget. Usually, they offer a limited tech stack and don't have a project manager. This model is suitable for startups and companies with a limited budget.

Dedicated team. In such a model, the outsourcing company builds a team for every specific product. It also takes care of the app's quality by engaging project managers who schedule tasks and update the product's status.

Extended team. This model suggests companies provide outsourcing developers with a place to work. While this model is beneficial for companies who want to control and audit developers, it may add responsibilities—for example, managing the working process and scheduling vacations.
4. Pick the outsourcing company's payment model
There are two most common paying models depending on your project:
1. Fixed price model. As the name suggests, this payment model assumes a fixed price for the project. In most cases, it is used only with apps created from scratch, and you can't change specifications along the way. This model's advantage is that you understand how much the app will cost and won't exceed the budget. The disadvantage is that you will need to work on specifications very attentively not to miss important details.
2. Time and material model. The second payment model is more flexible and is relatively popular among outsourcing companies. When using this approach, customers pay weekly or monthly fees, depending on the time spent. Advantages of this model include a chance to change specifications and team size and control the budget. The only disadvantage is that you don't know the final cost.
5. Choose an outsourcing company
When you know what features your app should have, how much money you can spend, and what service and payment models you prefer, it is time to pick the right developers. After making a list of candidates and before contacting them, consider the following:
Projects. Do they have an extensive portfolio? Have they worked in your industry?

Used technologies. Do they use the latest tools and instruments?

Customers. Is there any feedback on their website? Have they worked for popular firms?

Partners. Do they partner with well-known brands and tech companies?
Researching these questions will help you to shorten the list of candidates. Compare them based on the answers and contact the one which suits you the most. When discussing the project, you should ask how the company ensures transparency, how they communicate with customers, and what approaches they use to get the app's approval in stores. You can also ask for a pilot project if there is such an option.
If you don't have experience guiding product development, we recommend checking whether a company has a project and product manager. These specialists not only oversee the project but also make strategic decisions. They will keep you updated on the progress and ensure meeting the deadlines.
At KeyUA, we can build a mobile app from scratch and maintain its quality after launch. Together we will achieve your most ambitious goals.
Request an Estimate
Features of a good outsourcing company
Even if you have approached the process of choosing an app development company with all seriousness, there might be some doubts about whether you have made the right decision. Here is a check-list of signs which show that you are in good hands:
The company replies on time. Communication is essential, and a trustworthy company is a responsive one. However, you should consider time zone differences.

They are interested in your app. Of course, developers won't be as passionate about the product as you are, but they should ask questions and understand your vision instead of mindlessly completing the instructions.

They eagerly explain all stages of the development process. Transparency helps you to reduce stress, control the budget, and participate in the project's completion.

They use simple language instead of complex tech terms when explaining why it is better to use a particular option or technology.

They don't hide information about previous projects and are ready to share it if their non-disclosure agreement allows.

They can justify the price of every feature and process listed in the estimate.

Their PM has outstanding interpersonal and strategic thinking skills.

They are professional and friendly at the same time.

They don't mind if you ask to communicate with a designer or another team member directly.
Where to look for outsourcing companies
You have several options when it comes to finding a third-party agency for your app's development. Here are the most popular of them:
B2B websites. They list companies, including outsourcing development firms, based on different filters. For example, provided services, focus areas, location, and reviews. There, you can find a company that matches all your criteria. The most popular B2B directories are GoodFirms and Clutch.

Developers blogs. Many development teams have blogs with tips, tricks, and updates in the tech industry. If you like the blog's information or see that company's case studies match the wishes you have for the future product, you can contact this agency.

Freelance platforms. If you plan to outsource the app, not to a team of developers but a single specialist, websites like Upwork may be of great use. There you can select freelancers in the chosen area and read their feedback, rates, and credentials. Keep in mind that you will also have to hire designers and testers on your own.

Design communities. Many software development companies offer turn-key solutions and work not only on code but also on design. That is why it is possible to find the right agency on such networks as Dribble.

Search engines. The most time-consuming method is to insert your request into Google's search bar, manually evaluate each company, and make a list of the agencies you liked the most.
Mistakes to avoid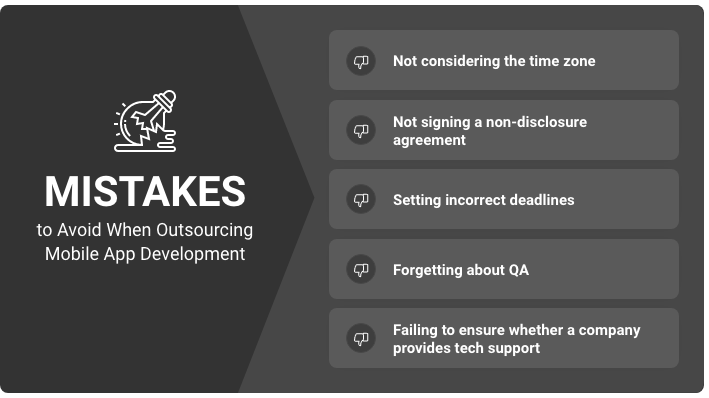 It is always better to learn from someone else's mistakes. That is why we have made a list of the most common mistakes that you should beware of when hiring an outsourcer:
1. Not considering the time zone. You should have at least several overlapping hours a day for maximum efficiency and productivity. That is why, when choosing an outsourcing company, make sure that the time difference won't become a problem for both parties.
2. Not signing a non-disclosure agreement. The NDA agreement forces companies to keep your information private and not share it with third-parties.
3. Setting incorrect deadlines. The custom development process consists of multiple milestones, and failing to establish a proper schedule may lead to annoyance and falling behind schedule.
4. Forgetting about QA. When hiring freelancers or project-based teams, you might need to find a tester on your own, so ask developers whether they have such a specialist on their team in advance. Don't neglect this stage because QA helps to ensure that the app is working correctly.
5. Failing to ensure whether a company provides tech support. The work continues even when the app development stage is finished. That is why you need to make sure that the development company offers technical support. They diagnose and repair mistakes, solve network issues, and ensure that the app is operating smoothly.
Final thoughts
Outsourcing app development has numerous advantages and may help you achieve business goals quickly and efficiently, regardless of the size of the company, its budget, and vision. However, to get all the benefits of hiring outsourcers, you need to choose them attentively.
At KeyUA, we have delivered more than 150 projects with a 100% satisfaction rate and know how to create applications for numerous industries. Choose KeyUA if you are looking for a team of professional developers with outstanding technical skills.
Ready to start mobile app development? Entrust the project to our outsourcing software development company.
Hire Us