In 2019, 550 billion invoices were issued globally. Whether it produces services or goods, any business needs to document its activities, and paperwork may significantly complicate the day-to-day efficiency of an enterprise. That is why there is a need for financial digitalization.
When it comes to billing, accounting, and tracking, invoice scanning software can help companies fill out the papers quickly and avoid mistakes. With the help of such software, businesses can simplify numerous processes and thus increase productivity.
In 2021, revenues from the cloud market will reach $364 billion, and there are no signs of it slowing down. In 2027, revenues are expected to sky-rock and reach $552 billion, making this market extremely profitable and attractive for businesses and developers who want to enter the market.
In this article, we will discuss why it is so beneficial to build a cloud-based invoicing software, what stages the process involves, and the cost of invoicing software development.
Сloud-Based Invoice Software: Definition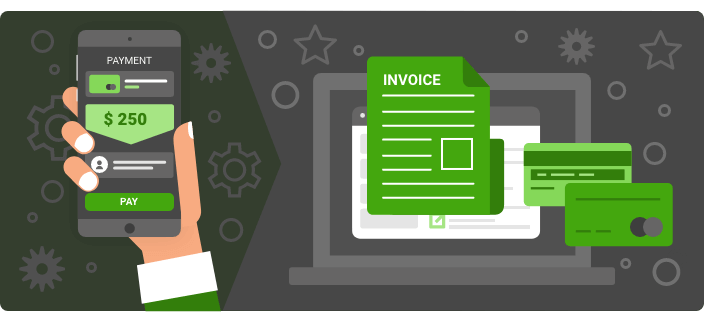 Invoice tracking software is an instrument that creates automatic billing for provided products and services. It generates lists of goods and services and their prices and sends data to customers in the form of an invoice. Usually, such invoices are created using templates to simplify and speed up the process.
Cloud-based invoicing programs are applications that run online. They don't require any space on your computer, and all the payments, bills, and transactions can be made from a single dashboard. It is estimated that by the end of 2020, 67% of businesses will be using cloud-based technologies. This proves their use and efficiency.
Benefits of Cloud Invoice Software
Web-based invoicing software can be advantageous for any business that deals with invoices regardless of its size and niche. Here are some of the benefits to keep in mind: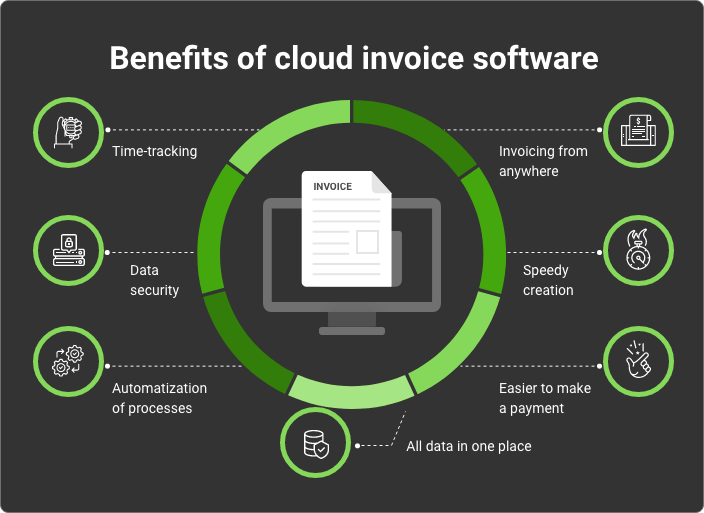 There are 7 Key Benefits of Cloud Invoicing Software
Invoicing from anywhere. Entrepreneurs and accountants are not glued to their personal computers and desks with stacks of paper. Cloud-based technologies allow sending invoices no matter from any location.

Speedy creation. Writing invoices manually or using Excel requires specific knowledge and takes much time. With invoice processing software, businesses can create templates and store them in a cloud library, significantly saving time. Information concerning customer details and payment terms are also automatically saved. This helps to create invoices in a matter of minutes.

Easier to make a payment. Cloud-based invoicing software is beneficial for customers as well. They can pay by choosing a preferred payment option and merely pressing a link. Convenience and simplicity contribute to a positive impression and increase clients' loyalty.

All data in one place.Cloud-based invoicing programs are managed via a single dashboard allowing for tracking payments, deadlines, and other parameters in a matter of clicks.

Automatization of processes. Due to automatization, it is possible to avoid numerous problems, including delivery delays (by setting automatic completion) and delayed payments (by sending payment reminders).

Data security. 94% of businesses report improvement in security after moving information to the cloud. Your data is safely stored in the cloud and is not affected if the system hangs or crashes.

Time-tracking. Most cloud-based invoicing apps come with time tracking systems that record time spent on different tasks. Thus, businesses can evaluate their efficiency and improve it.
With invoice management software, businesses can optimize their activities, reduce costs, and improve user experience. Such instruments are in high demand, so ordering financial software development with a cloud-based invoicing tool is a good idea.
Looking for a team of professional developers? KeyUA experts have 12+ years of experience in custom software development.
Contact Us
8 Examples of Cloud-Based Invoicing Software
There are many web applications and cloud-based tools that help businesses to manage their financial activities. Below we will tell you about the most popular products in the modern market.
Freshbooks is an invoicing and expense-tracking tool which aims to help startups and small businesses to monitor their financial activities and timesheets. It offers such features as customizing and sharing invoices (both new and recurring ones), tracking client's activity, setting-up payment reminders, and receiving credit card payments.
In addition, Freshbooks gives business advice based on your reports and activities. It runs on all platforms, including mobile phones and tablets.
Distinguishing features: Freshbooks has a convenient dashboard which allows collaborating with all members of a team. It also generates professional estimates and financial prognoses.
Price: From $15 per month (for one user)
Xero is an invoicing software that offers the latest features for managing finances. It has 24/7 support, well-designed invoices, and email reminders for customers. Xero accepts payments from all the major debit/credit cards, as well as PayPal. Users can create and send invoices from mobile devices.
Distinguishing features: First of all, the number of connected users is unlimited, so Xero is suitable for big businesses. Another interesting function is that you can receive a notification when an invoice is opened. Plus, users can bulk-invoice numerous clients, which significantly saves time.
Price: From $20 per month
Wave is a free software where enterprises and freelancers can monitor their bills, payments, and expenses within a single dashboard. Its features include creating and sending invoices and estimates, scheduling regular bills, and reminding clients to pay on time. Users can track the status of payments and their financial activities.
Distinguishing features: Wave has a devoted application for Android and iOS devices, so the process of sending an invoice or making payments takes only several seconds no matter where you are. It boasts all the latest features of cloud-based invoicing programs.
Price: Free of any set-up fees and monthly charges
With the help of OneUp, users can manage invoices, inventory, and accounting in one place (both on desktop and mobile). It has an intuitive and user-friendly design and doesn't require any specific skills. They claim to optimize over 95% of business processes and provide detailed information about customers in real-time. OneUp also has a built-in mailing system, automated alerts, and lots of customization tools.
Distinguishing features: It can convert quotes into invoices and has a free trial for up to 30 days.
Price: From $9 per month (for one user)
If you already use their Salesforce platform, it is incredibly convenient to extract data and transform financial documents into necessary formats. The system creates invoices from quotes, gives detailed information about customers, and provides reports on the company's financial activity.
Distinguishing features: FinancialForce allows connecting billing and ERP systems. Considering that reports are created from CRM, you don't have to worry about any incompatibilities.
Price: From $10 per month
Harvest is a billing and time-tracking tool that allows creating brand-new invoices and using templates. It also turns billable time into invoices and provides users with a comprehensive picture of their activities and operations. Users can send invoices in a matter of seconds and receive notifications when customers open them.
Distinguishing features: The list of accepted payment methods includes PayPal and Stripe. When using the Invoice Graphs feature, users can estimate annual revenues and filter reports by a particular date or customer.
Price: From $10.80 per month (for one user)
Scoro is a comprehensive tool that offers a wide range of services. It helps create and send invoices and quotes, set up regular payments and reminders, and store customers' information. With its help, you can also learn about the profitability of different projects.
Distinguishing features: Scoro has a real-time dashboard where businesses can view and track information about the data sent and received and the attached documents and estimated revenues. It has a 14-days free trial period.
Price: From $26 per month
This simple-looking accounting software covers all the basic needs of any enterprise and business. It helps to manage invoices, monitor expenses, create reports, and do accounting on the go. However, Zoho Books can cope with more complex tasks such as setting up recurring invoices, categorizing expenditures, and getting banking updates in real-time. It also offers inventory tracking.
Distinguishing features: Zoho Books users can manage finances by setting up such accounting reports as Cash Flow Statement and Balance Sheet. There is a 14-days trial period and the chance to open a demo account.
Price: From $10 per month
How to Develop an Invoicing Software
Unfortunately, ready cloud-based invoicing programs have several drawbacks. For example, they sometimes have an open-source code, so the software is easier to hack, or they might not satisfy your individual requirements.
That is why creating software tailored to the company's needs, and goals may be more effective and profitable in the long run. Below you will learn about the main stages of custom app development for those who are interested in unique invoice generators.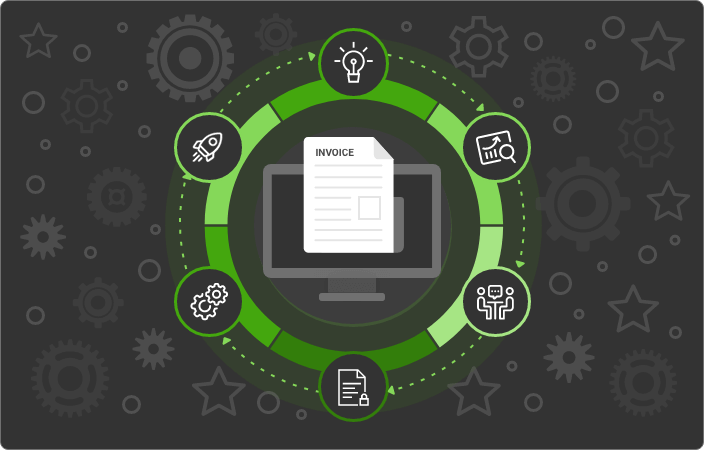 1. Pick a Business Model
Before creating a unique software, it is crucial to decide whether it will be a stand-alone tool or a separate instrument of existing financial software. A business might need both marketing and payment software development, impacting the final version of a business model.
2. Approve Functionality
One of the best things about custom cloud-based invoicing software is that it meets your business's goals and adapts to its changes. That is why it is important to make a list of the functions that the future software should have in the second stage. For example:
Creating a new invoice. This feature allows for creating a brand-new invoice. It should be integrated with projects, customer records, and other papers in the library.

Library of templates. The software should contain professional templates that will save the users' time and help support the company's style and brand.

Creating a customer profile. This feature helps to store the personal and financial information of a client in one place. It should also offer search filters and a chance to attach files.

Setting multiple currencies. This setting is useful if a company operates globally and deals with several currencies.

Receiving and sending information. With this feature, enterprises can communicate with their customers and exchange data in a quick manner.

Payment and tax reports. If this function is included, there is no need to use external platforms for payments and taxes. This, in turn, saves time and improves security.
3. Choose a Team of Developers
Cloud-based technologies require specific skills and knowledge, so when choosing a software development company, it's necessary to pick a team with competencies in cloud-based solutions, automation, Artificial Intelligence, and database management. If you want the project to be a success, a team should consist of developers, UI/UX designers, and testers.
4. Development Stage
When you have found the right development company, defined your business strategy, and made a list of specifications, it is time for a development stage. It includes the following steps:
Developing the architecture of specifications;

Working on UI/UX design to make the software intuitive and user-friendly;

Writing the code;

Testing the platform to ensure that it doesn't contain any bugs and includes all the necessary features.
Remember, the work doesn't end when the product is launched. Cloud-based technologies are constantly evolving, so your invoicing software should be regularly optimized and changed to meet the industry standards.
It is important to remember that creating a customized software is an investment which will help businesses to operate for years. That is why it is essential to entrust the process to professionals.
At KeyUA, we can create invoicing software for a small business, transnational corporation, governmental institution, or any other agency.
Get in Touch
How Much Does Custom Invoicing Software Development cost?
The final price of a cloud-based invoicing software depends on multiple factors:
Size of the team working on the project;

The number of included features, the invoicing software development cost is lower for MVPs but increases when add-ons and extra features are requested;

Maintenance, managing a small instrument is cheaper than a big stand-alone product.
The prices start at $10,000 - $25,000 when choosing outsource companies or creating a minimum viable product. Medium-range prices vary from $25,000 to $50,000. The cost of a complex, cloud-based invoicing software for big companies may reach hundreds of thousands of dollars.
Wrap Up
Cloud-based invoicing software is a substantial investment that manages all sorts of financial and accounting tasks like invoicing, sending proposals, and billing. Such tools are useful for startups and big corporations that are willing to automatize their financial activities, improve the security of operations, and keep up with the latest technologies and tendencies.
At KeyUA, we create comprehensive solutions for businesses to help them increase revenues and achieve short- and long-term goals.
Contact Us