The cost of generating a qualified lead for insurance can reach $60, and only half of them are ready to make a purchase. Converting leads to customers depends on how well you move them through your sales funnel. A customer relationship management (CRM) software significantly optimizes processing leads coming from an omnichannel environment.
We've researched to refine the best insurance CRM systems that help agents overcome the most common challenges on the way to sales efficiency and automation.
Why Is Using CRM for Insurance Agents Vital?
Traditionally insurance brokers and agents have been the primary channel of interaction with potential and actual customers. Now clients demand multiple access points to engage with the insurer along the customer journey. These are in-person or phone connections with an agent, remote communication, and digital channels through online services and apps.
A recent survey from McKinsey has shown that more than 84% of consumers prefer using digital access points along the customer journey. Yet, 55% are not into actually purchasing insurance online. They need an agent.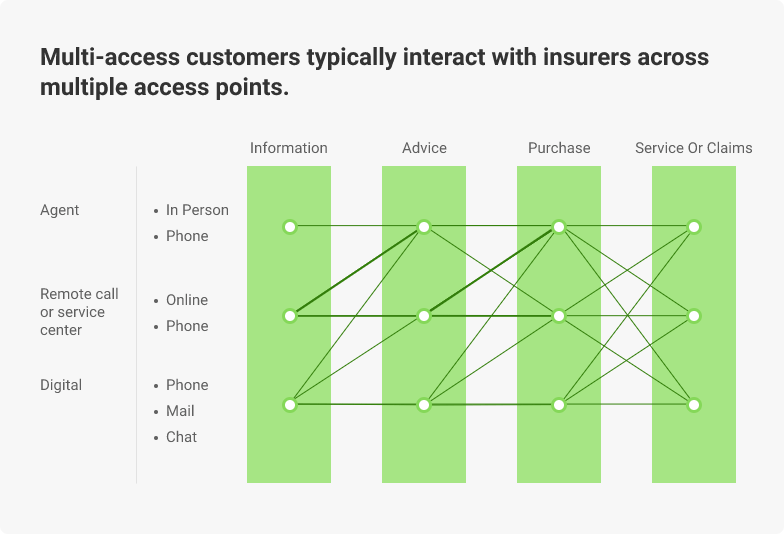 Access Points for Interacting With Insurers
Agents and call centers are still the most approachable access points for customers. For effective interaction, the incoming leads should be correctly categorized. Then, an agent should reach them at the right time for consultancy and guidance through the sales funnel right into a purchase decision. The insurance agency CRM system helps automate all these tasks and eliminates messiness in processing leads due to the human factor. Moreover, it brings multiple ROI benefits for business: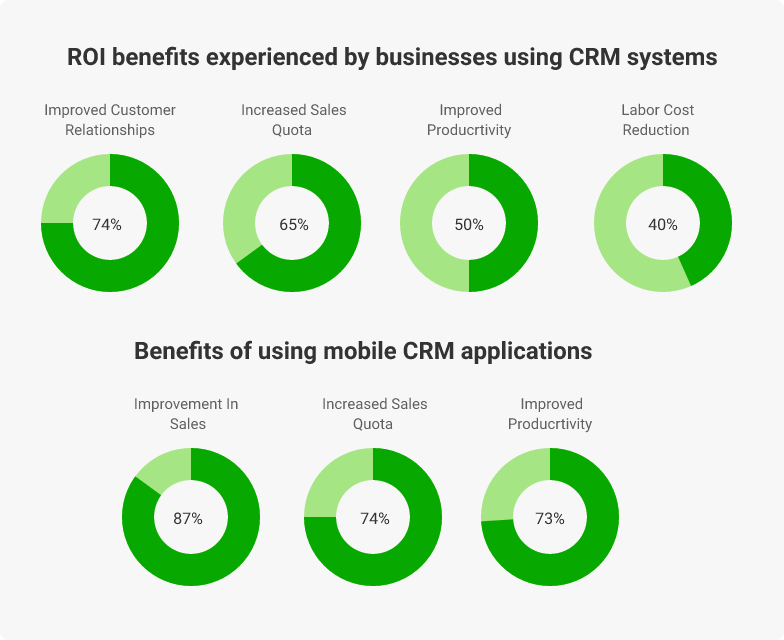 ROI Benefits from Using CRM Systems (Source: financesonline.com)
Besides boosting results, an insurance CRM system brings practical convenience for agents, resolving the main pain points:
No problems with data inconsistency and synchronization in a single repository. There won't be any multiple spreadsheets with tons of duplicate or missing records.
Much less manual work as most of the routine tasks gets automated.
Improved lead management. Agents won't forget to call their potential clients on time or miss any other step to close the deal. The CRM for insurance agents automatically reminds them when it's time to take action.
Unified customer view: a centralized, easy-to-use database with each client's details, statistics & history. Even if you decide to renew negotiations after a long break, you will know how the previous sessions ended.
Improved customer interaction: multichannel, personalized communication with each lead or client, with all communication history (emails, calls, chats) recorded.
Automated marketing campaigns: emails, SMS, push notifications, social-network updates, and other messages can be sent to customers in a centralized, targeted manner, tracking all statistics regarding their activity and campaign effectiveness.
Tracking, analyzing, and scaling interactions with potential and actual customers become much easier and more resultant using a proper CRM tool. We've selected the best insurance CRMs that can be tailored to a specific enterprise and customized for the individual requirements of your business. We analyzed features, pricing, support service quality, and customizability to choose the top CRM software for insurers.
See no suitable CRM for your insurance business? Let KeyUA develop a perfect custom solution.
Contact Us
1. Zoho CRM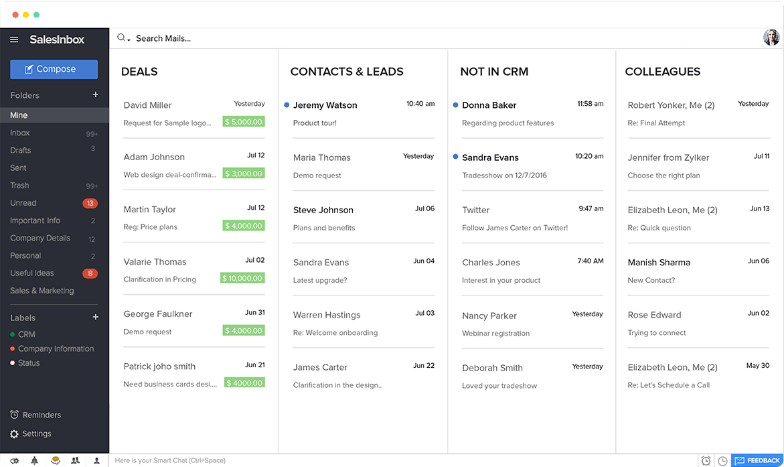 Zoho CRM is one of the most popular CRMs in various verticals, including the finance sector. More than 150,000 businesses worldwide use it to streamline interactions with customers. It is one of the best insurance SRM software solutions and helps properly organize leads, manage multiple policies, and automate sales activities. For maximum results, Zoho engineers offer to customize their system to address the specific needs of the insurance company. For instance, you can add a custom Insurance Policy module with multiple layouts for different types of insurance.
Zoho CRM Features
Besides general features that make sense for any business, there are options beneficial specifically for insurers:
Workflow automation: to renew customers on time, you can set up automatic reminders when it's time to make the next payment. Automated reminders can also be sent to wish a happy birthday or inform about specials.
Multiple policies management: Zoho CRM allows handling customer information for multiple policies using multi-page layouts. An agent has a complete view of all policies each customer is signed up for.
Claims management: set up assignment rules to assign incoming claim requests to the right people and quickly resolve them.
Comprehensive statistics: the integrated analytics tools help translate all data into trends and detailed reports to make accurate forecasts and define future business growth steps.
Seamless integration with third-party services: Zoho CRM supports integration with 100+ popular business apps, including G Apps, DocuSign, Mailchimp, etc.
| | |
| --- | --- |
| Benefits | Drawbacks |
| Free subscription available | Limited features upon free subscription |
| AI-driven contact and lead management system | Inconsistent tech support quality |
| Omnichannel communication for high customer engagement: email, phone, chat, and social media supported | Lack of document tracking for presentations and proposals |
| Great customization capabilities | Hard to migrate from other CRM systems |
Zoho CRM offers a Free Edition for up to 3 users. The paid plans start from $14/user/month if billed annually. The most expensive plan, Ultimate Edition, costs $52/user/month (billed annually).
2. Radiusbob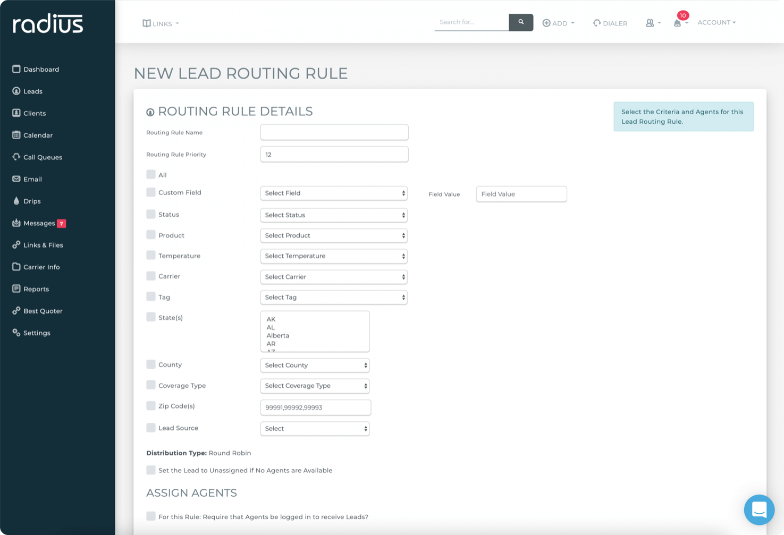 Radiusbob is a specialized CRM for insurance agents that is widely popular in the industry. This highly customizable lead management and sales software also offers phone services for call centers. The 'bob' in the name of this CRM is short for 'book of business'.
Radiusbob CRM features
This cloud-based CRM for insurance agents is specifically tailored to the needs of insurers. Its key features include:
Sales automation: allows setting up lead distribution rules, automating tasks assignments inside the team, adjusting workflows, automating quoting, etc.
Marketing automation: email marketing, newsletters, autoresponders, direct mail, text messaging

—

all these campaigns can be automated using Radiusbob.
Built-in VoIP: the integrated Telephony tool helps contact leads and customers directly from the CRM without third-party software. Recording calls, local and toll-free numbers, call queue lists, click-to-call options are on board.
Customization: any form fields, client statuses, lead temperatures, and other elements can be customized specifically for your workflow.
Organized performance: automatic emails import, history, and notes for each lead and client, unlimited file storage, reminders for required actions.
| | |
| --- | --- |
| Benefits | Drawbacks |
| Auto-assign leads to agents | No mobile app (only mobile-friendly web version) |
| Integration with the company's website | No free subscription plan |
| Comprehensive sales pipeline management | Limited integrations with third-party services to collect leads and contacts |
| Multichannel marketing capabilities | |
Radiusbob offers a 14-day free trial that doesn't require credit card details to register. After that, the paid plans start at $34/month.
3. Microsoft Dynamics 365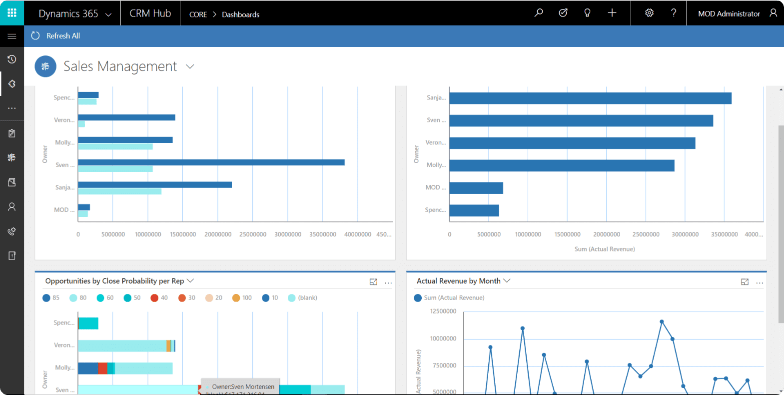 A CRM solution from the world's biggest software giant offers a customizable, unified workspace for insurance companies of any scale. It allows launching multichannel marketing campaigns, tracking comprehensive customer information to analyze and make better decisions for business growth, and automating processes of policy sales.
Microsoft Dynamics 365 features
Dynamics 365 offers using CRM as a stand-alone solution or integrating it with other business tools to create a powerful integrated system for all business needs. The critical insurance brokerage CRM features include:
Customer journey customizations implement personalized buyer's experience based on user engagement.
Dynamics 365 Connector for LinkedIn Lead Gen Forms allows getting target leads from LinkedIn.
Real-time data analysis to track the performance of marketing campaigns and get the right insights about the customers and market.
Personalized sales activities with customizable pipelines and processes.
AI capabilities to automate sales and monitor customer relationships.
| | |
| --- | --- |
| Benefits | Drawbacks |
| A low-code platform allows configuring all required features for individual needs | Hard to manage permissions for system users due to multiple customizations |
| Highly knowledgeable and responsive technical support | Requires high-speed internet connection for smooth performance |
| Easy to customize and integrate with 3rd party tools | It takes some time to master all the features and use them smoothly |
| Mobile app available | Comparatively higher pricing among similar solutions |
| Being built on the Azure platform, it utilizes the highest data security standards | |
Microsoft Dynamics 365 is available in a 10-day free trial. It offers a pay-per-user pricing model that starts at $50/month/user, depending on the product type.
4. Insure.io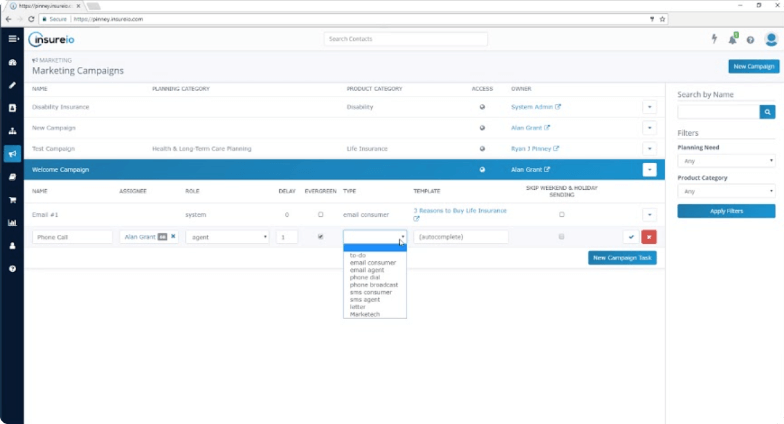 Insure.io emphasizes the ability to use your time more effectively by applying an automated, systematized approach to sales, lead generation and management, and customer service. More sales, less paperwork is what the product promises to its users. It is the leading life insurance CRM software letting agents get quotes from 40+ life insurance carriers globally.
Insure.io Features
Insure.io is suitable both for individual insurance agents and big agencies. In addition, every available plan includes integrations with social media, text messaging, and phone calls. Other exciting features include:
E-applications and e-signatures integrations to reduce office paperwork.
Systematized lead routing and assignment according to preset routing rules: you can assign leads to agents based on lead source, product brand, etc.
Custom marketing campaign builder with ready-made email templates, marketing campaigns, and other presets.
Minimizing non-revenue-generating activities with the aim of automated case management, approval, e-policy delivery, etc.
Pre-built report templates that can be customized to retrieve the required data from the whole scope.
| | |
| --- | --- |
| Benefits | Drawbacks |
| Powerful marketing campaign builder with numerous presets and automations | Tailored specifically for life insurance, not suitable for other types |
| Ability to generate a personalized, branded website based on available templates | Marketing options are not available on the Basic plan |
| Automated options to boost up-sell, cross-sell, and referral sales | No mobile app (it is a cloud-based SaaS solution) |
| Highly relies on e-documents for application fulfillment: no more paperwork | |
Insure.io is available in a 30-day free trial version to test all its options before purchasing a subscription. Paid plans start at $25/month and go up to $75/month.
5. Bitrix24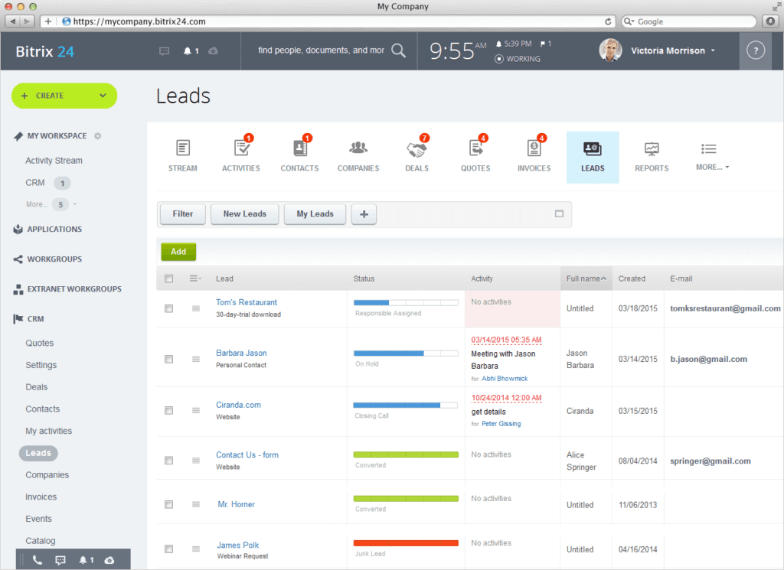 Bitrix24 has one serious advantage among other alternatives: it offers a fully-featured free plan. Therefore, it is the best option if you are looking for a free insurance CRM system, and your agency is 12 employees or fewer (those who require access to CRM). While it is not specifically tailored to the insurance business, it has a great set of features that come into use to ease the life of an insurance agent.
Bitrix24 Features
Unlimited customer database: free customer storage for past, current, and future customers and leads with a detailed view of each one, including contact information, communication history, meeting info, etc.
Automated lead scoring and distribution, live chat widget, website forms integration to increase incoming leads and speed up their processing.
Visualized sales funnel and pipeline stages with measuring results on every step to see the total leads statistics.
Lead generation through social media integrations: Facebook, WhatsApp, Telegram, Viber, iMessage
Two-way email synchronization: sending and receiving emails directly in Bitrix24. All email history for each lead and client is stored in the system.
| | |
| --- | --- |
| Benefits | Drawbacks |
| Comprehensive text messaging and telephony | Issues with uploading big files |
| Generating quotes and invoices in the system | Limited reporting capabilities |
| Setting individual sales targets for agents | Heavy widgets that slow down the website performance if integrated |
| Built-in order and payment processing | Cluttered user interface |
Bitrix24 is free for up to 12 users. However, if you have more employees, you'll need to purchase a subscription that starts at $49/month for 5 users if paid annually.
6. AgencyBloc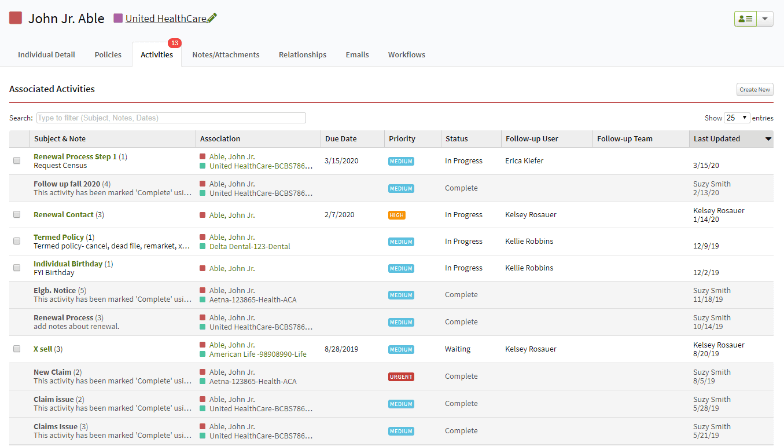 AgencyBloc is another purpose-built insurance CRM mainly used in life and health insurance. However, it is suitable for other types of insurers too.
AgencyBlock Features
The system's capabilities are strictly tailored to the needs of the insurance business. Automation, convenient commissions processing, and tracking prospects optimize routine tasks and focus more on growth. Here are the key features:
Tracking leads and prospecting: tracking leads from the first point of contact, effectively engaging and retaining customers.
Commissions processing: agents can import carrier statements, and the CRM will manage all splits automatically. The system also detects unpaid commissions.
Custom automation for all business processes like follow-ups, tracking down agents, etc.
Custom marketing campaigns that can be set up to run automatically based on predetermined events.
Handy data management: quickly filter the information stored in the system with an endless number of criteria to extract exactly what you need.
Detailed reporting and dashboard to review the current stats in various forms (charts, graphs, custom reports).
| | |
| --- | --- |
| Benefits | Drawbacks |
| Insurance-specific CRM with all features in the right place | Web-based (no separate desktop and mobile apps) |
| Easy and quick setup compared to other products | Group policies renewing triggers the same set of reminders for each policy, resulting in duplicate tasks |
| Handy access and permissions control for each CRM user | Non-adjustable page listing activities and column sizes |
| Microsoft Outlook integration | Lack of integrations with 3rd party tools |
AgencyBloc insurance CRM offers a 7-day free trial. After that, the paid plans start from $65/month, depending on the number of users.
7. SalesForce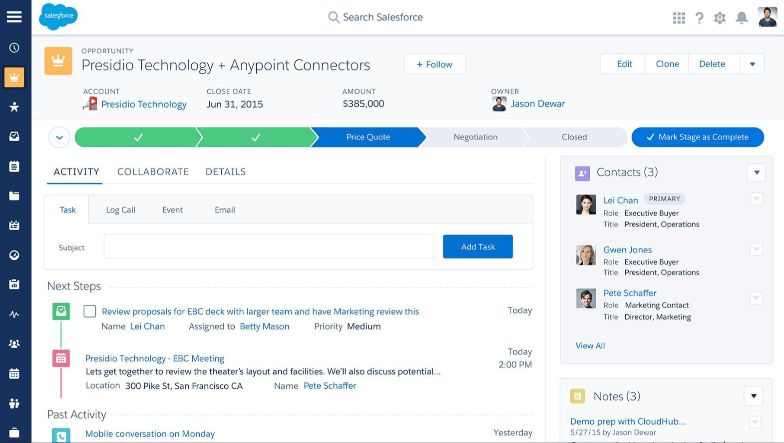 SalesForce is one of the most popular CRM systems for insurance agents. It helps manage sales, marketing, nurture leads, and work customer support activities within one cloud-based environment. In addition, it allows setup pricing for insurance products and services and features a custom dashboard and reporting capabilities to track the progress and plan future development.
SalesForce Features
SalesForce is designed to service customers, generate and nurture leads, run lucrative marketing activities, and process sales. It is a cloud-based insurance CRM that doesn't require in-depth technical expertise to set up and manage all customer-related processes properly. The system's features are:
Hassle-free contact management with access to each lead and client with all interaction history in place.
Opportunity management: viewing every customer's timeline, tracking the stages of each deal to decide the next move.
Quote management: tracking the products with quoted prices, standard prices, product code, etc.
CPQ (configure, price, and quote) automation for faster proposal submission and personalized offers for different clients.
Einstein analytics: business intelligence tools to unlock complicated sales, receive valuable sales insights, and plan more practical activities.
| | |
| --- | --- |
| Benefits | Drawbacks |
| Multichannel marketing campaigns | Time-consuming configuration and setup |
| Dynamic dashboard and custom reports | Tough learning curve |
| Mobile app available | Unnecessarily complex UI, sometimes hard to navigate |
| Integrations with Gmail and MS Outlook inboxes to sync emails | Paid add-ons are required to get the most of the software |
| Sharing and viewing any files from the system at any time from any device | |
SalesForce is a multi-functional system that can become a great helper in customer relationship management if properly configured. It is available in a 14-day free trial. The Sales and Service Cloud package starts at $25/user/month if paid annually.
How To Choose an Insurance CRM?
Each enterprise is individual, with its unique processes and needs. Therefore, relying on software popularity is not the best option when choosing an ideal CRM for insurance agents in your company. To make the right choice, consider a few essential criteria.
Key features
CRM platforms offer different levels of automation, and you should select the one that covers your requirements in process management. For instance, some of them deal only with lead processing and customer service. In contrast, others allow setting up product pricing, processing quotes, and running marketing campaigns. Also, it is essential for a CRM to support integration with other tools if you need to build it into existing infrastructure.
Cost
In most cases, a CRM can save you much more than it costs by reducing the paperwork and workforce required to fulfill customer-related activities. However, you should consider products that fit your budget. Comparing a few solutions that provide all the necessary features to find the best pricing option would also be helpful. Sometimes, custom insurance app development is more reasonable than purchasing a ready-made solution due to the required customizations and subscription costs per user.
Accessibility
If your agents work from the office, most likely, it would be enough to have a web app CRM or desktop software. However, having reliable mobile access is a must if your employees work remotely and often perform activities on their feet.
User-Friendliness
High-end features and all-in-one capabilities often complicate using an insurance CRM system as the learning curve is practically endless. With a cluttered interface, poor navigation can be a problem. It would be great to receive a product demo before making a purchase, test it in a free trial to make sure its look-and-feel fits your employers.
Simplicity
Often buyers fall for excellent promotions that promise loads of features for each aspect of the sales and lead generation process. However, it can result in paying for the features your agency team doesn't need at all. Focus on your tasks and goals to select the right product that will streamline your operations instead of complicating the life of agents with unnecessary extras.
Haven't found the right insurance CRM for your agency? KeyUA will create a custom CRM solution that perfectly fits your goals.
Get In Touch
Final Thoughts
Using a CRM system brings benefits to everyone if implemented correctly. Customers get timely and personalized guidance, and agents can work faster and obtain better results. In addition, entrepreneurs get more sales and profit, cutting operational expenses.
The top CRM product is a perfect combination of functionality, usability, and pricing. There are professional CRM systems tailored to insurance agencies and generally used ones that you can adapt for the insurance business.
You can also develop a custom CRM solution if available products don't satisfy your company's needs. Reach out to the KeyUA team for advice or custom development assistance to get the most results from implementing a CRM system in your company.
Need a software development partner for custom CRM development? KeyUA is here to help.
Contact Us