Companies with a mobile app for travelers are getting around 60% of orders via mobile devices. If you still haven't, it is the right time to make your own travel app to follow this vital customer behavior pattern. Through the drastic decrease of demand for travel services, 2021 revealed a heavy uprise in all categories. Find out how to create a mobile app for travel with minimum investment and maximum outcome.
Travel Application Market Overview 2021
The travel industry is one of the most seriously affected by the COVID-19 pandemic. However, over the last year, travel companies have adapted to the current conditions.
Digitization, new approaches in arranging travel, and growing interest in local tourism partially compensated for the physical limitations. And people began traveling again. Sensor Tower Travel Apps 2021 report shows a significant increase in travel app downloads among U.S. users: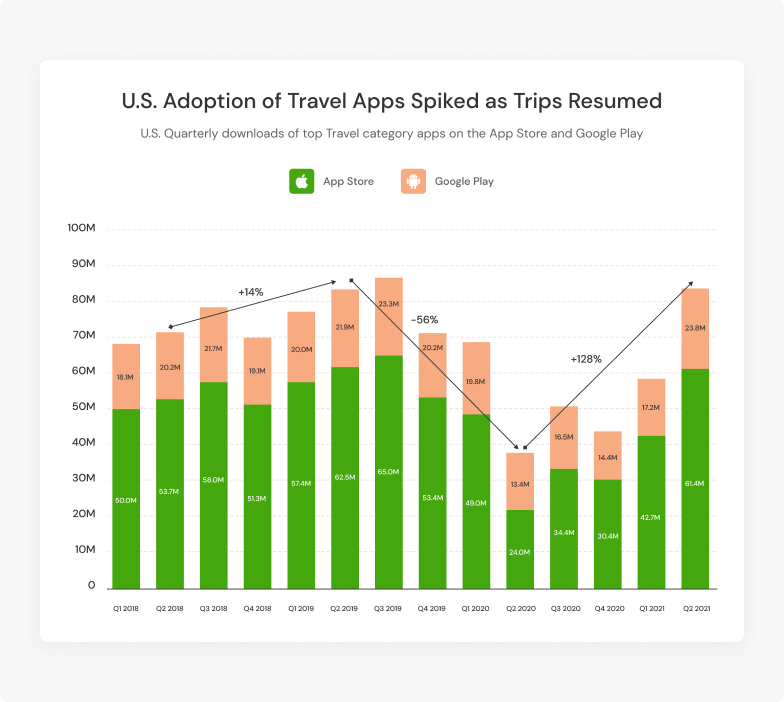 In Q2 2021, travel apps reached 85 million downloads, a 128% increase compared to Q2 2020. The chart above also shows a clear upward trend suggesting the demand will continue growing.
If you've decided to develop a travel app of your own, it would be helpful to review the top applications in the travel category over the last two years: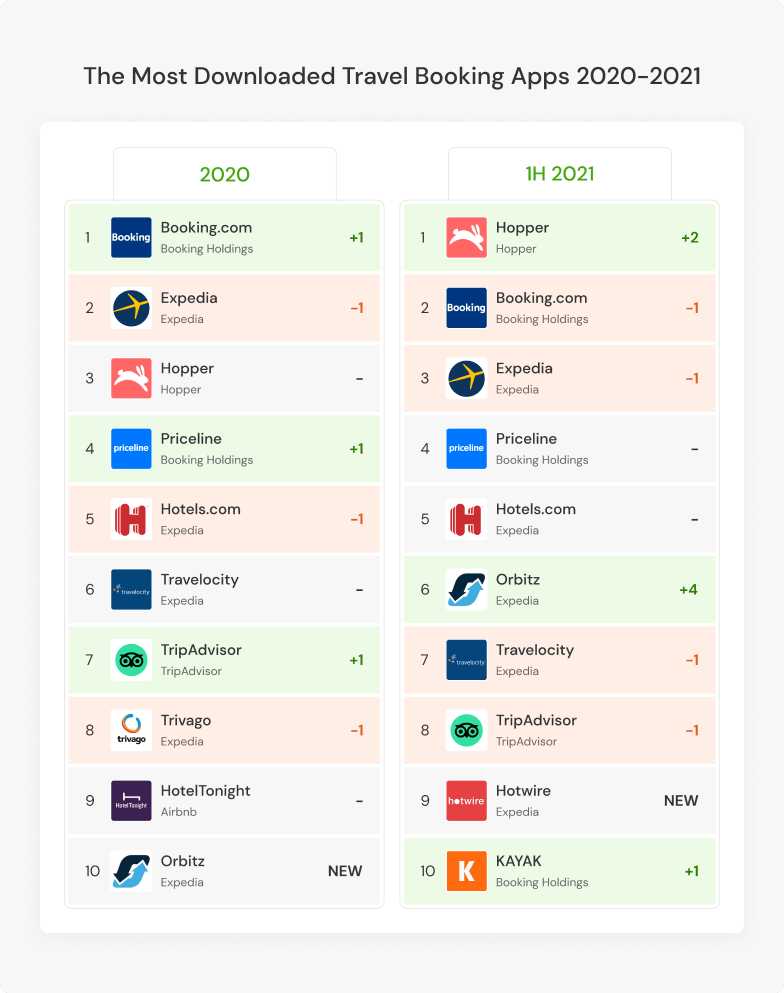 As you see, most of the leaders remain the same, yet their positions have changed in the list. KAYAK and Hotwire knocked off HotelTonight and Trivago.
Most of the app downloads belong to two top travel companies: Booking Holdings and Expedia Group. Yet, the leadership in 2021 belongs to the Hopper app, which doesn't belong to any of these holdings.
The travel app market is actively evolving. So even if you are not targeting a leading position among the top players, developing a mobile application will be a big step to meet your customers' expectations.
Would you like to outsource your travel app development? KeyUA is ready to help.
Get In Touch
Why Do You Need To Build a Travel App?
Statista reports that online sales generate 65% of global revenue from travel and tourism. The recent research conducted by Expedia Group shows that now, more than ever, travelers are ready to try new experiences. In addition, 48% of customers are open to making bookings through companies they have never used before.
Imagine the opportunities for startups and young companies if almost half of the target audience is ready to test new providers. But, of course, it is not the only reason for travel application development. Other advantages include:
Instant access to your products services: customers can purchase them 24/7 with no limitations to business hours, your office location, and travel agents' availability.
Pleasant user experience: apps are comfortable to research and plan trips, book tickets, find reviews, post feedback, etc. GPS, camera, and other smartphone hardware make it more handy and fun to do different travel-related things.
Brand recognition: with a mobile app, you're always close to your customer, right in their pocket. Using the app on the go, in transport, at work, anywhere, and anytime significantly increases brand recognition.
Powerful marketing capabilities: a mobile app gives additional customer engagement and retention (push notifications, personalization, etc.).
Analytics: mobile apps collect detailed info about every user. It helps understand your customer portrait and develop your brand and business according to the data-proven findings.
Cost-effective customer care: in the app, users can do many things that previously required personal human assistance. This way, a company can significantly reduce costs for servicing its customers.
Less paperwork: customer service and order processing automation allow the companies to go paperless. There is no need to print numerous travel brochures, invoices, and other documents.
Creating a travel app may help increase the customer base and grow your business. It is the type of investment that continuously brings a decent return.
Tips for Risk-Free Travel App Development
Launching a new software product is always a risk, especially in a travel business that is highly competitive and constantly changing. However, there are a few suggestions on how to build a travel app efficiently and where to start to lower potential risks and losses.
1. Understand Your Goals
Convert an abstract desire to have a mobile app into a more specific, detailed plan. You should clearly understand what goals you'd like to achieve within the future product. It will give you a better idea of necessary features, the scope of work, technologies, etc. In addition, it would be much easier to consult technical experts if you could clearly describe your expectations and requirements.
2. Customer Research
Investigate your customers' needs and behavior. The success of the future application directly depends on how well it solves their problems. Therefore, analyze the most popular customers' requests, feedback, and pain points to find a suitable solution.
3. Competitor Research
Reviewing and testing your competitors' apps may show you their strong and weak sides and give you a better idea of how to stand out with your application. You can also check what users think about existing travel apps to evaluate the products from the consumer's point of view.
4. Plan Your Monetization Strategy
Think about how you plan to monetize your travel application after the launch. Depending on the app type and your goals, different models can be applied. Most of them require certain technical adjustments during the development phase. It will take more time and money if you decide to edit a launched, working application.
5. Find a Team that Fits Your Budget
Select an outsourcing partner that satisfies your price & quality expectations. Sometimes choosing a contractor from another country can cut the expenses in half or more. For instance, mobile app developers and designers from Eastern Europe cost $20 - $50 per hour, while the same services in the USA may cost $80 - $150 per hour. Choose outsourcing teams that can speak your language, provide communication and reporting at a time that fits you, and follow your comfortable schedule.
6. Prioritize the Features
It is a regular practice to first launch a new application in an MVP (Minimum Viable Product) version. It contains just enough features to provide your services to early customers and collect feedback to understand if your product is worth further investment.
Think about what features your app cannot go without and implement them first. For instance, how to make a travel guide app with a minimum budget? Geolocation, traffic data, voice directions, route building features are must-haves.
Review options, a recommendation engine, and AI-chatbot support can be developed later. They enrich the user experience but are not essential to customers. Sort your priorities to rationalize the expenses.
7. Do Not Ignore Marketing
Creating an innovative, unique application with a great look and feel is nothing without proper promotion. People need to know about a new product to decide to try it.
So prepare a complex marketing strategy to promote the release of your travel application. Even well-established industry leaders with a strong reputation invest hundreds of millions of dollars in marketing to attract new users and strengthen their brand.
These tips may help you optimize your investments at the start and avoid more considerable expenses in the future.
Looking for mobile development engineers experienced in travel? Create your custom travel app with KeyUA.
Contact Us
Travel App Features
As of 2020, travel apps had 20% day one user retention, meaning that only 1 in 5 users continued using a travel app a day after installation. And only 3.6% of installs survive after 30 days of use.
So how to make a travel app that won't be deleted? Providing a relevant set of features in a usable and safe manner is the key. Depending on the app type, the features may vary. Here are the most popular options and functionalities for a travel app.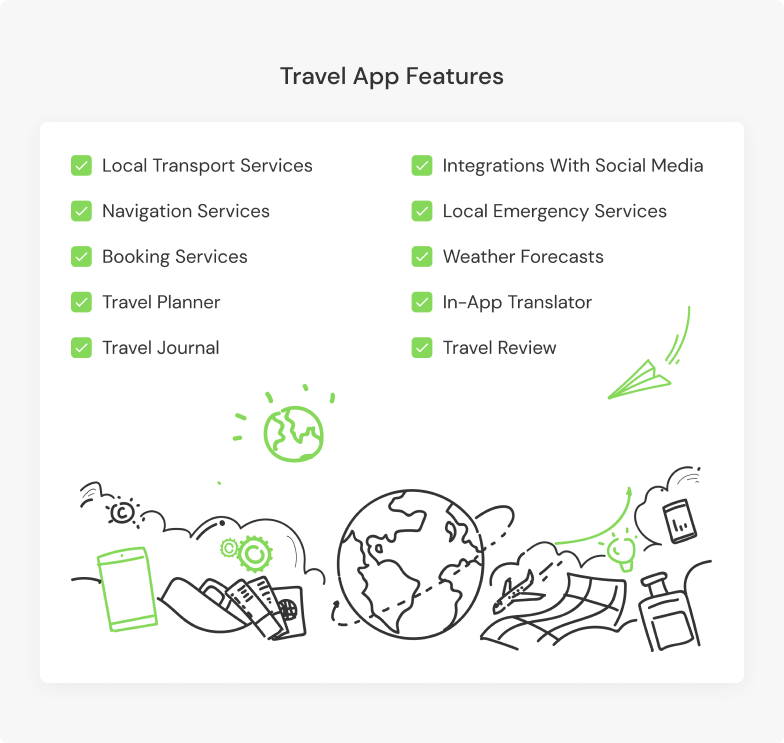 1. Travel Planner
Travel apps now go beyond simply booking, and users want more. People spend a lot of time researching the destination and planning their vacation. A trip organizer is one of the most wanted options for travelers. It should allow users to search for destinations, available tickets and accommodation services in the chosen location, and possible transport routes. It would be great to be able to plan a trip to several different points to visit. The capabilities here are endless.
2. Booking Services
This is the primary feature for most travel applications. Tourists and local travelers need to book tours, hotels, hostels, apartments, tickets, cars, and other things to arrange their travel.
Providing such capabilities through the application, especially if combining a range of booking services in one application, is an excellent idea. It will save a lot of time for a customer to book everything they need in one place.
Make sure to create a travel app with flexible search and filtering options to let users find required listings as quickly as possible. Data accuracy is critical here: the availability dates and transport schedule should be updated in real-time, with no harm to the app performance.
3. Local Transport Services
It would be great if a customer that booked a tour from your company could also book a transfer from the airport or car services if necessary. Using fewer applications for all the required preparations is what any user would approve.
4. Navigation Services
Most online touristic agencies end up interacting with a customer right after the tour purchase is made. Assisting with navigation in an unknown city is an example of providing additional value for a customer. All tourists use navigation tools to help while traveling. So why wouldn't you make it a part of your travel app? A great bonus will be the map download option to make it available in offline mode.
5. Travel Journal
It is a kind of a 'diary' feature to let users keep records and upload photos and videos while traveling. The ability to share the travel journal or its specific entries on social media is also a great plus.
6. Travel Review
Tourists spend a lot of time reading reviews from other tourists while planning their trips. Integrating the ability to post trip reviews in your application will help increase the time users spend in the app. In addition, searching reviews by target destination will help get more information about local infrastructure, exciting places to see, the best restaurants to go to, etc.
7. Weather Forecasts
Weather is one of the critical parameters of choosing the dates for vacation. It defines the destination, the plan for different entertainments, and finally the decision if a person will book a tour or not. So make the weather forecast always on hand.
8. Local Emergency Services
It would be great if your client could find necessary emergency details in your app, just in case they need quick local assistance. For example, knowing the addresses of local hospitals, police stations, an embassy, etc., can save a lot of nerves in an emergency.
9. In-App Translator
Integrate a translator into your application to help tourists communicate with locals during their vacations. It will positively affect the user experience. Using the phone camera and advanced technologies, create a text scanner for visual translation. Set up a voice translator to help users with local language pronunciation.
10. Integrations With Social Media
The ability to share listings or any other item from your application on users' social media will help them share their touristic activity with friends. At the same time, you will boost your brand awareness and attract new users to the app. Also, it would be helpful to provide the ability to sign up and log in via social media instead of filling in long and exhausting registration forms.
We've considered travel industry-specific features that most customers would like to use. There are also basic functionalities like secure authorization, user profile, online payments & checkout processing, multi-language support, etc. The whole set of features depends on your app type.
Travel App Types with Samples
If you need an application of a specific type, it would be helpful to check the available tools in that category and test their features in action. Here are the most popular types of travel apps with samples for your reference.
Travel Guide
This kind of app gives tourists access to local attractions, sights, restaurants, events, etc. So when you travel somewhere, you will be able to choose what to see and where to go with ease. Triposo is one such app.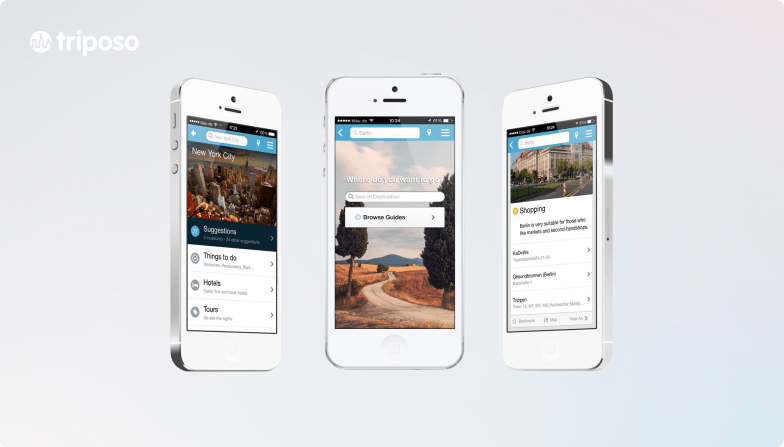 Triposo also helps to build a route for a walking tour to visit all planned points. It works excellent for historic sites, yet lacks up-to-date information about restaurants and other services for some countries.
Booking App - Expedia
Booking tours, hotels, tickets, and other must-haves for travel is the most popular category in tourism app development. These applications are focused on presenting users with available offers and letting them book suitable ones in real-time.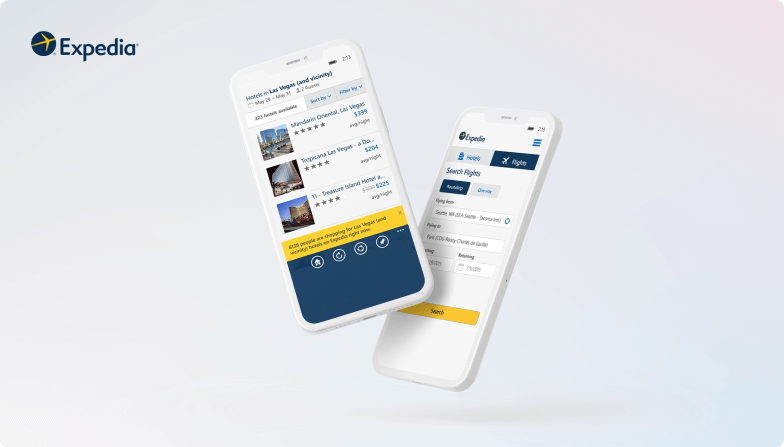 One of the best products in this niche is Expedia. It offers booking transport tickets, rooms, and cars separately or creating a ready-made travel package. In addition, the app provides truly diversified choices for different budgets and comprehensive insurance. However, sometimes its customer service leaves much to be desired.
Navigation App - Maps.me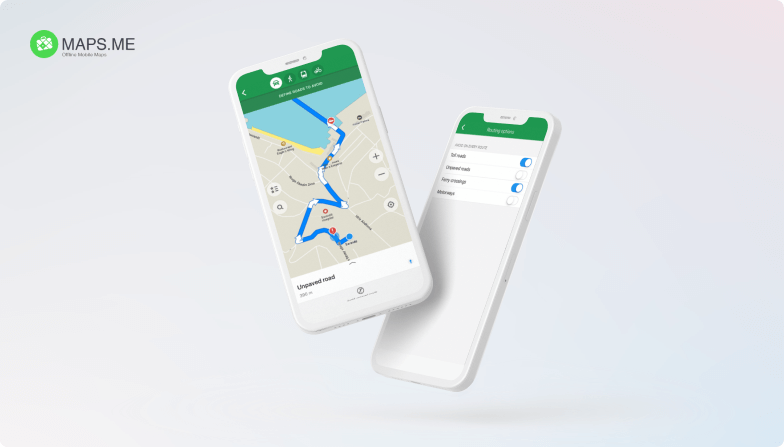 Maps.me is a mobile navigator that allows loading a map for the desired city, setting the route, and enjoying a walking journey. It is also suitable for bicycle routes. Offline mode is excellent, as a tourist doesn't need an internet connection to run previously loaded maps. However, the path is updated a bit slower when running offline.
Test these apps to evaluate the look and feel of modern mobile solutions for tourists. Don't try to replicate any of the existing solutions. Analyzing existing products helps to get insights for creating a solution better than existing ones.
How to Choose a Tech Stack for a Travel App?
First of all, you should define the suitable development approach, depending on your project complexity. Then, you have a few options to choose from:
Using a travel app builder: online development tools allow creating simple mobile apps without coding skills. You open the website and assemble the future application like a puzzle. It costs much less than custom mobile travel app development but lacks customization capabilities and has limited features, performance, and corporate identity.
Developing a hybrid mobile app: building a web app that looks and feels like a native one thanks to coding in the native app shell. This way, you can use one codebase for both iOS and Android app versions. While it takes less time and money for development, it has limitations in platform-specific capabilities, features slower performance, etc. The most popular frameworks for hybrid mobile development are React Native, Ionic, Xamarin, and NativeScript.
Creating native mobile applications: building a separate mobile application for each platform. Popular programming languages for iOS native development are Swift and Objective-C. For Android, it's Kotlin and Java. The main drawback of this approach is the cost. However, it is compensated by the highest potential in terms of functionality and performance.
Whatever approach you choose, hybrid or native mobile development, it is necessary to integrate APIs for certain features:
Choosing the right tech stack depends on your project requirements. Usually, the development team defines a suitable tech approach and tools after analyzing all specifications.
How Much Does It Cost to Develop a Travel App?
The total project cost again depends on the chosen approach and project complexity. If you decide to design native travel applications for iOS and Android, the MVP version's development cost may vary from $18,000 - to $42,000.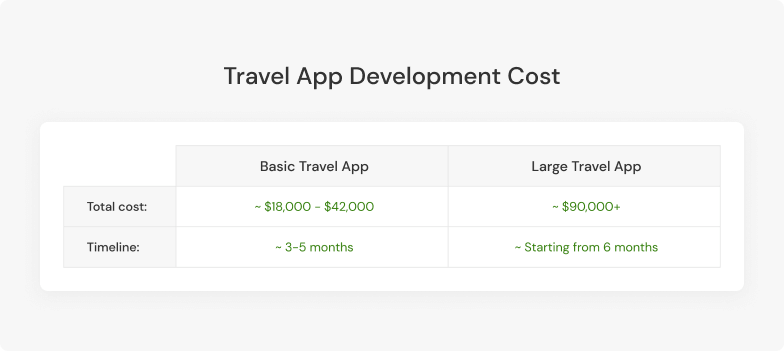 It is an average estimation for a mid-size and mid-complexity project, considering an average hourly rate for a development team of $45/hour (typical for Eastern Europe outsourcing providers). Get a more detailed look at how the travel app development cost is formed in our dedicated article.
Conclusion
Today none of the travel services can exist without a mobile user experience. Customers prefer researching and booking travel from their smartphones. Moreover, most of them look to use an app instead of a website.
Travel app development is the right strategic move to strengthen your business, engage existing customers, and attract new ones. The KeyUA team can help you reach all those goals by developing a suitable mobile solution. So let's add the edge of mobility to your travel business.
Build your travel application with KeyUA!
Contact Us