Online travel services are a great example of digital transformation in business. The share of online sales in the global travel market reached 65% in 2021, and it is growing. As a result, online travel agencies (OTAs), travel blogs, and other related website types are a golden goose for their owners. Find out how to monetize your travel blog or agency to use all available opportunities with no harm to your audience.
How Much Can You Earn From a Travel Website?
If you think that 65% of sales in the global travel industry is the only source of income for travel websites, that's not actually true. There are different ways to earn money on a website with a big audience. We will consider the two most popular travel website types: online travel agencies and travel blogs.
In a blog, an author or different people share content related to travel. It can be travel stories, use cases, recommendations, reviews, etc. Traditionally the best way of travel blog monetization is advertising. Together with other sources of earnings, the TOP 10 travel bloggers of the world earn the following:
As you see, the traffic doesn't directly define monthly earnings. Besides the audience size, how to get paid for travel blogging depends on the strategies applied to optimize the blog content to bring maximum profit from the chosen approaches.
Online travel agencies primarily sell online users their products and services. As of December 2020, the market cap for the leading OTAs in the world was the following: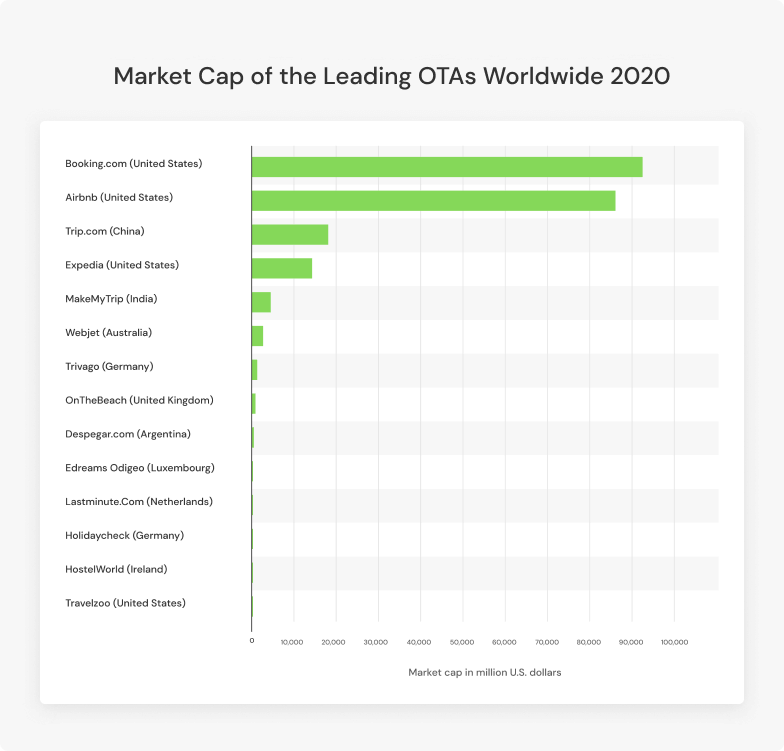 Market Cap of the Leading OTAs Worldwide 2020 (Source: statista.com)
Revenue for the global online travel leaders has significantly dropped due to the COVID-19 pandemic. Check the 2020 results compared to 2019 and before: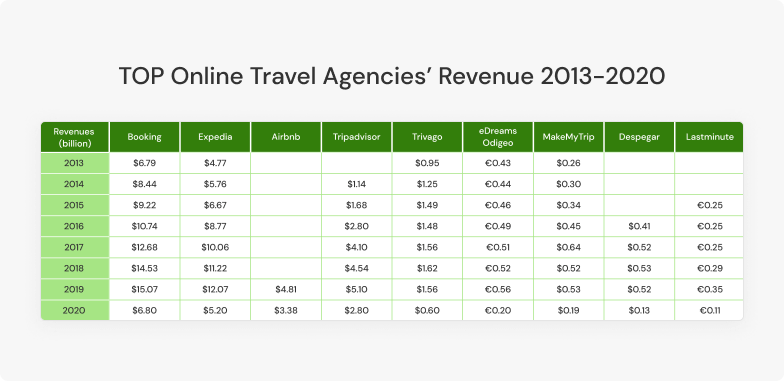 TOP Online Travel Agencies' Revenue 2013-2020
Still, the online traveling business remains profitable. Both customers and entrepreneurs have adjusted to the new conditions and limitations and become more flexible.
The interest in traveling and getting new emotions wins over any fear and organizational challenges. People continue traveling to the available destinations, booking local tours, reading about travel, and getting ready for future adventures. Traveling is still a popular service niche for investors. Find out how much it will cost to develop a travel website in our post.
Want to develop a travel website that will bring good income from monetization? We can do that for you!
Get In Touch
Most Effective Monetization Methods for Travel Websites
After a down year, the travel industry has begun to wake up. Many travel companies have reported a growth in touristic activity compared to last year. So how do travel blogs make money during the pandemic? How do online agencies remain profitable despite quarantine limitations? Here are the most effective monetization strategies to keep up with the industry challenges and earn from travel online.
1. Direct Sale
Online travel agencies invest in marketing to attract buyers to their travel offers. Their services could include:
Travel tours;
Hotel booking services;
Transport booking services;
Sightseeing services;
Services for arranging sports, entertainment events, etc.;
Touristic meal arrangements;
Touristic guidance and interpreting;
To get new customers for Booking.com, Booking Holdings increased spending on marketing to $988 million in Q2 2020, compared to $461 million in Q1 2020.
The constant attraction of new unique users is the best way to monetize a travel website through direct sales. Therefore, besides the quality and diversity of your offers, intelligent and active marketing activity through diversified channels is a must.
2. Affiliate Marketing
Affiliate marketing implies recommending products, brands, or services to your audience. It is the best passive income model to make money from a travel website that you can apply from the first day. You refer your visitors to the website of your affiliate partner. If a user from your site purchases from your affiliate partner, you get rewards or some profit share.
At the end of 2020, Affise revealed poll results showing that more than 25% of bloggers earn $81,000 - $200,000 from affiliate marketing yearly.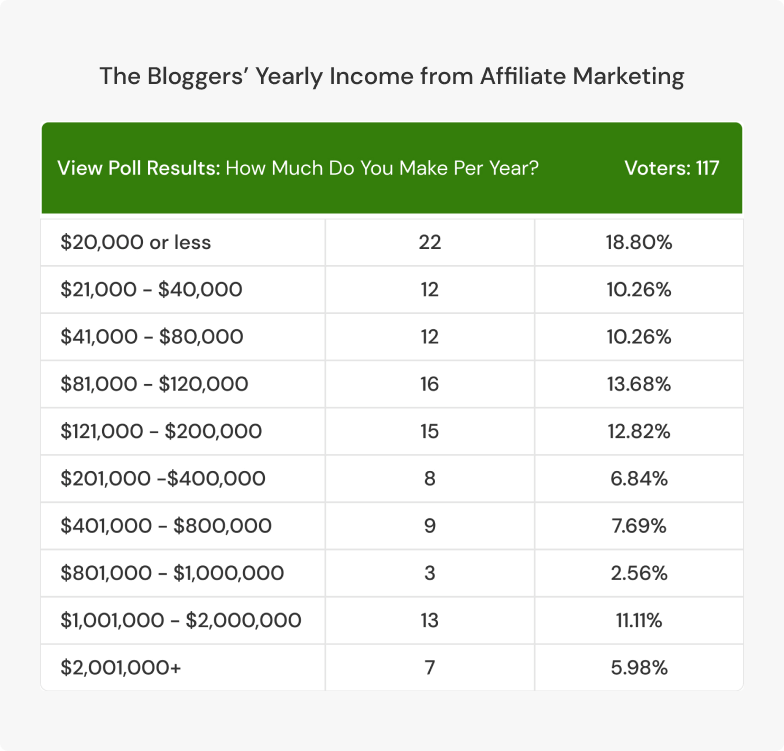 The Bloggers' Yearly Income from Affiliate Marketing
To choose the right niche in affiliate marketing, investigate what your site users like to spend money on. For example, travel bloggers often choose affiliate programs from big OTAs like booking.com, hotels.com, etc.
Accommodation affiliate programs work well with the bloggers' audiences. It depends on which service is more prevalent among your audience demographic. For example, partnering with some specialized equipment and clothes brands makes sense if you write about hiking.
3. Contextual Advertising
Contextual ads are automatically shown to your website visitors based on the page content or your audience's interests. The advertiser automatically puts specific text or graphic ads, and you are not responsible for the quality or content of those ads on your pages. The key advantages of contextual ads monetization are:
The ads start to show up right after you've connected to the service, and you can start making money even on a small audience.
The ads are usually relevant to the interests of your audience.
There is no need to spend time finding advertisers and setting up ads.
Usually, payments for such ads are received on a PPC model (pay-per-click). You get money every time your website visitor clicks on the link or banner. Other payment models are also available, such as pay per 1000 impressions (ad views). It depends on the advertiser's settings.
4. Native Ads
One of the biggest problems with using advertising to monetize websites is the ability to block banners or ad links with the help of ad blocking software. A better alternative is native ads.
The native ad format is similar to the rest of the content. However, native ads don't tell about an advertiser directly. Instead, they disclose a topic related to the advertised brand and tell valuable things to the reader. As a result, users do not perceive it as actual advertisements.
In the case of a travel blog, a native ad can look like a typical blog post. For example, if you have a travel review website, a native ad can be a similar review of some travel tour or hotel. It is a great way to make money on travel blogging if your blog is not accepted to Google Adsense or other networks by some parameters.
5. Sponsored Content
If your travel website becomes popular, most likely, companies will come to you asking to put a sponsored post or listing onto its pages. Some companies ask to place their own texts and graphic content.
Some clients want you to put links to their products, services, or websites in your posts or mention them in your reviews. The primary purpose is to link back to their website to bring potential customers.
Often sponsored content within one ad campaign is posted through various channels. If your website has many followers on social media, you can significantly increase your earnings by linking to the sponsored posts from your social media profiles.
Sometimes sponsored content campaigns are not paid directly with money. For example, if a new hotel opens and its PR managers decide to promote this event, they may order sponsored posts from a famous travel blogger in return for the ability to stay in the hotel for free.
6. Press Tours
This is a type of ad campaign that ends up with sponsored content. Press tours are sponsored trips where bloggers are paid for reviewing the resort or another venue in their blog and social media profiles. Press tours help companies increase awareness among the target audience for newly opened resorts, touristic destinations, hotels, or specific touristic events.
As a rule, a company arranges a press tour for a team of travel bloggers or influencers. However, there are also campaigns tailored to one specific reviewer. The compensation depends on how famous you and your website are and your impact on the target audience.
Sometimes this can be just a free trip or a free tour. But in some cases, you can get additional payment.
7. Brand Campaigns
Brand campaigns are like a contract for regular sponsored content over a certain period. Sometimes such a campaign implies a combination of promoted posts through different channels. In other cases, an advertiser may ask you to make a series of posts/reviews describing their product or service from different sides. It all depends on the product's nature and marketing goals.
This type of monetization is traditionally relevant to opinion leaders. Non-blogs also can be suitable for such campaigns if they have a certain weight among the audience. For instance, if you are a well-reputed online travel agency, some hotels can order 'recommended' listings or banners on your website.
Often big clients apply certain restrictions for their brand ambassadors. For example, if you promote some hotel chain, you won't be eligible to accept orders for promoting its competitors.
Usually, brand campaigns are paid monthly or use a 'pay-per-item' model. However, if you are not too famous but are looking to monetize a travel website through such campaigns, you can find a sponsor through specialized platforms like Tapinfluence or Webfluential. Some campaigns bring up to $5,000.
8. Selling Digital Products
A well-reputed travel agency can sell digital courses on becoming an online travel agent or how to arrange trips by yourself. Experienced bloggers can sell checklists for organizing trips, preparing documents, saving money, etc.
Travelers sell their high-quality, unique photos. There are dozens of opportunities to engage your travel website's audience to buy digital courses. Here are a few crucial advantages of this type of monetization:
Digital products never run out of stock like physical ones
You don't need to spend money on storage, shipping, raw materials, etc.
Often they require little investment compared to the potential profit
In the era of the pandemic, digital products have become highly popular among customers. People cannot attend physical schools and courses, and they have more free time due to isolation to spend on learning. So it is the right time to create such products for your audience.
9. Donations
You can ask your website users to donate to your business if they like what you're doing. For example, it is a widespread practice among travelers who have blogs. People want to read more about their adventures, help a blogger arrange more trips, produce higher-quality content, etc.
Donations can be a great source of additional passive income from a loyal audience. Usually, asking for donations for some specific purpose works better than a general request to 'support your project.'
Set up clear material goals and ask your readers to support you. It would be great to provide different payment methods to make it maximally comfortable for users.
10. Subscriptions
Different travel portals can set up subscription plans for their users to provide premium content or additional features to paid users. For instance, if it is a review site, you can charge money for the ability to comment or post reviews on the platform. If it is a travel agency, you can provide professional assistance in arranging cost-effective travels.
The success secrets for this way of monetization include the popularity of your website, a big audience, and genuinely exclusive features or content that can get people interested for a fee. A high-quality, adequately developed website itself is also a criterion that defines the users' loyalty. Check how to develop a travel website that people will love.
Conclusion
There are plenty of ways to monetize a travel blog or website to make it profitable. If appropriately combined, different monetization strategies can also increase its popularity, add reputation to your brand, and help build partnerships with other industry players.
Many monetization methods require specific technical adjustments and preparation at the website development stage. Some of them require constant website optimization in terms of SEO and online marketing. The KeyUA team is ready to assist in developing a highly convertible travel website and making it interesting for potential sponsors and advertisers.
We are always happy to consult you regarding the most suitable monetization approach for your specific website.
Not sure how to get the desired income from your travel website? Let KeyUA experts help you.
Contact Us