Hundreds of millions of people date online, and that number steadily grows from year to year. And during the past two years, while people have been limited in social contact due to the pandemic, online dating has become an even more common way to communicate and start relationships globally.
All this makes this software market segment highly attractive for startups and established companies. Most entrepreneurs planning to enter the online dating niche wonder how much does it cost to make a dating app and how soon can their investment return profits?
Get the complete overview of existing dating app types, the most demanding features, monetization strategies, and best practices from the online dating industry leaders.
Dating Application Types
The classification of dating applications is mainly based on criteria used to match people inside the service. Choosing a particular type for development defines the required algorithms for software building and, finally, the cost of making a dating app. Based on today's market players, there are four most popular dating app types:
It is quite a conditional division, as most of today's apps combine the traits of two or more app types, aiming for flexibility and attracting more users.
Dating App Features: MVP and Beyond
Now Tinder has become a golden standard for dating app creators in terms of usability and marketing success. Its simplicity and accessibility have revolutionized the online dating industry. Each online dating startup wants to know how much does it cost to build a dating app like Tinder.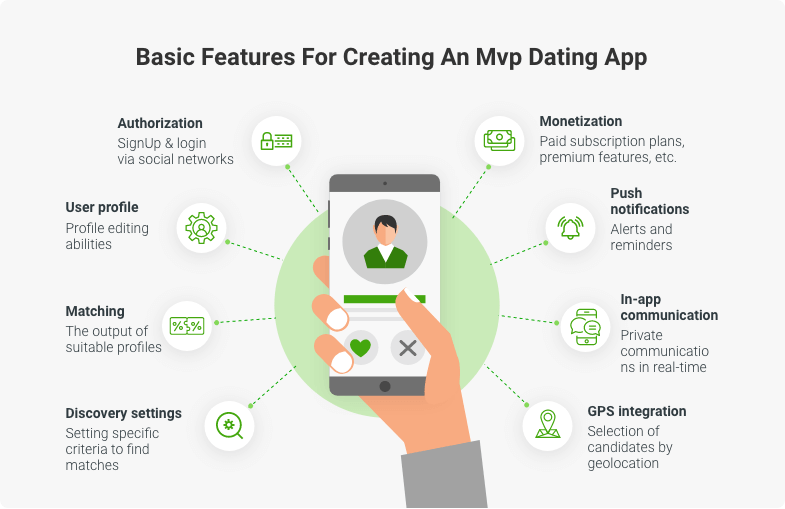 Must-have features to make an MVP Dating App
Entering the market with an MVP dating app version will help reduce the initial cost of running a dating app and earn revenue from real users more quickly. Here are the features to begin with:
Authorization: signup/login via social networks (Facebook login)
User profile: initial profile is populated with data from a Facebook profile with the ability to edit it.
Matching functionality: the output of suitable profiles with the ability to swipe left/right to select or dismiss potential contacts.
Discovery settings: setting specific criteria to find matches (sex, age, tastes, hobbies, type or relationships, etc.)
GPS integration: the system needs to output candidates that match a user's location area.
In-app communication: private chats for mutual likes.
Notifications: push notifications to inform a user about activities in his profile.
Monetization: paid subscription plans, premium features, paid ads, etc.
It is an approximate list of features for a Tinder-like MVP. To get a better idea of how the budget for a minimum viable product is formed, read our post about the MVP development cost.
One of the biggest challenges in such apps is engaging users to become regular customers and improving their loyalty to your brand. That is why step 2 after MVP launch is often aimed at improving the retention rate, user session length, and the number of in-app transitions during a single session.
Wondering what options would be suitable for your future dating product? Find out how to create a dating app that has the potential to beat the market.
What Affects the Cost to Create a Dating App?
The budget for the same project may decently vary depending on how well you are prepared for the process. Besides obvious price forming criteria like the developers' hourly rate and the team size, there are a few more factors that influence the dating app development cost:
Features (the work scope): the more features you select for the initial version, the more expensive its development. To save money, focus on the core functionalities, leaving out all bonus features that do not form the primary product value.
The technology stack: whether you select a cross-platform, hybrid, or native app development for Android/iOS, it may require a different time for implementation.
The deadline: the faster you need your app done, the bigger team you have to hire. Often developers charge more for working in a strict schedule.
The hiring model: hiring freelancers may cost less than an outsourcing development company or paying an in-house team. However, the lower costs may imply higher risks for obtaining insufficient deliverables.
The team qualification: highly experienced and qualified software engineers cost more. Yet, they work much faster than junior developers. That's why lower hourly rates often don't mean lower expenses.
Marketing campaign: to launch a new dating product to market, you'll have to allocate a budget for its promotion. Taking into account the highly competitive nature of this industry, sometimes these expenses surpass the development cost.
One more item of cost is post-release support. Technical maintenance, updates, marketing support, analytics - these are must-haves for proper app functioning in the long run.
How Much Does It Cost to Create a Dating App?
Often customers require estimation per feature to make sure each paid hour is spent productively. However, such an estimate doesn't reflect the actual cost to build a dating app. The time of the actual development (coding) is not the only part of the delivery process. It also includes project management, deployment, testing, debugging.
You can also start with a different set of features, from basic to complex, depending on how you're going to enter the market. It also affects the price: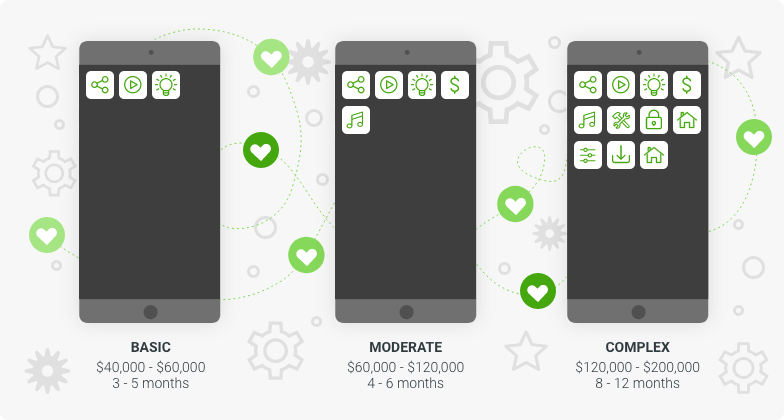 A Dating App Development Cost Based On Complexity
Most startups release an MVP (basic) version first to check the product viability on real audiences. Other entrepreneurs want to deliver a full-fledged application with all functionalities on board.
The MVP Development Timeframe
For a sample estimation, let's consider a potential Tinder-clone app with the features listed above. Let's say we will create a native mobile application in two versions, Android and iOS. Traditionally, a part of the code is the same for both versions. That's why the second version takes slightly less time. So, how much does it cost to develop a dating app like that? Here is a rough project assessment:
The Estimation For Android and iOS Mobile Dating App Development
Phase
Scope
Android, hours
iOS, hours
Project documentation
Defining the work scope, specifications, and project plan
50
50
UI/UX Design
Creating UI/UX prototypes for each app screen, UI element, interaction, and transition.
240
240
Front-end Development
The app user-side development adapted for all supported devices and screen sizes
700
640
Back-end development
The development of the app's server-side and architecture setup
640 for both versions
Testing & QA
Checking for bugs, testing the app performance to ensure correct and smooth operation before the release
360
320
Deployment
Installing and configuring the software to make it available for users.
80
80
TOTAL:
1750
1650
The total time frame for both versions is 3400 hours. This estimation sheet doesn't include the time for marketing promotion, public release preparation, post-release support, and maintenance. All these options go beyond the standard development scope and have to be estimated separately.
The Cost of Dating App Development
An important point to consider for evaluating the total project cost is the location of your future development team. Most outsourcing companies and freelancers charge hourly, and their rates highly vary depending on the region.
Hourly Rates for A Mobile App Development Based on Location
| | | | | |
| --- | --- | --- | --- | --- |
| Location | North America | Western and Central Europe | East and South Asia | Eastern Europe |
| Average hourly rates, $/h | $130 - $150 | $110 - $250 | $30 - $100 | $35 - $65 |
Hiring a team from Eastern Europe is currently the best price/quality choice. While specialists for development, design, project management, and QA may charge differently, let's take an average hourly rate of $50/h to calculate a rough project cost. Based on that rate, the cost to make a dating app with the above work scope is $170,000, which is 3400 hours at $50/h.
Please note that each project is unique. The estimation may vary depending on the selected features, configuration, and UI requirements.
The Team You Need To Develop A Dating App
A minimum team for the sample project considered in this guide should include:
1 Project manager
1 UI/UX designer
2 Back-end developers
2 Android developers
2 iOS developer
2 QA specialists
Additionally, you may need online marketing specialists, advertising managers, and copywriters to fuel the promotion and launch of your product.
How Soon Will Your Investments Return?
Each software product is a business tool that helps its stakeholders raise profit. Founders usually assess how soon the development cost and other expenses can return and start bringing profit.
Andrey Onopriyenko, a KeyUA Chief Technology Officer, points that "To make a dating project successful, developing a high-quality dating application is not enough. A vital ingredient of the success formula is monetization mechanisms. You need to define the revenue-generating channels at the design stage, as they require appropriate admin tools and adjustments on both front-end and back-end."
Here are the most popular approaches for dating app monetization:
Paid subscriptions: it is the primary revenue source for many modern dating services. Usually, the apps have both free and paid subscriptions. A premium subscription gives access to additional options like unlimited swipes, video chat, better security, etc.
In-app purchases: you can integrate a paid access to custom emoji sets, let a user buy anonymous status. There can be some premium message formatting options and other features for customizing their experience.
In-app advertisements: applications with a big user base can earn significant profits on advertising inside the app. An additional profit source is providing ads-free access for users at an additional cost.
Affiliate marketing: you can pay commission to other vendors for selling your services via their channels.
In-app gifts: users can send gifts to their matches at an additional price. You can even create a built-in gift store.
Combining different monetization strategies with an intelligent marketing campaign focused on your target audience can bring impressive results within a relatively short time.
Looking for a budget-friendly development partner for your next app idea? Outsource your project to KeyUA.
Contact Us
The Cost of the Leading Dating Apps Development
The top online dating market players never stop investing in their products' improvements because staying on top requires continuous updates and advancements. We estimated the development of their initial versions.
The Cost to Develop an App Like Tinder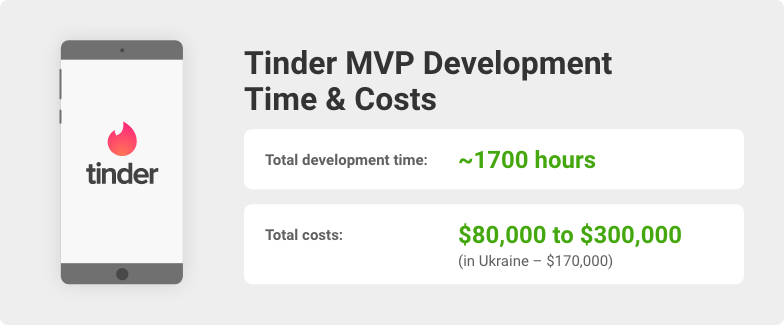 Almost any entrepreneur planning to launch a new dating app considers Tinder as the best existing solution on the market. Its success secret is UI/UX simplicity and gamification. Swiping technology is what users love, as it gives no regrets in finding partners that mutually match each other.
Development time: a basic version for both iOS and Android platforms may take about 1700 hours each.
Minimum team: back-end developer, UI/UX designer, Android developer, iOS developer, QA engineer, project manager.
Cost to create an app like Tinder: depending on the team rates, the total cost may vary from $80,000 to $300,000. In Ukraine, it will cost $170,000.
The Cost to Develop an App Like Hinge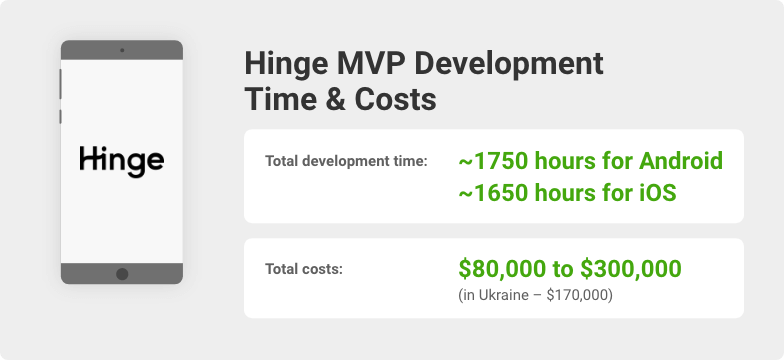 The Hinge app helps find matches based on a user's location. It is mainly focused on longer relationships, not just hook-ups and one-time dates. It boasts that three of four dates usually lead to a second one. Hinge was released in 2013. According to Growjo, its estimated annual revenue is $16.1 million, while the total funding is $26.7 million.
Development time: an approximate estimation for Hinge apps is 1650 hours for Android and 1600 hours for iOS.
Minimum team: 1 UI/UX designer, 1-2 Android developers, 1-2 iOS developers, 1 back-end engineer, 1 QA engineer, 1 project manager.
Cost to create an app like Hinge: The cost range depends on the team rates. The total cost may vary from $81,250 to $325,000. Ukrainian outsourcing companies may charge approximately $162,500 for developing such a product.
The Cost to Develop an App Like Bumble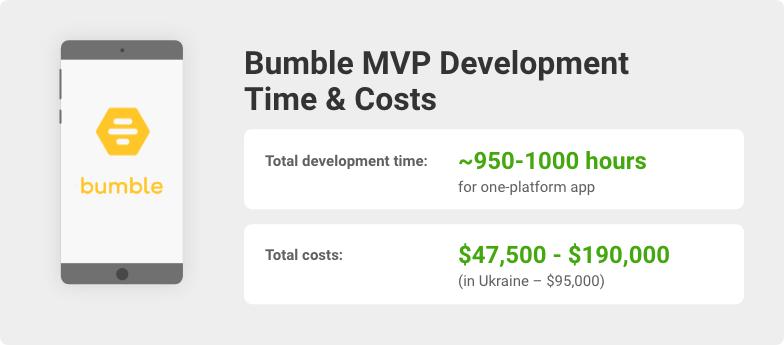 Bumble is another location-based social dating service with one unique trait: only women can initiate communication in heterosexual matches. It hit the market in late 2014 and saw the first 1 million users in 2015. In 2020 its revenue per user reached $27.79 with 1.2 million paying users.
Development time: Roughly estimated, a one-platform mobile app development may take 950-1000 hours.
Minimum team: similar to other projects of its kind, the team includes 1 project manager, 1 UI/UX designer, 1-2 developers for Android and iOS, 1-2 back-end developers, and 1 QA specialist.
Cost to create an app like Bumble: $47,500 - $190,000. If to hire a team from Ukraine, the total cost is $95,000.
The Cost to Develop an App Like Seeking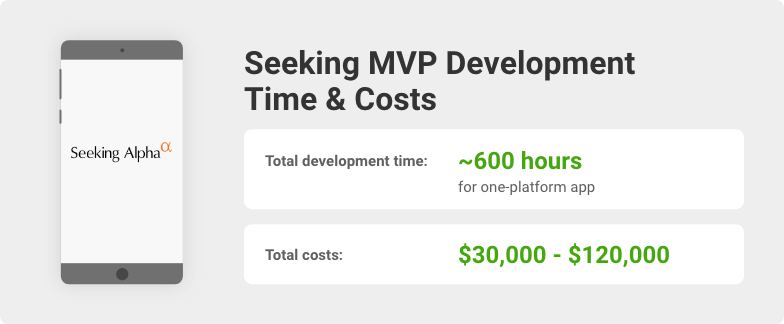 Seeking Arrangement is a dating service specialized in matching wealthier older people (sugar daddies and mommas) with younger partners (sugar babes) for mutually beneficial relationships. It is one of the oldest dating platforms launched in 2006. For the time being, its user base is about $10 million.
Development time: There is neither complex logic for matching users nor gamification. It takes less effort to create such an app compared to previous products. It may take roughly 600 hours for each iOS and Android version.
Minimum team: UI/UX designer, iOS and Android developer, back-end developer, QA engineer, project manager
Cost to create an app like Seeking: $30,000 - $120,000.
The Cost to Develop an App Like Zoosk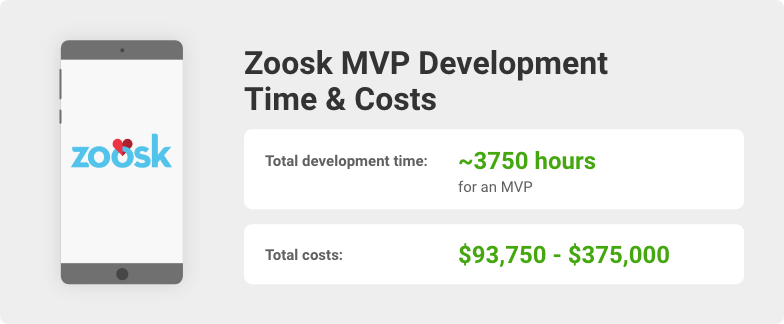 Zoosk is an innovative dating service that was launched in 2007. In 2013 it reported a revenue of $178.2 million. Its 'Behavioral Matchmaking' technology makes Zoosk stand out from other dating apps like Tinder or Hinge. Its self-learning matching algorithm constantly monitors all searches and matches, improving the output of suggestions based on previous results.
Development time: Considering complex app logic and flexible functionalities, the development of Zoosk-like apps for Android and iOS would take about 3750 hours for an MVP.
Minimum team: UI/UX designer, 1-2 iOS developers, 1-2 Android developers, 1 back-end developer, 1 AI-engineer, QA engineer, project manager
Cost to create an app like Zoosk: $93,750 - $375,000.
These rough estimations are based on what the mentioned dating applications offer today. Each project is highly individual in its technical requirements and work scope. A precise estimation of your specific dating app costs can be given only after an in-depth analysis of the project's requirements.
Takeaways
The online dating software industry is highly competitive. It can be extremely challenging to enter the market unless you create a unique solution that will bring new advantages to online daters. Creating 'niche' dating apps with new-age intuitiveness and security is what the current market expects from startups.
You can create a solid rival for modern dating products with KeyUA. Our mobile app development experts will find the right budget-friendly solution based on your requirements. We will be happy to analyze your project specs, provide a detailed estimate, and start the development right away.
Need expert developers for your online dating project? KeyUA will provide the best technical implementation of your app idea.
Get In Touch