The ideas, values, and ways that startups solve different problems are always unique. However, they also have something in common. Each of the projects went through the same life cycle and development stages.
Even if your tech startup is just at the beginning of its journey, it is useful to understand the essence of every startup development stage in advance to move along this path with realistic expectations and a clear strategy in mind. This article will light your way.
Caution! Startup Development Pitfalls!
Here are the most common mistakes that startups make on the road to great success (and thus lengthen the path).
Development of a startup without preliminary idea validation and demand research

Lack of a clear strategy for development and marketing

Poor technical implementation of the solution
But how to avoid these bottlenecks? Our answer is - think strategically and always have a reliable advisor nearby.
Startup Development Stages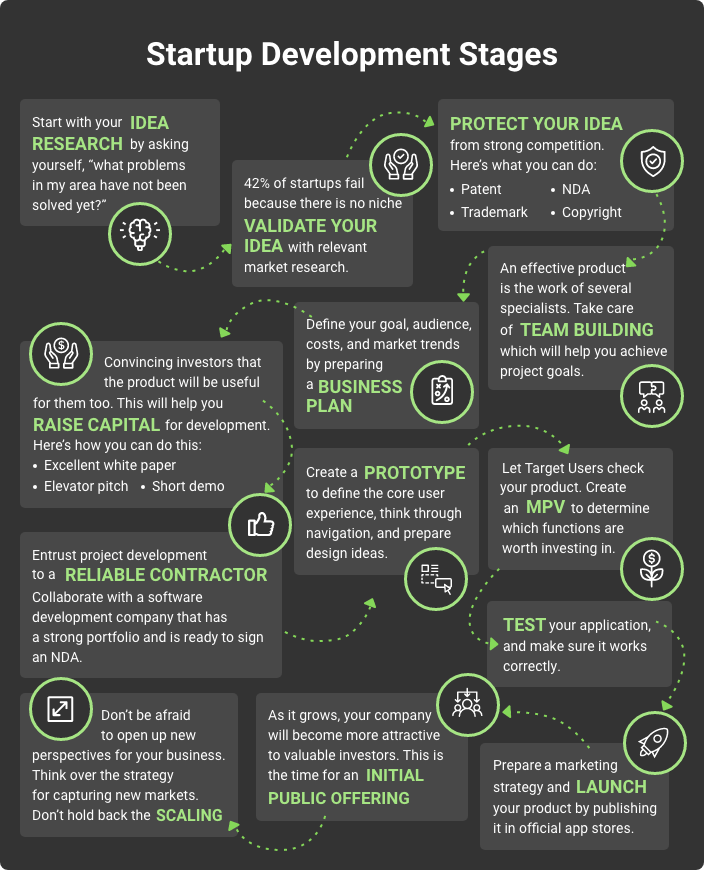 Here are the steps you need to go through to develop a startup
Let your startup development journey begin!
1. Idea Research
Well, if you have an idea, it means that you have already passed this startup stage. However, while developing a startup is just an intention, finding a good idea can be as challenging as putting it into practice. You can do it with the right approach.
Here's what you can do to find an idea that works for you.
Figure out your passion. What background, knowledge, and experience do you already have?

Move to the next question - what problems still have no solutions in your field?
You can use the following formula to find a potential idea:
My name is Your Name, and I am doing something. However, I feel frustrated/ disappointed/irritated when something happens. I found a way to solve this problem, and for this, I've created my startup.
2. Market Research and Idea Validation
We need to test and validate your idea to make sure that it is as promising as you think. Unfortunately, 42% of startups fail because there is no market for them. To make sure that the market demands your idea, you need to research it carefully using classic economic methodologies.
PEST. It is the most basic economic market research method, which helps you assess the external environment through the analysis of political, economic, social, and technological factors.

SWOT. This research method allows you to identify your strengths and weaknesses, find opportunities that have not yet been exploited in this market, see potential threats, and develop a response strategy.

Five Forces. This methodology is ideal for analyzing your competitors, customer purchasing power, and the threat of a similar product in your market. Use this framework to come up with unique features of your product that will automatically make it better than competitors and reduce the risk of analogs or substitutes.

Focus groups. This is a sociological research method that involves direct interaction with your potential target audience. The easiest and most affordable way to discover the opinion of prospective users is to research social media and conduct surveys.
After completing the market research, you can determine your idea's real potential and decide if it is worth the investment.
3. Idea Protection
Once an idea is found and validated, it makes sense to protect your intellectual property rights. This stage is especially crucial for startups that do not have a strong financial, government, or public support if someone decides to reuse your idea.
According to research published by Engineering Management in Production and Services Journal, "Strong competition forces companies to seek new methods of production, the introduction of new products and improvement of existing ones. Intangible properties are becoming increasingly important for innovative companies, especially small and medium-sized companies."
There are four ways of protecting your app. Your future startup probably needs them all, so here is what you should do.
Patent your app. A patent will protect the way your app works - this is the way to protect your app from a technical perspective.

Protect your app name with the help of a trademark to avoid somebody copying your name.

Sign an NDA with a reliable vendor. This document will protect your idea, as well as other data you may share with your development vendor, and obliges the company and its employees never to share or reuse any developments belonging to your project.
P.S. The fourth way of intellectual property protection is copyright, but this is the final stage startups take since only developed app are eligible for copyright.
4. Team Building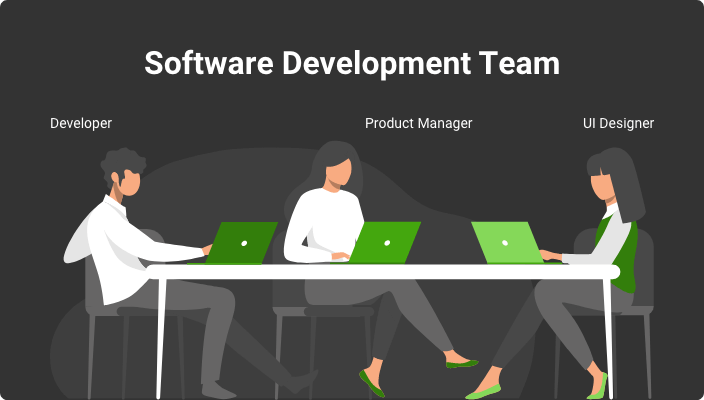 The founder rarely develops a tech startup alone. As a rule, there is an excellent team behind every great project. And you need it as well.
There are several approaches to gathering a team as one of the startup phases of development.
You may gather a team of remote freelancers. However, in this case, you should be prepared to solve all organizational and communication issues on your own, track their performance, and fully control each startup stage.

You may hire an in-house team. However, this option may be costly. In this case, you will need to register your company, rent an office, pay taxes, and still be the only person responsible for everything that is going on with your project.
You may get in touch with an experienced development company that already has the full stack development team on-board, established workflows and practice-proven communication tools, and save a lot of time and money at each of the stages of a tech startup development.
5. Business Plan Development
Business planning for startup development can be very challenging since there are no guarantees that everything will work as you expect. Here are the essential points you can't miss in your business plan.
Develop a clear goal - for example, achieve $XXXXX revenue to the end of the year.

Return to your target market once more and write down the insights you've researched at the first stages of the startup business launch.

Decide on the first steps to promote your product on the market and plan your marketing budget accordingly.

Identify all the other expenses you may face and always have an emergency fund.

Get back to the market trends you've also researched and develop a response strategy for each of them.

Make realistic forecasts for growth and scaling.
6. Getting Funded
As s rule, startups have limited budgets (but promising ideas instead)! So, sometimes you can't skip this startup phase. At this stage, your task is to explain to potential investors and business angels that your idea is promising not only for you and your users but also for them.
Here are the best practices to attract investments in your startup.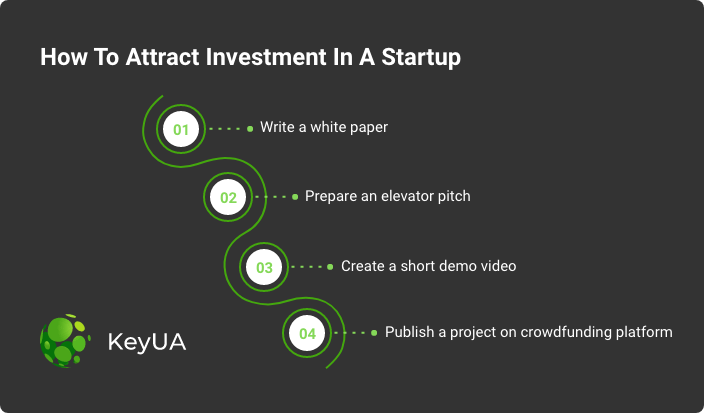 Write an excellent white paper. Your write paper should describe your project's main idea, clearly define the way you are going to solve the users' problem, explain the potential of your app, and its forecasted demand on the market in precise figures. It should also have a description of the development process and plans for the future. You may reuse your business plan as well when crafting your written paper.

Prepare an elevator pitch. An elevator pitch is a concise but meaningful explanation of your startup's essence. Imagine the situation where you meet your potential investor in the elevator and come up with the most powerful and logical sentences ever to make him want to invest in your project.

Create a short demo or explanatory video, and you will always be able to show how your startup works visually. What is more, investors also find videos engaging (but start with presenting them a whitepaper).

Publish your project on crowdfunding platforms like Kickstarter, IndieGoGo, and others. Make sure to use them all!
7. Hiring a Reliable Vendor
When looking for a development partner to help you with your startup's technical realization, make sure that the development company you are going to hire meets the following criteria.
They have experience in custom mobile development and are well-versed in your niche.

They have a freely available portfolio with their projects.

They have a strong team of technical and marketing specialists and welcome you to meet them.

They are ready to sing an NDA even before the beginning of the first consultation.

They are open to communication, offer competent suggestions, and always take your vision into account.
8. Prototyping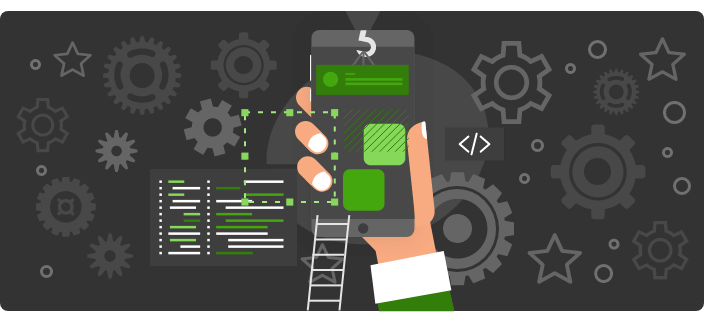 Now it's time for the creative process to begin. Prototyping is always one of the most exciting startup stages since this is when the first skeleton of your future solution takes life. Project prototyping is necessary to find the perfect balance between usability, design, and users' expectations.
At this stage, it is necessary to:
develop a navigation concept

come up with a user story mapping

create a design concept

list the core features of your future solution.
9. MVP Development
Having a prototype and a core features list, we move to the next stage of startup development. It is the most responsible startup phase since now we are going to create a solution that will have enough functionality to be tested by real users.
According to the Systematic Mapping Study on the Definitions of Minimal Viable Product, "MVP is a version of a new product, which allows a team to collect the maximum amount of validated learning about customers with the least effort. It is an iterative process of idea generation, prototyping, presentation, data collection, analysis, and learning."
MVP is the core concept in LEAN methodology development. According to this methodology, you should create and invest only in those features that will be most useful for your audience. Next, the demo product is tested to get data-driven insights firsthand.
It becomes easier to improve the already developed functionality and add only demanded features after getting feedback from users.
So, here is your action plan.
Develop an MVP.

Let the target users test it.

Ask them for feedback.

Analyze the results.

Make some improvements and adjustments.

Let the target users test them.

Repeat until getting a full-fledged app able to provide a perfect user experience.
10. Testing and Launching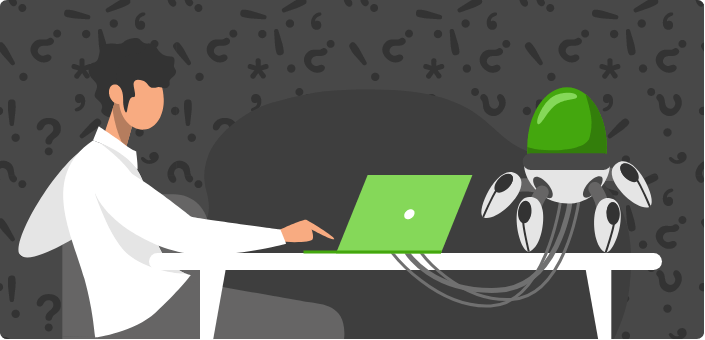 After the product is ready, it is necessary to make sure it is bug-free and launch it. At this startup stage of development, you should already have a comprehensive marketing strategy and a clear image of how to promote your app.
Test your product and get rid of bugs

Publish it in official app stores

Run your first marketing campaign
11. Initial Public Offering
As your company grows, it becomes even more attractive to investors. At this, one of the latest development stages of a startup is raising capital from a much more extensive range of investors than you might meet on Kickstarter.
12. Scaling
This is the final stage. Don't be afraid to dive into the whirlpools of business, but stick to your business plan and stay flexible.
Here's what you can do.
Start exploring new markets. For example, foreign ones, and think over a localization strategy for your product.

Add new features (after careful research on user preferences, of course).

Employ new marketing approaches.
Conclusion
Startups developed according to a clear action plan with a well-thought strategy in mind have a better chance to succeed. KeyUA has eight years of practical experience in transferring ideas into global businesses.