Currently, there are 3,5 billion smartphone users in the world who spend over 90% of mobile time on applications. To keep up with everything going on in the industry, users need access to the freshest information. And the best way to do that is to read mobile app development blogs.
It doesn't matter whether you want to stay updated, learn hacks and tips from professionals, or become a mobile app development expert: there are blogs for every taste. Below we'll introduce you to 30 blogs that explain how to develop an app on Android or iOS and platforms with general information.
In my opinion, the future of mobile is the future of everything.

– Matt Galligan, Co-founder of Circa
Android App Development Blogs
Android is, by right, considered one of the most popular operating systems with 1.6 billion users worldwide. There are numerous mobile application development blogs that can teach you to create an app on this OS. Here are some of them:
1. Android Developers Blog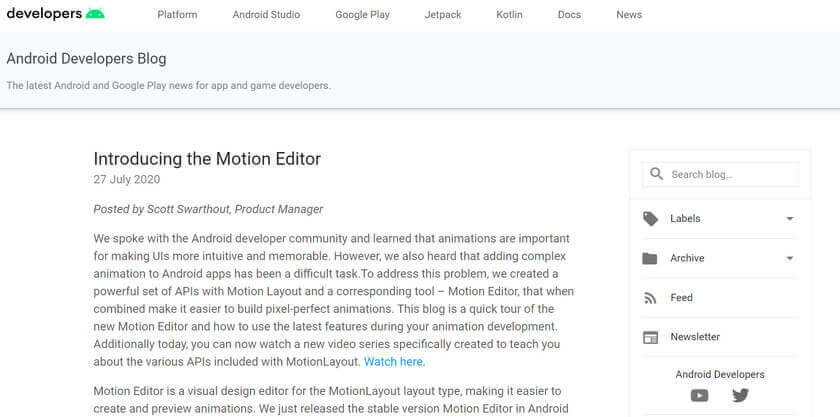 Android Developers is one of the best mobile development blogs. It contains everything you need to know on the operating system: the latest news and updates and tips and tricks from experts. It has more than 2 million followers on Twitter.
https://android-developers.googleblog.com/
2. Android Weekly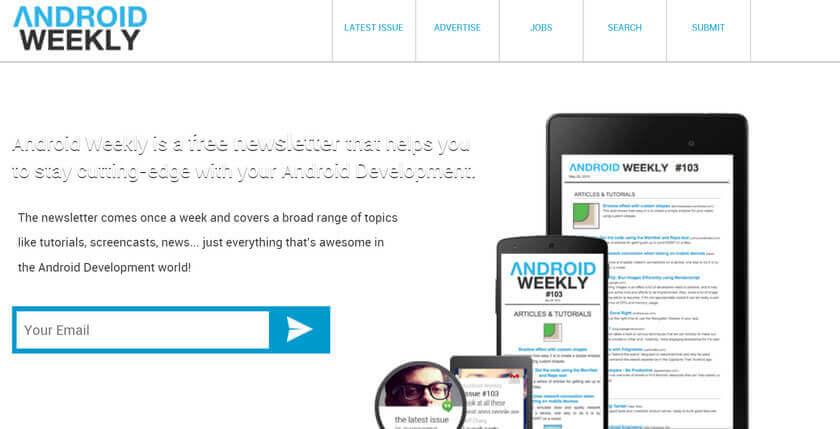 If you want to stay informed on the latest Android trends and news, this blog is a great option. It contains tutorials, guidelines, and pieces of GitHub code snippets. It has more than 4.5K followers on Facebook.
3. Android Authority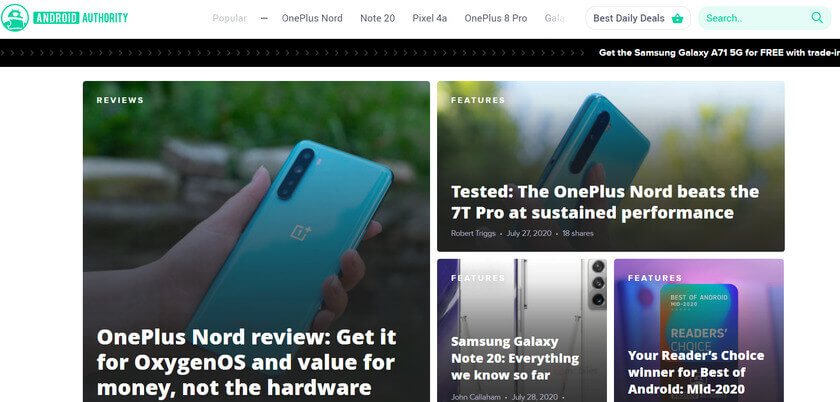 This blog contains detailed reviews of Android features, updates, as well as games, apps, smartphones, and tablets. There's also a convenient comparison chart of Android devices. Android Authority has an impressive audience: 2.3 million followers on Facebook and 3.4+ million Youtube subscribers.
https://www.androidauthority.com/
4. Android Advices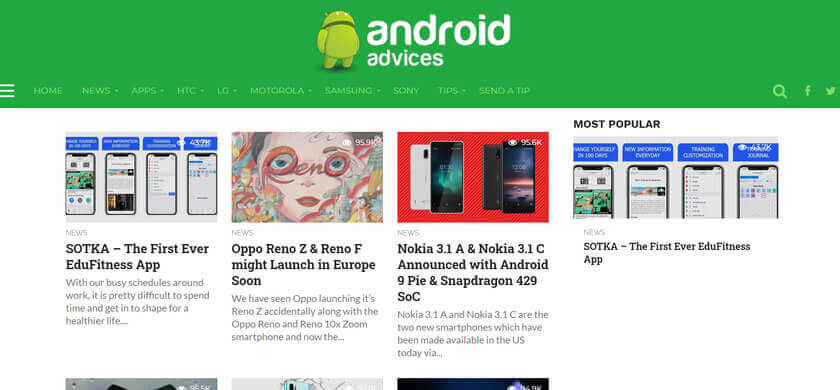 This website is aimed at Android users and covers any information and news related to this operating system. It is a great place to find out more about Android-based applications and the market as a whole. At the moment, they have 22.8K Twitter followers.
5. ProAndroidDev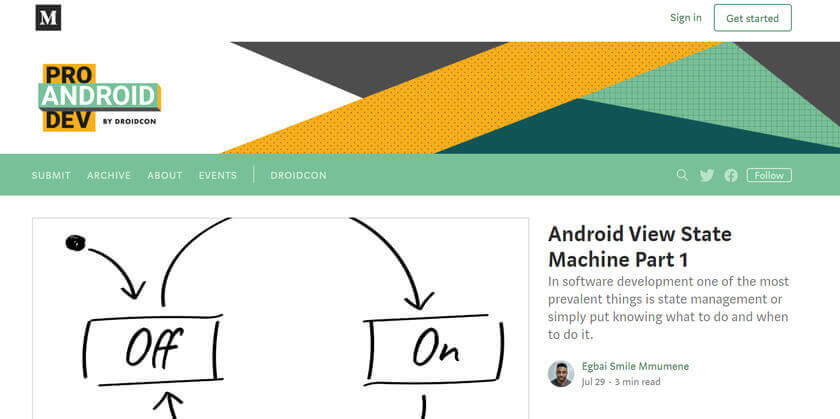 This blog contains numerous how-to articles, as well as tricks and insights from experienced developers. It is useful for both beginners and advanced users. ProAndroidDev has 60K+ Facebook followers and more than 4K readers on Twitter.
6. Android Police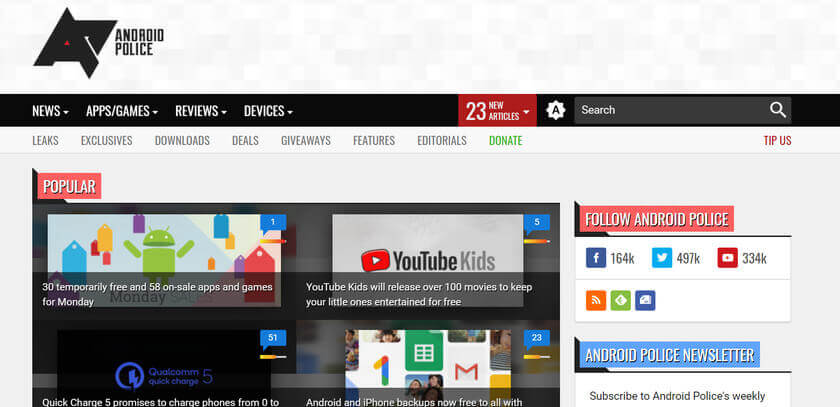 At Android Police, industry experts share their experience and knowledge with fans of the operating system. Thus, you'll get lots of technical and practical information. The approximate number of website visits is almost 11 million, and there are 506K followers on Twitter.
https://www.androidpolice.com/
7. Fragmented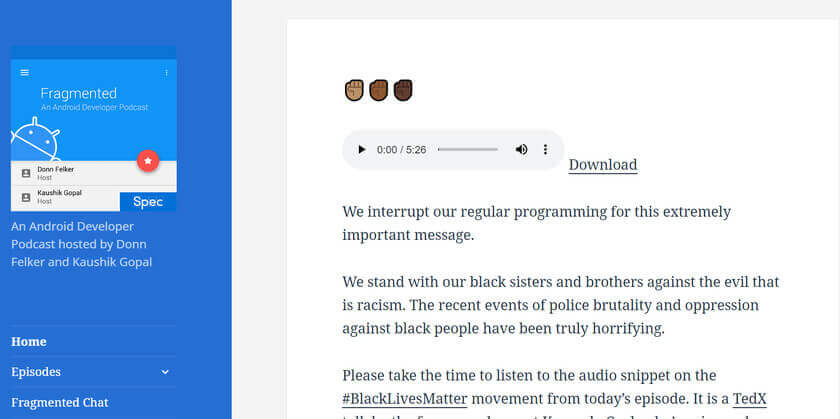 At Fragmented, visitors can read articles on developing Android applications and listen to podcasts, which will be interesting for developers of different backgrounds and levels of expertise. There are around 10K Fragmented Twitter followers at the moment.
https://fragmentedpodcast.com/
8. Square Island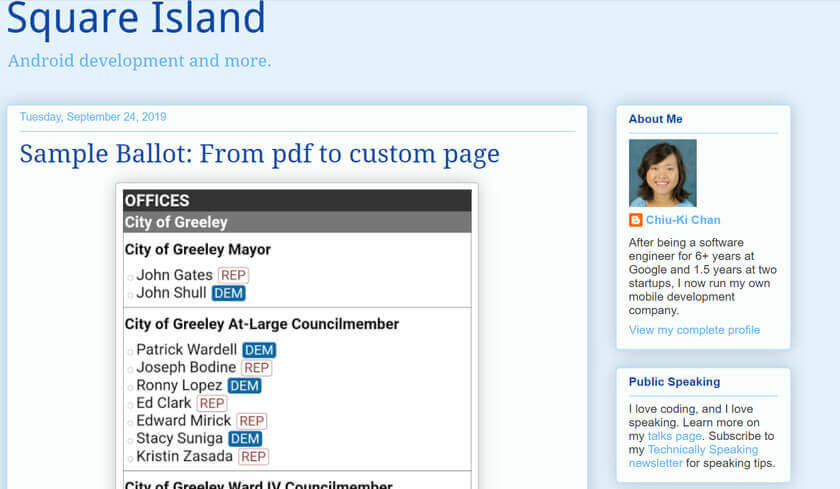 This blog was launched by Chiu-Ki Chan, a software engineer who has worked with Google for more than six years. She helps developers to get started and publishes comprehensive guidelines with code examples. Chiu-Ki Chan has 20.1K Twitter followers.
9. TheCommonsBlog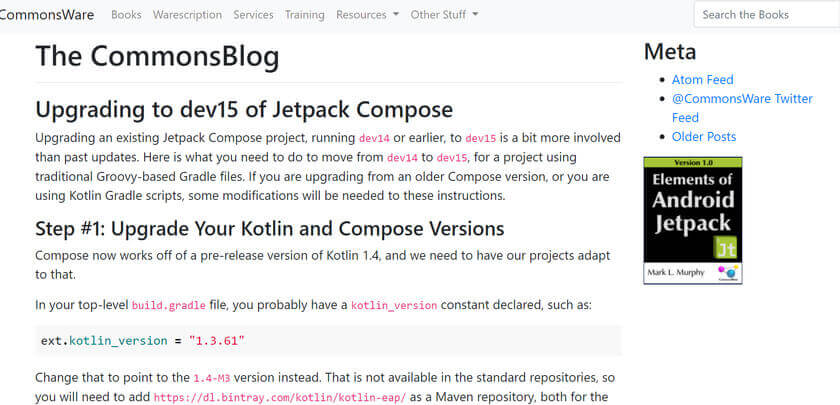 This blog is updated every couple of days and contains plenty of information on Android development, including pieces of code and books for learning. At the moment, it has 1.5K Twitter followers.
10. Droid Life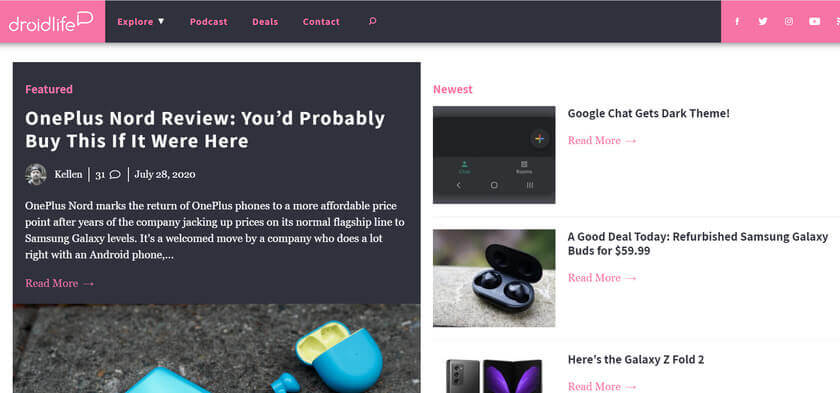 Droid Life is one of the blogs on mobile app development that you'll want to return to again. In the 'apps' category, you can read about the latest news and trends and get familiar with brands that are working on Android smartphones and apps. It has around 2.5 million site visits.
KeyUA is a comprehensive solution for your app. Our professional developers, designers, and QA specialists will help to make your idea real.
Hire us
iOS App Development Blogs
Now let's look at the most popular websites where you can learn to develop applications running on this operating system.
1. Apple Developer News and Updates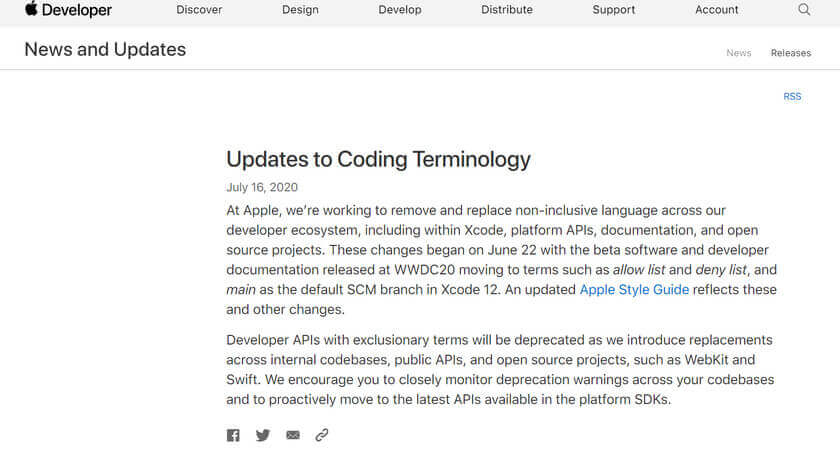 On the official site, you can find out how to submit an app to the App Store, work with Siri and Swift, and other related topics. There are 23.6 million subscribers on the official Apple Instagram page.
https://developer.apple.com/news/
2. Objc.io
This mobile platform contains tutorials and guidelines on iOS development. There are both free and paid resources, books on development, and other goodies. Objc has 34K+ Twitter followers.
3. iOS Dev Weekly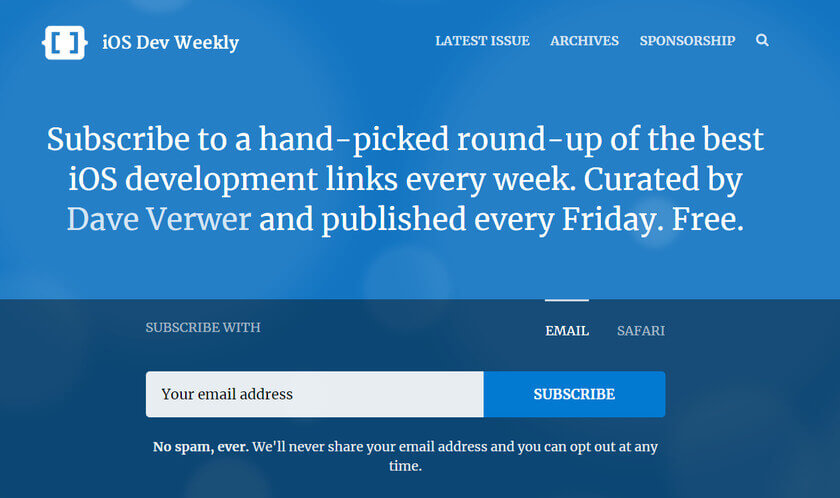 Every week subscribers get the latest information on everything related to iOS: Swift features, development tips, and other tech-related subjects. You can subscribe to a newsletter and receive timely updates. At the moment, there are over 13.5 Twitter followers.
4. App Advice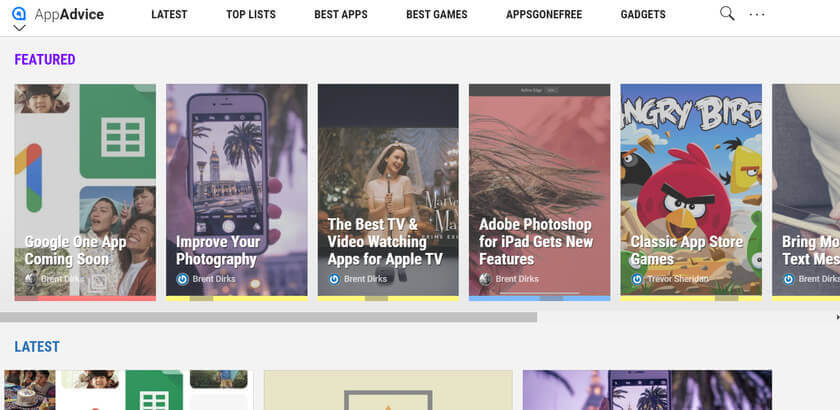 On App Advice, readers will find not only articles on the best iOS-running mobile and Apple TV apps but also game charts, and device guidelines. There are almost 90K followers on their official Twitter account.
5. Apple Insider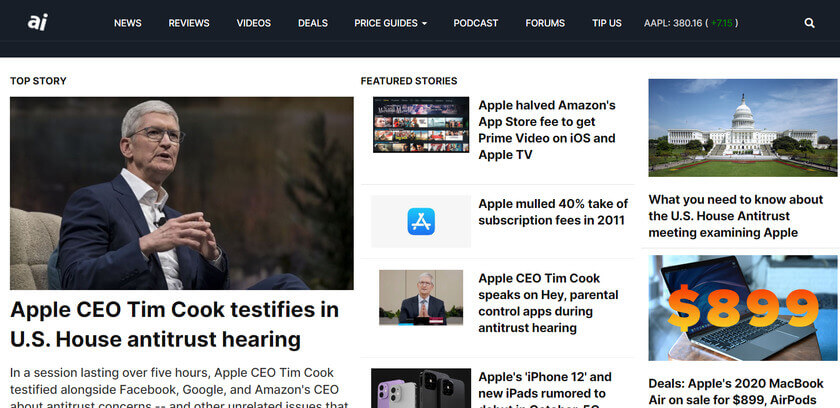 Apart from the news and latest information on the iOS world, at Apple Insider, users can communicate with each other, ask questions on a forum, and get timely help. It has around 280K website visits.
6. iOS Goodies

iOS Goodies is not a blog; it's a newsletter that contains everything you need to know about this operating system every week. They are focused on UI/UX and business, so there are many tips on launching and maintaining an iOS application. It has almost 6K Twitter readers.
7. 9 to 5 Mac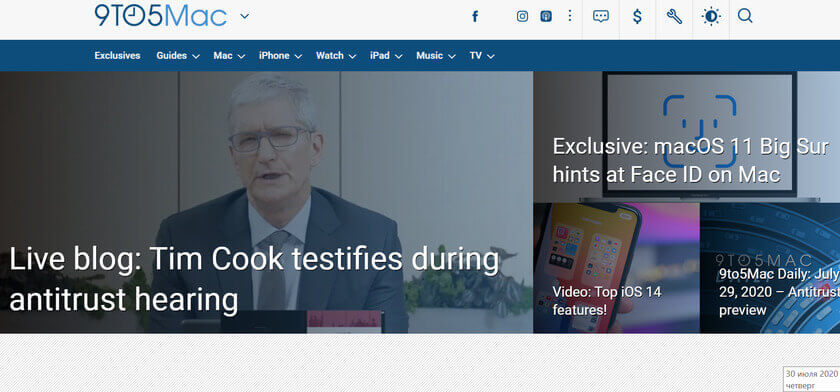 On this platform, iOS fans get guidelines daily and receive comprehensive information on everything related to this operating system. Here you can read about integrating functionality, updating iOS versions, and even marketing an existing app. There are around 9.4 million website visits.
8. Mac Observer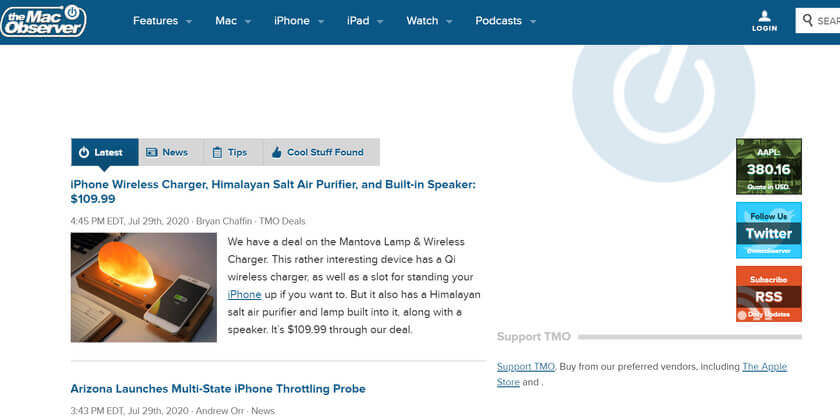 This website contains detailed information on hacks and tricks for using multiple iOS development tools. Mac Observer is a great option both for beginners and experienced developers. Over 1 million users have already visited this website.
9. iOS Developers Tips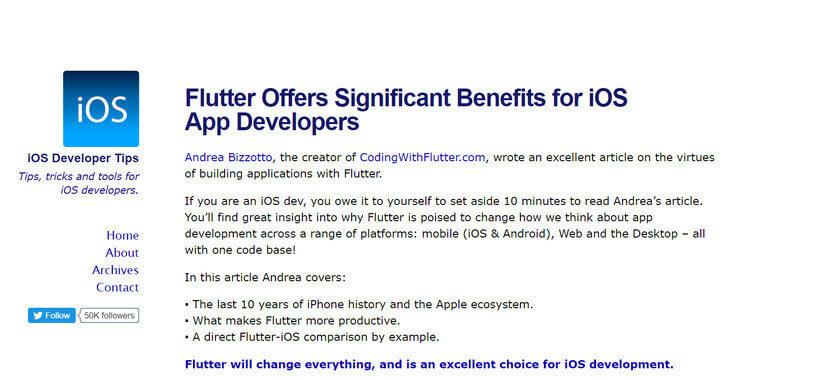 On this blog, you will find a vast number of tips, tricks, and tutorials on iOS development. If you need to learn how to use Flutter or fix Swift errors, iOS Developers Tips is the right choice. This website has over 50K followers on Twitter.
10. Cult of Mac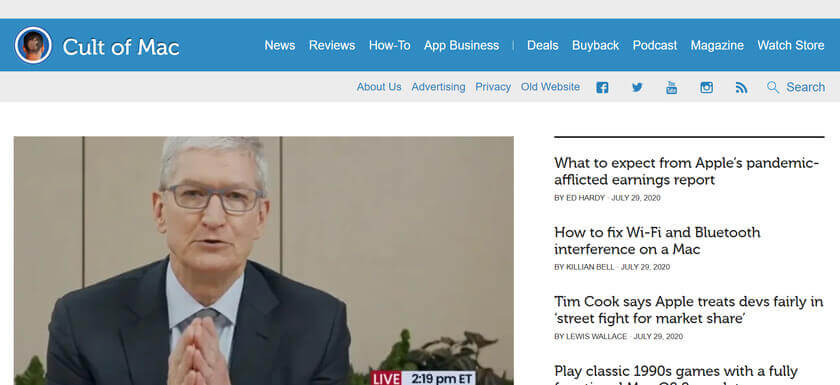 You can find information on iOS development, applications, monetization, and launches at Cult of Mac. There are around 3.5 million website visits and 792K Twitter followers.
In search of a team to design and develop an Android or iOS application? Our experts know how to create a perfect app.
Contact us
General Mobile Development Blogs
If you are not sure what operating system to choose for an app or are interested in development in general, get familiar with the list of the most popular blogs below.
1. DroidCrunch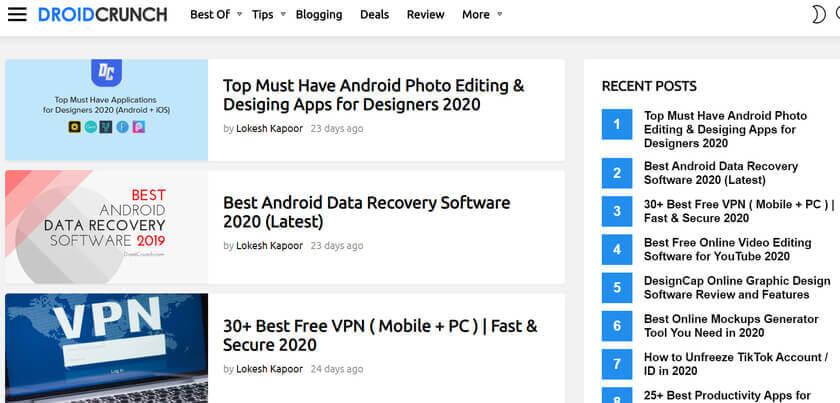 This blog discusses a variety of topics, from games, PCs, operating systems to mobile development. Here you will also learn how to fix different app bugs. DroidCrunch has 5K Facebook followers.
2. DZone Mobile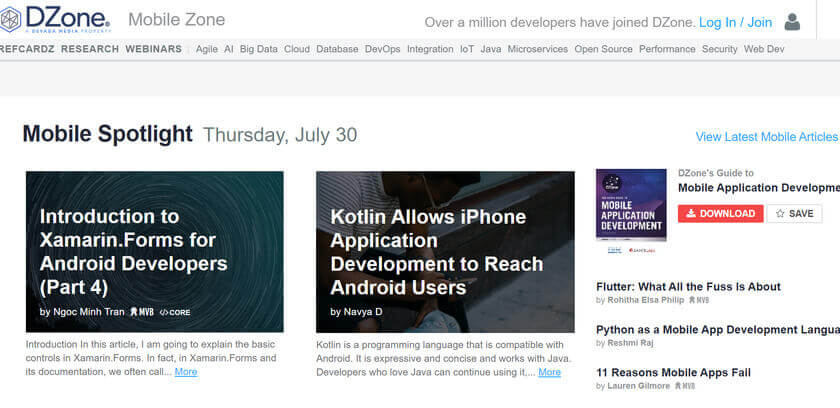 On this platform, readers can learn about AI, cloud technologies, app development, and whatnot. At the moment, 73K users follow DZone Mobile on Twitter.
https://dzone.com/mobile-app-developer-tutorials-tools-news
3. Sensor Tower Blog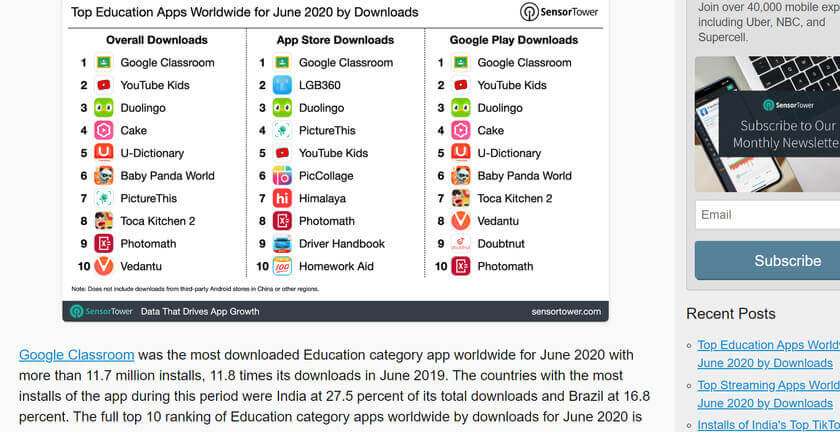 At SensorTowerBlog, users will get the most comprehensive and latest information on mobile development. It has 3K Facebook followers and 13.5K Twitter subscribers.
4. App Developer Magazine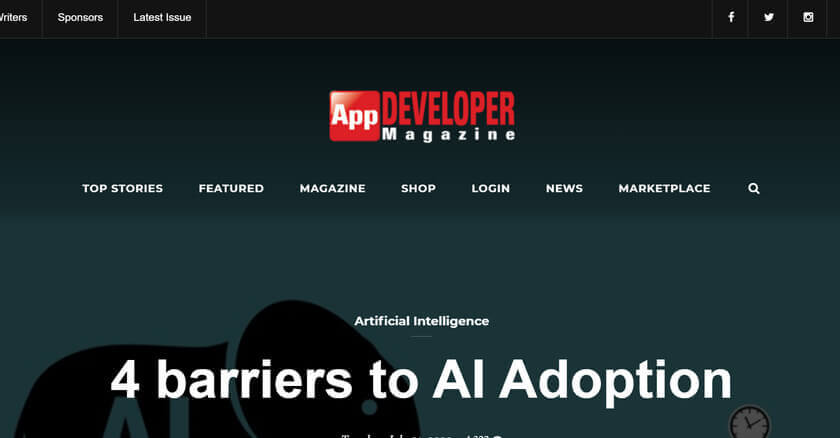 On this website, users can learn how to plan and develop a mobile app, how marketing and networking work, and what technologies and features to use. The approximate website traffic is 66K.
https://appdevelopermagazine.com/
5. MobileAppDaily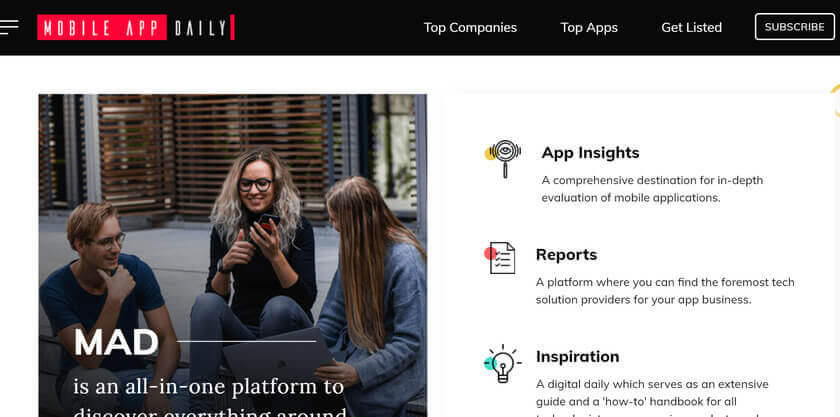 This development blog helps readers stay updated on the latest trends and tendencies and contains numerous how-to articles on mobile app development. It can boast 103K Facebook followers.
https://www.mobileappdaily.com/
6. Big Nerd Ranch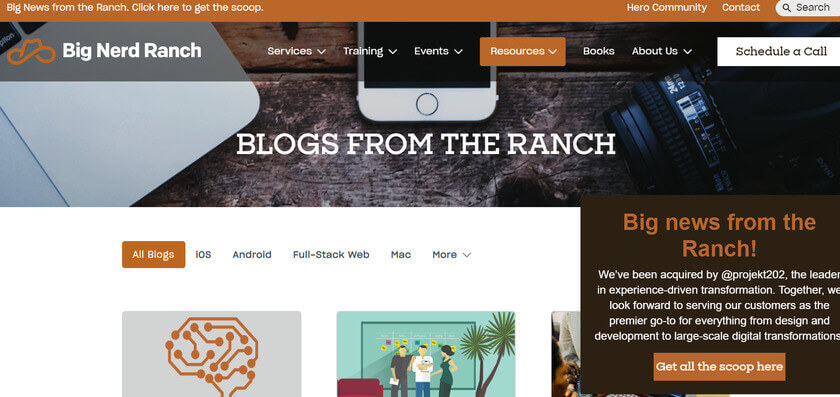 Its owner was recruited by Steve Jobs in 1997 and can boast a very informative blog about app development and implementing numerous mobile technologies. Big Nerd Ranch has 3.5K Instagram followers and 13.3K Twitter subscribers.
https://www.bignerdranch.com/resources/blog/
7. TechCrunch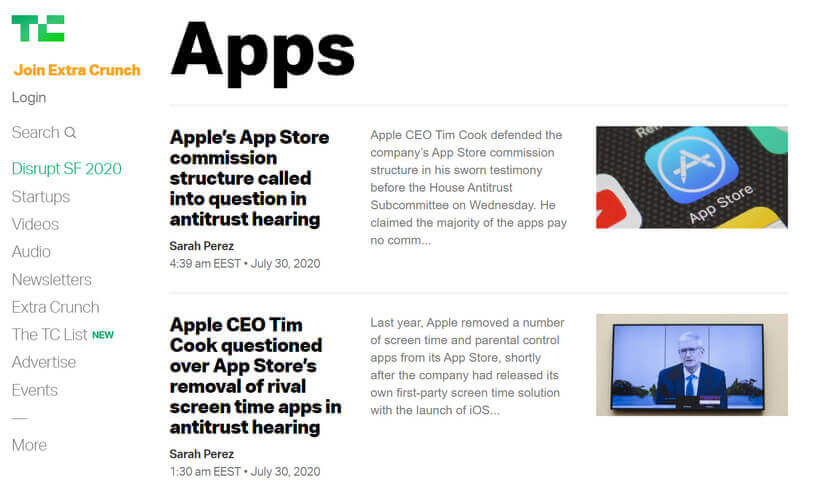 TechCrunch covers topics related to technologies. Pick 'apps' in the left corner of the website and learn about mobile development, marketing, and other issues. This site has had approximately 31.3 million visits.
8. Ray Wenderlich's Blog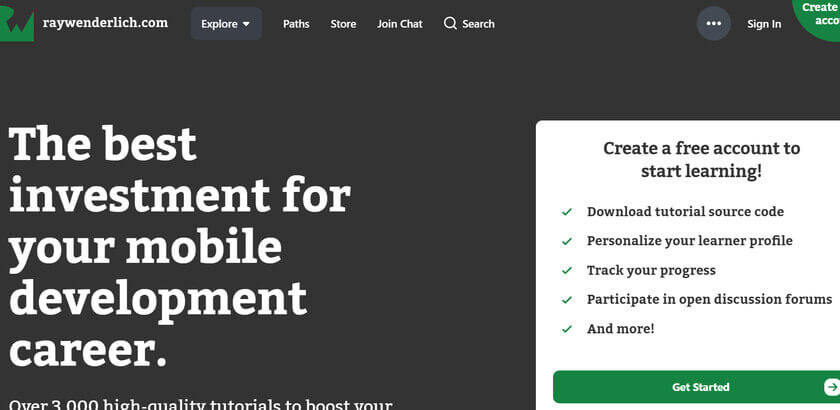 This resource contains over 3,000 tutorials on mobile development. Here users can learn how to manage Kotlin, Flutter, Swift, iOS, and Android. It has 74.3K followers on Twitter.
https://www.raywenderlich.com/
9. Apptamin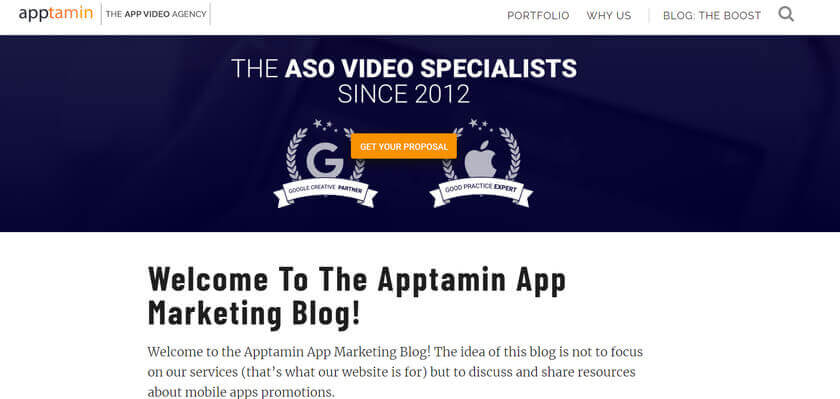 Apptamin contains resources on everything concerning marketing an app: time-tested practices, promotions, and monetization strategies. They've been on the market since 2012 and have over 5K Twitter followers.
https://www.apptamin.com/blog/welcome-to-apptamin-blog/
10. TechTarget Mobile Computing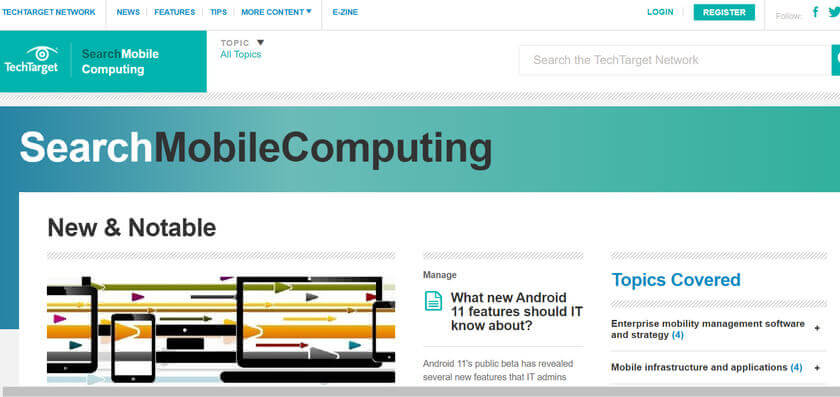 On TechTarget, you will find information on how to monetize and modernize an app, ensure the mobility of an app, and other useful details. This blog is a good option not only for beginners but also for advanced developers. TechTarget has around 430K website visits.
https://searchmobilecomputing.techtarget.com/
Our Experience
On our website, you can also find a blog on mobile app development. KeyUA has many years of expertise in app development, so readers get access to the most useful and recent tips. Follow our updates and remain at the forefront of iOS and Android development.
Final Thoughts
There are 2.56 million Android and 1.85 million iOS apps on the market. More and more users are switching to smartphones and wearables instead of computers and laptops, making the industry extremely popular and promising.
If you want to keep up with the trends and to know about recent launches, subscribe to our newsletters and be among the first to get the freshest information.
Want to develop a mobile application that will hit the top ranks? Hire the experienced KeyUA team!
Contact us