The first digital dating service appeared in 1965. Two young enthusiasts from Harvard University created the first program to process answers from a 75-question survey and help respondents find perfect couples.
With the appearance of the internet, offline services evolved to dating websites. In the 21st century, dating websites were replaced by dating apps. More and more people find it convenient to get acquainted and date online.
Andrey Onopriyenko, the KeyUA Chief Technology Officer, states that "The dating app market reveals steadily growing demand. While it may seem that there is no chance to fight the competition with a brand new product, that's not actually true. Modern dating apps lack security, imposing users to risks of getting on fake profiles and scams. Also, they lack advanced features like AI-based matchmaking, self-learned UX technologies, gamification, and others. There are many opportunities to create a product with unique competitive advantages. The pandemic period is a perfect time for this.
The COVID-19 pandemic and lockdowns pushed people to use such services to start relationships even more. This niche is attractive for investors and startups. Check the latest 2021 dating app statistics to get a detailed overview of today's market and trends that define the industry's development in the future.
Global Online Dating Statistics 2021
Online dating services are represented by platforms that help people make connections and develop various types of relationships. Check what features they usually have and how to create a dating app for mobile. According to the IndustryARC forecast, the online dating market will reach $10.378 billion by 2026, with a CAGR of 4% in 2021-2026. The key drivers of such growth are the general rise in internet users worldwide and the increasing adult population willing to date and develop social connections.
TOP Revenue-Generating Countries
As for the time being, Statista outlines the TOP 5 countries by the revenue amount: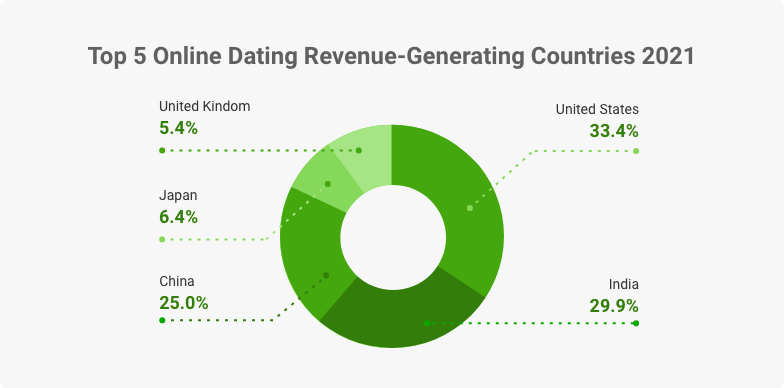 TOP 5 Online Dating Revenue-Generating Countries 2021
North America has the biggest dating app market share at 40%, according to the 2020 report year. In the USA alone, there are about 43 million active dating app users. However, the most promising region in terms of dating app usage growth is the Asia-Pacific. By 2026, it is projected to outpace all other areas due to increasing smartphone usage stats and the growing adult population.
Some reports state that the cultural barriers in Asian countries may hold people back from casual dating that may affect the growth of the Asian online dating market. Users in countries like China are more likely to find partners for long-term relationships than casual hookups. For this reason, the Asian-Pacific market may stay smaller than North American and European markets.
Global Dating App Revenue
The growing trend in the dating app sector will remain for the next few years, with more and more users activating accounts in North and South America, Europe, and Asia.
Past and Projected Global Dating App Revenue 2015-2025 (Source: mydatingadviser.com)
While numerous research provides slightly different estimations for the future figures, all of them unanimously predict stable revenue growth for online dating services.
The COVID-19 Impact: Online Dating Data in the Time of the Coronavirus
Since the lockdown began in March 2020, people started using online services more actively in general. Due to physical limitations, online communication and entertainment have become significantly more popular. Vincent Yip, the eMarketer analyst at Insider Intelligence, admits, "People still want to find love and connection during these trying times. Since people cannot meet in person, many have adapted to finding someone online."
The eMarketer report from August 2020 shows the predicted dynamics of smartphone dating app users as follows: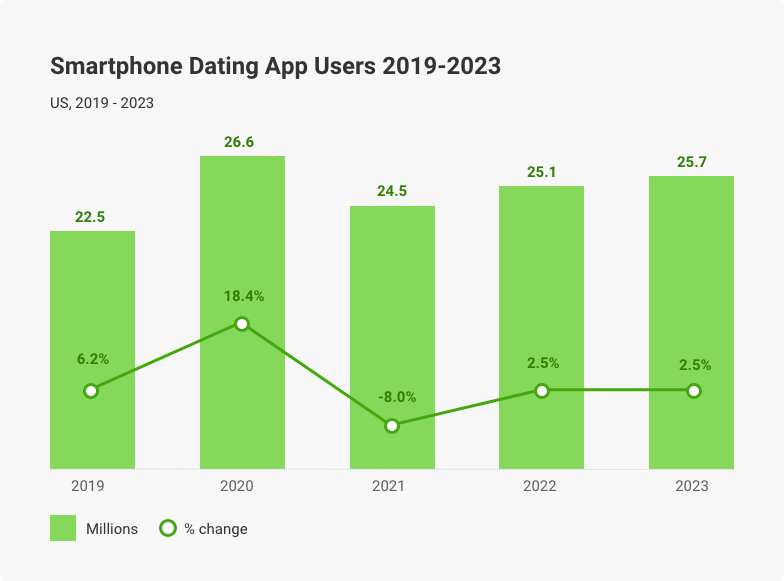 Smartphone Dating App Users 2019-2023 (Source: www.emarketer.com)
In 2020, there was a significant increase of 18.4% compared to 2019. The total number of smartphone dating app users reached 26.6 million. Forecasting analysis predicts an 8% decrease for 2021. However, the total number of smartphone dating app users will still be higher than the pre-pandemic. Since the report is from August 2020, there was no clear picture regarding the end of the pandemic. When the pandemic is over, people naturally will trend back more towards connecting and communicating offline. However, many of them will still prefer finding partners for relationships online.
Here are some facts about the boost of online dating activity during the pandemic:
The lockdown also made UK and US users interested in new types of dating activity. In a GWI survey, 24% of respondents claimed they are interested in dating via online games. 21% would like to watch a movie online with another person, and 13% would like to participate in online speed dating events.
While the pandemic has limited physical interaction and human connections, people's dating habits should trend back to pre-COVID times after the pandemic is over. It may slow down the growth of online dating consumers.
Mobile Dating App Statistics 2021
The popularity of mobile-based dating applications has been steadily growing over the past five years. Some experts assume that the number of mobile dating app users will drop in 2021 and then rise again by 2023. They relate the temporary decrease to the end of the pandemic. MyDatingAdvicer reports the online dating app usage statistics for 2015-2020 as follows: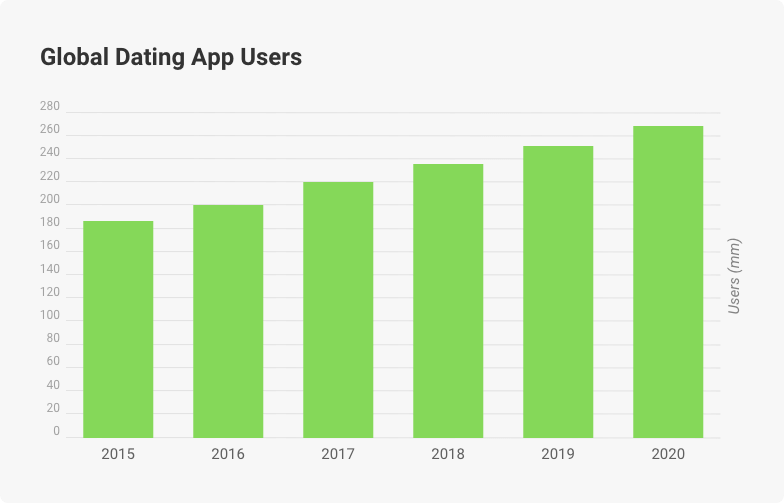 Online Dating App Usage Statistics 2015-2020 (Source: mydatingadviser.com)
Most top dating products specialize in providing casual dating experiences. However, their marketing strategies are different. For instance, Bumble and Hinge position themselves as the products for relationships. Tinder is famous for its casual hookup experiences. The diversity of provided services reflect customer preferences and allow each product to occupy its own niche on the market. See the monetization models used to compensate the cost to develop a dating app and make it profitable in the long run.
TOP Mobile Dating Apps
As of May 2021, the most popular global dating apps are the following: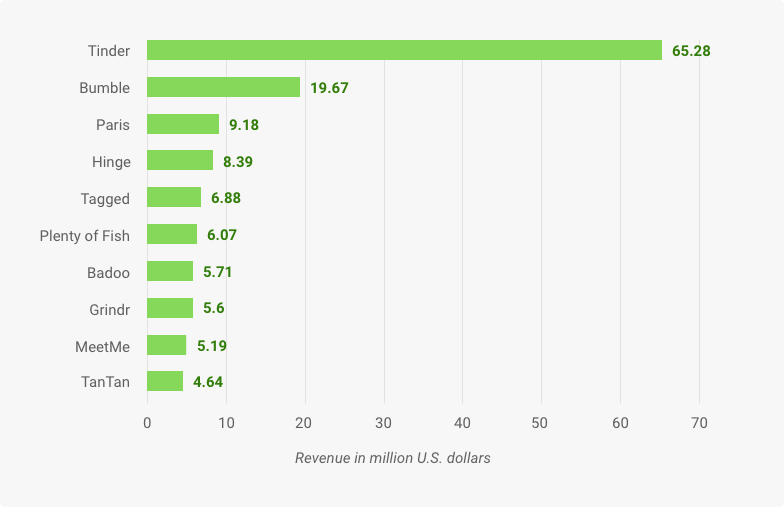 Most Popular Dating Apps Worldwide (May 2021). Source: www.statista.com
This Statista graph displays the top market leaders by revenue from monthly in-app purchases. Another chart by MyDatingAdvicer shows the global dating app stats based on monthly active users: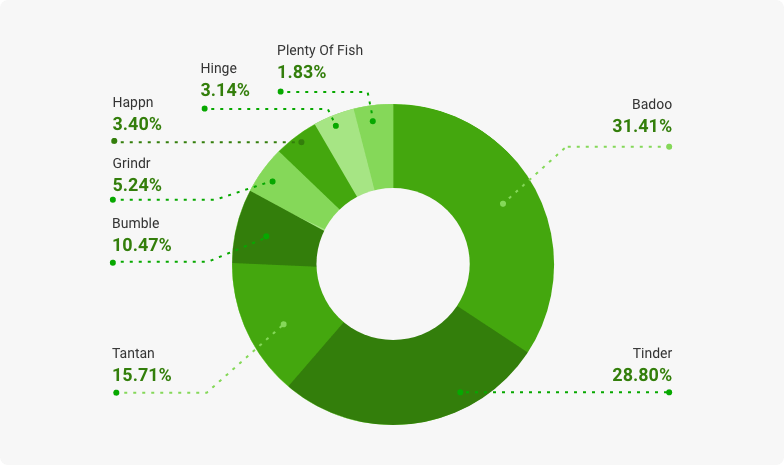 Global Dating App Market Share, 2020 (Sources: Airnow, DSR, Mixpanel)
For the time being, Tinder and Badoo are the two largest mobile dating platforms in the world. However, Tinder has gained more popularity, and Badoo has experienced a decrease in active users over the past 5 years. The biggest challenger to Tinder is Bumble, which actively conquers European and North American markets.
Leaders by Monthly Downloads
The statistics by monthly downloads reflect the pace of the growing audience for each dating market player. Here are the TOP 10 mobile apps according to a report conducted by Statista in cooperation with AppMagic:
| | |
| --- | --- |
| Application | Monthly downloads in thousands |
| Tinder | 6,515.97 |
| Badoo | 3,910.58 |
| Bumble | 1,696.24 |
| Lamour | 1,582.35 |
| Tantan | 1,550.96 |
| Soul | 1,490.78 |
| SweetMeet | 1,178.67 |
| happn | 1,093.36 |
| Peppermint | 1,000.03 |
| 2Steps | 932.43 |
These are the latest figures from May 2021 that reflect the leaders among more than 1500 existing apps and websites in the dating industry. Many of them are highly specialized and cannot be global dominators on the market. They promote dating among narrow social groups by religion, race, location, or other criteria.
TOP 3 Dating Apps Review
Tinder sits on top of any report as the most popular app in the world of dating. It has stably shown the highest dating app revenue and usage statistics over the last decade. The second most downloadable dating app, Badoo, has less than half the monthly downloads, followed by Bumble, which is 3.5 times less popular than Tinder. These are the three global leaders most worth looking at.
Tinder
Tinder was founded in 2012 by Hatch Labs, the startup incubator of InterActiveCorp. It has revolutionized the industry with its unique swiping UI technology. When a user likes the suggested profile, they swipe to the right. When a user wants to skip the offered profile and move on to the next one, they swipe to the left. If both users liked each other, they 'match' and can start the conversation. It was free initially. Then later, the team added a few paid subscriptions with additional features. Now users spend more money on Tinder than any other dating app, as an App Annie survey shows. Here is a short overview of the Tinder statistics:
Tinder is not the largest dating application in the world. However, it is the most famous one. It is widely discussed and mentioned almost everywhere. It has become a standard in social dating that any other competitor can hardly supersede.
Badoo
Badoo was launched as a dating website in 2006 by Andrey Andreev, a Russian entrepreneur. Soon the team launched a Facebook app, followed by iOS and Android native apps a few years later. It occupies 31.41% of the global dating app market size. Yet, it is almost non-existent in the US market, the most significant profit-generating region in the industry. Overall, it has pretty standard features like swipe-to-match, search filter, chatting, video calls, etc. The team pays much attention to safety: 5000 moderators monitor the content. A selfie request can be initiated randomly during video calls to ensure you are not fake. Here are the Badoo numbers:
Currently, Badoo is owned by Bumble Inc, the company that also owns Bumble, the 3rd most popular dating app. The total revenue of dating apps from Bumble Inc reached $22 million as of May 2021.
Bumble
Bumble was founded by Tinder co-founder Whitney Wolfe Herd and Badoo co-founder Andrey Andreev in 2014. In Bumble, only a woman can make the first move by messaging the male user if there is a match. If no messages are sent over the first 24 hours, the pair is unmatched. Customers liked such a pro-feminine approach. Over the first month after release, Bumble was downloaded more than 100 thousand times. Having a unique position among the rest, Bumble has become the third most popular dating service in the world:
The concept of women taking the first step demonstrates stable year-to-year growth by all market criteria. Currently, Bumble is considered a serious challenger to Tinder in both American and European markets. Being one of the youngest leaders, Bumble demonstrates a much higher growth ratio than the rest of the TOP players.
Final Thoughts
Numerous statistical reports show that the online dating industry has been on the rise during the pandemic. While experts predict a slight slowdown for online daters after the pandemic is over, the sector will continue its growth in the long run. Now is a suitable time to create a new mobile dating product to release during the current market boom.
There are still many customer improvements available, including safety features and new dating technologies like game dating. Your future product can become a fitting rival for today's leaders with a top-notch product design, high-end development, and a wise marketing plan. KeyUA is ready to bring your dating product idea to life. Let's join our efforts!
Looking for a development partner to create a unique dating product? Get your solution done right using KeyUA software engineers.
Contact Us