Perfection is a result of multiple experiments. Scaling from an idea to a successful, globally renowned product requires considerable brainpower and money. And most successful software examples start with an MVP. See a more detailed minimum viable product definition in one of our previous posts.
An MVP is the best way to focus on the core of your product and progress with improvements based on real customer experience. It has become the de facto approach for startups to enter a highly competitive market and succeed with minimum possible time and financial investments. See the ultimate examples of minimum viable products that helped their creators reach the top of their various niches.
1. Foursquare
Foursquare began as a social network where users could check in to different locations and share it with their friends and family. As you know, now it is a sophisticated city guide used all over the world to look for suitable restaurants, hotels, entertainments, etc.
It was the second product made by Dennis Crowley and Naveen Selvadurai. Google acquired their first social network called Dodgeball. Realizing the high interest in such solutions on the market, they began working on their second product. Having venture capital, they decided not to waste much time on the development. In 2009 they launched an MVP with a very basic design. Foursquare's first version allowed users to check-in in places they visited and granted awards. Gamification engaged users' activity, and the product became increasingly popular.
As soon as these basic functionalities were polished enough, the founders started integrating additional features like reviews, recommendations, guides by cities, etc. They used third-party services to save time on development. For example, they used Google Docs to collect user reviews. It is an excellent single-feature example of an MVP that shows how one can gradually release new features to become a mature online service with a growing audience. We already reviewed various types of MVPs with tips for choosing the best type depending on the product specificity.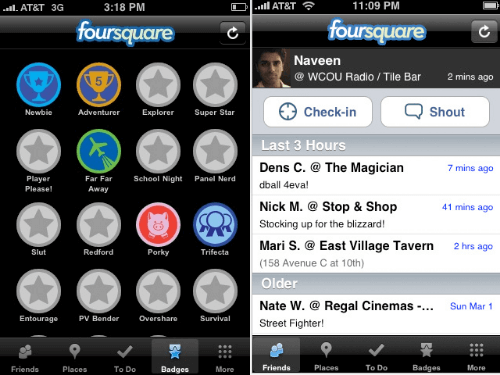 Foursquare's minimum viable product (Source: techcrunch.com)
For the time being, Foursquare remains a top-rated online service with impressive statistics:
According to FinancesOnline, in 2020, Foursquare's revenue reached $150 billion compared to $100 billion in 2019
Foursquare is the 4th most popular social media service among US adults (after Facebook, Youtube, and Instagram)
More than 55 million active users use Foursquare monthly
Foursquare has venues in more than 190 countries globally and is extremely popular in the US, Turkey, Brasil, Mexico, and Japan.
2. LinkedIn
The largest professional social network in the world appeared in May 2003. The released MVP allowed only setting up a user profile, searching for people, and connecting to other users in the network. Additionally, users could send requests to join if they knew the person's email address. There was also a screen that showed user profile statistics. See how minimum viable product website examples looked in the early 2000s: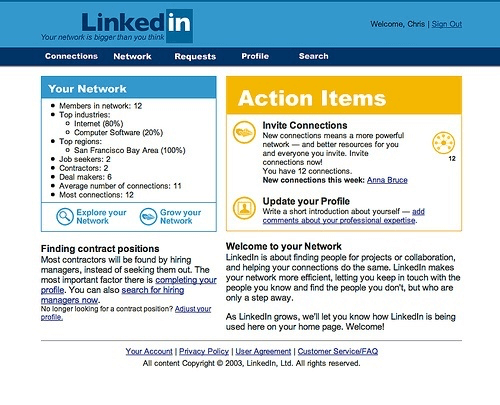 LinkedIn MVP Screen (Source: quora.com)
Shortly after releasing the MVP, the developers added an option to do bulk invites with many people at once and endorse colleagues for specific skills. Interestingly, profile photos were not available for the first few years. You could only add a summary and information about your past positions and education. Here is how a LinkedIn user profile looked in 2004: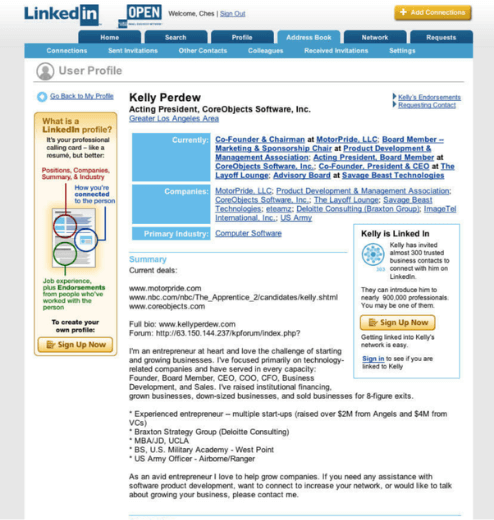 LinkedIn User Profile In 2004 (Source: quora.com)
In 2005, LinkedIn released its first premium services - LinkedIn Jobs, Subscriptions, and InMails. In 2006, the company finally became profitable and began launching more and more add-ons like Recommendations, People You May Know, and Public Profiles.
While LinkedIn started simple, lacking most of the features we know today, the constant desire to fit the market and respond to customers' needs made it the No. 1 online network in the world for professionals.
The latest LinkedIn report reveals 740 million users from 200+ countries, 201 million from the Asia Pacific, 194 million from North America, and 166 million from Europe
The company saw 23% year-to-year revenue growth in FY21
Every week 40 million people use LinkedIn to search for jobs
Every minute 3 people are hired via LinkedIn
The LinkedIn vision is "Create economic opportunity for every member of the global workforce." This win-win objective brought the project recognition around the globe and a stably growing audience.
3. GetCoverLetter
GetCoverLetter is a young MVP product example that quickly became one of the leading solutions in its niche.
It is a startup that was built in 2019 by the KeyUA software development company. GetCoverLetter founder, Yana Trihub, already had more than ten years of IT sales, project management, and recruitment experience. She realized that companies often fail to uncover natural talents due to the improper self-presentation of candidates. People looking for a job didn't know how to present their professional potential in hiring documents. As a result, employers miss out on candidates who could add decent value to their companies.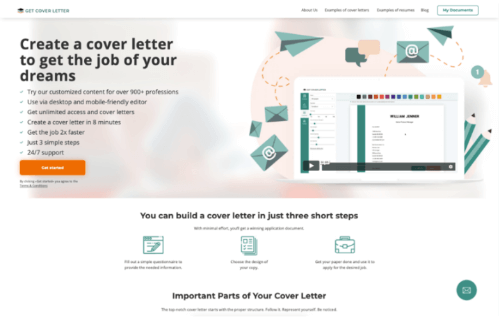 GetCoverLetter Screen (Source: www.getcoverletter.com)
To match job seekers with their dream jobs, the company decided to create a handy online document builder for cover letters.
Andrey Onopriyenko, KeyUA Chief Technologies Officer, explained the decision of starting with an MVP:
The development of a full product version could take 2+ years. We decided to start with an MVP and test our idea with a single option — creating cover letters, the weakest point in the hiring documents package. We enforced the MVP release with a powerful marketing campaign, and soon we had about 18k subscribers monthly.
After the MVP launch, the demand for such services was evident. As a next step, GetCoverLetter added a new option - a resume builder. Now GetCoverLetter is a comprehensive document composer with fully customizable design templates for both resumes and cover letters. A user can handle the entire process within 8-10 minutes and get correctly structured hiring documents with all the details that employers look for. Here are some facts about the software:
Founded in 2019
An MVP development took 4 months — t

he team handled front-end, back-end, and design in parallel

There are 50k+ active subscribers with stable month-to-month growth
300k+ customers served over the last two years
10k+ customers reported receiving the desired job with the help of GetCoverLetter
To get more information about this project, check GetCoverLetter case study.
Looking for an outsourcing development partner to build an MVP? Get experienced software engineers from KeyUA.
Contact Us
4. Uber
The idea of creating Uber appeared in 2008. Travis Kalanick and Garret Camp wanted to bridge the gap between the more expensive black car service and less comfortable taxis. They struggled to provide people with a handy and affordable way to get from A to B. They launched an MVP called UberCab that connected people in San Francisco with cab drivers through an iPhone app. The service was also available via SMS on other mobile devices.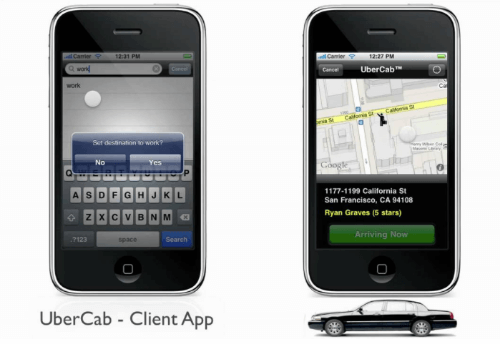 UberCab MVP screens
A couple of years were needed to ensure UberCab gained popularity. It made sense to extend the coverage to other areas. Soon Ryan Graves joined the startup to become Uber's first CEO and turned it into what we all know today.
Uber got new features like GPS integration, tracking drivers in real-time, reviews, ratings, multiple destinations, scheduled rides, and much more. When the company went public in 2019, its net worth reached $75.5 billion. And here is what Uber has today, according to its ESG Report:
$26.61 billion net worth of bookings in 2020
93 million active users
Every quarter 1.44 billion rides are done with Uber service
Within the last 4 years, the monthly active user base has grown at a CAGR of 48.74% (2016-2020)
Starting with a small niche, in 10 years, this example of a minimum viable product turned into the No. 1 ride-sharing service worldwide.
5. Spotify
In the 2000s, people used to download tons of music for personal use through pirate sites like The Pirate Bay and Napster. However, such services faced strict regulations. When Napster shut down, a Swedish technologist, Daniel Ek, decided to offer a legal alternative — a music streaming service. It allowed listening to the music without actually owning the content.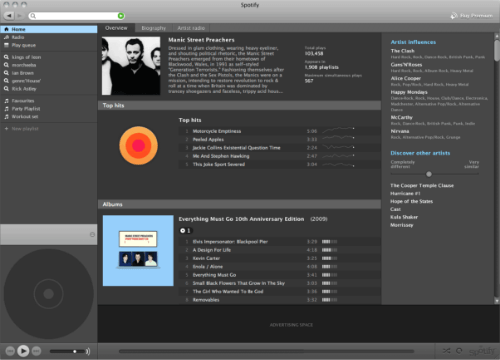 Spotify minimum viable product (Source: stfalcon.com)
Together with another co-founder, Martin Lorentzon, in 2006, they developed an MVP to test that idea among family and friends. The private minimum viable product case study revealed significant interest in a music streaming approach. Soon, Ek presented it to a larger audience, music bloggers in Sweden. The service allowed only one thing - listening to the music online. Bloggers loved how it worked and soon began doing reviews and spreading the word about Spotify. Finally, Spotify was released to the public.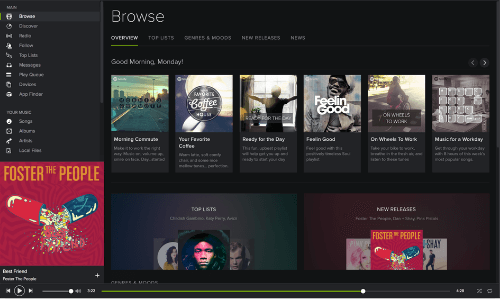 Spotify Today
Currently, it is an on-demand service to stream music, video, and podcasts through desktop and mobile apps with impressive statistics:
In the latest Business of Apps report, Spotify is the No. 1 music streaming platform with 34% market share, leaving behind Apple Music, Amazon Music, Tencent, and Youtube Music
In June 2020, Spotify had 155 million paid subscribers
The total number of subscribers is 345 million in 80+ countries
Sometimes it makes sense to launch a private MVP to test the product in a limited user group before going to the public. If you are not sure of your idea's viability for a real market, you can still test it privately.
6. Instagram (Burbn)
Not all minimum viable product examples lead to success at once. The market disapproved of some MVPs, yet further product transformations helped to guess the customers' taste.
Initially set to be a kind of Foursquare clone, Burbn, an Instagram's predecessor, allowed users to check-in and share their experience visiting various locations with friends. This iPhone app was founded in 2009 by Kevin Systrom. The application was a bit too complicated for use and overrun with features. Users found it confusing, and the adoption was poor. However, Burbn had a unique photo-sharing feature that everyone liked.
Instagram's Predecessor (Source: pg-designs.ca)
Systrom decided to focus on photo-sharing. With one more developer, Mike Krieger, he investigated the market and soon found the direction for improvements. Relying on Hipstamatic's photo filtering options and Facebook's social photo sharing, the team decided to combine the best of these solutions. The initial Burbn served as an MVP for it. After cutting everything not related to photo, comment, and like features and adding famous photo filters, Mike and Kevin finally released Instagram on October 6, 2010.
And it was a hit. On the first day after release, Instagram got 25,000 users. By the end of the first week, there were more than 100,000 downloads from the App Store, and in December of the same year, it reached one million users. Today there are 1.074 billion Instagram users globally, according to eMarketer findings.
7. Etsy
In 2010 four freelancers were working on building and maintaining a crafting community forum. Rob Kalin, Haim Schoppik, Jared Tarbell, and Chris Maguire saw numerous complaints from forum users. Artisans had problems selling their handmade products through eBay due to high fees.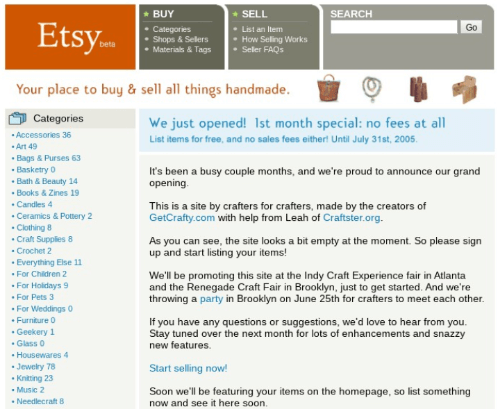 One of the first versions of Etsy (Source: vator.tv)
The four guys decided to create Etsy — a platform for selling crafts. They chose a simple MVP concept to give users the ability to create accounts and sell their handmade products. It was a big surprise when in a matter of days, the website got thousands of sign-ups. Being the first in this narrow niche, Etsy has become highly popular despite its basic functionality and primitive design.
Etsy founders had a second to none idea of an online marketplace for crafters. When entering the market with a unique solution, you can save on the development, offer very straightforward implementation, and become successful. Simplicity and small fees have become Etsy's unique competitive advantages that immediately made it famous. Just check these impressive figures:
By the end of 2020, there were 82 million active buyers on Etsy (eSeller365)
Just during the holiday season, from October to December 2020, buyers spent over $3.3 billion, a 118% increase over the same period the prior year
Etsy sellers earned $13 billion in 2020
The service makes money on charging sellers for listing and selling product items. For instance, it charges only $0.20 for listing an item for 4 months. Etsy also takes a commission of 3.5% from the product price if the item gets sold.
8. Kickstarter
Being a famous MVP platform for startups, Kickstarter is also a great example of an MVP. It began its history in April 2009 and is now the biggest crowdfunding platform in the world.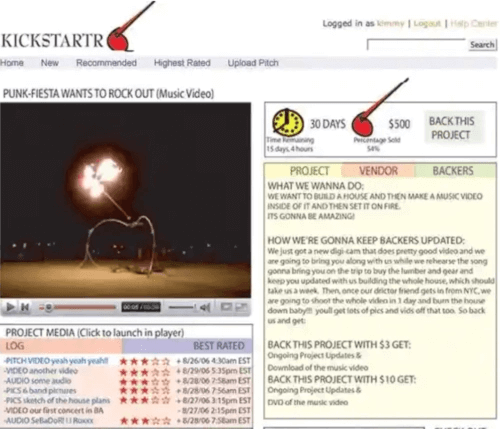 First Kickstarter website version (Source: altar.io)
The idea was pretty simple. Any person with an idea for a future startup could publish the description of the future project and set the required amount of funds and a deadline for collecting it. If the required amount is not managed by the due time, all funds will be refunded to investors. If the project gains the desired amount, Kickstarter takes 5% from the raised money without ownership rights for products. In 3 years, Kickstarter helped startups raise $381 million, and $12 million from this amount was its profit. At the beginning of 2013, an iOS app was launched to provide the official mobile presence of the platform.
Initially, Kickstarter allowed only projects from the USA and later extended its geography to the UK (2012), Canada, New Zealand, and Australia (2013). Currently, the platform accepts projects from 25 countries worldwide.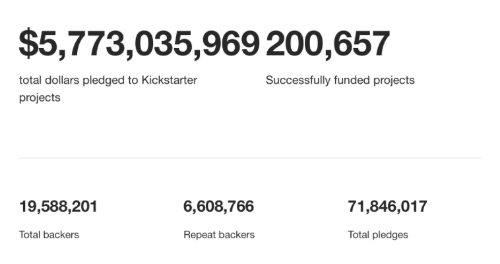 Kickstarter Statistics 2021 (Source: kickstarter.com)
9. Online Divorce
This is another project by KeyUA. Initially, it was a company website but turned into one of the leading online services for preparing divorce documents in the USA.
When the KeyUA team received this project and began working on the website design and functionality, it was decided to test an idea for a web service that completes divorce papers automatically. Usually, the document package for filing a divorce is prepared by licensed attorneys. Such judicial assistance may cost thousands of dollars and take a week or more.
The team planned to launch an online document composer. Any person can easily prepare all required documents with no need to hire an attorney.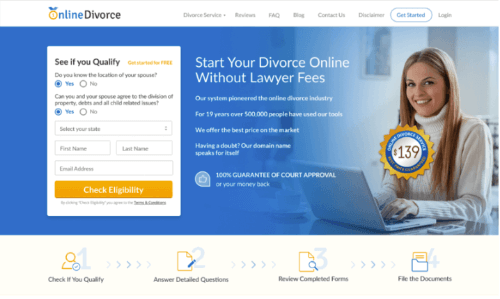 Online Divorce Web Application (Source: www.onlinedivorce.com)
While the divorce laws vary from state to state, it was decided to start with an MVP that provided 100% court-approved papers for filing an uncontested divorce in California. The MVP hit the market in 2008. With an intelligent marketing strategy, KeyUA managed to attract substantial attention to the Online Divorce service. Soon it became highly popular among Californians. The company began adding the ability to prepare documents for other states. Now, Online Divorce supports customers from all US states and Canadian provinces.
The step-by-step document builder automatically selects papers according to the couple's peculiarities and then fills them out according to the law. The service also helps spouses to submit documents to the court.
The service's statistics speak for themselves:
500,000+ customers served by the end of 2020
25,000+ active monthly users as per 2021
45+ mentions in top US magazines
Additionally, Online Divorce provides tons of unique and valuable content to clarify various aspects of the divorce process and rules for filing documents specific to each location throughout the USA and Canada.
10. Twitter
Four developers from Odeo podcasting startup — Jack Dorsey, Noah Glass, Biz Stone, and Evan Williams came up with an idea to create a service to exchange statuses via SMS. They suggested a system where a user could send SMS to one number and further transmit it to the recipient's friends. This new project got the name Twitter.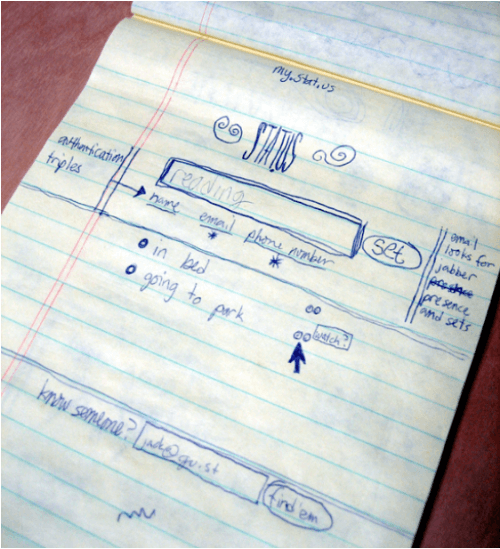 Twitter ("Stat.us") a sketch by Jack Dorsey from 2001
The MVP was launched in March 2006 for use inside the company. Odeo employees were happy with the service, spending lots of time on SMS messages. The founders clearly saw the potential for market success and soon developed a web interface and released it to the public in July 2006. The real success came to Twitter in 2007, when daily tweets reached 60k.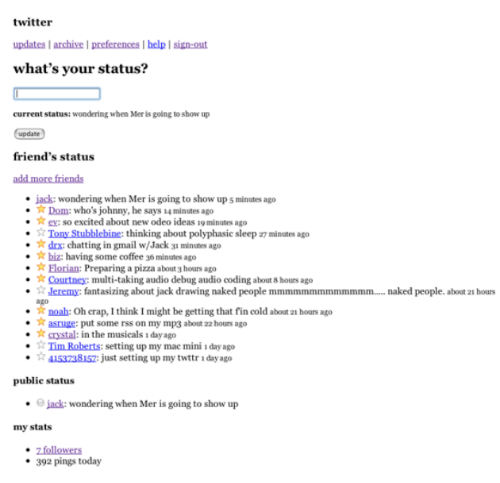 Twitter in March 2006 (Source: www.firstversions.com)
Now Twitter is the 4th most popular website in the world after Google, Youtube, and Facebook. It is one of the MVP examples that turned into a commercially successful product with colossal popularity worldwide from an internal use service. And its original 'microblogging' nature is still unparalleled. Here is a short list of Twitter's achievements from the company's Q4 2020 Letter to Shareholders:
The company's revenue reached $1.29 billion in Q4 2020
There are 192 million daily active users
In 2020 US users grew 21% (55 million in total), while non-US users grew 28% (157 million in total)
11. Youtube
Three former employees from PayPal, Chad Hurley, Steve Chen, and Jawed Karim, decided to create a video-sharing website that allowed them to upload videos and easily share them with others to watch online.
There are a few popular versions of what inspired young engineers to found such a service. According to one of them, in 2005, Karim couldn't find videos for the Indian Ocean tsunami and the 2004 Super Bowl incident when Janet Jackson briefly exposed her breast. He came up with the idea that it would be great to have some website to host such exciting videos for a quick watch.
By another version, Hurley and Chen couldn't send videos from their party to friends via email, as they were too big. Whatever inspired the colleagues, they decided to develop YouTube.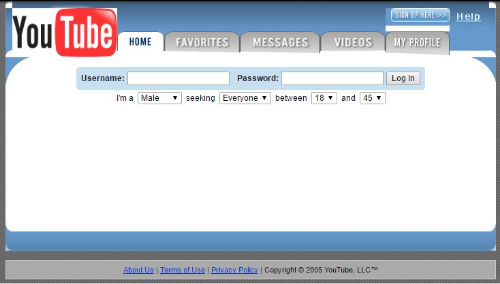 The first version of YouTube interface (Source: imgur.com)
YouTube.com domain was registered on February 14, 2005, and this is the official birthday of the service. On April 23, 2005, the first 19-sec test video was published, where Jawed Karim was attending the Zoo. The service was written in Python, utilizing Flash Video technology called FLV that allowed users to upload videos up to 10 mins comparatively quickly.
The website was released to the public in May 2005. It began as a venture capital-funded startup that raised funds from various investors, including $11.5 million from Sequoia Capital and $8 million from Artist Capital Management. YouTube's popularity grew tremendously. In July 2006, there already were 100 million users and 65,000 videos. Google acquired YouTube in autumn 2006 for $1.65 billion.
Today YouTube is the most popular video hosting platform globally and the second most popular search engine after Google. According to the latest statistics:
There are 2.6 billion YouTube users worldwide (Statista)
YouTube is localized in 100+ countries and is available in 80 languages
Every day, people watch 1 billion hours of videos through YouTube
Currently, the service is available through a website, desktop, and mobile applications for every existing platform. It is one of the most successful startups in the history of online services.
12. iPhone OS
The first touchscreen smartphone, iPhone, was a significant technological revolution by itself. However, the operating system on its board was no less attractive. Now you know it as iOS, while the first version was called iPhone OS. Steve Jobs believed that the software evolution should be started small, focusing on developing a robust foundation for implementing new capabilities in the future. This concept was reflected in iPhone OS, an MVP for the modern iOS that was released on June 29, 2007.
The iPhone OS MVP was a version of Apple's desktop operating system, OS X, adapted for a mobile processor and a touchscreen. It had only a few essential applications for the primary smartphone uses. There was a single home screen with the following set of icons:
Messages - Calendar - Gallery - Camera
YouTube - Calculator - Stocks - Google Maps - Weather
Notes - Watch - Settings
There was no ability to modify the home screen. The UI reflected Jobs's adoption of skeuomorphism, and many elements resembled physical objects. For example, a Notes icon looked like an actual Notebook. At this time, there was no iCloud, and all data transfer was done through iTunes.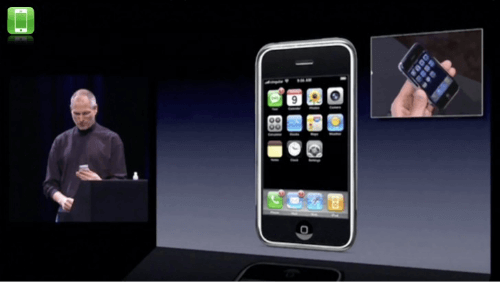 iPhone OS 1 (Source: www.gsmarena.com)
While iPhone OS 1 was initially developed only for two devices, iPhone and iPod touch, a third version, iOS 3, came in a few modifications adapted for a broader range of devices, including the first Apple tablet, iPad. Apple engineers successfully tested their touchscreen UI concept and got massive admiration from customers starting from the basic features. Finally, it has grown to the current iOS / iPadOS 14.5.
Final thoughts
Based on these brilliant MVP examples, it becomes clear why most startups follow the MVP strategy for delivering their products to market. It helps entrepreneurs test their ideas and provide innovations to the public with no risk of losing all their resources in case of failure.Further, you can validate market demand on every new feature added in the subsequent iterations that helps to develop the product in the most efficient directions.
If you want to follow this principle, build your MVP with KeyUA. Our team knows the MVP development process from the inside. We already have a proven track record of launching our own minimum viable products globally. Let your idea come alive with our support!
Interested in developing an MVP for your next startup? Get in touch with our team.
Contact Us