Managing expenses is an aspect that requires a lot of time and effort. However, nowadays, numerous applications allow us to keep all money organized, keep a record of expenses, and handle unnecessary spendings while traveling. A personal financial assistant not only helps you manage your budget but also sends warnings on upcoming bill payments, synchronizes with your credit card and bank account, and provides an analysis of expenses on a monthly or weekly basis. In the following article, we will explore the modern finance industry, get to know how AI technology empowers finance-related software, and explain how to build a personal finance assistant application.
Why Invest in the Development of an AI-Driven Finance App?
With technology constantly evolving and financial instability in the world, there is an unprecedented interest in installing personal financial management apps. AI-driven software reached $10.1 billion in 2018, but experts believe that with the rapid development of technologies, this number will at least double to $126.0 by 2025. Considering the demand in the marketplace and its potential, let's see why developing a similar application will be a 100% success.
Low Level of Competition
The current popularity of online financial assistance apps encourages entrepreneurs to start a business in this domain. Therefore, you have ample space to build an app with distinctive features, a more accessible interface, and richer functionality.
Growing Demand Among Consumers
According to the Bankrate survey, around 63% of American phone users have at least one financial-related application. 17% of them have installed a budget managing application to know where the money goes. As the economic situation remains unstable in most countries, many citizens are eager to self-manage their money rather than paying professionals or relying on banks.
Easy Monetization
Since almost all financial managing applications synchronize with bank accounts, it is easy for you to make money in such apps. Moreover, you can offer subscription plans that would have more features, thus facilitating the process of managing money.
Build your AI-powered personal finance app with KeyUA to bring the best technological benefits to your product!
Contact Us
The Features of a
Personal Financial Management Application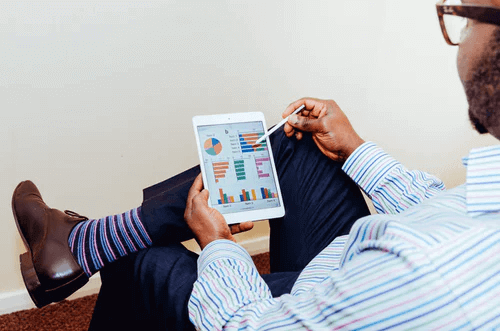 Besides the central feature of all financial managing applications to indicate expenses and keep a record of them, there are way more features that drive such applications' popularity among clients across the globe. Let's see several examples.
In-App Notification
For a user to be informed about upcoming payments (Internet, taxes, household), push notifications are vital. A user may indicate the time for notifying, have the option to switch it off, and ask for additional email message duplication.
Analyzation Tool
A user must see the flow of money to manage future expenses. With this in mind, the analyzation tool reports to a client regarding purchases that have been made. They may be categorized into grocery expenses, apparel shopping, beauty-related services, and other areas.
Credit Card Integration
Another useful feature is synchronizing the user's credit card to the application for the process to be automated. With this feature, a customer won't need to type information every time a purchase is made - the system will 'see' expenses and put them into a particular category.
Artificial Intelligence
Tool
AI features are widely implemented in banking applications since it may not only help in managing the finances but also analyze user's behavior. Eventually, a client sees useful insights from the AI assistant and makes responsible decisions regarding expenses. Numerous applications offer virtual assistance that allows its users to get professional services regarding their incomes.
How an
AI-Driven Finance App
Better for Traditional?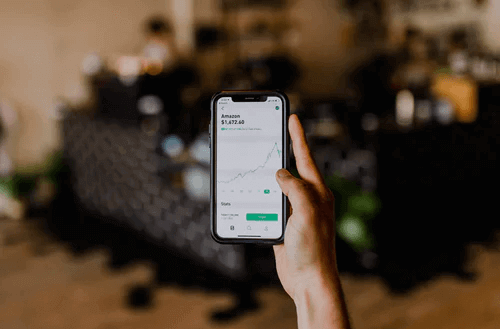 Besides the obvious benefit of using AI for automated analysis of financial data, AI tools also possess an immense potential to detect fraudulent activities.
The bank can actively monitor fraud in real-time and is saving its customers on average around $100 million a year simply through these enhanced fraud prevention methods

,

as claimed by

Casey Royer

, the representative of USAA (large US

bank

)
Mostly, developers apply machine learning technology to create a personal AI assistant app. Let's now identify the areas within your AI-driven financial application that can increase its recognition and establish a solid market position.
1. Managing Financial Data
Processing big loads of data executed in any finance-based application is more efficient and faster with AI. The technology can easily generate an analysis of unstructured and structured data within seconds. It can also display the processed information (transaction history and big purchases) in the form of graphs or tables for the user's clear understanding.
2. Financial Bot
An AI assistance application enables the user to 'talk' to a financial assistant. It can provide a full picture of the user's financial situation after constantly analyzing behavioral patterns. Also, the AI assistant can forecast future operations based on previous user activities.
3. Managing Malware Activity
As we mentioned before, AI for a personal finance assistant app can synchronize with credit cards directly or with a bank account. In this case, when a user tries to make a transaction, the app's system will immediately inform a user if the receiver was previously involved in fraud.
Top 6
AI Apps for Finance Management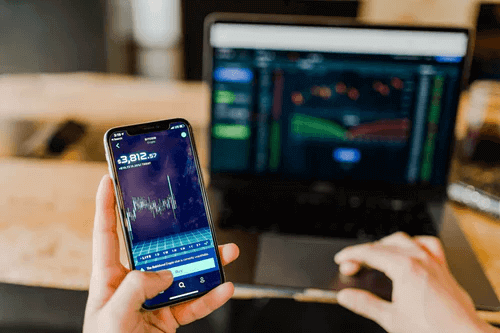 Now let's get acquainted with examples of AI personal finance assistant apps before starting the development.
Olivia AI
As the name suggests, the Olivia app is 100% based on machine learning technology, particularly artificial intelligence. One of the key services that it provides includes giving smart recommendations regarding spendings. Moreover, she analyses the user's behavior (where and when was a purchase made) and informs about discounts and special deals.
Digit
Digit offers a life-saving solution for those people who struggle to save money. Once a month or more often, a virtual financial assistant asks a user what amount of money can be saved to Digit's storage. A user indicates how much money can be withdrawn, and the system automatically removes this money from a card. A customer can also set a financial goal for total savings, and the bot will send an SMS when the user reaches it.
Wizely
The application offers several solutions based on subscription plans. Users get useful information from the app's bot, such as pre-booking of planned purchases, save money by putting it into Wizely's basket, and can withdraw these savings any time.
MintZip
MintZip is another popular solution for those who want to get chatbot assistance in automating savings, making payments, and even investing in business-related affairs.
Eva Money
Supported by iOS and Android operating systems, this AI-driven financial application has not only Chatbot but also a Video bot. It contains the following crucial features: managing money flow monthly and yearly, saving money, and enhancing your credit score for custom needs.
Cleo
Cleo can create integration with bank accounts as well as Facebook Messenger contacts for conducting financial transactions. A user may ask questions directly to the bot and get useful insights regarding savings and overall expenses.
Key Points
AI for finance applications is an excellent solution for entrepreneurs to gain a competitive edge by receiving professional financial assistance. These platforms enable users to get detailed reports of their monthly and yearly expenses, save money, and receive notifications about discounts and hot deals for desired purchases. AI is widely implemented in developing software for many industries, but these days, applying machine learning algorithms in personal financial assistant apps brings great perspectives.
Develop a personal financial assistant app with KeyUA software engineers! We use the latest technologies to deliver cutting-edge applications for your needs!
Contact Us