The insurance industry is traditionally falling behind other service industries when it comes to digitizing the business. However, the COVID-19 pandemic has triggered digital acceleration for insurers to become more competitive than ever and recover from the economic fallout faster.
There is still considerable uncertainty regarding future pandemic development. However, one thing is undeniable: insurers will actively digitize and innovate over the next few years. So let's see what impact and potential the key insurance technology trends will bring.
The Global Insurance Industry Growth Outlook
Despite the crisis caused by the pandemic, the insurance industry is expected to grow globally within the next four years. According to Accenture research, the gross written premium (GWP) will grow from $6.1 trillion at the beginning of 2020 to $7.5 trillion by the end of 2025.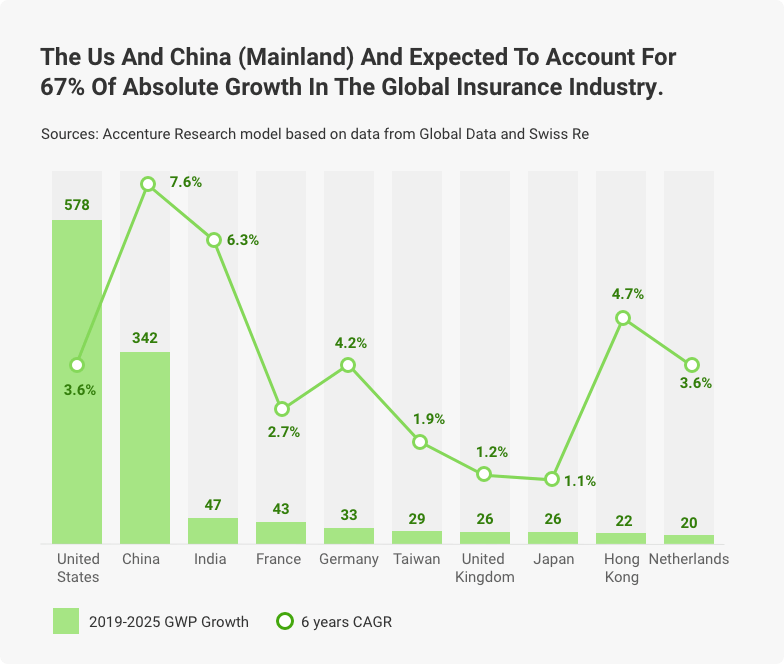 2019-2025 GWP Growth by Region
The report predicts that about $480 billion of the net $7.5 trillion GWP will be driven by tech innovations in the industry. Here are the top insurance tech trends defining this growth.
Would you like your insurance business to keep abreast with the latest tech trends? Hire the KeyUA team.
Get In Touch
1. Switching to Digital Channels
Within the next few years, the insurance industry will see a significant increase in integrating digital tools for agents, brokers, and customers. The growing use of self-service digital channels is partly explained by the increasing customer demand that requires faster operation and processing.
Tal Daskal, CEO and co-founder of EasySend platform, admits that "Even products that sometimes require offline execution, such as physical signatures and medical underwriting, are increasingly transitioning to digital with the help of technology such as legally binding eSignatures or face-recognition and telemedicine."
According to his survey dated April 2020, 89% of European insurance executives anticipate the rapid shift to digitalization in the industry.
2. Physical & Digital Will Co-exist
Traditionally insurers were rarely in direct contact with their customers. Instead, they sold their products and services through intermediaries - agents and brokers. As a result, insurers have little knowledge about their customers. It's vital to get the entire customer portrait to stay competitive and meet their expectations more precisely. That is why insurers heavily invest in the digital customer journey. Besides the cost reduction effect, digital tools allow collecting customer data for further analytics.
One of the most popular myths in today's insurance tech trends is switching from physical to digital channels. The actual scenario is smooth integration between both. The core principle is providing customers with 24/7 omnichannel access to insurance services and products. For this purpose, most insurers aim to create web and mobile customer applications to become maximally accessible for users at any moment. Get more information about insurance app development if you also plan to design one for your business.
Not only is the industry conservative. There is a significant customer segment used to traditional human interactions and not comfortable with modern innovations. Therefore, physical and digital channels should effectively co-exist to bring maximum results.
3. Reducing Manual Workforce
Insurers continue adopting automation that leads to reducing full-time positions. McKinsey predicts a 25% decrease in full-time office employments by 2025: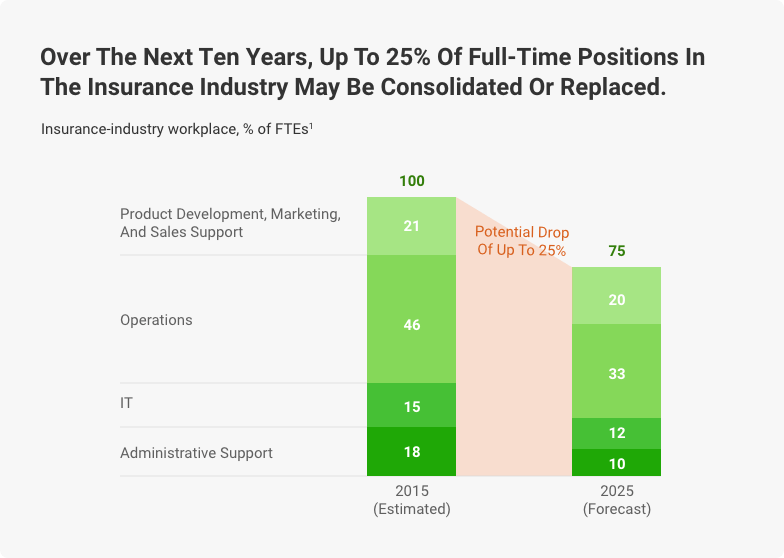 Insurance Industry Workforce (Source: www.resolutets.com)
Becoming more independent from the manual workforce will help businesses operate in different physical limitations, such as lockdowns due to the pandemic. COVID-19 forced the companies to adopt work-from-home and other remote work models to keep up with the circumstances and run operations more effectively.
4. Personalization
Modern customers know that digital communications allow insurers to gather behavioral data and personal information like location, gender, employment, and other details they submit. Against this, they expect companies to use this information to improve their experience and offer more relevant services.
According to Accenture, 69% of insurers' clients are willing to share extensive information regarding their health, lifestyle, and driving behavior in exchange for lower prices and a more personalized customer experience. 66% of consumers would share personal data to prevent injury and loss. A customer-specific model brings significant benefits for a business too.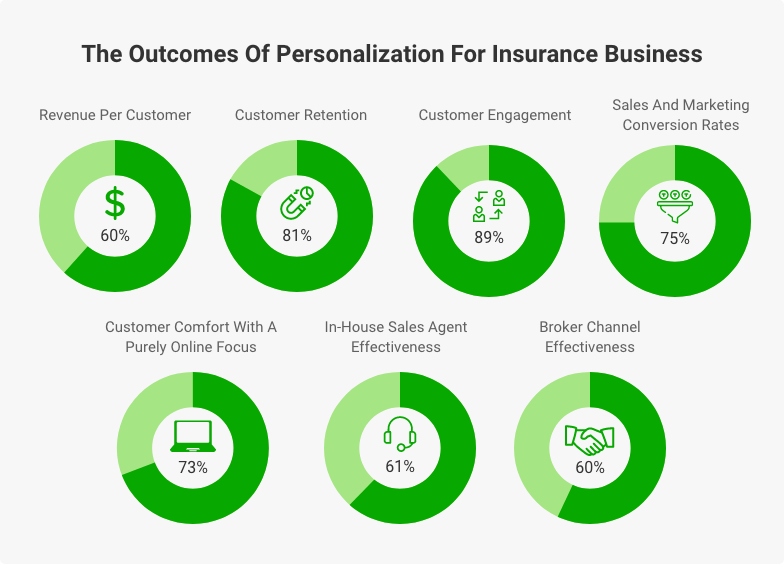 The Outcomes of Personalized Marketing for Insurance Business (According to Earnix)
Big data technologies significantly simplify the processes of collecting and deciphering customer information to forecast customer behavior. A perfectly personalized performance in insurance implies reaching out to customers through the right channel, at the right time, with the right products at reasonable pricing. Personalization is one of the vital insurance technology trends in 2022 and beyond. It is critical for acquiring new customers and keeping existing ones engaged.
5. Moving Towards Self-Service
One of the consequences of COVID-19 was moving towards self-service and the inability for direct contact with brokers and agents. However, consumers found it convenient, and the demand for self-service continues to rise. McKinsey states that digital access in insurance got a nearly 30% increase after the pandemic began.
However, the current demand is not fully covered by enough quality of digital service. The report also reveals that customers are not satisfied with the digital delivery in insurance. One of the main reasons stated by the surveyed consumers is 'hard-to-use tools." Thus, one of the main goals of digitalization is improving self-service usability and performance speed.
6. Telematics
Telematics are devices that help monitor the behavior of various objects, including humans, vehicles, real estate, commercial properties, different machines, etc. Currently, it is widely used in auto insurance to prevent various car issues before they arise. It is also used to provide pay-per-mile policies, offer discounts for 'driving safely,' etc. Read more about how to build a car insurance mobile app relying on the latest industry innovations in our post on this topic.
Insurers now try to adopt different wearables to track health and activity data to offer personalized health insurance plans. It has also found an application in life insurance: the companies use lifestyle and fitness wearables to assess vitality and mortality risks.
Allied Market Research revealed that in 2020, the global insurance telematics market generated $2.37 billion and will reach $13.78 billion by 2030 with a 19.5% CAGR.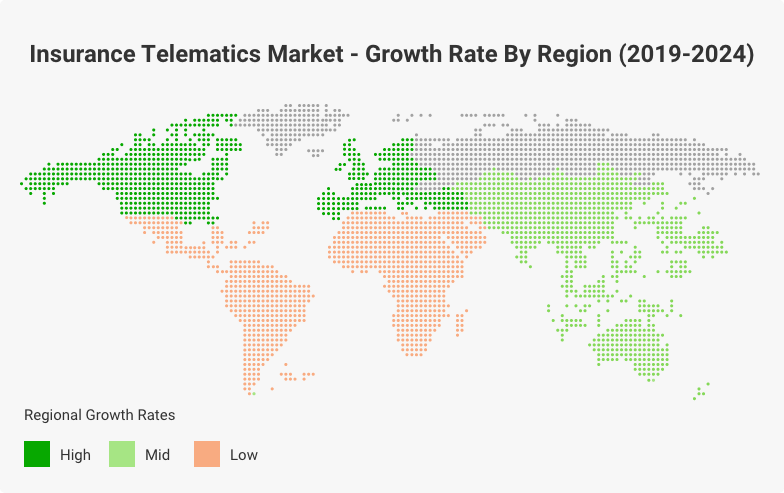 The Insurance Telematics Market Growth Rate by Region (2019-2024)
According to The Mordor Intelligence survey, North America and Europe are the most actively growing regions adopting telematics in insurance.
7. Cloud Computing
While the hybrid cloud market is actively growing at a CAGR of $18.73% and is forecasted to reach $145 billion by 2026, insurance companies adopt this type of cloud storage to get maximum power from their data. As a result, it has become one of the leading technology trends in the insurance industry due to numerous benefits.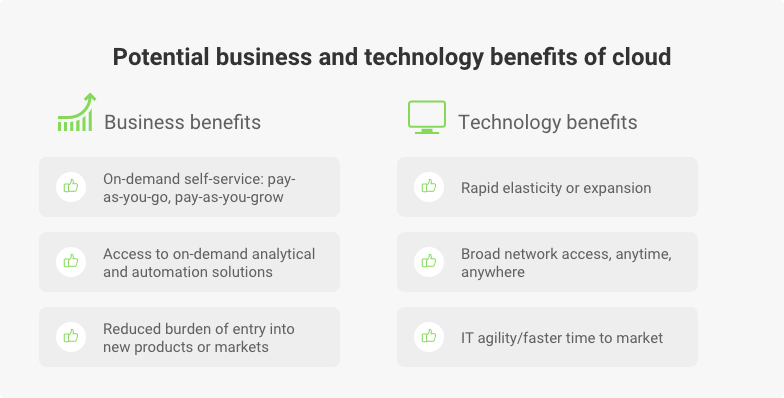 Benefits of Cloud for Insurance Business
The shift to cloud computing was a trend before the pandemic. Now, it continues to be one of the top priorities of insurance digital transformation.
8. Cybersecurity
Cybersecurity has become the #1 priority of investment for insurers, according to Deloitte's 2021 Insurance Outlook report: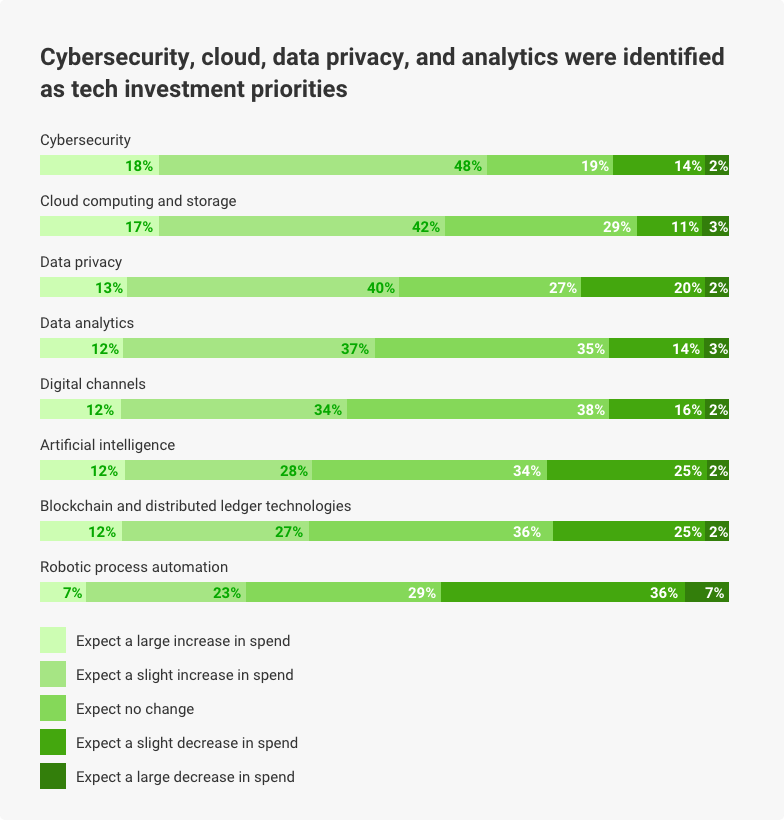 Tech Investment Priorities for Insurance Companies (Source: deloitte.com)
Almost two-thirds of surveyed companies worldwide are planning to increase expenses on cybersecurity. Besides numerous advantages, digitization increases cyberattack risks. Dealing with critical information that requires complete protection, the companies should consider integrating 'zero trust' principles to intensify verification requirements for any parties accessing the data. Insurance companies will improve controls, upgrade protection technologies, and set up clear data security guidelines and etiquette for employees to enhance cybersecurity.
9. Expense Management
Expense management and digitization are mutually dependent. Integrating technologies for automation and optimization reduce operational costs and other expenses. Spending less, the companies get more funds to invest in adopting new digitization strategies for their businesses.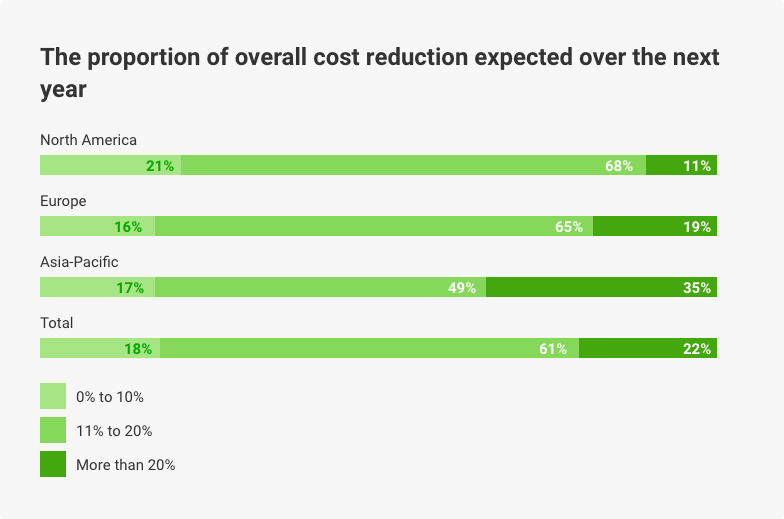 Cost Reduction Proportion in Insurance By Region
The insurers are considering multiple ways to reduce costs, including the following:
Adopting cost-efficient remote work technologies
Rethinking spend management approaches to optimize the external spend
Analyzing and optimizing the workforce
Rationalizing software and application portfolio focusing on automation and operational efficiency improvements
Reducing cycle times to speed up the underwriting processing
Enabling remote claims handling
Cultivating outsourcing and partnerships for finance functions.
Most companies already moved to or plan to use CRM systems tailored to insurance to streamline client processing. Here is the full review of the Best CRMs for Insurance that may help you choose the right system for your specific company. Enhancing value delivery while using fewer resources is a formula that any insurer is aiming to implement.
10. Partnering with InsurTech Companies
Digital transformation is a challenging process for almost any insurer. The companies find it hard to transform existing ecosystems and adopt numerous technological enhancements demanded on the market. That is why more and more insurers prefer partnering with InsurTech companies that offer ready-made and custom software solutions to plug into existing infrastructure.
More and more startups appear in the FinTech sector as a response to growing demand. CBInsights reports that In the first half of 2021, the InsurTech companies raised $7.4 billion, which was more than was raised in 2020. The global InsurTech funding in 2021 shows the most significant quarter-to-quarter rise, reaching $2.55 billion in Q1 2021 and $4.8 billion in Q2 2021: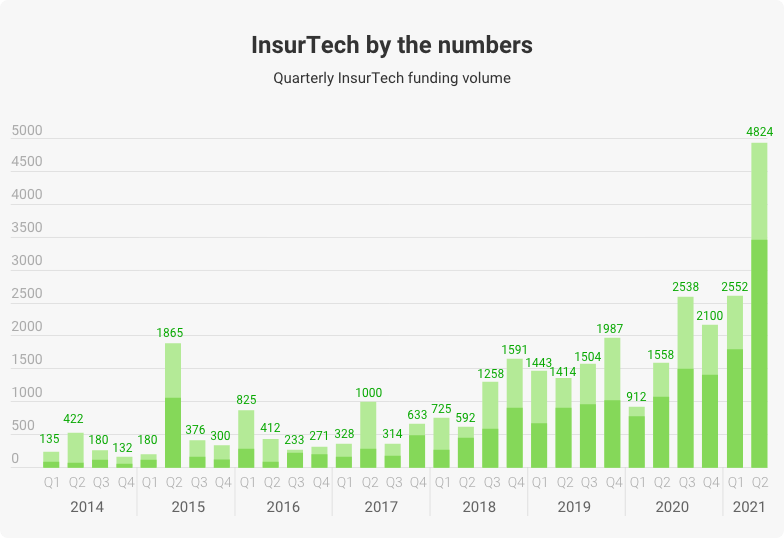 Quarterly InsurTech Funding Volume 2014 - 2021
InsurTech firms help insurers adopt automated claim processing systems faster. They develop mobile customer apps and integrate AI, big data, and blockchain for comprehensive data analysis, risk management, and operations enhancements. Any aspect of insurance digital transformation can be delegated to InsurTech third parties to maximize the available innovations.
11. Robotic Process Automation (RPA)
RPA can be adapted for the needs of insurers in multiple ways. For example, it helps digitize some repetitive or rule-based administrative operations. Insurance companies have already started using this technology for conversational process automation (CPA). They implement chatbots, virtual customer assistants, and interactive voice response (IVR) to handle customer communications. We wrote about AI chatbots in insurance in detail to uncover all aspects of their usage and benefits.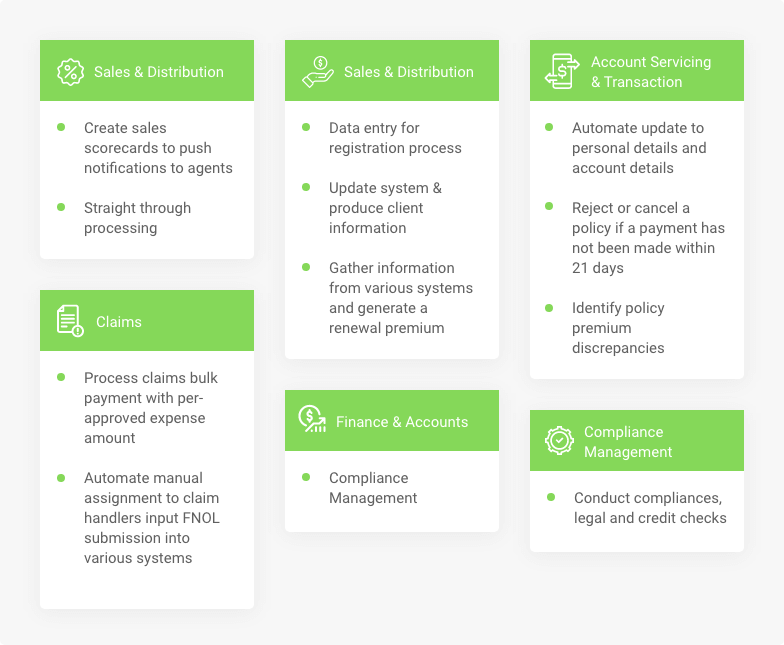 Robotic Process Automation in Insurance
Currently, insurers plan to use RPA to automate quotes generation, produce bills, detect fraud, investigate new market opportunities, analyze the market and customer behavior, etc. As a result of digitizing numerous processes, the insurers can reduce required staffing and reduce operational costs.
12. Drones
Unmanned flyers with cameras are among the latest insurance tech trends that will be utilized more in 2022. Drones collect information to assess risks before issuing a policy, help perform preventative maintenance, or assess damages from the accident.
Drones help access locations and territories hard to reach and collect all the necessary information for further claim processing. For example, Farmers Insurance company uses them to inspect the roofs of insured buildings to prevent damage and give timely recommendations for repair. GFA Generali Insurance used drones for studying the damage from Hurricane Irma. That scope of work would take months for a human team, while drones managed the same job only in 10 days.
Conclusion
The most prominent and absolute trend in insurance, for now, is digital transformation supported by the unlimited potential of available technologies. Becoming a digital industry leader in insurance means 'shining bright' for customers and standing out from competitors. It also has practical meaning for optimizing the business from the inside, simplifying routine processes, reducing workforce and costs.
If you'd like to improve at least one of the mentioned aspects, KeyUA is ready to help. We assist insurance companies in digitizing their business and integrating all available innovations without interrupting operation and connection to customers. Let's upgrade your business and open new opportunities for growth through tech renovation.
Hire the KeyUA team to digitize your insurance business with cutting-edge tech solutions.
Contact Us