What is the most valuable advantage of startups over massive enterprises in the current situation? While the enterprises are painfully re-arranging their business to cope with the crisis, startups are building their business based on today's circumstances. Startups are much more flexible in adapting to any of the world's challenges. It may seem that in today's COVID-19 pandemic, it is impossible to launch a business and bring fast profits. However, hundreds of COVID-19 related startups managed to invent products that have become extremely popular over the past year. In this article, you'll learn about 10 startup products that help fight coronavirus-related problems and bring decent profits to their founders. But first, let's explore what issues they might face.
COVID-19: 70% of startups are in trouble
The pandemic situation in 2020 has changed the global economy enormously, and no industry stayed unaffected by COVID-19. Startups have no savings to re-arrange business quickly and weather the crisis. The only way to succeed is to start earning profits as soon as possible.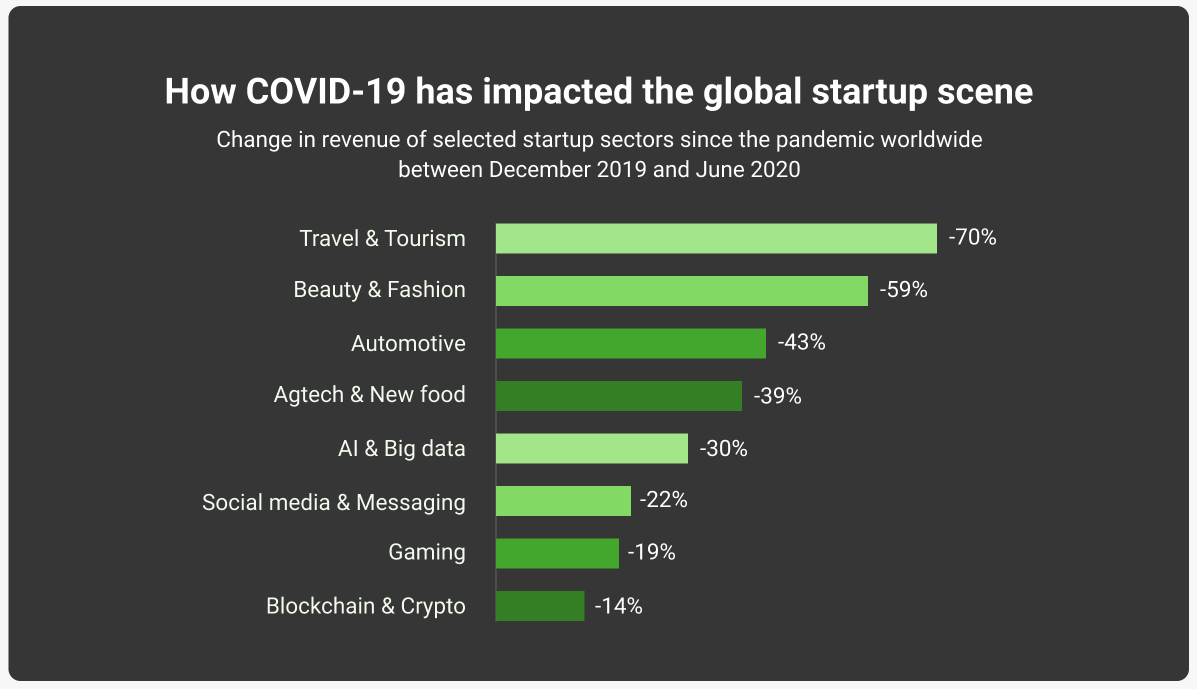 According to the Startup Genome report, during the pandemic, startups are in double trouble. The first one is a drastic decrease in investments. Only 40% of startups have a full three months of capital runway. At the same time, 75% of startups encountered disruptions to their fundraising process: the funding round was canceled in 18% of startups, and 54% had no success in getting a response from their lead investors.
The second impact vector is the drop in demand. Most startups appear to satisfy some urgent consumer demand 'here and now.' With the severe changes in lifestyle and market behavior, 72% of young companies experience a drop in revenue. 40% of startups have a 40%+ revenue drop. Nevertheless, 12% of companies experience severe revenue growth.
Who makes up the 12 percent? They are mostly startups that re-oriented their business for the COVID-19 era, producing goods and services that help people and companies adapt to new circumstances and cope with pandemic problems. The battle of startups against coronavirus raised commercial transformation towards remote operation and online visibility of any business. See how these new ideas got their development and implementation in successful software products. While most of these startups were founded years before COVID-19, all of them owe their success to the 2020 pandemic.
KeyUA experts actively help startups speed up the development process and quickly deliver solutions to the market. Get a reliable IT outsourcing partner on board!
Contact Us
1. HotelRunner

The hotel business, as well as tourism, faced hard times. However, people still travel locally and abroad, mostly for business. Many local hotels and even hotel chains are not present online and have no chance to be booked online. HotelRunner is a service that connects hotels with online booking services and travel agencies like Booking.com. Hotels, hostels, villas, and other properties enhancing their online outreach, international brand recognition, and gain new sales channels for their services.
About
Founded: 2011

Founders: Arden Agopyan and Ali Beklen, former executives from IBM

Funding: $2.5 million in 3 rounds

Features: room booking management, group reservations, customer support, CRM, rate management

Platform: Cloud, web-based, SaaS

Pricing: commission-based, starting from $9.95/month

Free trial: +
2. Doctor On Demand

Doctor appointment apps are among the top mobile app ideas for 2021, and in 2020 such services are in high demand. While hospitals are overcrowded with COVID-19 patients, people still require medical assistance on their pre-existing conditions and newly appearing symptoms. The only way to get timely medical assistance is an online appointment. Doctor On Demand is a telemedicine app with 24/7 nationwide access to doctors across the USA. Here patients can consult a doctor with the required specialization by video or audio call and online chat.
About
Founded: 2012

Founders: Jay McGraw (writer and TV producer), Phillip McGraw (psychologist), Adam Jackson

Funding: $239 million in 6 rounds

Features: patient and doctor profiles, live video meetings, online chat and calls, GPS

Platform: mobile (Android/iOS)

Pricing: average $300/hour for a video session

Free trial: -
3. Alto Pharmacy

Delivery services are one of the top COVID-19 related startups. Due to the lockdown, people are limited in their purchasing opportunities. One of the main problems is delivering drugs to patients at-home treatment. Alto Pharmacy is a service for contactless drug delivery. A user can transfer his prescriptions to Alto from their current pharmacy, and the Alto team finds the best prices for the prescribed drugs. The delivery itself, as well as a pharmacist's support, is free of charge. Alto Pharmacy is an excellent example of custom healthcare software development solutions of the future: it brings more comfort to customers without any additional cost.
About
Founded: 2015

Founders: Mattieu Gamache-Asselin, Jamie Karraker

Funding: $356 million

Features: phone and chat pharmacists support, delivery in Denver, Seattle, Las Vegas, San Francisco, Irvine, Culver City (limited presence in other US cities).

Platform: web and mobile (iOS/Android)

Pricing: free delivery, pay only for medications
4. Zoom

The new social distancing culture and remote nature of business operations demand high-quality services for online conferencing. The popularity of Zoom during the pandemic has gone into the stratosphere. People are using it not only for remote working but also for keeping in touch with friends, family, and arranging parties online. According to the Zoom reps, in March 2020, there were 200 million users daily, compared to 10 million in December 2019. According to Visual Capitalist, Zoom is now worth more than the world's biggest airlines combined with a capitalization of $48.78B.
About
Founded: 2011

Founders: Eric S. Yuan, American businessman and billionaire

Funding: $164.8m

Features: live chat, audio/video conferencing, remote access, audio/video recording, time zone tracking

Platform: desktop (Mac OS/ Windows), web-based (cloud, SaaS), mobile (iOS/Android)

Pricing: $14.99/month

Free trial: +
5. ZeroKey

To continue operating safely, enterprises need to abide by social distancing rules, keep their employees safe, and avoid close contact with other people while maintaining their work. One of ZeroKey's startup solutions for COVID-19 is Safe Space. This is a wristband that utilizes physical distancing technology with highly precise distance detection. Haptic feedback indicates that a user wearing a bracelet is too close to another person. The bracelet also records all close contacts that help identify who the person was in touch with during a workday.
About
Founded: 2016

Founders: Hugh McMillan, Matt Lowe

Funding: $7 million

Features: enterprise-grade solution for contact-tracing, 100x higher accuracy than Bluetooth, available in a waterproof wristband or a clip-mount

Pricing: custom
6. Popit

The real problem of effective treatment is that often people do not take medications correctly, occasionally missing their doses. Finnish startup Popit created a smart pill intake reminder to help COVID-19 patients stay on their treatment schedule. The system consists of a Popit sense device and a mobile application. Put the sensor on the pill sheet, and it will indicate when you take a pill and record it to the app. The app will remind you to take the next pill if the patient misses it.
About
Founded: 2015

Founders: Teemu Piirainen, Timo Heikkilä, Marko Nirhola, Janne Sahlman

Funding: €1.2M

Features: 12g sensor, up to 30m distance, up to 1-year battery life, multiple pill intake schedules

Platform: Bluetooth, mobile (iOs/Android)

Pricing: $43 per sensor
7. Vital Vio

The demand for disinfectant solutions has increased insanely since the pandemic began. Vyv startup has developed a Vital Vio technology to provide cleaner environments for life, work, and study. Its violet-blue visible wave lights kill almost all kinds of bacteria, yeasts, mold, and fungi, staying entirely safe for humans and animals. While its efficiency against coronavirus is still being tested, the demand for Vyv devices has become 40 times higher during the pandemic.
About
Founded: 2012

Founders: Colleen A. Costello, James W. Peterson

Funding: $9.3 mln

Features: continuous antimicrobial impact, usage in both occupied and unoccupied spaces, completely safe for humans.

Platform: —

Pricing: $199.99
8. Futurelearn

The best way to spend free time while sitting at home is by learning and self-development. Like Udemy and Coursera, One of the MOOC-platforms (Massive Open Online Courses) that has become highly popular during the pandemic is Futurelearn. It partners with an impressive list of universities all over the world to offer versatile courses for self-education. Membership on Futurelearn is free, as are a majority of the courses. There is an optional fee for obtaining a certificate after course completion.
About
Founded: 2012

Founders: Peter Horrocks, former Vice-Chancellor of the Open University

Funding: £50M

Features: access to short learning courses, micro-credentials, and programs for professional accreditation, online degree programs

Platform: web

Pricing: free + paid courses
9. Singa

Not only the way people work and study has changed due to COVID-19. Being unable to go out, people try to entertain themselves online. Singa offers an online karaoke with a catalog of 80,000+ songs.
About
Founded: 2013

Founders: Atte Hujanen, Tomi Pajunen

Funding: €2.3M

Features: 80,000+ songs, free preset singlists, custom singlists, audio setup to fit the singer's voice, access from any platform.

Platform: web, mobile (iOS/Android), Apple TV, Android TV

Pricing: free membership, in-app purchases, and ads
10. Findr

Findr is one of the youngest COVID-19 startups. It was founded in March 2020 as a marketplace for business partnerships. This professional platform aims to cut the time for finding a reliable business partner from months to days or hours. During the signup process, a user describes their business and sets the desired type of partnership. After the service finds a match, a Discovery call can be requested to discuss the potential deal. If the opportunity was successful, Findr charges £99.
About
Founded: 2020

Founders: Greg Watts, Makis Saridis.

Funding: £150,000

Features: finding business partners by predefined criteria, company profile, video calling

Platform: web

Pricing: free membership + £99 for each successful opportunity
The post-COVID future of startups
The pandemic will not be forgotten after it is over. It caused significant changes to business operations, consumer services, trade, and lifestyles that aren't going away.
Despite the critical problems COVID-19 raised in society and the economy, there were favorable changes too. For instance, a Business News Daily study revealed that remote work has significantly improved overall productivity. It also led to a globalization of talent acquisition and higher flexibility of business development and market invasion.
Here are the leading trends expected in startups in the post-COVID period:
Technological evolution is accelerating. The integration of the latest technology innovations like robotics, artificial intelligence, and others has occurred much faster than predicted in 2019. The drastic changes forced entrepreneurs and IT geniuses to deliver their solutions more quickly to cope with the growing instability and urgent need for specific products. Startups are getting used to a much faster pace and most likely won't slow down in the future. They will actively apply for outsourcing to cover the expertise gaps and speed up product delivery. Check the latest IT outsourcing trends for the post-COVID-19 world.

"Entrepreneurship for survival." Due to massive staffing reductions among almost all economic spheres, many young, ambitious professionals need to start their own business to earn a living. It will give rise to a new wave of startups and the growth of small businesses globally.

Globalization of collaboration vs. localization of supply. Remote work leads to the globalization of team cooperation: people from any part of the world will work together, and it has already become normal. However, the supply chains tend to become shorter and more regional to prevent any resource shortage due to transport and accessibility limitations.
As far as the venture capital future in the startup sector, the period after the pandemic will go through investment growth. Most funds will do their best to recover after the crisis and start getting returns.
In his interview with Forbes, George Bischoff, Managing Director of Meritech Capital Partners, stated, "Innovation is taking place in so many regions right now. As a result, the VC industry has been seeing more and more interesting opportunities outside of the Bay Area and other traditional hot spots. Post COVID, I believe this trend will still continue. The best companies will continue to draw interest regardless of where they are located."
Conclusion
Today's startup niche is crowded with exciting ideas coming to market with commercially successful solutions. The key to today's success is to found a startup that fights covid-19's impact on consumers. There are still spots in many industries uncovered by available solutions that you can use for your business success. The pandemic era affected lots of areas, and at the same time, has given rise to new spheres in global and local services.
You should deliver your startup products to the market as fast as possible to meet the changing consumer demands on time. If you need a reliable software development partner for your business, KeyUA is the right choice. You'll get fast delivery without sacrificing quality. KeyUA has been providing clients with solutions to non-standard, challenging problems for more than 12 years. We are experts in modern software development able to invest the best industry expertise into your startup. We would be happy to help your business flourish!
Have a startup idea that needs a high-end development team? Let the KeyUA experts turn it into a market-winning IT product.
Book Online Meeting