The importance of project management (PM) can't be underestimated. The Project Management Institute's Pulse of the Profession Research shows that companies with a straightforward PM approach are 38% more successful in achieving their business goals.
A seemingly complex PM system includes several essential aspects, such as defining the project requirements, setting clear goals, communicating within the project team, monitoring the budget, costs, resources, risks, deadlines, quality, etc. They all can be segmented into five project stages:
Initiation

Planning

Implementation

Control and monitoring

Completion
This is considered a traditional PM methodology, but there are also a great many others, such as Waterfall, Scrum, Critical Chain, Lean, and Kanban. You can spend hours discussing their features, advantages, and disadvantages. But many project managers agree that these methodologies typically need a particular set of technological tools, i.e., specific software, to work at full capacity.
Using PM software is now a new norm, and according to SaasList, 76% of companies understand this. However, understanding does not mean applying in practice since only 22% of them are currently using such tools.
This article will shed light on what PM software is, how it works, why your company needs it, and how to create a project management software that will help you streamline your processes.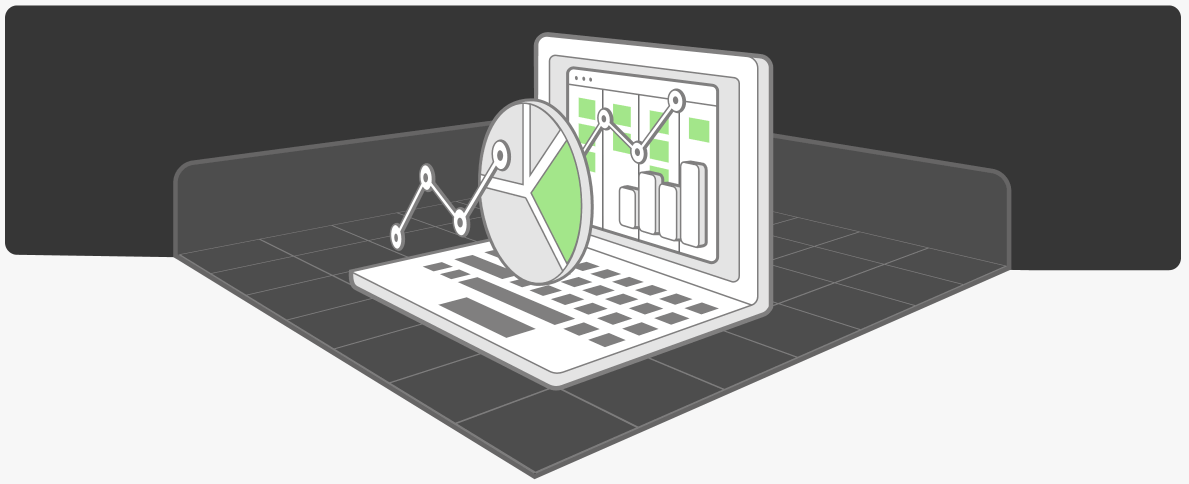 Project Management Software: What is it?
PM software is a complex software designed to plan and schedule projects, assign tasks, monitor deadlines and budgets, manage financial flows, etc. In general, it's a set of tools that helps improve the project team's efficiency and keep all stakeholders informed about the implementation of the tasks. It can also be referred to as Task Management Software or Project Portfolio Management.
Before diving into the specifics of project management software, let's take a look at its types. We will take several main classifiers and see how this software can be categorized.
Deployment
Based on how the PM software is installed and how clients get their access, we can distinguish two main types:
Cloud-based solutions are hosted on the vendor's server. Vendors take care of the maintenance, while users get their access via the Internet. That's why sometimes cloud-based apps can be called web-based. This is a good option for a project involving several teams working simultaneously.

On-premise software is a self-hosted solution mostly used by medium and large companies. Given that it is installed and deployed on your server, you can manage and maintain it yourself.
Characteristics
Based on how the intended users use the tools, we can distinguish three types of PM software:
Single-user software can be used only by one user at a time. It's the right choice for small top-down projects with a clear structure.

Collaborative software is designed for multiple users who can work simultaneously. It better suits complex projects with several teams working on separate but still related sub-projects.

Integrated software can integrate with other systems, such as CRM or collaboration tools. It helps projects that overlap with other business activities.
Licensing
A software license is an important aspect to keep in mind before using or buying software. Based on licensing, PM software can be divided into three types:
Open-source software with a code available to be used or modified.

Free proprietary software with a limited version of the tool.

Proprietary software, i.e., a full-paid version of the fully functional software.
How Project Management Software Helps Companies
PM software has become a fundamental tool for businesses to optimize processes and ensure project implementation with maximum efficiency. It is designed to help project managers to work with numerous projects, plans, tasks, and people simultaneously and keep everything organized.
A few decades ago, PM tools included three things: a pencil, a piece of paper, and a methodology. But with the advancement of technology, this software has become much more versatile and now includes many additional features that can make a project manager's job easier.
What you can do with project management software
If you are looking for PM software that best suits your needs, it's crucial to understand some standard functions that a good tool should have. Those mentioned below can be considered a "must-have."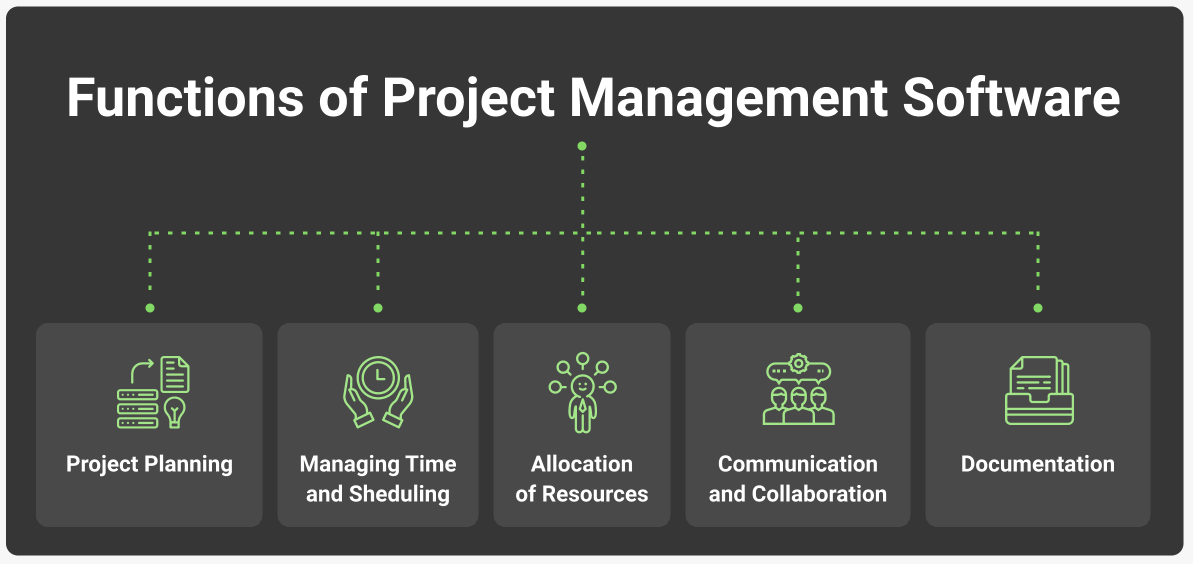 Planning is one of the most crucial PM processes defining all the activities for project implementation. Planning is carried out throughout the entire project life cycle and is clarified and detailed as the project progresses. PM software helps you identify and visualize the project's overall scope, tasks, and each participant's activities.
Managing time and scheduling
The collaborative work of all project participants is organized via project schedules. PM software helps create a list of project tasks, dependencies, deadlines, duration, teams, and resources required to complete the project.
It's not just people and their time that should be managed. Other resources used to implement the project should also be addressed, including the budget, equipment, premises, etc. PM software helps manage and allocate all planned resources, calculate the costs, and monitor expenses to avoid misuse.
Communication and collaboration
Often, specialists from different departments, and sometimes even from other countries, are involved in project implementation. They need an opportunity to collaborate and communicate to ensure high-quality and timely completion of particular tasks. Good PM software should enable them to exchange files and other materials, communicate in special chats, and edit or supplement other team members' work.
Documentation of all project-related tasks is especially crucial for preparing various reports on team productivity, staff performance, project progress, and resource use. PM software collects and stores all data and documents and gives managers quick access to the information they need.
Based on the information above, we've created a list of the 10 most needed tools a good PM software should have:
Personal and shared team calendar

Planning and task scheduling tool

Task assignment and dependencies tool

Time tracker

Scheduling and tracking of project resources and budget tool

Dashboards for the project budget and KPI

File sharing

Messenger and chat

Customizable reports creating tools

Graphs and charts
Want to create an effective project management software? Let the KeyUA experts build a tool that can make your workflow more organized and efficient.
Contact Us
6 Best Project Management Tools
Every year, the IT world offers many new tools for project management. Most of them have a user-friendly interface, additional functions, modern solutions, and can integrate with other instruments. We've compiled a list of this year's most popular tools that we expect to remain on top in 2021.
1. Asana
Asana is a useful tool for tracking and managing team projects. It has an intuitive and straightforward user interface and prioritizes tasks, helping teams be more productive and efficient.
Free for up to 15 people

Available on Web, IOS App, Android App

Integrates with Slack, Dropbox, Google Drive, One Drive, GitHub, etc.

Offers personal, group, and shared projects creation functions

Has live chats

Has no project templates
Companies using Asana: CBS, Dropbox, Uber, Pinterest, Airbnb, etc.
2. Jira
Jira offers project planning and scheduling features. It is one of the most popular PM software among technical teams since it also has bug-tracking features. Moreover, Jira has various extensions, making it possible to integrate this software with other tools you use.
Free for projects with up to 10 users and 2GB of storage

Available on Web, IOS App, Android App

Integrates with GitHub, Slack, Trello, Invision, Figma, Microsoft Teams, Google Sheets, etc.

Offers personal, group, and shared projects creation functions

Has no live chats

Has project templates
Companies using Jira: Pinterest, Twitter, Reddit, Medium, Client Platform.
3. Trello
Trello is considered one of the most popular online PM tools, especially among small companies and startups. Workflow management is based on the Kanban method with a clear distribution of tasks between the team members.
Free to up to 10 boards

Available on Web, IOS App, Android App

Integrates with Slack, Dropbox, Google Drive, GitHub, Jira, Salesforce, etc.

Offers personal, group, open, and shared project creation function

Has no live chats

Has no project templates
Companies using Trello: Udemy, StackShare, Medium, Accenture, Alibaba Travels, etc.
4. Basecamp
Basecamp is a simple and effective PM tool with a convenient interface. Using it, you can create multiple projects, organize customized discussions, write to-do lists, manage files, and share documents.
Free to up to 3 projects and 20 users

Available on Web, IOS App, Android App, Desktop App

Integrates with Dropbox, Google Drive, Box, One Drive, etc.

Offers group and shared project creation function

Has live chats and autopolls

Has project templates
Companies using Basecamp: Accenture, Groupon, UNIQLO, Compile Inc., QIWI, etc.
5. Wrike
Wrike is a cloud-type PM system that works for companies of all sizes and industries. It offers a relatively robust set of features and a perfectly functional interface. Wrike allows creating tasks, grouping them by project, and tracking their progress. It is an excellent tool for urgent project tracking.
Free to projects with up to 5 users, 2GB of storage, and without subtasks

Available on Web, IOS App, Android App

Integrates with GitHub, Jira, Slack, Dropbox, Google Drive, One Drive, Salesforce, Adobe, WordPress, etc.

Offers personal, group, and shared projects creation functions

Has live chats

Has project templates
Companies using Wrike: PayPal, AT&T, Amazon, Ecco, HTC, Hawaiian Airlines, еtc.
6. Monday
Monday is a flexible PM tool to plan, organize, and track projects in one collaborative space. It also allows visualizing data and drawing task completion timelines.
Free for two weeks

Available on Web, IOS App, Android App

Integrates with Slack, Google Drive, Dropbox, Trello, etc.

Offers personal and group projects creation functions

Has no live chats

Has project templates
Companies using Monday: Adidas, DHL, Discovery Communications, Fiverr, CarGurus, Wix, etc.
Custom vs. Existing Project Management Software:
Which One to Choose
While many PM software tools are packed with a wide array of features, they may not always be suitable for your particular business. Sometimes, a program or application offers a ton of functions, but given your workflow and company specifics, you may only need a few of them. Other times, of all the features offered, nothing suits your projects at all.
As a result, you get an ineffective tool for your business. Time gets wasted, integrating the software and learning how to use it, and financial resources get wasted because most of the programs are pay to play (and some are quite expensive).
The perfect solution would be to develop a project management software that meets your company's needs, i.e., a custom tool.
Custom PM software is a specially tailored solution designed to suit the company's specific needs, requirements, processes, and security constraints. Compared to off-the-shelf tools, it can be more efficient and more adjustable, making a positive impact on your business in the long run.
To help you decide whether custom PM software development is what you need, here is the list of possible benefits:
Business tends to grow and develop, and accordingly, the processes can become more complex. Having bought a ready-made software solution, you cannot always modify it. More often, you will need to pay extra to purchase additional features, and no one can guarantee that they will fully meet your expectations and needs.
With custom development, you can scale your software accordingly. You can start with core functions and then add features as required.
Integration with the software you already use
Typically, when integrating off-the-shelf solutions to your existing software ecosystem, you can face technical errors, affecting employee's productivity and business operations.
Customized solutions can be integrated easily with existing systems extending their features. Moreover, you can customize not only the functionality but also the design to make your PM software look similar to the tools you already use.
Independence and security
With custom PM solutions, there is no need to deal with software vendors. You are not dependent on their services, prices, terms of use, and various other situations that may happen to the company (hacker attack, bankruptcy, etc.). Moreover, you get full control over security technologies or protocols.
This benefit summarizes all of the above. Custom PM software increases the productivity of the team and the project as a whole. It saves time and money and streamlines the processes to help the company achieve its goals.
Are you tired of adjusting your project management tool? KeyUA specialists can develop a top-notch project management software solution to meet your particular needs.
Drop us a line
Building Project Management Software:
How It Works
Creating your PM software is a rather complicated process, but if you do everything right, you will get all the benefits and take your company to the next level. In this step-by-step guide, we will describe the entire process of creating such a product in a simple and accessible way.
Analyze your workflow
First, review your processes. Think about what stages a specific task goes through. Depending on your industry, they may differ. Let's focus on banking and take a loan processing scheme as an example. It consists of 7 repeatable stages:
Acceptance of a loan application

Review of borrower's status

Loan approval

Preparation of a loan contract

Review of the loan contract

Loan contract approval

Issuance of a loan
Additionally, each stage should have its status. For example: in process, reviewed, approved, completed. However, bear in mind that some statuses can be changed in reverse. For instance, if the loan contract supervisor finds mistakes in the document during the review, it cannot be approved and should be back in process.
Create a list of features you need
Based on the workflow, think about what functions you need in the software. These can be trackers to monitor assigned tasks and deadlines, calendars to check the critical project milestones, messengers, and file sharing if tasks require cross-department collaboration.
To better understand the required set of functions, you can talk to project team members and ask them what features they may need.
Prepare software requirement specification
Software requirement specification (SRS) is a structured document with all the information on software features and behavior. It's the primary document that developers rely on when creating software. You should clearly describe your work processes, stages, statuses, and functions you want to get.
Create a team or find a vendor
If you have a team of developers who can create custom project management software, you can use them. If you don't have such a resource, it is better to hire a team of professionals who can work on development, design, and testing.
Discuss your workflow, features, and SRS with the experts because they can advise you on better solutions or offer alternatives. Let's say you're thinking about creating on-premises PM software, but considering your company's size and the specifics of workflow, the hired IT experts may suggest custom cloud application development.
Being a pro in custom cloud development, KeyUA professionals can integrate whatever functionality you may need to make your project management process faster and more efficient.
Share your ideas now
Cost of Developing Project Management Software
Those who wonder "how much does a custom project management software cost" shouldn't be surprised by the "it depends" answer. Because it really does depend on the requirements, specifics of the company's workflow, and various other software cost factors.
Developing software is like building a house. The construction cost depends on the building's floor area, the number of rooms, equipment used, and the price of the construction services (if you plan to hire a construction team). If you also want a swimming pool and a wine cellar, the cost will be much higher. The same applies to PM software development. You will know the exact price after developers get your requirements and make a cost estimate.
In general, custom software project development in the USA falls between $10,000 and $500,000. The price can vary depending on the software size, complexity, design, integration with other systems, and, of course, deployment type.
If you want to make a web-based project management software, you should be ready to pay:
from $10,000 to $15,000 for approximately one month of work to create a simple project;

from $15,000 to $50,000 for up to 4 months of work to create a medium project;

from $250,000 or even more for half a year of work to create a large-scale project.
If you plan to build a cloud-based project management software, the bottom price starts from $10,000 and will get higher depending on the functionality you want to include.
Outsourcing or local development
When planning your PM software development, it is crucial to have a team that can bring your ideas to life. If your company doesn't have it, you need a plan B - a vendor. But the question is whether it should be done locally or an outsourcing development team needs to be hired.
Let's compare these two options.
Local development

Outsource development

Advantages

Disadvantages

Advantages

Disadvantages

Close cooperation

Higher prices

A significant choice of talent

Lack of personal control

More personal control

Fewer experts

A higher level of knowledge and skills

Time zone issues

Lower prices

Adaptability
At first glance, local development seems to be the most acceptable because you are "closer" to the team. However, choosing to outsource your project does not mean that you lose control. Remote teams are even more willing to be in touch to meet customer requirements.
They use every possible tool to communicate, including online calls, video conferences, real-time demo presentations, etc. Additionally, experienced companies offer to have their project managers control and monitor your project implementation, which means you will receive regular reports on the work.
As for the time zones, there is always a solution. You can discuss working hours to organize your communication with the team.
Moreover, the cost of their services remains within reasonable limits. For example, the developer's hourly rate in Eastern Europe ranges from $20 to $50. While in the USA, which is considered the most expensive region, you will have to pay your developers up to $250 per hour.
More importantly, such teams typically have a higher level of expertise, making them experts not only in creating web, cloud, and mobile tools but also incross-platform app development.
How to check the outsourcing team's work
Project managers are not always well-versed in programming. Therefore, we recommend finding an IT expert to check the technical component of the outsourcing team's work.
At the same time, project managers can personally test how the tool performs functions specified in SRS and how user-friendly it is.
You can do it by following this simple plan:
Create a test project and add it to the system

Test every feature you described in the SRS
If you asked for a task management tool, check whether you can assign tasks and whether your team members receive appropriate notifications. If you mentioned a file sharing option, try to send the document to your colleagues or give them access.
Study the interface carefully to understand how user-friendly it is.
Check how easy it is to enter, view, and edit information. If you hired a team for custom mobile app development, check how well the interface is displayed on different mobile devices taking into account screen resolution, operating system type and version, etc.
This type of testing is performed without preparations, without defining expected results, and without designing test scenarios. It is informal, improvised testing. You can ask your colleagues or project teams to test the program and get their feedback.
Key Takeaways
Project management is the basis of a business organization, so it should be supported by special software. Сustom PM software development requires financial and time investments, but it will pay off with a streamlined project management process if done by professionals.
With 12 years of experience developing custom web solutions, cloud, mobile, and cross-platform apps, KeyUA remains up-to-date with evolving technology and can be the professional team to design and develop a tool to meet your particular needs.
As Stephen Covey, businessman and author of "7 Habits of Highly Effective People", once said, "Technology and tools are useful and powerful when they are your servant and not your master." At KeyUA, we support this philosophy and offer only the most effective software solutions.
Need a reliable and committed team of developers to create your project management software? KeyUA uses the latest technologies to offer quality development. Contact our team to get a free consultation.
Get in touch