Every startup is looking for ways to cut costs but still get top-level services. Outsourcing your project development is a cost-efficient and result-oriented strategy. However, choosing the right way to do it may be challenging.
In this article, we will compare the pros and cons of the dedicated team model in software development outsourcing and help you find out whether this approach will work for your project.
What Is a Dedicated Team Model?
So, let's start from the very beginning. If you are going to outsource your project's development to a third-party vendor, you have three options.
A fixed-price contract

A time and material contract

A dedicated development team
Each of the approaches has its pros and cons, and each of them may be a good choice for a specific project. That is why you should know the essence of each of the approaches and their use cases.
Fixed-price contracts are perfect when your project's development cycle is exact, there are a strict budget and deadline, and you are going to create your startup according to the Waterfall methodology.
A time and material contract is a good choice if there is no clear strategy for the development of the project, there is a risk that after the first MVP testing the development course will be changed, and you want to pay only for the services you get.

Already feel the dedicated team model fits your project specifics? Our tech-savvy experts are ready to take on your project!
Meet them now!
Why Do You Need a Dedicated Team Model in 2021?
There are many dedicated team advantages, which is why IT business initiators quite demand this approach.
Hiring a dedicated team is less costly than maintaining in-house staff. 59% of American companies use outsourcing and dedicated team services to cut their costs.

Dedicated teams are easy to control.

They are more committed to your project than freelance developers (however, the latter are cheaper to hire).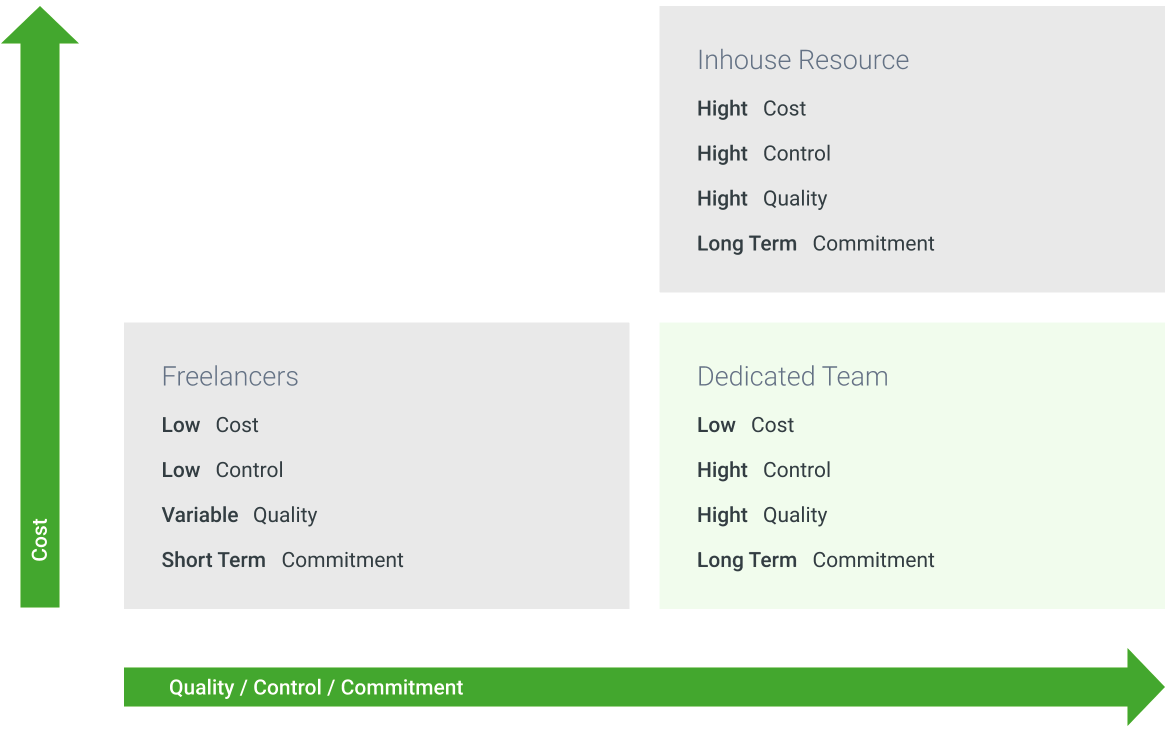 Features of various types of partnership
Advantages of Dedicated Teams
The advantages of a dedicated team model imply quality project development in a limited time frame. You do not need to constantly monitor the progress of the software building since you will be assigned a contact person responsible for project management. We have prepared a list of benefits that any business can get by interacting in this way.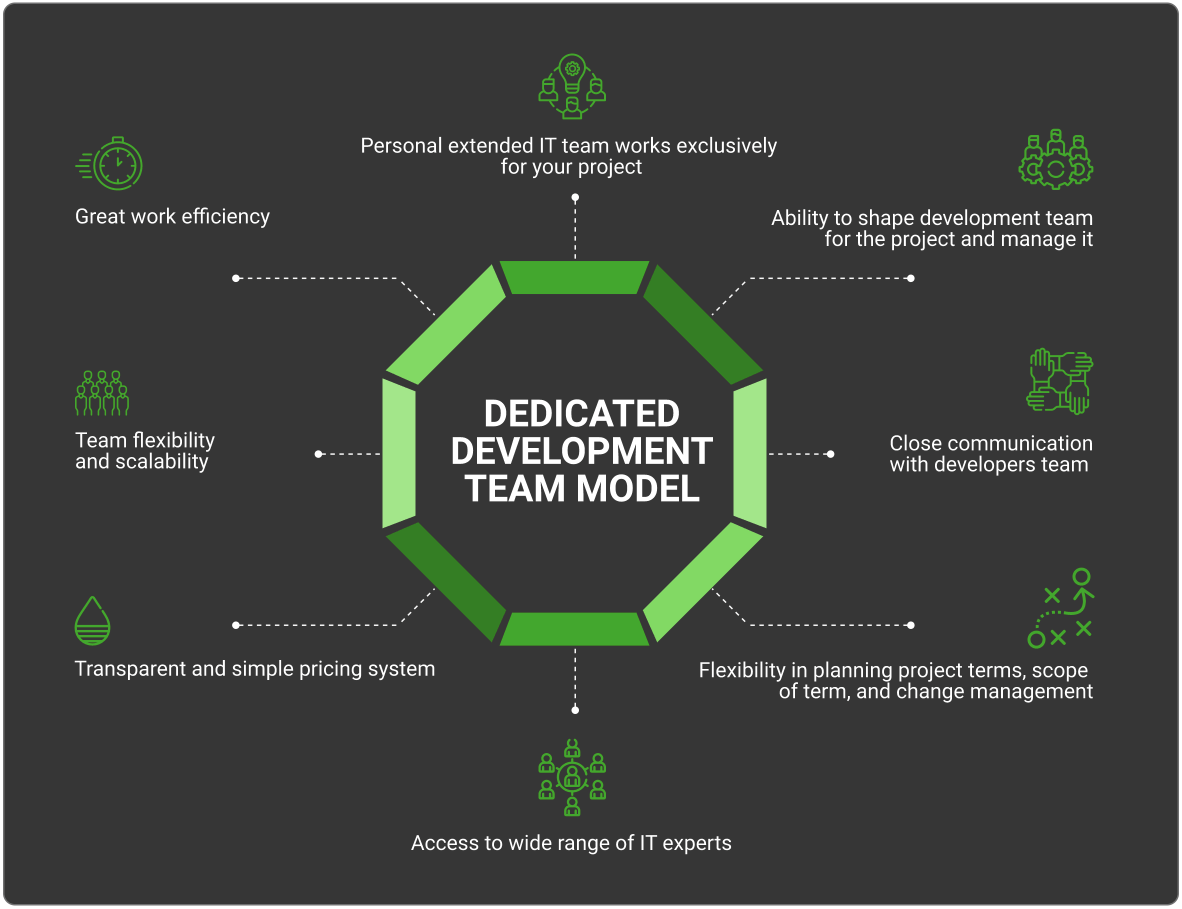 Features of the dedicated team model
Access to Top Development Talents Worldwide
This is one of the main benefits of offshore outsourcing. You may easily access and choose from the top tech talents worldwide and find the people who share your project's values and mission. This is also true for a dedicated team. When hiring remote developers, you are not limited by geographical location and may get in touch with top-notch specialists.
Complete Focus on Your Project
A dedicated team is called dedicated right because its members are engaged in your product development exclusively. When you sign a contract with your team provider, there will be a point stating the team's obligation not to perform tasks unrelated to your project.
As a result, you get a highly-focused team that isn't solving dozens of other issues or come up with problem-solving ideas for your competitors while your project is under development. In a nutshell, dedicated teams are mindful, focused, and honest with you from the very beginning.
P.S. You will be able to track their engagement through time tracking and screen sharing software. This is one of the next benefits of dedicated teams we are going to discuss further.
Cost Efficiency and Transparency
Dedicated teams are also great if you need to manage your investments wisely while remaining flexible.
You may save up to 60% of the development budget by outsourcing your development task to a dedicated team. For example, there is a considerable gap between the salary levels of American and Ukrainian dedicated programmers.

Since a dedicated team's total cost is derived from each specialist's salary, it is possible to develop transparent and realistic budget estimates for your project.
Easily Control Development
As with the in-house development team, you get full control over the dedicated team members. You may organize the workflow as you feel comfortable and assign tasks to your team members. The dedicated team provider, in this case, works as your assistant and takes on the responsibility of providing your team with the necessary space, equipment, and other resources.
Adjust the Team Anytime
Dedicated teams are easily scalable if the development course changes due to the external factors, such as, after analyzing the first feedback of the target audience on the MVP. You can easily ask your outsourcing partner to strengthen the team with additional tech specialists, or vice versa, shorten the team a little and only pay for the work of the specialists you need here and now.
Convenient Сommunication
Dedicated teams are rarely formed from scratch and with people who have never met each other before. As a rule, a dedicated team provider already has several pre-made groups, made up of members perfectly suited with each in terms of technical knowledge, skills, and human traits. They already have some projects developed together, and their communication and workflows are well-established. So, hiring a ready-made dedicated team, you can be sure that there will be no communicational and personal issues that may affect their work's quality and pace.
Perfect for Long-Term and Flexible Projects
One of the benefits of a dedicated team model is it combines the best of Fixed Price and Time & Material contracts. The price per team per month is set from the start; however, you may work with them as long as you need it. So, this development approach is suitable if your project is flexible (the team's cost is the same even if your development requirements change) and long-term (you have a clear vision of the sum you will spend per month).
As we said earlier, you don't need to monitor the team every hour. The bottom line is that they are completely autonomous, and the team has its own leader (depending on the volume of the project, there may even be several of them in accordance with the hierarchy of departments). Each dedicated team model implies the presence of a project manager who is ready to provide you with full reporting regarding development at any time. This person monitors the team's activities and ensures that all tasks are completed on time. By and large, you can call the team once or twice a week while ensuring that the development process is in full swing. And at any time, you can take full control of the team.
Disadvantages of Dedicated Teams

These are the main disadvantages of the dedicated project team
Being an excellent solution for most tech project building, a dedicated software development team also has some limitations. While the business benefits of such cooperation are essential, it's worth listing some of the downsides. All these drawbacks can be easily overcome if you get in touch with a reliable provider. Though some business owners are afraid to hire dedicated outsourcing teams, it's still a great option to deliver an amazing product. To make a versatile opinion, consider the disadvantages of a dedicated team model:
Work in Different Time Zones
This is not the case when a Western Europe-based project is outsourced to Eastern Europe. But different time zones may be a challenge when American or Australian tasks are outsourced to Europe. However, an experienced, dedicated team provider will help you organize workflow so that it will be convenient for both parties. For example, you may plan your development sprints so that the team finishes the sprint when you are ready to check the result.
Cultural and Mental Differences
Cultural and mental differences are always an issue in any international collaboration. Offshore IT project development is not an exception.
According to the Cultural Differences in Business Communication research, "Business practices are shaped by deeply-held cultural attitudes toward work, power, trust, wealth—and communication."
Suppose you hire a dedicated team from Taiwan to create a startup for the American market. In that case, the cultural differences will be too broad, affecting the final result significantly. The only way out of the situation is to partner with remote developers who have the same mentality as you. That is why American projects are easily outsourced to Europe, and especially Western Europe. There are no sticking mentality differences as with Asian developers.
It Takes Time to Gather a Specific Team
As we have stated, in most cases, you may get a ready-made team instantly after partnering with your outsourcing vendor. However, sometimes the project requirements are so specific that it becomes necessary to gather a team of difficult-to-find specialists from scratch. Indeed, it takes time to find, test, and hire them to meet the specific request.
Check if Your Project Need a Dedicated Team
If, after analyzing the pros and cons of the dedicated development team model, it is still unclear if this approach to the development of your specific project is suitable, use this checklist with the most critical points. Put a mental checkmark on the right if the statement is relevant for your project, and don't be afraid to use a dedicated team if there are three or more checkmarks on the list.
| | |
| --- | --- |
| Answer | Yes / No |
| Your project is long term and flexible. | ✔️ / — |
| You are ready to control the development remotely. | ✔️ / — |
| You agree that there can be some communicational delays due to the different time zones. | ✔️ / — |
| You don't want to deal with hiring, administrative tasks, and other organizational issues. | ✔️ / — |
| You need to free your in-house team for other priorities or to focus on core business tasks. | ✔️ / — |
| You are ready to spend some time looking for the development team that will perfectly suit your vision. | ✔️ / — |
As for the latest point in our checklist, we will save even more of your time and share some actionable tips that will allow you to quickly find the outsourcing vendor ready to provide you with your perfect-match dedicated development team.
How to Hire a Dedicated Team for Your Startup?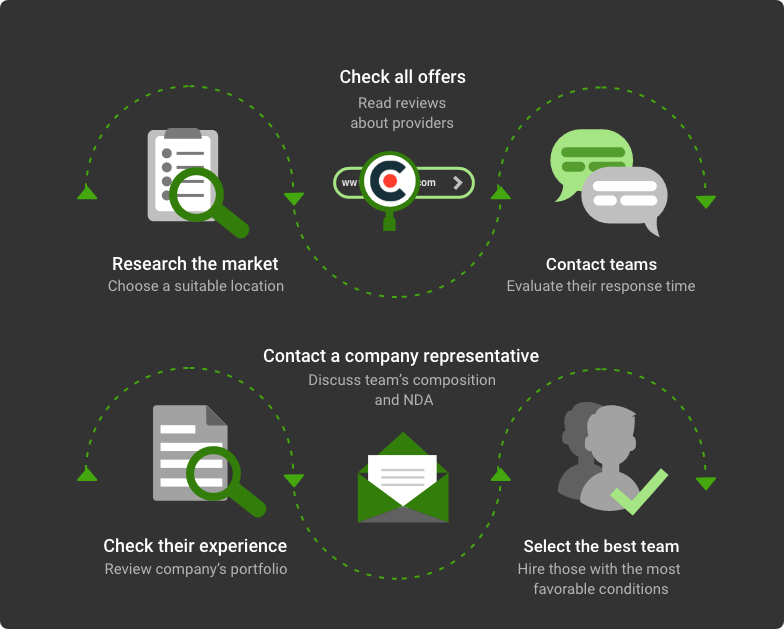 Follow these guidelines to hire a dedicated development team
Here is how to find your perfect dedicated development team from the first try.
Decide on the team location. As we've said, cultural differences matter, so you should consider your team's location and the launch market.

Research dedicated development team providers. Find the best companies on Clutch (you are on the website of one now), get in touch with several companies, and evaluate the response time.

Limit your choice to those who answer quickly —this is a sign that you will have no communication delays with your team.

Check their portfolio (it should be freely available) and choose the company with the most significant experience in your niche.

Start negotiating your dedicated team staffing, ask for the specialists you need for your project, and take the team provider's suggestions into account.

Make a choice in favor of a company that offers you the most relevant specialists, is open to communication, and is ready to assist you at each of the development stages.
Conclusion
Dedicated development teams are the right solution for most projects. However, it is always necessary to take the specifics of your startup into account. They may be a reasonable investment for any project, regardless of its size and goals. Besides, the dedicated team works well with any development methodology (Agile, Waterfall, Kanban).
At KeyUA we can match the specifications of your project with a development approach that will be beneficial for you.
Get in touch