Storing data in a cloud is an already adopted practice. What's more, cloud storage opportunities are becoming more flexible, affordable, and safer year by year. Still, choosing a cloud service provider may be frustrating for aspiring businesses. In this article, we will review the best business clouds so that in 2022 you are confident in the security of your data and the 24/7 possibility to access it.
What Is Cloud Storage for a Small Business?
According to research, "The term "cloud" is used to refer to different types of platforms for distributed computing – a cluster of servers, network, software, interface, etc., which users require to execute a particular task. "Computing" refers to the delivery of this package as a service that users can utilize as they wish. The user does not need to own massive computing infrastructure. Rather, the user can utilize a similar infrastructure, owned by a third party, and pay only for the amount of computing they actually use."
Thus, cloud computing for small businesses is an online solution that provides for the opportunity to rent some space for storing your data in the cloud. The pricing for this service usually depends on the actual amount of space you are using, the number of users with access to the data, and additional features that may come from the software as a service (SaaS).
Cloud Computing for Small Business Advantages
According to research, "Cloud computing technology (CCT) is a revolutionary new way of leveraging the power of the Internet to provide software and infrastructure solutions to businesses around the world. Employing this technology empowers communication between companies and has the potential to generate significant financial and operational benefits for small businesses."
Thus, using cloud storage offers the following benefits to companies.
Flexibility. The use of cloud solutions makes you and your employees more flexible as they can access corporate information from anywhere with an Internet connection. Of course, you shouldn't forget about security, especially if your employees use personal devices, but improved flexibility, instant access, and sharing are some of the key benefits of cloud storage.

Data safety and backup. When you use public cloud storage, data security is your provider's sole responsibility. The cloud company provides all the necessary measures to protect data, uses encryption technologies, and also backs up and safely stores data without gaining access to the content of your information. On the one hand, you get rid of this headache, but on the other hand, do not forget that access to your data directly depends on the correct operation of the provider. Luckily, some promise to cover your costs in case of downtime due to the inability to access the data.

Reasonable pricing. The concept of software as a service implies paying only for the amount of storage and the functionality that your users really need. What's more, pricing plans are generally very flexible - you can easily upgrade to a more advanced subscription as your business grows and still pay for the service you actually receive.

No need for a huge infrastructure. Cloud storage is beneficial because migration to the cloud is rarely associated with high costs. The entire infrastructure has already been deployed on the provider's side. Thus, the cloud saves you from a large number of on-premises servers that constantly need support.

Environmentally friendlier choice. Cloud storage is also greener than on-premise servers and can save energy costs by 84%.
In need of expert advice for choosing cloud storage? Want to develop a private cloud for your business? We are ready to help with both issues.
Get Our Help
The Best Cloud Storage Solutions for Small Business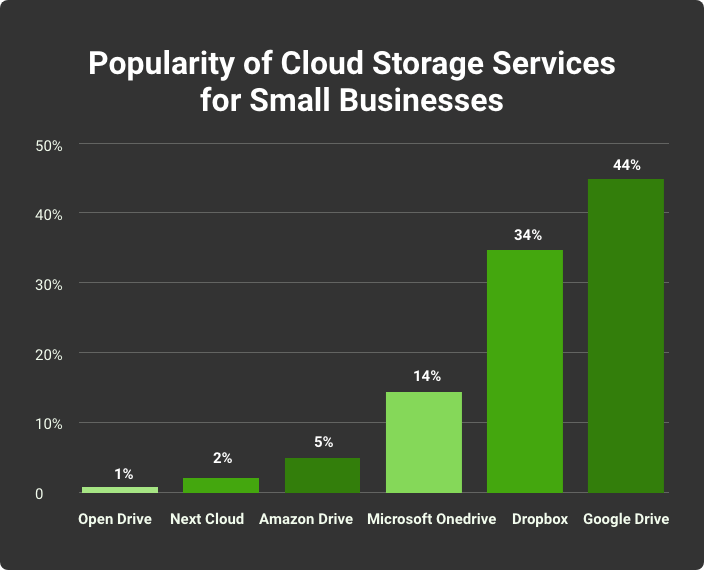 Cloud storage services popularity chart as a percentage
Let's review some of the leading cloud storage providers for small businesses and find out which solutions suit you best. Further, we are going to take a look at:
Google Drive

Dropbox

Microsoft Onedrive

Amazon Drive

Next Cloud

Open Drive

Perhaps the most popular cloud service needs no introduction. Google Drive is one of the top choices for both personal and corporate users. Each of them gets access to all Google services, and the amount of available space is more than enough for personal use. Business tariffs are completely affordable for small businesses. Unlimited custom tariff for enterprises is also provided.
The only point that can cause concern is the policy of use, which includes Google's right to analyze your content with AI.
Specifications
Integration of all of Google's services

A lot of third-party apps integrations, for example, Microsoft Office, DocuSign, and Cloud Lock

30GB up to unlimited storage space depending on the package

Maximum of 300 users, plus an unlimited number of users in the Enterprise package

Machine-learning based search, which suggests the files you may need right now

Quick Access feature for streamlining the search process
Pros
You may store your data in any format you need

The user interface is quite intuitive

There are great opportunities for file sharing, updating, and collaborative work
Cons
You need to have a Gmail account to use the drive

Some users note that Microsoft Office integration could be better; thus, if you open a Word file with Google docs, the formatting, suggestions, and comments may be messed up or lost

Google will get to know everything about you and your business and analyze your documents showing you personalized ads each time you go online
Price
$4.20 - $18 per user per month. There is also an enterprise package with a customized set of features and pricing, plus a free trial.

Dropbox is an extremely simple but effective solution. You can create your files in any format then make them available for sharing, that is, move them to the cloud. To do this, you need to install the program on your computer and create a special folder that will look like a regular document folder but will work like shared cloud storage.
Specifications
At least 3 users should use the tool

5 TB of storage space with the opportunity to go unlimited

The tool can be integrated with 300000+ third-party apps

There are additional security and productivity features
Pros
Dropbox is quite easy to use

There is an outstanding automatic synchronization feature

There is a time-saving search function

The price is quite affordable for small businesses
Cons
There are some security concerns

Some users want the mobile version to be more convenient
Price
$15-unlimited per user per month; 30 days of a free trial

Microsoft Onedrive works just like Dropbox - you create your files and then move them to cloud storage. To be honest, this cloud service has practically no additional functionality, and Office applications are integrated only in two of the four tariffs. However, Microsoft competes well with Dropbox in terms of security.
Specifications
2GB - unlimited storage space

There are basic sharing and collaboration features

There is a mobile app for iOS and Android

There can be up to 9 One Drive accounts per device for business use
Pros
Microsoft Onedrive is easy to use (perhaps, because of the additional features lacking)

The cost is quite affordable; however, you should subscribe for a year
Cons
The pricing packages are quite confusing (there is no clear difference between Plan 1 and Plan 2 but the latter costs two times more - the two remaining packages (Microsoft 356 Business Basic and Standard) have unclear value propositions, and annual and monthly commitments are confusing too)

Teamwork and communication features are included in the Business Basic and Standard packages only
Price
$5 - $12.50 per user per month (annual subscription only).
As one of the leaders in cloud computing, Amazon also has something to offer small businesses. Amazon Drive is ideal for storing visual information. It is an excellent choice for businesses in creative fields, even though it is considered a legacy solution. Perhaps simplicity, accessibility, and security guarantees become the main criteria when choosing this tool.
Specifications
5Gb of storage, or unlimited storage space and 5GB for video storage only for Premium users

Built into Amazon devices
Pros
Nice web and mobile interface

Auto-image backup feature for mobile devices
Cons
Limited features in a desktop app

The app is considered legacy but may be suitable for a small business that can't afford Amazon AWS.
Price
$2 - $120 per user per month

Next Cloud is an open-source and self-hosted solution that allows for using a private cloud with your own server and encryption keys. This is a great solution for businesses that work with sensitive data, such as healthcare projects. Moreover, the creators of the solution promise absolute data protection and legal compliance (HIPAA, GDPR, and PCC DSS). The solution comes with a variety of features for collaboration, control, and communication.
Specifications
100 users at least

open-sourced and self-hosted platform
Pros
Great communication and time management features

All your data is under strict control, which is especially essential for businesses working with sensitive information

There is a migration support feature in all of the packages
Cons
The pricing is quite specific - it may seem affordable; however, the final cost can be quite high

Using the tool makes sense for teams of 100+ only
Price
The price starts at $36 per user per year; however, you should instantly pay for access for 100 users ($3600 per year or $300 per month).

Of all the solutions listed above, Open Drive may be entitled to the status of the best online storage for a small business. This is the case when the value proposition significantly exceeds the price. It is an all-inclusive smart cloud that lets you get the most out of your data from one place. The built-in functionality allows you to create notes, documents, task lists, and entire projects, providing a ton of space to keep your data completely safe. Branding options are also included. In addition, the tariff plans are fair and transparent, and the price is perfectly affordable for small businesses. You can choose the number of users according to your business needs - at any time, you can add or remove a user and pay only for actual use.
Specifications
5Gb - unlimited online storage

the maximum amount of users is 1000, and the price is changed accordingly

Compatible with all operating systems
Pros
The list of built-in functions is great and may be perfectly suitable for teams of any size (up to 1000 users)

The pricing is quite transparent, and the cost is quite affordable

Automated backup and backup scheduling

File versioning and encryption

Sharable and searchable notes

Manageable tasks that are easy to create
Cons
Some users note that the backup process may be slow; however, this seems to be the only drawback
Price
The tool is free for personal use. As for business pricing, it starts at $7 per user per month.
Small Business Cloud Services Comparison
The list of cloud storage providers for a small business could go on; however, we've listed those that may be considered the best on the market in terms of storage space availability, data safety, and additional features. Let's compare them taking the usability, specifics, price, and users' rating into account to get a holistic picture.
| | | | | | | |
| --- | --- | --- | --- | --- | --- | --- |
| | Google Drive | Dropbox | Microsoft Onedrive | Amazon Drive | Next Cloud | Open Drive |
| Usability | Some users note that the efficiency of the features highly depends on the Internet connection, and it is quite inconvenient to use the tool in offline mode access. | This is a great solution for those used to traditional data storage who need sharing and collaboration capabilities. Since Dropbox looks like a regular folder on your computer or smartphone, its use does not cause any rejection. | The tool is quite easy to use and will appeal to Microsoft products supporters. | There are no usability issues since all the features are quite simple and may even seem limited. | The interface of the app is similar to Google Drive, so usability problems are unlikely to appear. | The user interface may seem architecturally complex, but the ability to manage your data, content, and entire projects with this application and be confident in security compensates for a little architectural clutter. |
| Safety | There are no data safety and security issues. With Google Drive, you may always be sure of your data protection. | Dropbox also states that safety is their top priority. However, large-scale hacks happened in 2011, 2013, and 2017, so from a security point of view, especially when it comes to extremely sensitive and confidential information, Dropbox may not be the best alternative. | The provider follows the best practices (SSL, two-factor authentication) when it comes to data safety. | There is two-factor authentication, but there is no end-to-end encryption. | Since this is a private cloud, you may count on the highest-end safety level. Also, the tool allows for controlling what pieces of data are shared by your employees, making it easier to find the leak, if any. | Data encryption, administrative control, instant support, and 100% downtime refund are guaranteed. |
| OS compatibility | Windows, MacOS, iOS, Android, and Linux | Windows, MacOS, iOS, Android, and Linux | Windows, MacOS, iOS, and Android | Windows, MacOS, iOS, Android, and Linux | Windows, MacOS, iOS, Android, and Linux | Windows, MacOS, iOS, Android, and Linux |
| Specifics | Being powered by Google, the tool's usage makes the most sense if you are actively using other services provided by this company. | One of the goals of Dropbox is to improve productivity, which is achieved through clear systematization, flexible sharing, and integration with tools for task and time management. | There are no other services integrated. You may work with Office products only using the Business subscription. | The cloud is perfect for storing visuals and video information; however, other files are also supported. | The cloud platform is open-sourced and self-hosted. To get started with it, you should immediately provide access for 100 users (annual subscription). | This is the all-in-one solution for project and data management, which is equally suitable for corporate and personal use. |
| Price | $4.20 - custom pricing per user per month | $15 - unlimited per user per month | $5 - 12.50 per user per month (annual subscription only). | $2 - $120 per user per month | $3600 per year per 100 users (or $36 per month per user per year) | There is a free offer, plus flexible pricing for personal and business use starting at $7 per user per month |
| Users' rating | 4.8 out of 5 | 4.2 out of 5 | 4 out of 5 | 4.3 out of 5 | 4.5 out of 5 | 4 out of 5 |
How to Choose the Best Cloud Storage for Small Business?
Even with all the comparative insights in the pocket, choosing the best online storage for a small business may still be challenging. We suggest taking the following steps to find the most suitable tool.
Make sure the provider considers data safety as the top priority
All providers that we have listed say that they care about the safety of your data. The only exception is the private cloud from Next Cloud when the company is responsible for its data, but we will discuss this issue further.
When choosing from public clouds, pay attention not only to the provider's words but also to the real precedents that we have already mentioned in the case of Dropbox. Of course, no one can ever give absolute guarantees, but the absence of data leaks suggests that the provider not only promises data protection but also fulfills the promise.
Pay special attention to legal compliance
For example, using Next Cloud allows you to automatically follow regulatory guidelines such as HIPAA for the healthcare industry. In simple terms, this document sets out the rules for handling medical data, and failure to comply with the rules entails significant penalties for health care providers. So, if dealing with data in your industry is governed by additional legislation, it's best to choose a cloud provider that will help you follow it.
Analyze different types of small business cloud storage
As you may have noticed, there are several types of cloud solutions. Basically, they are divided into public, private, and hybrid clouds and may come for free or for a fee.
Let's take a look at each of them.
Public vs. Private Small Business Cloud
With a public cloud, you rent some cloud space from your provider. At the same time, it provides access to cloud storage for other businesses besides yours. This is what is called cloud software as a service (SaaS).
A private cloud works differently - it is your property, which requires you to deploy the appropriate infrastructure. Certain businesses, such as health care providers, are required to use private clouds for improved security.
There are also hybrid cloud storage types that allow you to store sensitive data in a private cloud while simultaneously using public storage for less critical or temporary information.
So, the cloud choice depends on your business's specifics and the legislative regulations in your industry.
Free vs. Paid Cloud Server for Small Business
Most cloud business solutions are paid. As a rule, paid solutions imply additional features, for example, task management, as provided in Open Drive. Should you pay for this functionality? The improved features are certainly worth the money if your business needs them.
However, practice shows that at the start of a small business, the possibilities of free clouds can be enough. For example, many small businesses use Google Drive and are happy with its capabilities. But of course, don't forget about the security issue, as the leakage of client data can become an indelible stain on your still unformed reputation. So, match the pricing with features available and your business specifics, take a sober look at your budget and company development strategy, and the dilemma of "to pay or not to pay" is likely to be solved.
One more tip! Consider developing a custom cloud solution if none of the existing options is suitable
Small businesses can have very specific tasks and processes and work with ultra-sensitive data that needs to be protected. The functionality of ready-made solutions may not be enough, and the business may be afraid of cooperation with third-party providers. In this case, custom cloud application development services make the most sense.
Conclusion
Cloud storage is an option that is available to both private users and companies, regardless of their size. It is also a more flexible, secure, economic, and green approach to storing your data. The modern technology market offers a huge number of ready-made solutions to choose from; plus, you can use both public and private storage depending on the level of confidentiality of your information.
Developing a cloud solution from scratch is an initiative that is also available to small businesses if already created products do not meet your requirements. Within this strategy, choosing a development company is the most critical step for a small business. By partnering with a trusted vendor, you will be able to wisely invest your small business budget in an efficient and secure cloud solution.
Want to discuss cloud services alternatives more? Or already have a strategy for your private cloud development? Get in touch with us in any case!
Let's Talk