Telemedicine solutions have become a real breakthrough in the industry of healthcare. With mobile telemedicine software, doctors and health practitioners can provide their medical services at a distance. In 2019, it was revealed that the market size of telemedicine had reached $45.5 billion worldwide. Moreover, considering the events happening in 2020, telemedicine applications are real lifesavers in ensuring secure communication between doctors and patients. A survey conducted among 398 healthcare facilities shows that only 2% used telemedicine platforms prior to COVID-19, and the number increased to 60% during 2020. In this article, we will explain how to build a telemedicine platform, shed light on its functionality and features, and share how much it costs.
What Is Telemedicine?
The term 'telemedicine" has a long history: in the 1970s, it referred to the practice of "healing at a distance." However, the ICT industry (Information and Communication Technology) wasn't as developed as it is now. In the 21st century, when no industry lives without ICT, telemedicine has taken a new route - telehealth app development.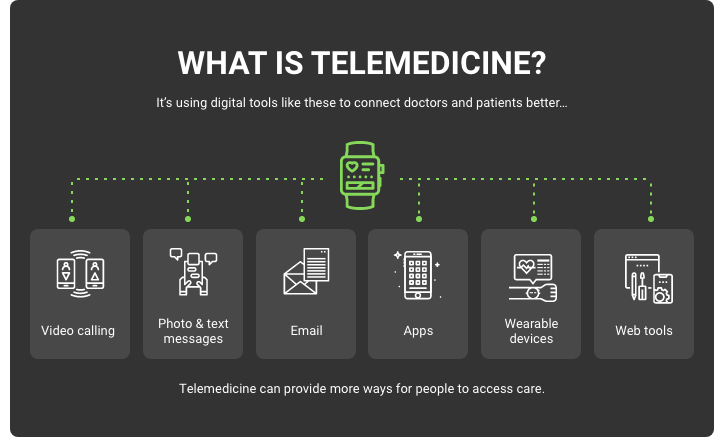 Here you can see what telemedicine is and what tools it uses
Telemedicine in a modern interpretation enables people to communicate with doctors without leaving home, getting necessary and non-emergency assistance, scheduling and conducting video consultations, searching for nearby pharmacies and hospitals, and keeping records of health.
Telemedicine vs. Telehealth
Quite often, people, and even health practitioners, confuse the terms "telemedicine" and "telehealth." Let's define the difference.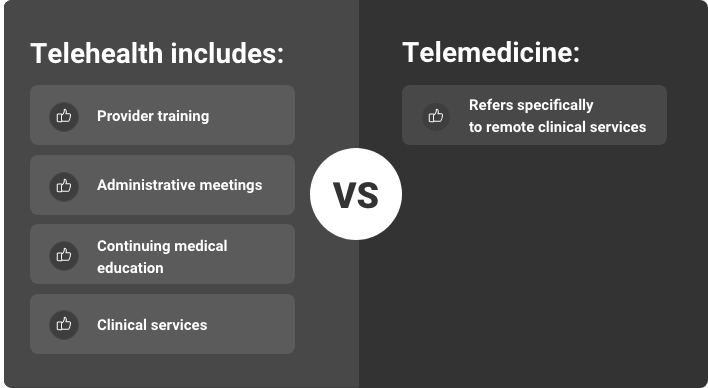 Comparison: Telemedicine vs. Telehealth
Telehealth is a broader term that includes medical education, RPM (Remote Patient Monitoring), Store and Forward, mHealth (Mobile Health), surveillance, and non-clinical services. Telemedicine refers to solely clinical services guaranteed by telecommunication tools and technologies. Simply said, all telemedicine practices belong to a telehealth solution.
Telemedicine: Market Overview
Telemedicine services do not solely refer to basic healthcare practices; it is also applicable in more narrow domains such as cardiology, behavioral health, and radiology. Moreover, startups in the industry now target the development of teledermatology, telecardiology, and telepsychiatry applications.
Industry experts claim that telemedicine is going through a revamping stage and expect it to grow up to $185 billion by 2026. For patients, telemedicine applications mean no long travels, no notorious search of doctors, no waste of time. For doctors, the platform means more patients, effective time management, easy communication with the patients, and safe interaction with contagious patients. Therefore, a large number of startups have decided to create doctor appointment apps and other healthcare assistance platforms.
Types of Technologies Applied in Telemedicine
If you've decided to develop a telemedicine app, you need to determine which technologies to use to fulfill its services.
1. Artificial Intelligence (AI)
AI technologies have invaded a lot of industries, and telemedicine is not an exception. AI stimulates intelligence into machines. It can learn and recognize the patterns of user thinking and thus enhance doctor-user interaction.
Since AI helps to analyze tremendous amounts of information, the process of diagnosing is considerably faster. Therefore, patients may get a potential diagnosis based on the indicated symptoms before a doctor's appointment. Moreover, the doctor can also analyze the information offered by the application prior to the meeting to make decisions accordingly.
Another useful functionality of AI is a chatbot that may provide virtual assistance to patients when doctors are out of the app's reach. Via chatbots, patients may schedule the appointment, find specialists within the needed expertise, and get primary care help.
2. Internet of Things (IoT)
Remote healthcare works so much better with different wearables and devices connected to the telemedicine application. Let's take a smartwatch as an example: it can measure blood pressure, heartbeat and even show the oxygenation level. Once the measurements are taken, the data is automatically transferred to the application so that a doctor can have it for further decisions.
3. Big Data
According to McKinsey, 76% of the respondents use and enjoy telemedicine applications, meaning that a large amount of data is being processed daily. The capacity of Big Data helps analyze dozens of lab reports, measurements from wearables, and other information within seconds. This considerably facilitates the process of getting a diagnosis and treatment efficiently and faster.
4. Blockchain
This technology is highly essential in telemedicine apps since all data sharing and exchanges must be strictly protected from third parties. Personal healthcare records can be encoded and kept on the blockchain and accessed only with the owner's permission.
5. Cloud Technologies
The last technology to be used to develop a telehealth app is cloud-based. Due to the features of the cloud, data from an app can be accessed from any device and any corner of the world. Moreover, while incorporating this technology, personal information security is less sensitive to data breach activity.
The Benefits of a Telemedicine App
Let's see what kind of services within telemedicine platforms solve the daily problems of patients around the world.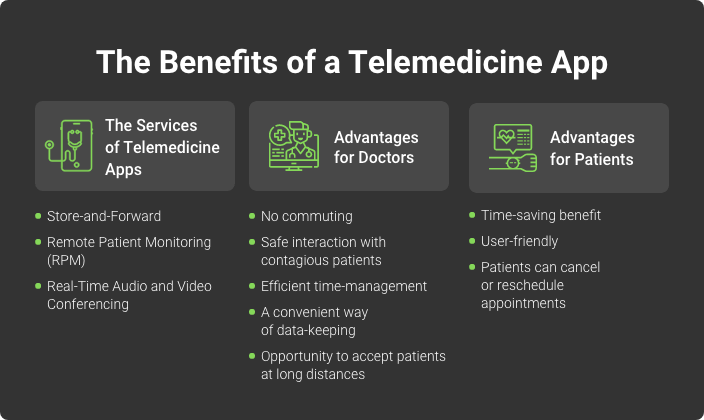 These are the main benefits of the telemedicine app for all types of consumers.
The Services of Telemedicine Apps
They highlight three main categories within telemedicine services: store-and-forward, Remote Patient Monitoring (RPM), and Real-Time Audio and Video Conferencing.
Store-and-Forward. Also known as "asynchronous telemedicine," this type of service is a method of exchanging and sharing healthcare records between doctors and patients. These include video and imaging materials such as scans, prescriptions, test results, and lab reports. Moreover, these materials can be forwarded in case the consultation of other specialists is necessary. Unlike sharing this information via email, sharing and forwarding healthcare records in the application is more secure.

Remote Patient Monitoring (RPM). Typically, this service is used with high-risk patients who require ongoing monitoring and frequent follow-ups. For instance, it could be patients with diabetes, those who have been recently released from hospitals, and patients with complicated heart conditions.

Real-Time Audio and Video Telemedicine. The first thing that comes to mind when people hear the term "telemedicine" is online video calls and audio messaging. This service type is mostly typical for follow-ups, urgent care, primary care, and medical consultations.
If you are still unsure about whether or not it is worth investing in custom healthcare software development, let's clarify what solutions you can bring to the market and how your users will benefit from the platform.
Advantages of Telemedicine App for Doctors
No commuting. Since applications do not require specialists to be tied to one location, doctors save time, thus providing medical care to more patients.

Safe interaction with contagious patients. During COVID-19 (and other easily-spread illnesses), treatment at a distance is a safe option.

Efficient time-management. The application allows building a hospital doctor's daily schedule, and the chances of patients not showing is considerably lower.

A convenient way of data-keeping. All test results and lab reports can be easily uploaded in the application and shared with the patients. Therefore, doctors have an organized record of each patient and may change or add information promptly.

Opportunity to accept patients at long distances. Some patients require frequent follow-ups and regular assistance, such as those suffering from high blood pressure. Therefore, if a doctor or patient is on vacation and a physical appointment is impossible, video conferencing comes in handy.
Advantages of Telemedicine App for Patients
Time-saving benefit. One of the apparent benefits of telemedicine apps for patients is saving time. This is especially important for people who live in rural areas or places where specialist doctors are hard to find. On the other hand, if a physical visit is needed, the application makes it easier to find one nearby.

User-friendly. Some telemedicine applications are easy to use even by older adults. They can check their vitals, add the data to the profile, set an appointment with a doctor, find pharmacies, and pay online.

Patients can cancel or reschedule appointments. It is much easier to cancel or move the visit to another day since users can see the doctor's time slots and choose the convenient timing.
Looking for telemedicine app developers? KeyUA is an experienced and proactive team of specialists that is ready to develop a cherished telemedicine platform!
Contact Us
The Features to Include in Telemedicine Application
Before we dive into the features of your application, let us demonstrate the features for MVP (Minimum Viable Product).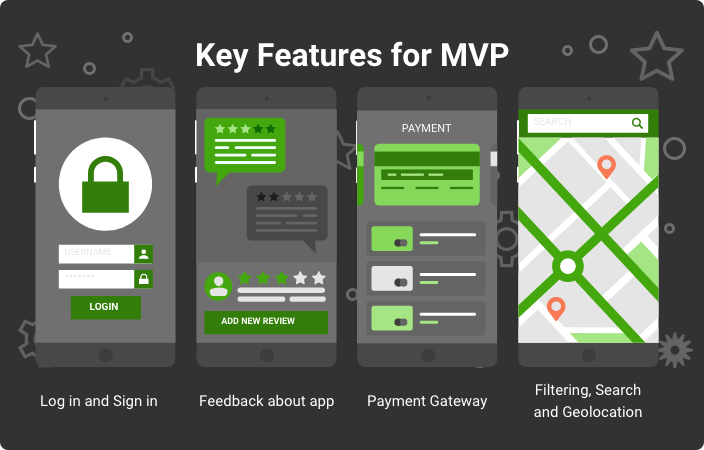 All members of the application must be registered. The sign-in process may be done via email, phone, or user name. To provide a secure environment for your users, consider implementing two-step authentication using SMS or email.
To know the weaknesses of an application and the user's needs, your MVP should have a section to leave comments. Thus, developers could proceed with development.
Online payment is common, easy, and convenient. Thus it is essential to include it in your MVP. The choice here is whether to choose a service of custom payment or to use third-party payment providers. It is important to ensure secure payment integration to protect all data from a breach.
Filtering, Search, and Geolocation
Finding a doctor of particular expertise with specific experience nearby should be easy and fast. So this feature must work properly in your MVP.
Now, let's see examples of common and custom features to make a telemedicine app that is unique and competitive.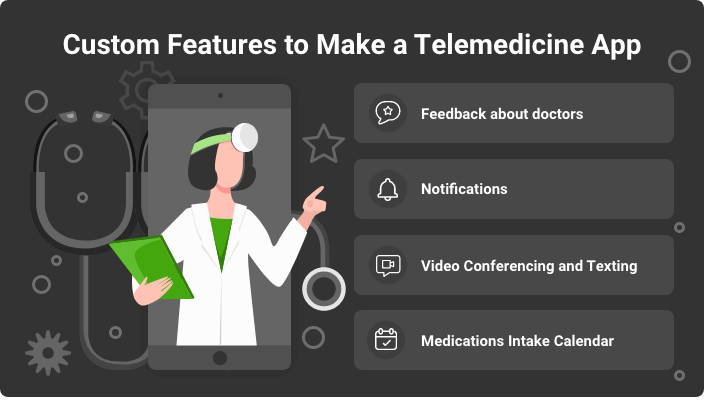 1. Feedback about doctors (patient-side)
Patients must have an opportunity to leave comments about doctor's services. The rating is essential before making an appointment.
2. Notifications (both sides)
If your future application is planning an integration with Google Calendar, push notifications are a must. They will inform both doctors and patients if the appointment has been canceled.
3. Video Conferencing and Texting
The communication between doctors and patients is guaranteed through video calls and messaging. The messenger should include a feature of uploading and downloading files for efficient treatment and consultation.
4. Medications Intake Calendar
Keeping a record of pills and injections requires patients to be disciplined and self-controlled. It is highly beneficial if your application allows users to create a schedule for medication intake and notifies users about it.
From idea brainstorming to successful release, KeyUA experts will deliver a competitive and unique telemedicine app development solution!
Contact Us
Ways of Monetizing a Telemedicine Application
Developing an app comes with investing a substantial amount of financial resources. Thus, monetization is what makes your business profitable. Let's see possible strategies to make money from your telemedicine platform.
Subscriptions. One of the most apparent and standard models of monetization is offering your users paid plans. Applications mainly offer free versions with basic functionality and 2-3 plans with an extended list of services. To draw your users into purchasing a plan, providing a free trial is a working approach.

Ads. Although advertisements are usually annoying and distractive, relevant ads can bring profits while being useful for users. For a telemedicine application, consider including the ads of nearby pharmacies.

Paid Consultation. Some health-related disturbances require the consultation of rare medical expertise. For this reason, patients may receive this service for additional fees. Also, payment may be required if a patient needs a more prolonged session with the specialist.

Additional Service. For example, you may offer your patients the delivery of medications from drug stores. This is especially beneficial for older people and those who lack time to go to the pharmacy.
How to Create a Telemedicine App?
We have prepared a step-by-step guide for the stages necessary to develop a competitive and unique telemedicine application. For your convenience, we divided the overall process into "Investigation Stage" and "Development Stage," where the first part requires you to research, and the second one presupposes all technical processes that must be done.

Now, let's find out what each step within the Investigation Stage includes.
1.Market and Business Analysis. In the case of telemedicine app development, market research not only means investigating your competitors and analyzing the target audience but also finding hospitals and healthcare facilities that require your product. After all the data is collected and organized, it is time to move on.
2.Set App's Features and Functionality. With so many telemedicine platforms in the world, in order to succeed and compete with others, your product should have both basic and customized features. Vital components include payment gateways, GPS navigation, cloud-based functionality, calendar, and push notifications. Features that may make your app stand out could be integration with wearables, a blog section, file exchange, and smart health devices.
3.UI/UX Design. This is the step when all your ideas become conceptualized and aligned with your project requirement. The design step mainly includes the processes of creating mockups, wireframes, and a prototype.
Mockups - represent the colors, layouts, fonts, icons, and other visual elements of your future product. Generally speaking, designers shape the atmosphere of the platform, considering market trends and your expectations.

Wireframes. Wireframing a product means creating a skeleton that will show the structure of a page and demonstrate user flow, layout, and functionality.

Product's Prototype. Once your team is done creating mockups and wireframes, it's time to generate a high-fidelity product representation. Even though a prototype is a raw version of your product, it will show developers the direction to move.
4.Project Management. When all requirements are collected, and the design stage is completed, a project manager decides on the timeframes, sets the budget for the project, and passes the project specification to the team for final review.
5.Team's Review and Approval. The development process never starts without final touch-ups by software engineers, designers, and the client.

Pre-development planning. The first step in full-cycle development refers to zero sprints, when developers organize the development processes and stages, define tech stack, arrange sprints, and establish the deadlines to generate the best telemedicine solution that meets your business goals.

Development. And now the coding begins. Sometimes, software engineers deliver the app's early version with basic features called an MVP. Minimum Viable Product (MVP) is not a mandatory step, but it may bring you some great insights into making your product better. After that, the team scales up the project with further development.

QA and testing. Quality assurance is necessary for the product to be as expected and high quality.

Team review and release. After the testing is completed, the team goes through the code, gives final touch-ups, and the platform goes live.

Maintenance and support. For your platform to function well and keep growing after its release, you need to ensure regular updates, bug fixations (should they appear), and other maintenance-related processes.
Telemedicine App Development Challenges
Software development is a complex and time-consuming process. Numerous challenges may appear prior to development, but there are always ways to mitigate them if prepared.
Compliance of Regulations. A web-based telemedicine system connects medical facilities (doctors) and patients. Thus you need to ensure that all healthcare standards and regulatory standards are preserved. The difficulty is that if you plan to go global, you need to consider each country's standards where your platform will operate.

Doctor's Licence. Like the previous challenge, all medical specialists registered in your application must provide their valid doctor's license.

Design Challenges. A telemedicine application is a two-side application - for doctors and patients. Therefore, it is necessary to consider the layouts and functionality for both users very carefully.
How Much Does it Cost to Develop a Telemedicine Application?
Now that you have a clear understanding of the telemedicine app features and functionalities, we have prepared an approximate budget for the project. Note that two-sided applications require two separate cost plans as the features will differ.
Patient-Side Page
Features

Approximate Timing for Web Development

(hours)

Approximate Timing for Mobile Development

(hours)

Costs

($)

Registration

13

24

$2,100

Profile Management

12

38

$2,800

Search and Filtering

7

17

$1,500

Payment Gateway

30

120

$7,200

Feedback Page

8

13

$1,300

Video Conferencing

93

110

$9,800

File Exchange

12

16

$2,400

Push Notifications

11

34

$2,000

Total

186

372

$29,100
The next table will demonstrate a telemedicine app development cost for a doctor's app.
Doctor-Side Page
Features

Approximate Timing for Web Development

(hours)

Approximate Timing for Mobile Development

(hours)

Costs

($)

Registration

13

14

$1,600

Profile Management

15

31

$2,600

Rating System

10

14

$1,100

Payment Acceptance

12

8

$900

Video Conferencing and Messaging

45

61

$5,900

Calendar

23

48

$4,200

Total

118

176

$16,300
As you can see, overall, the development process takes around 900 hours and will cost you $45,400 - $50,000.
Keep in mind that these numbers are approximate, and typically, your software development company will give you customized estimations based on your requirements and expectations.
5 Examples of Telemedicine Applications
Now, let's take a quick overview of some popular healthcare applications and discover their peculiarities.
1. Doxy.Me

Founded by Utah University professors, Doxy.me has positioned itself as an easy-to-use, free, and 100% healthcare-oriented application. The software complies with HIPAA standards and has over 700,000 doctors who provide their services for patients in underserved and rural areas.
Subscription plans: Free, Professional ($35/month), and Clinic ($50/month). The unique features: personalized sessions, audio calls only, and high-quality video conferencing.
Operating Systems: iOS and Android
2. Doctor on Demand

The platform doesn't require users to purchase subscriptions and provides quick, 24/7 doctor availability. Patients may have 25 - 55 minute consultations for a great number of healthcare concerns.
Subscription plans: there is a charge for sessions, namely $75 for 15 minutes, $129 for 25 minutes, and $179 for 55 minutes calls.
Unique features: 24/7 availability, HIPAA compliance, stress management consultations
3. Amwell

With over 55 partners, 2000 medical facilities, and 80 million users, Amwell provides healthcare services for patients in need. They offer the services of therapy, psychiatry, and urgent care.
Subscription plans: per visit payment starting from $79, depending on the doctor's degree.
Unique features: urgent care, women's health consultations, nutrition assistance.
4. PlushCare

From psychiatrist to pediatrics, this application offers a user-friendly interface that can be used by anyone. The platform can be utilized from a desktop or your iPhone. Patients may request a personal video consultation with same-day appointments since doctors are available 24/7.
Subscription plans: Insured ($100/month, free first visit) and Uninsured (same price, $99 for a first visit).
5. MD Live

The application has a cloud-based Virtual Medical Office, which ensures a secure interaction between doctors and patients. Healthcare practitioners use the HIPAA system, allowing them to collect and keep a patient's medical records.
Subscription plans: $40-50 per visit, Monthly Plan (unlimited visits) for $14.95 and $24.95 with up to 6 family members included.
Conclusions
With a large number of factors boosting the growth of telemedicine applications, starting a business in this sphere could be a successful investment. Telemedicine services are convenient and prosperous since it saves time and costs for getting and providing healthcare help in a timely manner.
KeyUA is a team of developers, project managers, and designers who possess significant experience in developing telemedicine applications. We always consider your business needs and expectations and incorporate the latest technologies and market trends to design a competitive and unique product.
KeyUA delivers world-class quality for your telemedicine software development. Our experienced developers use the latest technologies to ensure a successful release!
Contact Us