So you have a cool mobile app idea and want to launch it to market. In addition to high-quality coding, you also have to take care of creating a strategy for promoting your product. It is an exciting and creative process that should be solely based on the business's goals and characteristics. Moreover, it can be quite costly, so it's best to budget ahead of time for your promotion. In this article, we will consider interesting mobile market facts, give examples of different ways to increase awareness of your brand, and show how to calculate marketing costs for an app.
Mobile Market Facts
In 2020, the number of smartphone users reached 3.5 billion, and tablet users - 1.14 billion people worldwide. At the same time, about 55% of world mobile users are concentrated in the Asia-Pacific region. Such figures are one of the critical factors in the prosperity of the mobile app development industry. Various forecasts show that the mobile application market will continue to develop rapidly over time, regardless of global events.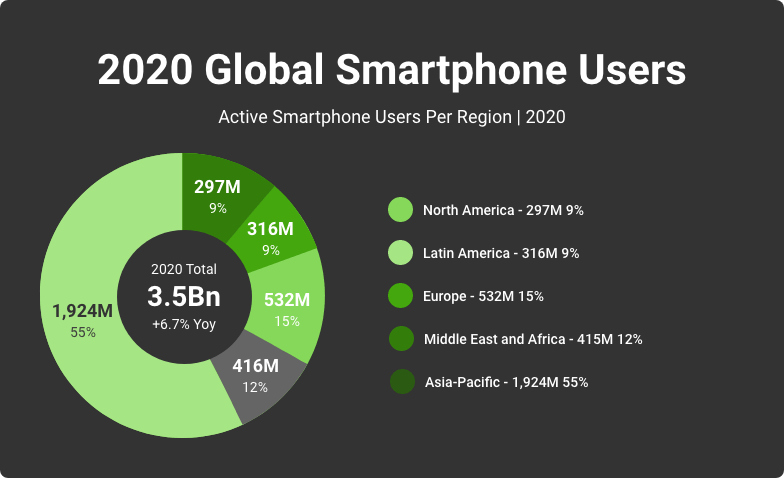 This chart shows the number of smartphone users around the world.
Here are some more impressive facts about the world of mobile advertising:
Finally, there are now over 8.9 million mobile apps available worldwide. Yet, if you think that just a good idea for a product will be enough to conquer the market, this is a misconception. For a product to be successful and profitable, it must have an effective marketing campaign, or it will simply get lost among these nearly 9 million apps.
These numbers testify that creating a promotion strategy for your custom app is crucial for business success. So now let's look at what steps you can take and how much it will cost.
The Pre-Launch Marketing Components
This phase includes several important steps required to anticipate the potential reach of your application and its impact on users after the product goes to market. This stage's main goal is to interest potential customers to download the application as soon as it becomes available in the Stores. This way, you increase user awareness and make your brand more recognizable.
Here are the steps to take at this phase:
Market Research
The most important step for a successful launch of any product is market research. Here you have to find accurate information about many factors, such as your niche, the desires and problems of potential users, solutions to those problems, and features that competitors are implementing. The smallest aspects are essential to a successful market entry.
At this stage, you can analyze user behavior to create a promotion strategy that will attract maximum attention. Here, you can also determine how viable your product will be.
Another step to take is to explore ways you can promote your product. Think about social media marketing campaigns, viral ads, influencers' services. The approximate cost of the entire market research phase is from $5,000 to $15,000.
Want to know the marketing costs for a phone app? Contact our specialists. We will be thrilled to provide you with a detailed consultation.
Contact Us
Beta Testing
Many companies are beta testing their applications. Its duration largely depends on the complexity of the project and can take from several weeks to a couple of years. The essence of beta testing is that the company recruits a team of volunteers to test the product before it goes to market.
In the mobile app development process, there is the testing phase in which some specialists of the project team (QAs) check the system's functionality in accordance with the expected result. Beta testing is something different. It is not carried out by technical specialists, but by ordinary people who imitate the actions of potential customers. They do not have a technical specification and do not know for sure how the system should behave.
Beta testing has several important goals: firstly, it should show how effective the product's functionality and navigation are from the end user's perspective. Secondly, this is a good opportunity to collect real reviews about your product, which can then be published on the appropriate resources to increase trust for your company. On average, the cost of beta testing is estimated at $3,000 to $5,000.
App Store Optimization (ASO)
The next step is to optimize content for mobile apps distribution channels: the App Store, Google Play Market, Huawei App Gallery, Amazon App Store, and Samsung Galaxy Store. Accordingly, it is applied to develop a mobile application for iPhones, iPads, and Android devices. This is where every effort should be directed to optimize your app's titles and keywords, descriptions, photos, and videos. In some situations, graphic content matters more than text. All this represents a unified product promotion system, based on which it is much easier for the user to find and download your application. Another optimization challenge is creating a product image that motivates the user to try your application.
ASO is a challenging task that requires careful preparation and the use of the correct set of tools. The price of using such instruments varies significantly depending on their complexity. It ranges from $25 to $1000 per month.
PR Activities
Despite the widespread development and range of online tools, public relations still occupy a high position in the promotion process. If you want as many people as possible to know about your product, publishing press releases is a good idea. High-quality planning of PR activities will attract the maximum number of users at an acceptable price. To do this, you have to hire a PR agency. On average, they charge a fee of $100-300 per hour.
Influencer Marketing
The Internet has opened up vast opportunities for gaining popularity. Now, to be widely known, you do not need to become a politician, star in a movie, or sing songs. Social networks have created a new profession - blogging, which allows you to gain widespread popularity without even leaving your home. People who have a large and loyal audience are called opinion leaders (influencers). These include not only bloggers but also journalists with a wide range of readers.
Influencers provide advertising services. You pay them money to promote your product to their audience. If you are looking to create cooking apps, it might be a good idea to collaborate with a food blogger. Depending on the influencer and their audience, the prices for such services also vary. But on average, they are around $10,000 per collaboration in the USA.
Viral Marketing
This is a set of different methods of promoting an application, characterized by the fact that users themselves are distributors of information about the product. It is based on creating exciting content that potential customers share with their friends. In fact, viral marketing does not involve advertising costs at all, but some marketers do pay to advertise on Facebook or Instagram to increase posts' reach.
We know the secrets of creating powerful promotion strategies and are happy to use this knowledge to benefit your product.
Contact Us
Digital App Marketing Assets
Even if you are developing a mobile application, you still need a website. This increases your online presence and gives you a competitive edge. You don't need a complete website with full functionality copying your application. It is more about creating ad pages that promote your brand.
You can make a website using online tools called website builders. Their cost is not very high, but such technologies negatively affect SEO. So the best option is to turn to professional developers who will create high-quality landing pages for you.
In addition, you will also need to register and develop social media profiles to build your brand. In general, all of this can cost $2000-$25000.
Post-Launch Marketing Cost Estimation
By going through the steps above, you've set the stage for your product launch. After the app hits the market, the real hard work begins. Here you also have to use various tools to motivate users to download your application. Since Facebook and Instagram are the most powerful advertising platforms, use them to reach as many users as possible.
Paid advertising
Paid advertising includes posting promoting content on social networks, websites, or other applications. It has several main goals: to increase the online presence of your brand, motivate users to take certain actions in your app, and also to get users to install your application. Another way is to record a video clip about your application and launch it on YouTube as an advertisement. Promotional videos can also be driven on other social networks. The price of such services can vary significantly depending on the platform you choose to buy ads.
Cost Per Install
CPI is one of the metrics that can be used to plan and predict the advertising budget of a future campaign. This indicator was invented and explicitly implemented to promote mobile applications. During a CPI campaign, publishers place ads on various media/platforms in an effort to increase reach, impressions, and CR% (Conversion rate). CPI is an important metric in mobile marketing that shows the cost of one installation of an application. Based on this, it is possible to estimate how effectively the budget was spent.

CPI model is one of the most profitable for advertisers. It is calculated as follows.
Why is this important? According to Techcrunch, for an app to reach the top 10 apps in the App Store, it needs to be downloaded 77,000 times daily. The more users download your app, the more popular it will be in the market. CPI allows you to calculate the funds that you will need to achieve this goal. That model helps to calculate ROI.
With this, the cost of CPI is as following:
iOS Worldwide - $0.86

Android Worldwide - $0.44

iOS in the USA - $2.07

Android in the USA - $1.72

On Facebook - $1.8

On Twitter - $2.53

On Instagram - $2.23

On Search Ads - $1.00
Cost Per Action
The next method is to pay for certain user actions within the application. Actions can be aimed at purchasing goods or ordering services. CPA is a very effective way to estimate the budget for mobile app marketing since the advertiser pays not for views or clicks, which are extremely difficult to measure, but for specific user actions that can be tracked.

The formula for calculating CPA is very simple - we count not clicks, but targeted actions.
Most often, online stores resort to such services. Thus, they organize affiliate programs, which involve paying "partners" certain dividends from the sum of sales.
Here's the average cost for some of the actions users can take inside the app:
| | | |
| --- | --- | --- |
| User Action | Android | iOS |
| Registration | $6.37 | $11.79 |
| In-app purchases | $132.23 | $145.63 |
| Reserve | $5.96 | $38.29 |
| Purchase | $71.02 | $113.79 |
| Subscription | $129.15 | $187.29 |
Push Notifications Cost
Another effective way to promote your app is to use push notifications. And with the help of Beacons technology, they have become smarter.
It involves the use of Bluetooth beacons. They transmit signals to a nearby portable device. For example, a user walks past a store. If Beacons are used at the entrance, the user will immediately receive important information on their smartphone in the form of a push notification. It can be promotions, discounts, or any other essential data sent by the store.
Such beacons are actively used all over the world, both for advertising and non-commercial purposes. To implement this tool in your project, you need to write the appropriate API. The price can range from $30 to $ 200 per month.
How Much Does it Cost to Market an App?
Above, we reviewed the two main phases of a mobile app promotion. Each of these stages has specific steps. But you don't have to do every one of them.
If your budget allows you to implement all of the above actions, you will achieve the Wow effect. But the funds for marketing are quite often limited, so you should focus primarily on your business goals when choosing ways to promote.
When it comes to planning a mobile app marketing budget, an average of $10,000 is an acceptable price for creating a quality promotion.
Takeaway
The promotion of a mobile app is a series of thoughtful actions aimed at attracting a greater user flow to a product. In turn, this is a way to increase profits. The modern marketplace offers a variety of directions to promote a product that suits any budget. At the same time, there is no single strategy that would satisfy all apps. Therefore, the marketing of a mobile app is a creative and personalized process. But it can be a real challenge, especially for a person who has never done it before. In such cases, it is better not to waste time and budget but seek the help of professionals from marketing agencies.
At KeyUA, we have a dedicated marketing team that draws up effective promotion campaigns and prepares exact mobile app marketing costs. Over the past 12 years, we have helped more than 70 companies from various industries to market their products successfully.
Trust the professionals to help your business grow.
Contact Us