Americans alone take 2.29 Billion trips each year. And tourists from all over the world are looking for options to save on accommodations while getting quality services and bypassing intermediaries. Unsurprisingly, Airbnb is a topic of discussion in many quarters. This small start-up of two friends has grown into a global product that has changed the rental market. Today we will talk about creating a clone of one of the most popular projects for booking accommodations and answer the question "how much does an app like Airbnb cost?".
Revolution in the Rental Housing
Industry
Airbnb is an online platform that helps to find short-term rent of residential premises. With its focus on travel, the website enables travelers from all over the world to find comfortable accommodations to suit their budget. At the same time, Airbnb allows apartments and homeowners to publish their applications. The platform acts as a kind of intermediary between the tenant and the landlord, making the process of booking and paying for housing as simple and transparent as possible.
In 2007, roommates Brian Chesky and Joe Gebbia had the idea to put an air mattress in their apartment in San Francisco and turn it into a bed and breakfast. In 2008, Nathan Blecharczyk joined the team as the chief technical director and co-founder. The project was named AirBed & Breakfast. On August 11, 2008, a website was launched offering short-term accommodation and breakfast. In a saturated market, the idea turned out to be very successful, and the first customers were participants of an industrial design conference who could not book a hotel.
The next year, the programmer Paul Graham noticed the project and invited the team to his startup incubator Y-Combinator. Soon after, AirBed & Breakfast received its first investment to develop its idea. In 2009, the platform was renamed Airbnb, and in March of the same year, the site had more than 10,000 users and 2500 offers for rental housing. Airbnb has made the rental process very easy. All you had to do was go to the site, enter your location and dates then choose the apartment you like. The company now has over 150 million users worldwide, operates in 220 countries, and continues to expand.
The main idea of Airbnb is to simplify the booking of short-term accommodations. Users can see real photos of the apartment or house on the website and communicate with the owner. Moreover, the platform makes transactions secure. Payment is made through the Airbnb services, so the owner will receive money for accommodations only after the client has entered the apartment. This significantly reduced fraudulent activity. The company charges a small fee for each lease of the premises.
Airbnb in Numbers
The company is expected to have more than 45 million users just in the United States by 2022.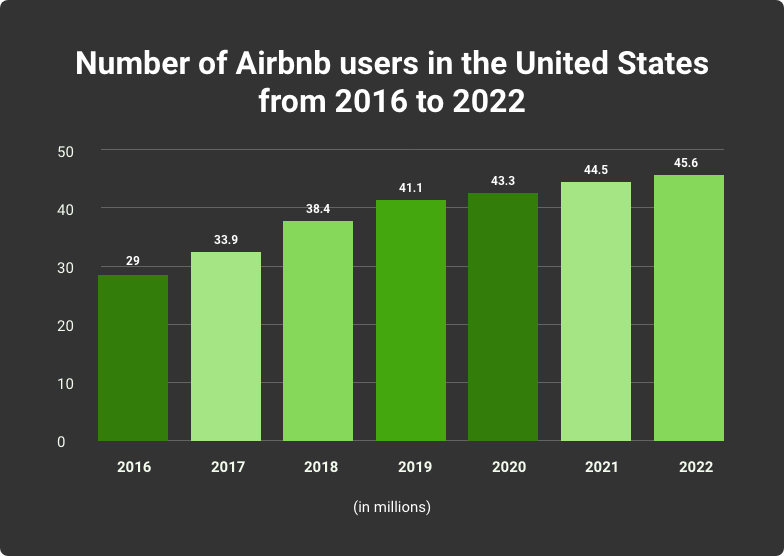 Number of Airbnb users in the United States (2016-2022)
In 2019, the company's revenue amounted to more than $4 billion.
In 2020, Airbnb had 6300 employees.
The company provides services in 100,000 cities around the world.
How Airbnb Makes Money
More than 7 million listings are registered on Airbnb. The primary source of income for the company is the service charge upon booking. Guests will pay a non-refundable service charge of less than 14% of the apartment price, depending on the type of booking and length of stay. The more expensive the booking, the lower the service fee will be. The owners of the premises are also charged 3% of each completed booking.
Airbnb's business model, called canvas, is one of the elements of strategic management. It is a one-page diagram that defines all of the company's business processes. Canvas consists of 9 blocks, each of which describes its own part of the organization, namely: key partners, key activities, value propositions, customer relationship, customer segments, key resources, channels, cost structure, and revenue strengths.
See the Airbnb business model below.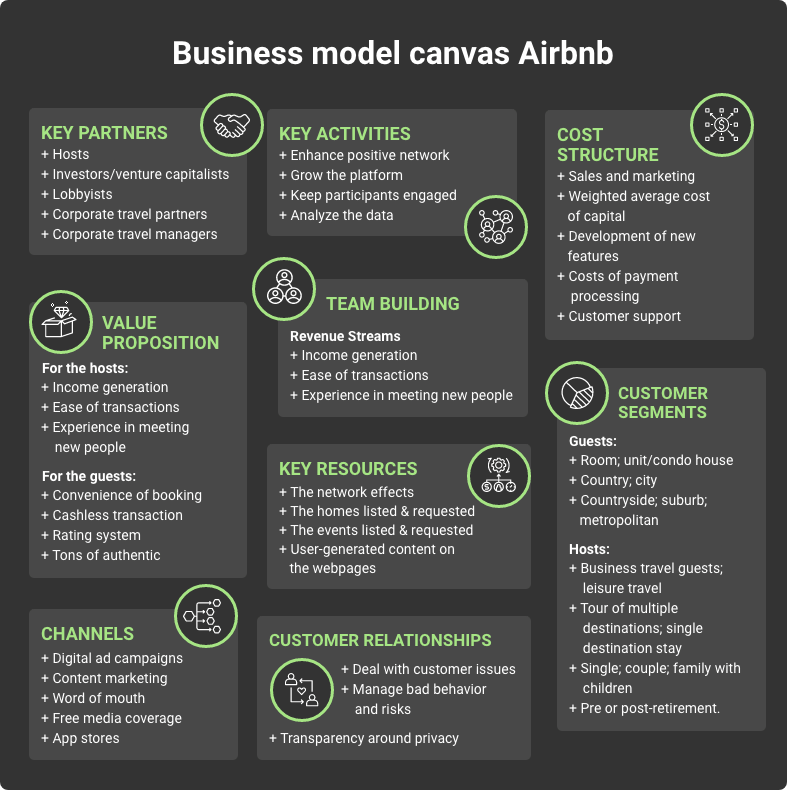 Business Model Canvas for Airbnb
At KeyUA, we deliver web and mobile projects of any complexity in accordance with the requirements and goals of the business.
Contact Us
Feature List to
Make an App Like Airbnb
Airbnb has two main users: guests and hosts. However, the site also has an admin panel for managing the platform and helping users. Below we take a look at the main features that an app similar to Airbnb should have.
Traveler Cabinet
Registration. Clients should be able to register on the platform by providing their email and a password or via social networks.
User's Account. This part of the application allows users to enter important information about themselves, view their previous and future visits, keep in touch with the host, and review or cancel their bookings.
Search. Travelers can search for accommodations based on their chosen location, budget, and dates of attendance. The search should also be available for unregistered users.
Filters. For users to find the most suitable accommodations, the platform must have many filters. So on Airbnb, there are many factors for the selection of apartments or rooms. Users can sort offers by price, area of residence, number of places to stay, whether pets are allowed, and many other services.
Booking. Once the client has chosen a suitable accommodation, they must book it. The system must have the proper functionality, which also includes payment processing.
Messages. Another essential feature is the ability to communicate with the owner. Moreover, users can do this both before and after booking to clarify all the features of the stay.
Favorites. Being able to add apartments to your Favorites list will make travel even more convenient, as it allows you to pre-select a destination for a future trip. This feature is pretty useful, so it's worth adding to the app.
Notifications. With this functionality, guests receive notifications of a different nature. For example, about an upcoming trip, booking confirmation, or messages from other hosts.
Reviews. It is good if users can share their experience of living in the selected apartment or room. This will allow other customers to make a more informed booking decision. Many travelers highly trust Airbnb as they can find honest reviews of accommodation on the site. The platform allows clients to post ratings only after their period of residence has ended.
Experience. A new feature available on the platform is an experience that allows travelers to order entertainment offered by hosts—for example, a Thai massage, a city tour, or a master class from a chef. In general, this allows guests to learn more about the city's culture.
Host Cabinet
Registration. Like travelers, owners should be able to register with the platform to present their services.
Host's Profile. Here the host can provide basic information about themself, communication methods, or a photo.
Manage Listings. Customers can create listings with offers for renting houses, apartments, or separate rooms and edit or delete them.
Manage Booking. Hosts need to be able to view, approve, or decline reservations and access booking history.
Types of activities. Hosts can also choose whether they want to provide guests with additional services to diversify their travel experience or simply present accommodations.
Messaging feature . This is the functionality through which the host can keep in touch with guests who have booked their offers.
Rate and review guests. After tourists leave the premises, the owner of the accommodation can leave a review about them, which later can be seen by other owners and understand whether it is necessary to confirm or cancel a booking.
Admin Panel
| | |
| --- | --- |
| Feature name | |
| Dashboard | Here the administrator can view all system users, including their subscriptions (programs Airbnb Plus and Luxe) and operations. |
| Manage new listing | The administrator can check, edit, or reject all created offers. |
| Booking History | This part of the dashboard stores information about all reservations made by users, including their status. |
| Feedback and complaints | Here, the administrator has access to any reviews, complaints, and wishes that the guests and hosts have left. |
| Insights | This part of the platform demonstrates complete information about all past and upcoming events. |
Build a powerful product with trusted developers from KeyUA.
Contact Us
How to Make an App Like Airbnb

The process of building any product requires careful preparation. If you plan to create an app like Airbnb, you have to take these 11 essential steps.
#1 Market Investigation
The very first stage is researching the niche you want to take. To do this, you have to find out everything about your potential users. After all, to be successful, a product needs to solve specific customers' needs. You should study the specifics of the market where you will conduct your business. The best option is to develop a local niche. It is worth choosing the region where your company will begin to grow, investigate the features of this market, its taxation, and laws for renting housing.
#2 Competitor Analysis
This step is part of the market analysis, but we decided to mention it separately since creating a website like Airbnb requires an in-depth analysis of competitors. The niche of providing apartment booking services is very developed and already has many giants. So you need to carefully evaluate the products that already exist, paying particular attention to their disadvantages. Think about how your app can stand out from the competition.
#3 Building a Business Plan
The purpose of any business plan is to represent the activities of the company. It allows you to think in advance about the use of resources, calculate the cost of the project, and not go over budget. Many startups ignore this step, but it is vital to attract investments to implement the project. Investors pay the most attention to the product's business plan.
#4 Creating a Specification
To implement a project, you need to draw up a detailed specification. This document should describe how each function of your application will work. This is also the basis for creating designs. Think about how your application will make money, and also include it in your spec.
#5 Choose a Provider
Next, you need to choose a team that will implement your project. Many IT companies have professional staff, which is much more profitable and convenient than hiring contractors in your office. At the moment, outsourcing companies are very popular. The bottom line is that they evaluate your project and provide you with a team of dedicated specialists in accordance with its requirements. Thus, you can start building an app like Airbnb immediately after signing all the relevant contacts.
Here is an example of a basic project team that outsourcing companies provide: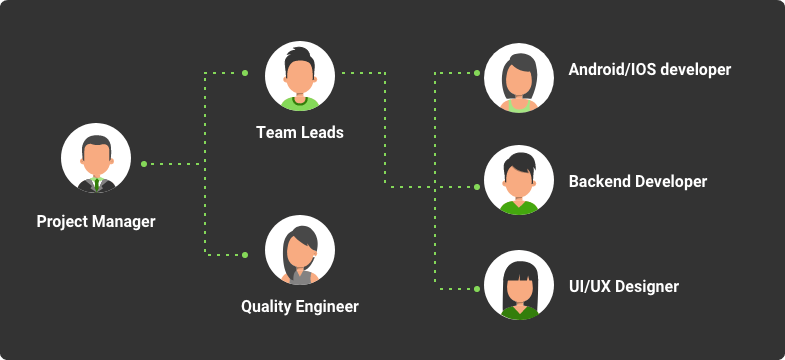 Basic Development Team for Creating an App Like Airbnb
#6 Preparing Designs
You have to prepare three main templates for your pages: a web, ios, and android version. The designs, together with the specification, will form the basis of project development. It is great if the company you hired can provide you with a designer as well. Together with the developers, they can think over the most convenient user experience.
#7 Web and Mobile Development
The next step is the creation of the source code. Here you have various possibilities. You can create only a web application or a website together with a mobile application for one or two operating systems at once. A pretty good idea for startups on a tight budget is to create a minimum viable product. It is a project that involves the construction of only the basic functions necessary for the product to enter the market. The MVP will allow you to evaluate how effective the business idea was and make adjustments to the application before too many functions are developed.
#8 Creating a Promotion Strategy
In parallel with product development, it is worth taking care of creating a promotion strategy. This is also where a thorough analysis of potential users will come in handy, as it will allow you to create a strategy based on clients' preferences using different approaches.
#9 Testing
Testing a project is checking its design and functionality before the product is released to the market. This is an important step, as many startups fail because they offer users a low-quality product. Testing involves the QA professional comparing the actual performance of the system with the expected result. Testing allows you to promptly correct any bugs and flaws in the software.
#10 Product Launch
Once you've made sure the product meets all your expectations and business goals, it's time to launch it into the market. The developers release the main site and publish mobile applications in the respective marketplaces. Along with this, it is also time to launch a marketing campaign. Although on some projects, it begins even before the application is available to users.
# 11 App Support
The work on the application is not finished after its launch. While you can take a timeout to evaluate how effective your functionality is and what users think about the product's usability, it still needs support and updates. Airbnb is continually developing by adding new functionality and updating outdated technologies.
How Much Does it Cost to Build an App Like Airbnb?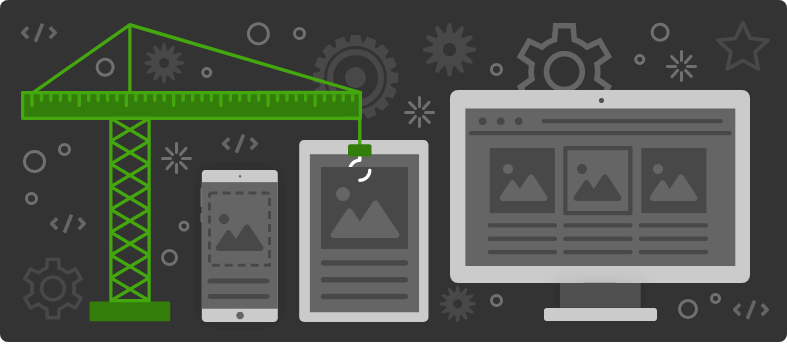 Each project is individual, so it is rather difficult to name the exact cost of app building from the first try. It is calculated based on two key factors. Project cost to develop an app like Airbnb = total development time multiplied by the developers' hourly rates. But the time required for app creation can be different, depending on the volume of tasks. So let's take a closer look at the two main indicators that affect the development cost.
Approximate Time Required to Make an
Airbnb Clone
Although the estimates can vary greatly depending on the customer's goals and wishes, in this section, we will provide the approximate hours needed to build a similar application.
Airbnb is available as a website and also has a mobile app for iOS and Android. The web version includes the following scope of tasks:
Preparation for development. Any project has 3 essential components: server, database, and source code. Preparation for project implementation begins with setting up the server and working environment (14-20h) and installing the database (10-12h).

Registration. This process consists of the user entering their data, which is saved in the database (12h).

Profile. As we said earlier, Airbnb has two types of users: guest and host. In terms of code and database tables, these are two different functionalities. It will take about 40 hours to create them.

Login. Both types of users must be able to log into the system. The development of this functionality will take about 8 hours.

Listings. The development of this functionality on the host's side will take about 52-60 hours.

Search. This functionality assumes integration with maps GPS and adding filters with extended parameters - 48-52 hours.

Calendar and check of available dates. The system should check on what dates the accommodation will be available before allowing the user to make a booking - 16h.

Booking. This process assumes that the guest goes through several steps to make a reservation - 40-44 hours.

Requests. This is a host-side functionality that assumes that they will see all requests left by travelers - 32h.

Payment. This process includes creating pages for purchases, integration with payment processors, and notification if payment was successful / failed - 28h.

Chats. The ability of guests and hosts to communicate with each other within the system - 48h.

Favorites. Adding apartments to a guest list - 12h.

Push notifications - 12h.
The total time needed for web app development is 372 - 396 hours.
The mobile application is much more convenient for smartphone users than navigating the site via the web browser. Airbnb has native mobile versions for iPhone and devices with the Android operating system, which users can download for free from appropriate markets.
There are 3 main types of mobile apps: native, cross-platform, and hybrid. In naive development, the source code is created separately for each of their operating systems. Cross-platform development involves building a container that can then be quickly transformed for iOS or Android needs. Hybrid development combines the features of the above two ways to create a custom mobile application.
The native application is the most productive, while the cross-platform one takes less time to implement.
Learn more about mobile apps by reading How to Create a Hybrid Mobile Application [Step-by-Step].
The approximate time required to build native Airbnb mobile apps is as follows:
| | | |
| --- | --- | --- |
| | iOS | Android |
| Setting up the environment | 8h | 8h |
| Registration | 12h | 16h |
| Profile | 42h | 52h |
| Login | 12h | 16h |
| Listings | 64h | 68h |
| Search | 52h | 56h |
| Booking | 44h | 48h |
| Requests | 36h | 40h |
| Payment | 32h | 44h |
| Chats | 52h | 56h |
| Favorites | 16h | 16h |
| Push notifications | 16h | 16h |
The total time for developing the native ios app is 386 hours, while an android app will take 436 hours.
Please note that this is only a rough estimate of the project. If the client wants to add or remove any features, the time will change.
Developers
Hourly
Rates
Worldwide
Paying developers for the same services varies depending on their location. Below we provide a summary table of the hourly rates of web and mobile app developers, depending on their area.
| | | | |
| --- | --- | --- | --- |
| Region | Web devs | iOS devs | Android devs |
| North America | $100-130/h | $110-250/h | $150-170/h |
| Eastern Europe | $60-80/h | $65-175/h | $50-100/h |
| Western Europe | $30-60/h | $40-100/h | $35-90/h |
| Latin America | $25-50/h | $30-70/h | $20-65/h |
| Asia | $25-45/h | $30-60/h | $20-50/h |
Airbnb-like app development has a colossal difference depending on the region. While the low cost of development can be very attractive, it is fraught with risks. To create a great project, pay careful attention to the contractor's portfolio and what documents they sign before starting the development.
Final Thoughts
By and large, you can create an application for $5000 or $500,000 since various factors affect the project's price. You can choose any of the ways to build the application: MVP, full-fledged web product, or creating together web and mobile applications. The main thing you need to focus on while implementing your idea is choosing a reliable development team. The quality of your product depends on it. Interview the contractors thoroughly and pay attention to the projects they have created.
At KeyUA, we not only provide quality project building services, but we also have the resources to create great promotion strategies.
Contact Us