Hosting services shape website performance. 66% of online users admit that website performance affects how they perceive a business. Also, 35% will not even buy a product from a poorly performing website. So, as you can see, choosing the right hosting service for any website is a vital decision that needs thorough consideration.
Selecting a hosting site compatible with Python/Django is a little tricky. Not all Django hosting sites offer native support. And even those that do, and promise a flawless Django hosting experience, don't always hold to their marketing claims.
To make this task easier for you, we've prepared a TOP list of the best Django hosting services boasting excellent customer satisfaction in 2020. Without a doubt, they will be the best choice to host your projects in 2022.
How Did We Select the Best?
The market is overflowing with hosting offers for Django-based websites, and the question is how to choose the best? Based on numerous reviews, rankings, and personal experience of our Python developers, we've filtered the TOP 10 large to small hosting providers with optimum technical capabilities for various Django projects. We considered the following measures to define the best Django hosting for 2022:
Speed: the cumulative speed of server response, website load, load-testing, ping response, and file download/upload to a server. It's been said that a 1-second delay on a page load decreases conversion rate by 7%, and a 1-3 sec delay causes bounce rate growth by 32%. We don't want your website users to struggle.

Reliability: the total measure of the hoster's uptime, server performance stability, security, and backup capabilities.

Pricing: the balance between price, quality, and amount of the resources provided by each hoster.

Service quality: this is the most subjective, experience-based criterion that includes c-panel user-friendliness, hoster's website usability, technical support responsiveness and professionalism, various hot offers, and service add-ons for customer engagement.
We also considered other factors, such as general reputation, rankings in the latest studies, and long-term feedback. We have also selected those that don't give empty promises, providing users precisely what they expect. Here are the results of our findings.
Want to develop a powerful Django-based application for your business? Let us create a unique, scalable solution perfect for your goals.
Get In Touch!
TOP 5 Big Django Hosting Providers
These are the TOP 10 companies that host the most clients globally as of September 2020: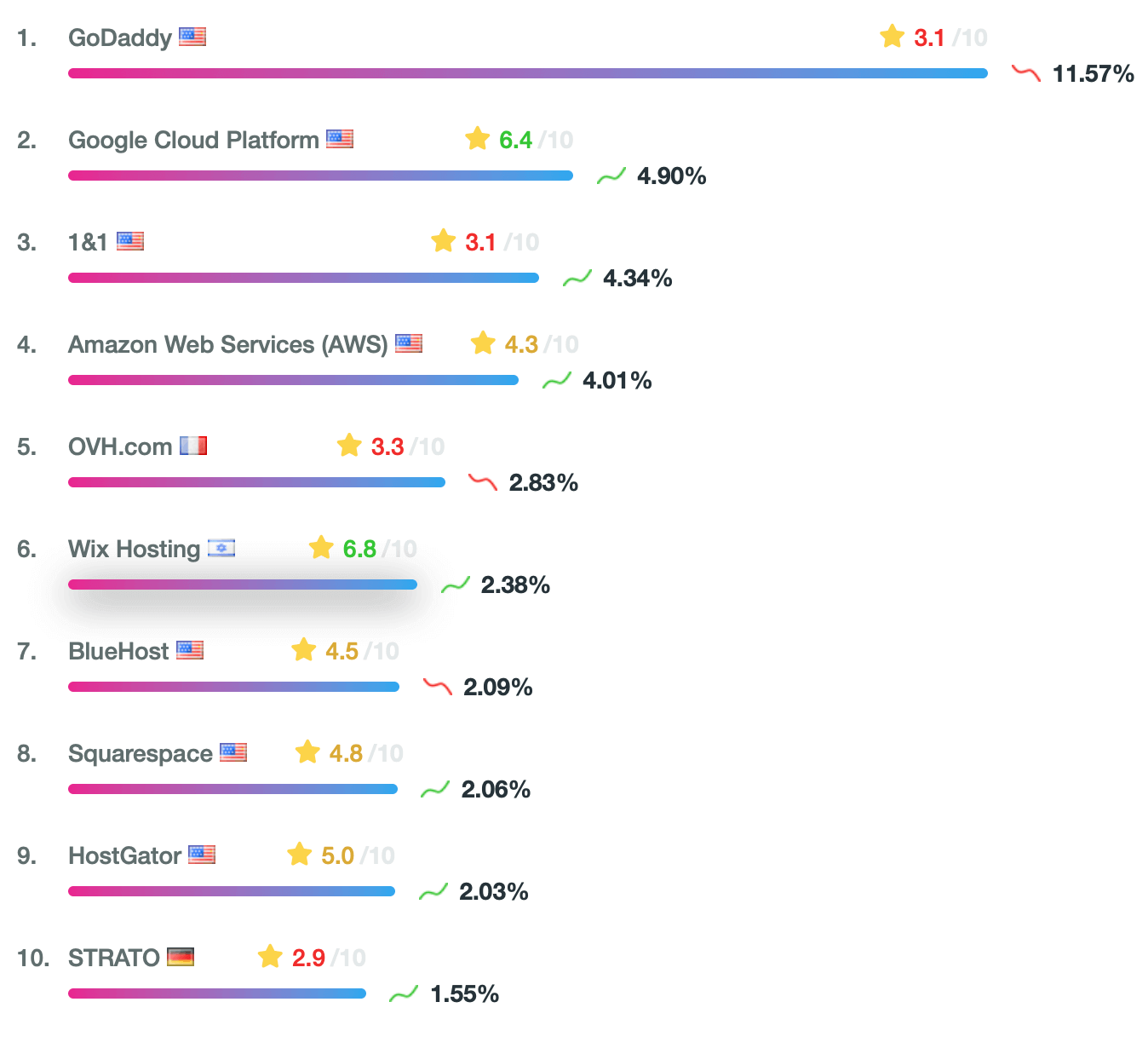 Source: hostadvice.com/marketshare/
Not all of them provide the ability for a quick Django setup. We've selected the ones that offer the most suitable environment and can deal with Django-specific issues.
1. Google Cloud Platform

GCP is a giant cloud provider with a powerful toolkit for hosting Django. It is a high-end Infrastructure as a service (IaaS) solution, integrating well with Linux and Windows. There are 22 regions covered by powerful data centers, and Google continually increases its presence in new zones.
However, Django deployment here is somewhat technical, more suitable for tech-savvy, experienced users. You also need to set up any extras like database, caching, and so on. However, Google Cloud gives complete control under the Django environment with outstanding overall performance. It provides many powerful tools for big data analysis, machine learning, and other top-notch technologies.
Pros:

Cons:

Speed and great connectivity

Live migration with no downtime for websites and services

Great AI and data analysis capabilities

Linux and Windows support

Easy start compared to other cloud solutions

Rather pricey

Can be challenging to integrate with non-Google products

Complex, wordy documentation

Paid tech support ($150/month), not the strongest in the niche

Complex pricing scheme

Loses out to AWS in terms of features and overall performance
The pricing starts from $0.025/hour and offers a free $300 credit for 12 months of use.
2. Amazon Web Services

AWS is another hosting behemoth in the global market. AWS is a cloud hosting platform where Django apps shine. If you need to collect and process information from forms, manage user accounts, payment information, comments, and other user data, cloud hosting is probably the best option.
AWS is exceptionally savvy in services, providing 90+ add-ons for analytics, storage, cloud computing, mobile, IoT systems, and many others. For instance, Amazon CloudFront will make your website fly faster for users from any location. AWS Elastic Beanstalk simplifies the process of deploying and scaling applications. It's handy for people with little to no experience in hosting management. However, in general, AWS is not a hosting service for newbies.
It supports both Windows and Linux servers, and it's highly flexible in available features and pricing plans. Besides, many smaller cloud hosting vendors run on AWS, like PythonAnywhere or MilesWeb.
Pros:

Cons:

Linux and Windows support

Excellent reliability and security (full redundancy, backups, server cloning)

Numerous add-ons that help to optimize and boost website performance

Scales well with the workloads

Fast and agile

Top-notch technical support

Pay-as-you-go pricing model: you pay for what you get

Too many options; may be confusing to users that lack experience

Complicated pricing, hard to plan the budget for hosting

Paid technical support

Some services are not available out of the USA

Potential data mining

Using proprietary solutions and APIs makes it hard to migrate to another host
Earlier AWS users often experienced bill shock by realizing how much they spent on hosting during a month. Now Amazon sends email alerts with estimations for a total monthly bill and separate bills for each service used. AWS is not among the cheap Django hosting providers. The pricing starts at $0.024 per hour.
3. Hetzner

Hetzner is a German-based hosting provider with data centers located in Germany and Finland. It offers dedicated and shared servers, as well as private cloud options via OpenStack. You can get 100GB-10TB storage with multiple user access. Hetzner uses green energy from renewable sources to power its hardware and is well-known for its rugged yet affordable dedicated servers.
Also, the company sells its old used but completely operational servers through auction — there is a chance to win a great server at a super small price.
Pros:

Cons:

Excellent price for the provided services

Strong partnerships with Dell, Intel, and other vendors = reliable hardware

Cool bandwidth and loading speed

Free domain and SSL

Free 24/7 tech support

Cares about the environment

German-based support, available by phone and email, may be costly to use out of Germany in urgent situations

Has no uptime guarantee

Limited cPanel functionality

Mostly German language community and documentation, not much information available in English
The pricing starts from €1.85/month with a €9.65 setup price, which may vary depending on the chosen plan. The smallest plan offers 10 GB disk space. It is one of the most affordable Django hostings.
4. Bluehost

Bluehost is owned by Endurance International Group, one of the largest and oldest global hosting corporations. It is a popular cloud-based hosting service that offers shared hosting and VPS. It has flexible pricing plans and is famous for providing advanced features for lower-tier users. Python is not pre-installed, so you will need to do it yourself. However, Bluehost is still among the most interesting hosting sites due to its features, cost, and performance.
Pros:

Cons:

Great price for hosting small and mid-size websites

Easy website transfer and setup

Intuitive custom hosting dashboard is easy to use (cPanel is also there)

Uptime guarantee

Money-back guarantee

24/7 phone, chat and email support

No Windows support

Past problems with the uptime (improved within the latest years)

No unlimited storage plan

Comparatively slower speed

No daily backup by default

Paid migration to another server

Limited CPU usage

Slow support response
It's pricing is aimed to support every user, from beginners to large enterprises. The packages offer enormous bandwidth and storage at very affordable prices. It also gives a 1-year free domain use. The basic plan costs $2.95/month.
5. HostGator

HostGator is another industry leader with options for shared web hosting, VPS, dedicated server hosting, and managed cloud hosting and reseller programs. The company often extends its features and cares about customers by pulling various promos and free offers. There is a 45-day money back guarantee. You can test the service in full for 1.5 months with no risk. Customers appreciate flexible pricing with many hosting configurations to choose.
Pros:

Cons:

Plenty of robust features even for the cheapest plans

45-day refund guarantee

Free automatic website migration

Responsive 24/7 support

99.99% uptime guarantee

User-friendly platform

Big community with lots of educational materials and tutorials

Supports Green programs for using renewable energy

A complex process of getting the website on the server, not for newbies

Weekly backups (not daily)

No Windows-based VPS

Overloaded shared hosting

Customer service is not always quick and helpful.
The packages start from $2.75/month with shared hosting, and it becomes even cheaper if you choose a 3-month plan, paying $5.95 in total or less than $2/month. It is one of the most affordable Django hosting services.
TOP 5 Medium to small hosting providers
1. DigitalOcean

DigitalOcean is renowned as one of the best virtual private hosting providers with high customer satisfaction. It also provides public cloud service for all comers. The company strives for simplicity and transparency to make its services maximally user-friendly and clear for users with any experience level.
DigitalOcean provides numerous configuration options with 1 - 32 virtual CPUs, SSD-based storage, and many additional free services. The cloud servers (called "Droplets") support Ubuntu, Debian, CentOS, and Fedora distributions, as well as FreeBSD. There is no Windows support.
Pros:

Cons:

Affordable

Easily accessible

Highly flexible and customizable

99.99% uptime guarantee

High-security level

Great tech support

No Windows support

Credit payment system

No cPanel

No phone or chat support options
The pricing plans start from $5/month for standard cloud servers and from $20/month for CPU optimized servers.
2. Linode

Linode is a US-based hoster serving customers from 131 countries with simple, Linux-based hosting solutions. It offers cloud and VPS hosting, targeting web and app developers with high budget capabilities, and 11 data centers worldwide, providing a 99.9% uptime guarantee.
Pros:

Cons:

High-end hardware

99.9% uptime guarantee

Great backup options

Load traffic balanced

Free add-ons and upgrades

No cPanel

Poor tech support only for exceptional issues

Paid regular backups

Security breaches in the past (2013)

Only 7-day refund guarantee
The available pricing plans start from $10/month up to $400/month. You pay for high-end, reliable Intel E5 and 40 BPS network and lots of free upgrades.
3. SiteGround

SiteGround features extensive expertise around Django hosting with four server locations worldwide, using SuperCacher, NGINX, and SSD to boost data speed. It offers automatic updates, CDN, and GIT version control, and SiteGround cares about security with anti spam applications, hotlink protection, intensive anti-hacking monitoring, and Leech Protect for password protection. Daily backups are free, as well as domains, emails, and unlimited bandwidth.
Pros:

Cons:

Impressive speed

Free features

Security and reliability

Great 24/7 support

Global orientation, data centers, and offices in America, Europe, and Asia

Limited disk space for each plan

Expensive after the 1st year of use

No free domain

No Windows support

No monthly plans for shared hosting
The pricing starts from €5.99/month with 10 GB SSD.
4. A2 Hosting

A2 positions itself as a hosting "by developers, for developers." This provider offers a range of shared hosting, cloud hosting, VPS, dedicated hosting plans, and reseller hosting options. It comes with free account migration and a 30-day money back guarantee. Customers can select the desired management level, making A2 suitable for any level of experience. Every user has free access to a custom backup tool — Server Rewind.
Pros:

Cons:

Great pack of features and services

Clear pricing

99.9% uptime guarantee

Privately own, SSAE16 secured servers with key-operated access

30 days money-back guarantee

$50 credit for referring a friend

Some products require deep technical expertise

Customer support is a bit low

Feature restrictions on cheaper plans

No Windows support
The pricing starts from $3.92/month - not the cheapest in the industry. However, it offers high-quality tools not available from other hosters.
5. PythonAnywhere

PythonAnywhere is the most Python-focused hoster in the industry with AWS infrastructure (running on Amazon EC2 servers), quick and handy packages installation, and great teaching tools. Here you won't have to set up the Python environment. It's already there, ready-for-use. It also works on iOS and in beta on Android — an excellent thing for coding or managing on the go.
Pros:

Cons:

Very easy to set up and use for hosting Django websites

Free SSL support

Excellent customer service

Easy to scale

Flexible payment model

No WebSocket support (unable to host real-time apps)

Only email support
The pricing begins at $5/month. There is a free Beginner account, perfect for testing and making the first steps in hosting Django projects. Free Django hosting services are very limited in bandwidth, memory, and other specs. However, it is an excellent option for educational needs. There are also custom plans up to $500/month to configure hosting specifically for your technical requirements.
2022 Django Web Hosting Comparison Chart
To visualize the differences between the reviewed hosting providers, loon through the comparison chart for their entry VPS (VDS) plans and features:
| | | | | | | | | | | |
| --- | --- | --- | --- | --- | --- | --- | --- | --- | --- | --- |
| | Google Cloud Platform | AWS | Hetzner | BlueHost | Hostgator | DigitalOcean | Linode | SiteGround | A2 Hosting | |
| VPS (VDS) entry plan | G1-small | T3.small | CX11 | Standard | Snappy 2000 | Starter | | Entry | Entry | |
| Monthly fee (730 h) | $16.79 | $15.257 | € 2.89 | $18.99 | $19.95 | $5 | $30 | €64 | €4.27 | free |
| Hourly fee | $0.023 | $0.0209 | € 0.005 | $0.026 | $0.027 | $0.007 | $0.045 | €0.087 | €0.0058 | free |
| CPU | 0.5 | 2 | 2 | 2 | 2 | 1 | 2 | 3 | 1 | |
| Memory | 1.7 GB | 2 GB | 8 GB | 2 GB | 2 GB | 1 GB | 4 GB | 6 GB | 512 MB | - |
| Disk | 10 GB SSD | - (purchased) | 80 GB | 30 GB SSD | 120 GB | 25 GB | 80 GB SSD | 40 GB SSD | 20 GB SSD | 512 MB |
| Traffic | pay as you go | pay as you go | 20 TB | 1 TB | unmetered | 1 TB | 4 TB | 5 TB | 2 TB | low |
| FEATURES | | | | | | | | | | |
| cPanel | - | - | ⍅ | ⍅ | ⍅ | - | - | ⍅ | ⍅ | - |
| Unmetered Transfer | - | - | - | ⍅ | ⍅ | - | - | ⍅ | ⍅ | - |
| Domains | ⍅ | ⍅ | ⍅ | ⍅ | - | - | - | - | - | - |
| Free Backups | - | ⍅ | - | - | ⍅ | - | - | ⍅ | ⍅ | - |
| Unlimited Storage | - | - | - | ⍅ | ⍅ | - | ⍅ | - | ⍅ | - |
| Uptime | 99.99% | 99.99% | 99.99% | 99.98% | 99.99% | 99.99% | 99.9% | 99.99% | 99.95% | no guarantee |
| Free Trial | Some features only | | | 30-day | by coupons | - | - | - | - | - |
| Moneyback Guarantee | - | - | 14-day | 30-day | 45-day | - | 7-day | 30-day | 30-day | 30-day |
Expert recommendations for choosing Django hosting in 2022
First of all, you need to define what type of hosting fits your Django project best. If you are new to the Django framework and not too savvy in server resource requirements, take a closer look at cloud options. It is highly recommended if you are unsure about the amount of traffic and concurrent requests you'll have. Cloud hosting companies offer solutions primarily focused on Djangsters, such as DigitalOcean and Linode. We also recommend AWS as the most innovative and powerful cloud hosting. However, AWS is more suitable for higher server management expertise due to the abundance of tools and settings.
If your primary concern is pricing, consider shared Django web hosting that fits your project's needs. The majority of hosters offer shared hosting plans. It is suitable for light and medium type applications with mid to low traffic loads. A2Hosting, BlueHost, and HostGator from our review offer comparatively excellent performance at an affordable price.
If your website requirements are shared hosting offers, your next choice should be a virtual private server. If you're not a management pro, consider managed VPS plans, where you won't need to configure it manually, as the hoster's support will take care of everything. If you have enough experience, unmanaged VPS is the next option. It usually costs less than managed ones.
At KeyUA, after 12 years of experience in providing Django development services, our primary choice for hosting Django projects is AWS, DigitalOcean, and Linode. Their plans fit any budget expectations and technical requirements. These providers offer fair pricing and have proven their reliability, technical adequacy, and responsiveness over time.
Need a technical team for launching a high-end Django-based project? Get the best expertise in the industry!
Reach Our Experts
Final thoughts
This comparative review of TOP Django hosting providers answers one of the most popular questions in the Django community: what is the best option for hosting Django projects in 2022? The market is overcrowded with old and new brands, and every company promises unbelievably sparkling capabilities. Thanks to our long-term and diversified experience with numerous hosting companies, our Python-dev gurus reviewed their all-time favorites in this post.
If you need expert advice and assistance in developing your Python/Django applications, feel free to address your ideas to KeyUA. Being highly experienced and savvy in all industry innovations, we'd be happy to upgrade your project to the next level or create a complex hybrid application from scratch. Pythondevelopment has been one of our primary directions over the last decade, and we're evolving with every new professional challenge. Now is the right time to provide a functional, reliable, and sales-effective online presence for your business with a robust web service!
Need a full-stack team for your future app development? Reach out to the KeyUA experts for a quick start and delivery!
Get a Quote