From vintage bridal gowns to handmade wall decor, you can find lots of unique items made from recycled and upcycled materials on the Etsy website. It sells over 60 million products and is considered a powerful competitor for Amazon and eBay. In this article, we will take a closer look at this popular shopping app, consider its business model, and describe what steps to take to build an online marketplace like Etsy.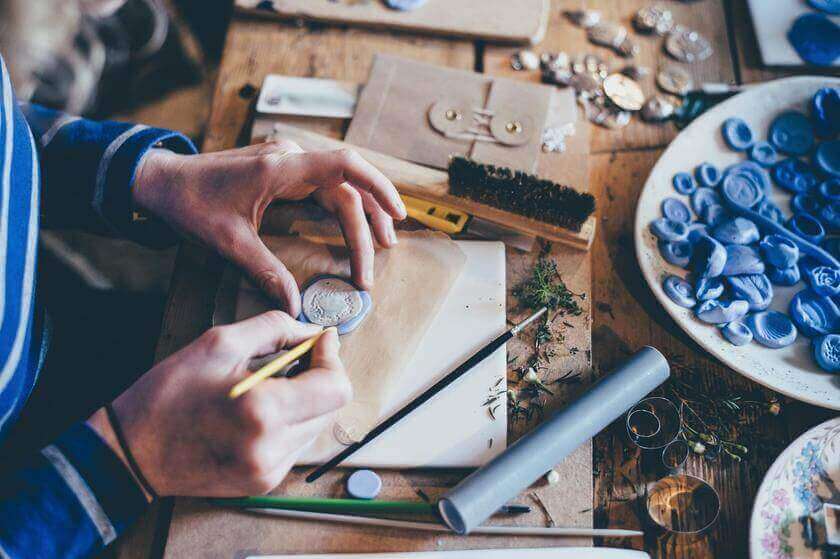 What Is Etsy and How Does It Works
Etsy is an e-commerce company founded in 2005 in Brooklyn, NY. Today, it has more than 46 million users and about 3 million sellers around the world. The company meets the needs of two main types of users: the buyer and the seller. It allows you to create your own online stores and sell products of a specific category, which include handmade items that are created directly by the seller, such as jewelry and accessories, scarves, bags, clothing, shoes, masks, soaps, candies, etc., and decor items, vintage items (20 years and older), antiques, pattern products and so on. If something does not fit into the above categories, you will not find it on the platform. This is a great web application that develops and monetizes the handicraft area.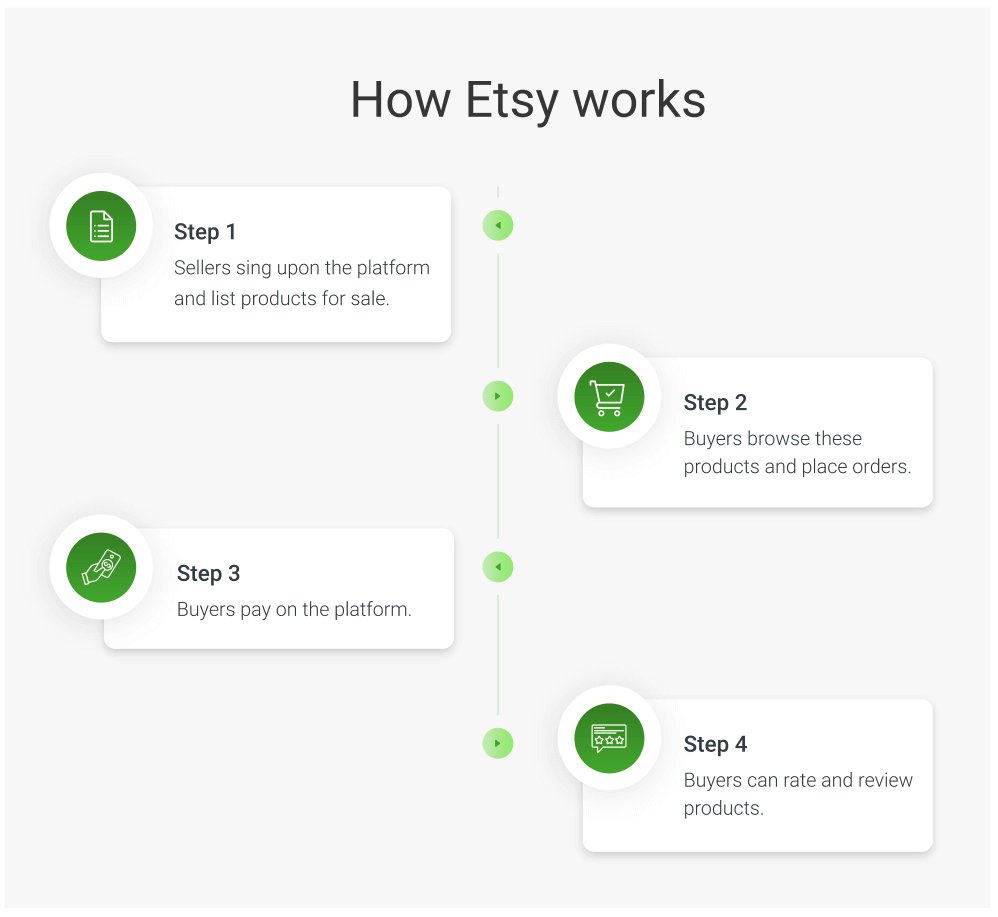 Etsy provides users with convenient search tools based on color, location, product target, style, price, and eventual holiday. Here you can find gifts for every taste. The company is developing rapidly, and in15 years, it has gone from a startup to a successful business that garnered $603.7 million in revenues in 2018. In 2015, Etsy entered the stock market for the first time with an initial public offering (IPO) at $16 per share. In October 2019, its shares were valued at $57.
Why Is It So Popular
Etsy is a fantastic web platform for anyone who loves handmade goods and vintage items. Most users who make purchases are regular customers, so the platform is focused only on a particular segment of consumers. The website allows users to communicate directly with sellers, making the shopping experience easy and convenient. It is an excellent opportunity to start a business for handicraft lovers. It is estimated that a newcomer to this industry can make about $44,000 a year, while experienced professionals make up to $500,000 in sales.
Several key factors drive Etsy's popularity:
The platform provides unique services, analogs to which are virtually hard to find;

Etsy provides a user-friendly, beautiful, and pleasant interface;

It provides convenient site navigation;

The web application allows you to create a business from scratch with minimal costs;

The website has almost no annoying third-party ads;

The platform is convenient for doing business 24/7;

The company sponsors funds for a competent marketing campaign.
When building a marketplace like Etsy, it is worth considering all of the above factors to make your project successful.
Hire a team of professionals to develop and launch your product effectively.
Contact Us
Etsy's Core Features
Etsy is designed to be as user-friendly as possible. In general, it takes about 15 minutes to create and launch a personal store. At the same time, the platform itself consists of many complex aspects that are worth studying if you want to develop an app similar to Etsy.
1. User Profile
Unlike most similar sites, Etsy does not require a separate profile for a buyer or seller. One account can work both ways, and this is very convenient. The standard profile covers:
personal data

notifications

selected products

purchase history
2. Shop Manager
This is a great tool that allows merchants to open their own stores, using convenient settings. The system requires just 5 steps to complete the process. This includes:
Adding ads

Choosing a payment method

Delivery terms
Since Etsy offers 10 different payment methods, users can buy goods around the world in their preferred currency, and the seller will definitely receive the proceeds.
3. Search
With over 60 million products, Etsy provides quick searches across a variety of categories. It is one of the essential ingredients of any successful system. If you want to start a website like Etsy, then be prepared to make high performance and fast delivery of search results a top priority. Besides, the platform has such convenient features as:
Search and filter bar

Product categories

Fields
Etsy Business Model
Etsy is a peer-to-peer online marketplace that focuses on a specific set of users. This platform's key partners are sellers, buyers, payment gateways like PayPal, and delivery companies. The system stands steadily on the market due to the value of providing services, namely, unique products with a broad audience, the ability to create and customize stores, tools for analyzing sales, and the ability to deliver worldwide and convenient payment methods. It is also worth noting that the project builds high-quality relationships with clients through active communication in social networks and providing useful materials. Etsy tells its sellers how to build a successful store and provides tips on how to increase sales. The company also holds local events to exchange experiences. When designing a shopping app like Etsy, you need to study all aspects of key activities, resources, and partners to implement the best practices in your business.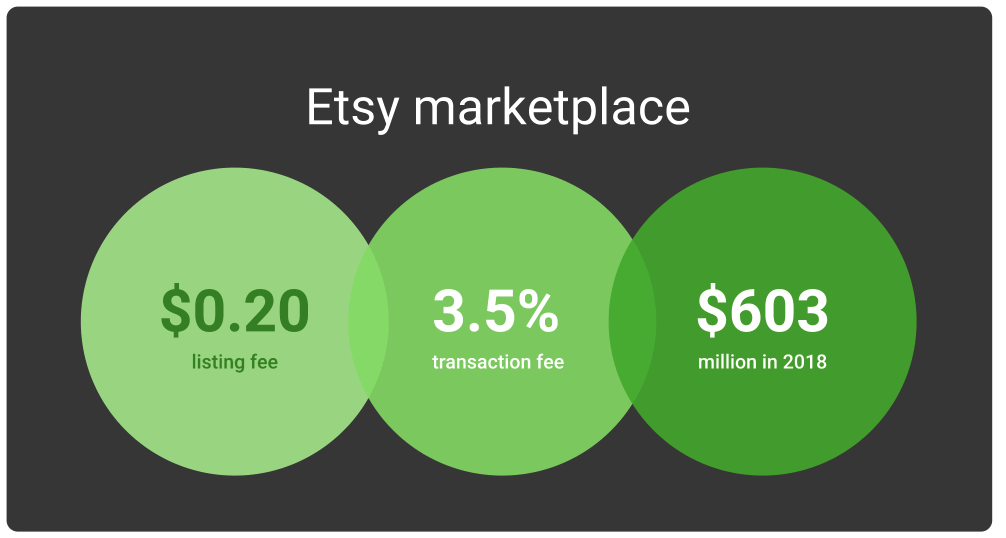 The company generates income from 3 main sources.
Etsy charges a fee of 20 cents for posting each product on the website for 4 months.

The platform charges 3.5% of the total sales.

The company receives profit from advertising and promotion of recommended sellers and products.
Do you need to create a powerful and reliable online marketplace? Delegate tasks to an experienced KeyUA team.
Contact Us
How To Build an App Like Etsy
Creating an online marketplace like Etsy is a laborious process that goes beyond just building software. It covers various stages in the development of an idea. Below we outlined the necessary steps you need to take to get the complete product.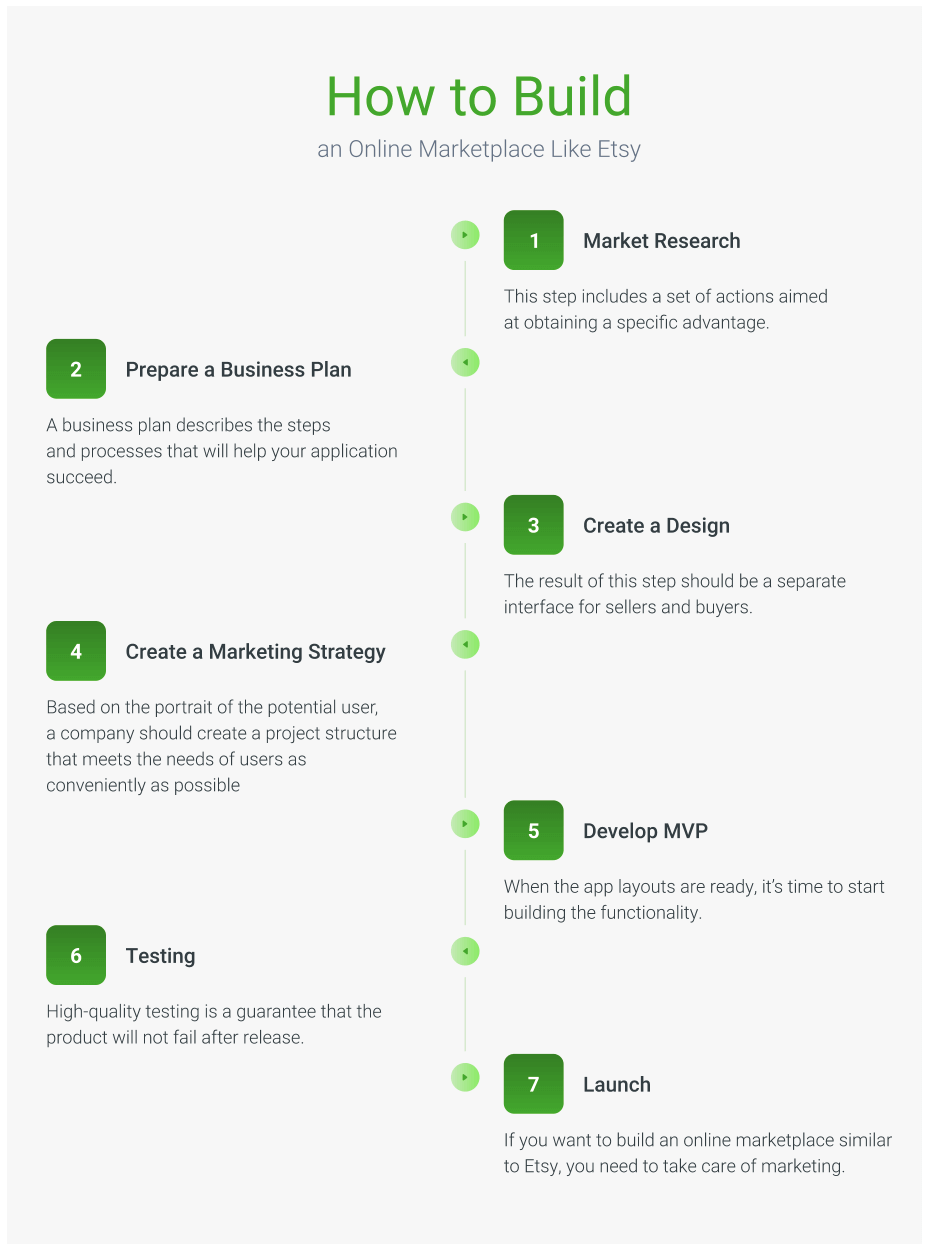 #1 Market Research
The initial stage in the design of any product is market research. This step includes a set of actions aimed at obtaining a specific advantage. Any startup needs to assess the market situation, draw appropriate conclusions, and evaluate the risks to successfully create and develop the business.
1. Competitor analysis
In 2019, about 2 billion people purchased products online. Rest assured, there are many Etsy app clones on the market. Each of your competitors has advantages and disadvantages. Your first priority is to scrutinize each business's specifics to identify areas in which your company can excel. You can even try to use their services yourself. This will help you fully assess your competitor's strengths and weaknesses and identify those areas that should be emphasized explicitly for your product.
2. Portrait of a potential user
You need to understand who your target audience is, their age, location, education, life priorities, and so on. You may say that you want to target everyone, but that is a bad idea. Usually, a product that tries to satisfy the needs of all consumers fails. So, you need to describe a portrait of those who will use your platform. This is at least the seller and the buyer. Your potential client's portrait will determine your marketing campaign, so the more accurately you describe it, the more effective your subsequent brand promotion will be.
3. Monetization model
One more decision that you must make is to determine how your application will generate income. There are several ways to monetize a web application: advertising, subscription, sponsorship, percentage of income, referral marketing, and so on. Your task is to evaluate which type of monetization is most effective for your business even before the application development begins since it will affect the system's future functionality.
The last 10% it takes to launch something takes as much energy as the first 90%.

Rob Kalin
#2 Prepare a Business Plan
A business plan describes the steps and processes that will help your application succeed. Any startup should have this document, especially if it is going to attract investors. A business plan explains how you are going to manage your activity. You can learn more about its creation here.
#3 Create a Design
The more convenient and beautiful your site is, the more customers you will attract. The creation of UI/UX is a painstaking but interesting process, similar to the actions of a psychologist. And based on the portrait of the potential user, a company should create a project structure that meets the needs of users as conveniently as possible. So, the result of this step should be a separate interface for sellers and buyers. And if you also want to make a mobile application, it should have designs for iOS and Android.
#4 App Development
When the app layouts are ready, it's time to start building the functionality. This stage can also be divided into several steps.
1. Prototyping
The prototype or minimum viable product (MVP) is the creation of the system's basic functionality. The bottom line is that you develop a certain set of features available to customers to quickly launch the application to the market and maintain a competitive advantage. This step also allows you to evaluate how effective your product is and determine the aspects in which it needs to be improved.
2. Testing
Testing involves examining the system and comparing its actual behavior with what is expected before the functionality is made available to users. This allows you to identify bottlenecks in a web or mobile application and fix them in a timely manner. High-quality testing is a guarantee that the product will not fail after release. It is also worth noting that system testing is not a one-time action. Any time you prepare a new feature to go to the market, it needs to be well checked by the technician. Testing occurs during the development of a prototype, when building a full-fledged application, and with its further support.
3. Product Building
After the prototype has shown the first results on the market, it's time to start building a complete application. This stage can be lengthy, depending on the complexity of the functionality you want to implement. Parallel or consistent with developing a website like Etsy, it is also worth creating a mobile app. If you think you don't need it, here's an interesting fact - in 2019, over 57% of consumers used a mobile app to find out more about the product or service.
#5 Marketing
If you want to build an online marketplace similar to Etsy, you need to take care of marketing. It allows you to develop high-quality relationships with customers and motivate them to use the product. In general, an online promotion strategy should be created at the product development stage and should be launched before or during an application's release to the market. At the heart of marketing is the target user's portrait, as the company directs actions to attract a certain type of consumer.
Development Cost
Having considered all aspects of creating and maintaining an online marketplace, we've come to the question of cost. How much does it cost to create a website like Etsy? Etsy invested a colossal sum of money in building its business, so you should understand that the project will not be cheap. But we will look at the main features of creating a product on a limited budget.
Etsy constantly creates new features and releases updates, so you could just copy their functionality. But instead, it makes sense to focus on building an MVP. Depending on the complexity of the features you want to implement, the project's delivery time will also be different. On average, you will need at least 3 months to prepare a prototype.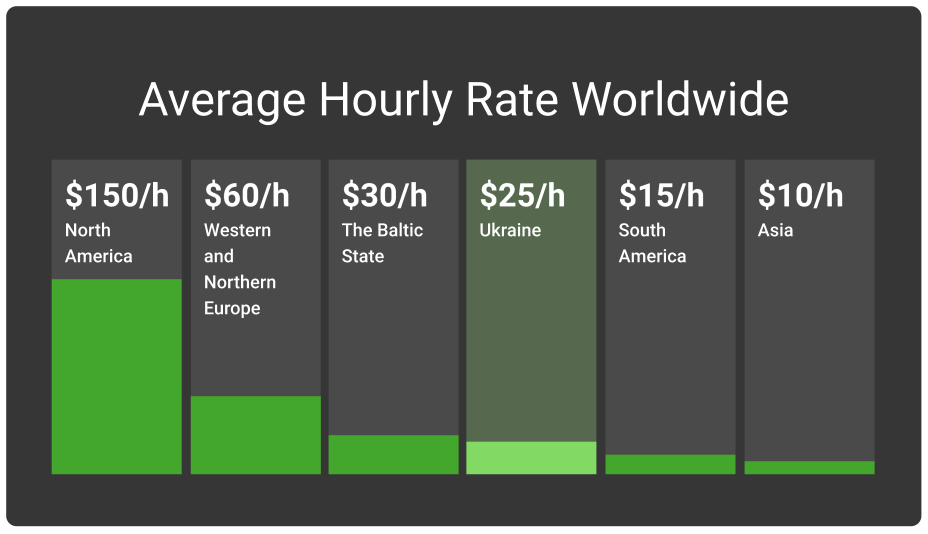 The final product price depends on the developers' hourly rate. There are many offers on the market from $10 to $100 per hour. You can sign a contract with a team from anywhere in the world. Choose only reliable service providers. The low cost of development can be attractive, but it also hides the low quality of implementation. On average, to make a project like Etsy, hiring a Ukrainian team will cost you $15,000 - 30,000 while partnering with a US team will cost $80,000 or more with approximately the same quality of delivery.
Conclusion
We hope you now have a better understanding of how to create an online marketplace like Etsy. The success of your business will depend on the quality of the code and marketing strategy. If you want to benefit, it's best is to build relationships with an experienced and reliable development team.
KeyUA professional team has over 12 years of experience in delivering and promoting scalable online platforms. We design custom solutions for the needs of businesses of various sizes. Contact our specialists for a more detailed assessment of your project.
Contact Us