The global economic system is built in such a way that you can look for competitive advantages and implement them one by one, quickly adjusting to changing market demands eternally. At the moment, the automation of your business processes promises quite significant prospects for your company. What is more, creating a custom solution for automation often turns out to be a more profitable decision than using several ready-made applications to control and automate various processes.
In this article, we will explain why it is so important to automate your business processes in 2021 and how to create a customized solution to gain a real competitive advantage and achieve your goal.
What Is Business Automation and Why It Is Essential in 2021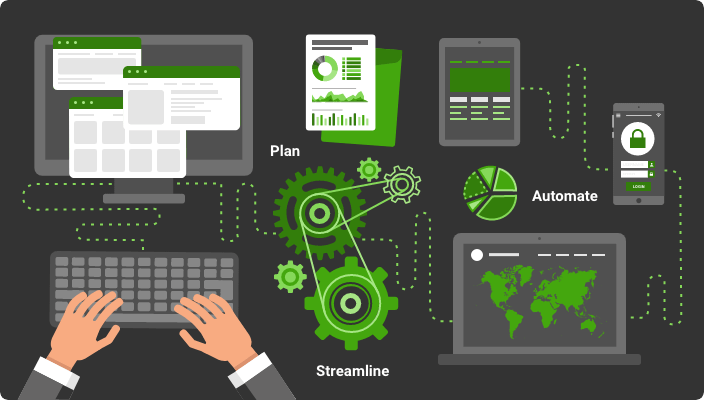 According to research, "Today's business enterprises must deal with global competition, reduce the cost of doing business, and rapidly develop new services and products. To address these requirements, enterprises must constantly reconsider and optimize the way they do business and change their information systems and applications to support evolving business processes."
Business process automation is just one of the methods to achieve the goals above. However, it is one of the most effective and promising, mainly thanks to the development of artificial intelligence, machine learning, and robotization. At the moment, 31% of businesses globally have already automated at least one business process. And 67% of companies consider automation as one of the keys to a stronger competitive advantage.
The last statement becomes especially relevant in times of crisis when every business is looking for ways to cut costs but not lose efficiency. Using the insights of data science for business processes automation, your company has a better chance of becoming more competitive while saving time and money. What's more, these are not the only benefits that automation software may offer to small businesses and large corporations.
Business Process Automation Software Benefits
Below are the most essential business process automation benefits. You may achieve them by using ready-made software for business process automation or coming up with a customized one for your specific tasks.
Save time. With such an application, the necessary process is performed on its own instead of taking time from employees.

Save costs. Undoubtedly, your employees need to be paid for their work, even if they are dealing with routine tasks day after day. So, you may automate routine processes and save a lot. Chatbot-powered customer service is one of the simplest examples of this approach.

Improve productivity. Managing all the tasks from one place and having access to all the necessary data within one app improves productivity significantly since your staff avoids "jumping" and "switching" from one task/app to another.

Manage your data more competently. Any automated process refers to data management. For example, an automated billing system processes information about the customer's goods or services, refers to the pricing, and automatically comes up with a bill. Then, the generated data arrays may be analyzed and reused for further marketing strategies.

Decrease the risk of errors. Since the processes are automated and AI-powered, all tasks will be performed as programmed. Thus, the likelihood of human-made error tends to zero.

Get data-driven insights. Business process automation software is also an opportunity for data gathering and analysis. Most of the solutions come with already built-in advanced analytics to enrich you with actionable insights into your automation efficiency and Ai-powered suggestions on improving the process even more.
Want to get all these benefits to streamline your business efficiency? Customizing software for business process automation is the best choice you may make!
Contact Us
Business Automation Software Types and Examples
Fortunately, there are a lot of processes you may automate with the help of a specific solution. Below are the main business automation application types and the corresponding examples.
Marketing automation apps - Marketo
Companies that are deploying active and repetitive marketing strategies clearly need to automate these tasks. For example, you can schedule PPC or social media ad campaigns, schedule posting, automated email newsletter sending and lead generation, and much more using marketing automation software.
What's more, the cost to use such tools is quite affordable. Marketo is one of the leading tools on the marketing automation software market, which allows for intelligent marketing data analysis, content personalization, customer experiences management, and lead generation.
CRM (Customer Relationships Management) system - Salesforce
Customer relationship management is another essential task impossible to perform without a specific application. Salesforce is the most famous customer relationship management solution that allows for storing your customers' personal data, processing their orders, developing personalized marketing strategies, gathering and analyzing data, reposting, and forecasting.
Thus, all the benefits of customer relationship automation management become clear. You get an opportunity to constantly improve relations with your customers, level up your sales while being guided by data-driven insights, and perform all the tasks in an automated/semi-automated mode.
Billing and accounting automation software - QuickBooks
Accounting processes should be among the first to be automated because it is one of the most routine business operations, and the risk of error is high. In addition, accounting errors can turn into serious problems with taxes, inventory management, and employees' waging.
Thus, entrusting bookkeeping and accounting tasks to AI-powered algorithms makes more sense. The likelihood of a human-made error is significantly reduced while saving your bookkeepers from headaches and bringing more clarity to your accounting process.
Human resource management (HRM) automation apps - Bamboo HR
The human resource management process can also be a challenge for large companies and fast-growing projects. In such cases, automating this process makes sense. For example, at the CV selection stage, an AI-powered tool may assist an HR manager with weeding out unsuitable candidates based on resume keyword analysis. Also, a robot that can conduct interviews with candidates has already been created.
All further human resource management operations can also be automated to simplify onboarding, training, payroll, and other routine tasks.
Robotic processes automation
Of course, it would be wrong to miss out on robotics as one of the business automation opportunities. We have already mentioned one of the examples in the previous paragraph.
According to the research, "Robotic process automation (RPA) is an emerging form of business process automation technology based on the notion of software robots or artificial intelligence (AI) workers. RPA has become the new language of business. This up to date technology is more powerful among the 21stcentury technologies."
The pandemic has accelerated the development of robotic technology since the latter is an opportunity to significantly reduce human contact. Therefore, it is expected that we will eventually see a large number of service robots in shops, bars, gas stations, and other places where ordinary people now perform routine tasks.
Main Reasons to Build a Business Automation Software on Your Own
The use of solutions for business automation in 2021 is clear. It may become one of your competitive edges, and creating a customized business automation software opens up a lot of opportunities. Below are the main ones.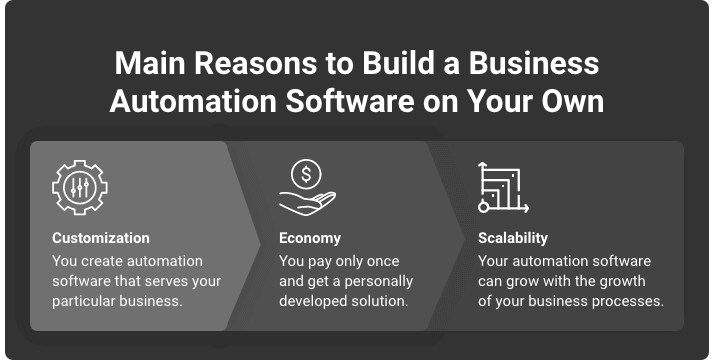 №1 Come up with a business-specific solution
Indeed, there are many ready-made apps to choose from, but you may find that none of the already developed solutions meets your business's needs, and therefore cannot automate your specific process.
In this case, custom development is the only option. What's more, the money that you save by automating your core process has the potential to cover the cost of custom development.
№2 Save costs
Very often, a subscription to ready-made applications for business automation is quite expensive. Plus, if you need to automate multiple processes, even all-inclusive solutions may not be the best choice.
In this case, only two options remain available - either use several types of automation applications and pay for each or create a personalized solution by investing in its development once.
№3 Scale your solution in the future
After your solution for automating a specific business process pays off, you can scale it to automate other business processes and bring your application to the level of enterprise automation. You can also monetize it by sharing your API for some of the automation processes.
How to Make a Business Process Automation Solution
Let's find out how to develop a business automation solution step by step.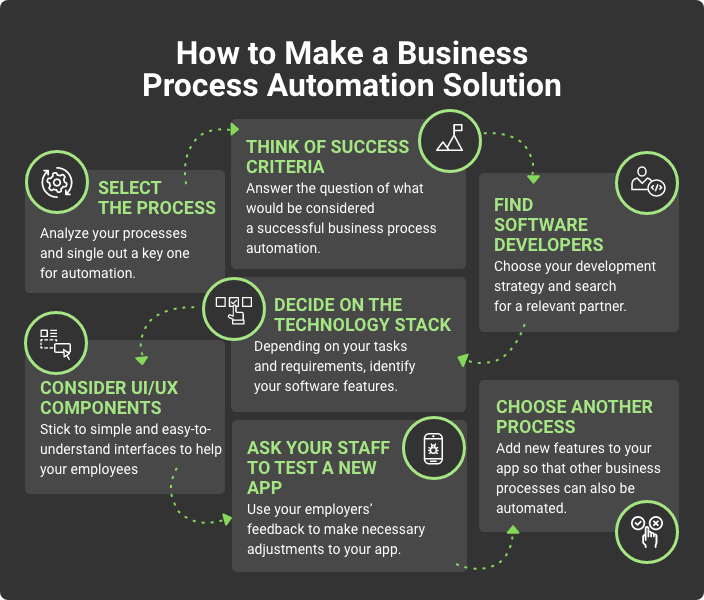 This diagram clearly shows how to make a business automation software
Specify the process you want to automate
By purchasing several ready-made solutions at once, you can automate several business processes at once. However, when developing custom applications for your business, you should focus on one key process.
As a rule, it should be a process that takes the most time for your employees, something routine and monotony that often leads to employees' mistakes due to its boringness.
In this case, you are investing in the time saved, and only then - in the solution itself. Therefore, start by finding the process that needs automation the most.
Set the goals' metrics
Business process automation only makes sense when the return on automation is tied to a clear and measurable goal. As elsewhere, in this case, the concept of SMART goals makes sense. Before you start building your solution, think about what metrics will indicate a positive result.
For example, it could be:
reducing complaints from customers by 80%

reducing the number of errors in accounting by 95%

increase in sales by 30%

or any other SMART goal depending on the type of application and process you want to automate.
Get in touch with a software development company
Choosing your development partner among all the vendors on the market is quite challenging. To facilitate your search, you should clearly decide on your development strategy since you may either create your solution in a partnership with local developers or outsource it to third-party vendors.
The first option is suitable when you have enough time and money to hire a development team locally and fully control the development process.

The second alternative makes sense if you want to cut costs on the developers' salary and are ready for remote collaboration and online control of your project creation.
We also recommend getting in touch with software developers who can prove their experience in business automation solutions created for your operation industry.
Outline the most essential features, integrations, and dashboards
The list of required functions directly depends on the process you want to automate. After a thoughtful business analysis, your vendor will help you determine which features will help you achieve your smart goal. Also, your application should be integrated with other solutions that you use in your business operations.
It is also necessary to pay special attention to the interface of the dashboards, which should provide good opportunities for data visualization. With visualized dashboards and automated reporting, you will be able to stay up to date on your automation efficiency.
Also, you should decide whether your solution will be cloud-based or web-based. Perhaps, you choose to create a cloud-based business automation software since this is a more modern approach that allows for safe data storing and accessing your app easily from any place and device.
Think through UI/UX
The user interface in a business automation application does not have to be complicated since automation aims to simplify a complex process and streamline it.
In addition, your employees will have to learn how to use the application and manage certain processes in a new way. A simple and intuitive interface will help them quickly get used to a new approach to process management.
Let your employees test the app
Thus, you should start with a minimal set of features and a simple user interface. Next, invite your employees to test the application and give you their feedback. Even though you are developing a solution for internal use, the basic principles of the LEAN methodology should still be taken into account. The only difference is that your target audience is your employees, but it is still important to create a user-friendly application.
After your employees have their first experience with your business automation application, ask them to share their impressions. Use their positive feedback as a guide for further development, and eliminate points that could cause dissatisfaction.
Add more features to achieve your goal
Next, keep working on the application adding features that will be useful to achieve your goal. In general, you can automate all tasks except those that require direct human participation.
Therefore, your application, which started as a way to automate one process, has every chance to grow into an automation solution for the entire enterprise and become not only a way to save time, labor, and money but also earn more.
Conclusion
Creating a custom application to automate your business processes makes a lot of sense and has significant prospects in 2021. However, a custom solution will be practical only under one condition. It is necessary to conduct an in-depth business analysis, differentiate the process to be automated, and establish smart metrics to track progress towards the goal before starting to create an application. We are here to help you with the right choice of tools and technologies to realize your future solution.
Feel ready to automate some of your business processes? Let's start creating a custom solution for your company!
Hire Us