In today's environment, the mobile app industry has significant potential to make money. Quite often, startups fail because of the wrong marketing campaign and monetization methods. So for your product to be profitable, you must know and understand the main ways of earning money with an app. Let's take a look at what to consider before launching your software to the market. In this article, we'll describe top trends on how to make money from apps in 2020-2021.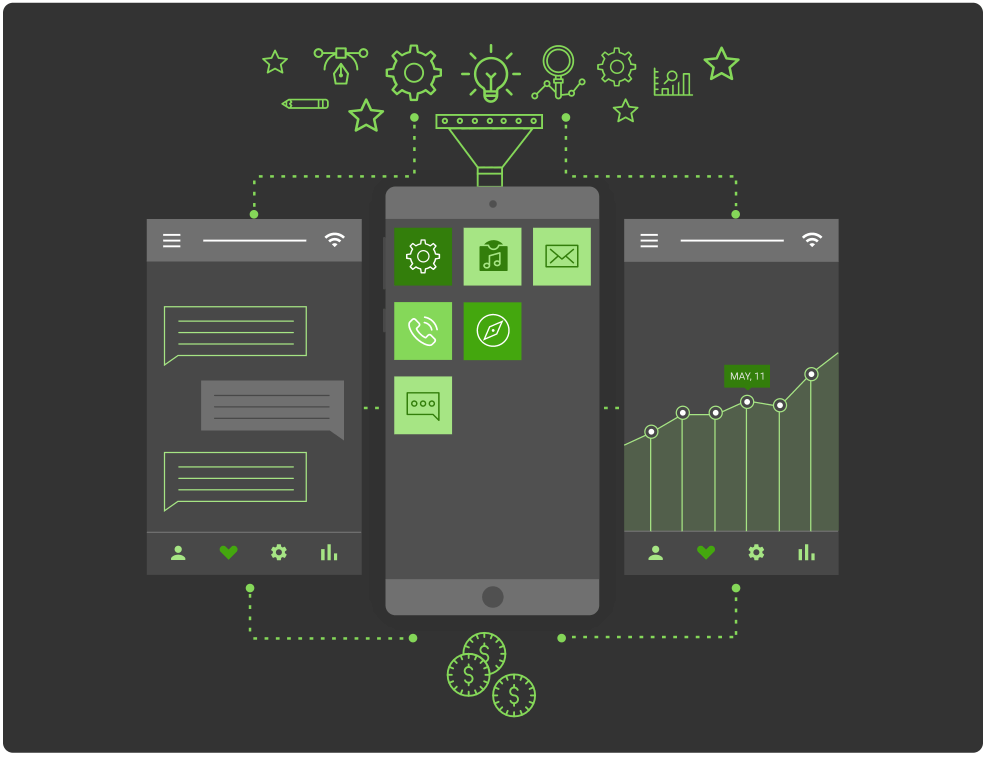 Free Apps vs. Paid Apps
Did you know that more than 91% of AppStore applications and more than 96% of apps in the Google Play Market are free? These statistics are impressive and show that free apps are a more relevant way of doing business. Let's figure out which method is more acceptable.
An application is called free because it is free to download, but there are various tools for making money inside.
Paid apps charge a fixed price for its installation. This method is more reliable for attracting loyal customers. Indeed, with a free app, you will get significantly more users, but not all of them will want to make in-house purchases.
The application can be paid if it is unique. But if your competitors have a product that is free to download, your sales will drop significantly. Thus, the paid model takes place when the application has no analogs, and it also demonstrates a good design and possesses an advanced marketing strategy.
How Do Free Applications Make Money
Apps that are free to download have internal strategies that attract cash flow. These strategies are based on business goals, application specifics, user profiles, and so on. Let's see the best methods of how free apps make money.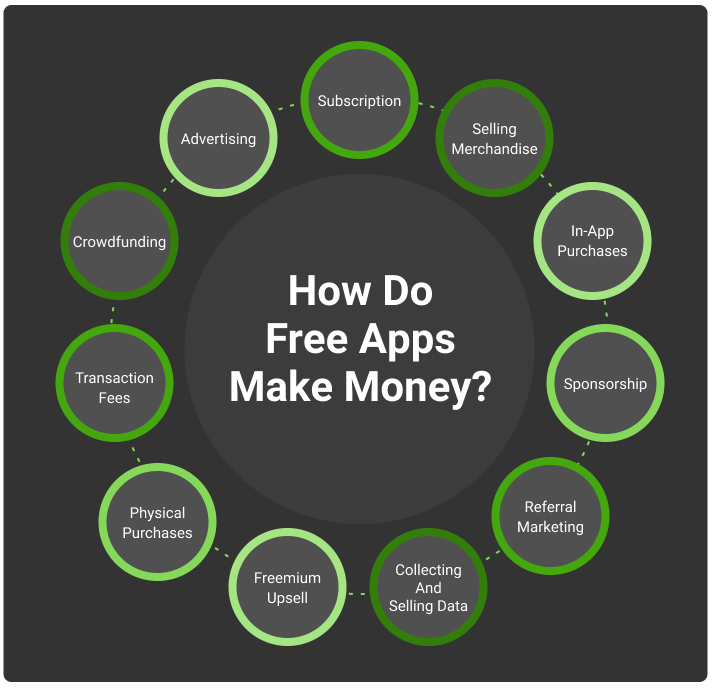 #1 Advertising
In the world of mobile applications, advertising is one of the most popular types of monetization. Users download and work with the app for free, but the owners earn money for placing embedded ads from third parties. Advertising can be of five types.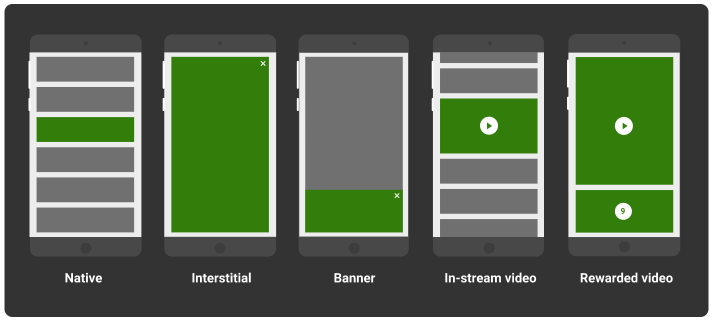 1. Banner Ad
Usually, these are pictures or text located at the bottom or top of the screen. Sometimes banners appear only for a specific time interval, but mostly they are static and do not disappear from the screen. The purpose of banners is to make the user click on it and redirect it to the target page. But banners have a low click-through rate, and many studies show that users click on a link only if they see an advertisement for a well-known brand. Additionally, banners can be quite annoying, which makes users install third-party software that blocks ads. In turn, this negatively affects brand marketing.
2. Video Ad
Videos are one of the most effective advertising methods. Here's how it works: users watch ads in the application, which usually lasts from 10 to 30 seconds, and in return, they get a reward, for example, some unique items. This type of promotion motivates users to view ads because they receive free things available in the application, which normally cost money to purchase.
3. Native Ad
This is the least annoying and bothersome type of ad. The bottom line is that the ads' elements are softly integrated into the application and increase user interaction with the brand. Native advertising is one of the most popular types of promotions used in mobile apps. In 2017, it accounted for 64.5% of the cost spent on advertising with the help of mobile apps.
One notable example of native advertising was the campaign for Ellis Island, published in The New York Times and paid for by Airbnb. Ellis Island was the largest immigrant inspection station in the USA until 1954. Thus, the unobtrusive advertising fully reflects the Airbnb brand's essence: to warmly welcome new arrivals anywhere.
4. Interstitial Ad
With this type of promotion, the user sees a full-screen advertisement that appears when opening the application or using certain functions. They have 2 options: either view the content or close the ad.
One of the most successful types of such advertising is the campaign launched by Emirates Airlines. They showed a short video clip as soon as the user connected to the Wi-Fi at the airport. It resulted in over 5,000 new visitors to the site, and the video was viewed from start to finish over 170,000 times.
5. Incentivized Ad
Another common type of subspecies of monetization is rewarding users for certain actions. The user must take specific steps, for example, click on certain items (which will take them to the landing page), take a survey, etc. for which they will receive significant awards or bonuses, which can be further used within the application.
When thinking about advertisements as a way to monetize, you should understand that it is not effective for all companies. This will only generate income when a large audience uses the app, so this is not a profitable strategy for startups to earn money.
#2 Freemium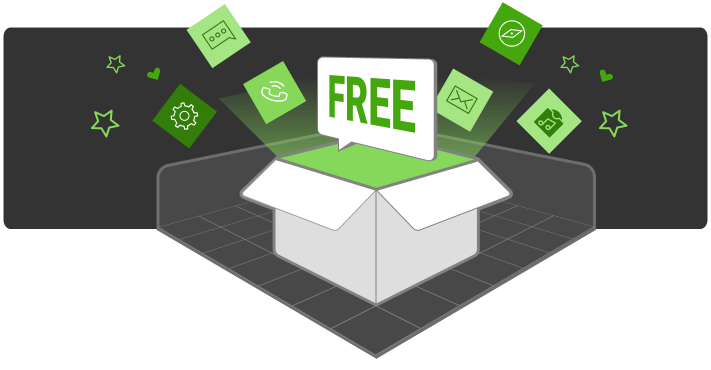 When deciding on how to make money with your app, consider the freemium model. Users are reluctant to buy paid applications because they initially do not know what they are paying for and whether it is worth it. Thus, applications offer free versions with reduced functionality, which are called free.
Important! This is not the same as a trial period. Freemium, as a type of monetization, assumes that the user can download the application for free and use only some of its components. For example, VSCO, one of the most popular photo editing applications, works according to this principle. Users can apply some of the app filters for free, but they must pay for a monthly or yearly subscription to access the advanced functionality. Freemium is also used by Dropbox.
#3 In-App Purchases
In-app purchase is one of the most sought after and beneficial methods of making money. You can sell various items that make the app easier to use. For example, The Sims FreePlay is one of the most popular life emulators for Android and iOS platforms. It allows you to create and develop your own city and compete with other players. The app is free to download and use, but it has various items that you can buy for real money and make your city even better. The price varies depending on the item or offer (for example, during promotions, you can purchase several tools at a time at a discount). Thus, commercial offers range from $0.99 to $99.99.
In such applications, the purchase is processed directly by the AppStore or Google Play Market, and all the proceeds go there, while the owner of the application receives a percentage of each purchase. At the same time, players are not limited in purchases and can buy any number of items, which makes this type of monetization very profitable.
#4 Subscription
A subscription is when a user pays a fixed price to use an application, for example, for a month or a year. This method is effective for business, provided that the application has dynamic content that is continuously updated. Netflix and Spotify work according to such a system. The application is free to download, and the user is given free access to all functions for a specified time so that they can determine whether they like the content. Upon completion of the trial period, the application will automatically charge money in accordance with the chosen subscription plan.
#5 Sponsorship
Sponsorship is a less popular model for making money, but it still has a place. The app owner looks for sponsors in the same niche to expand their audience. There are two essential conditions: the application must be very interesting so that sponsors agree to pay, and the sponsor's users and yours must have common points of intersection. In this case, the profit from the application can be divided equally, or you set a monthly sponsorship fee. This path of making money with an app is suitable for the software that already has many users involved.
Weather Channel uses a sponsorship model. The app's animated background is a sponsored advertisement for homeowners interested in protecting their homes from the weather conditions.
#6 Referral Marketing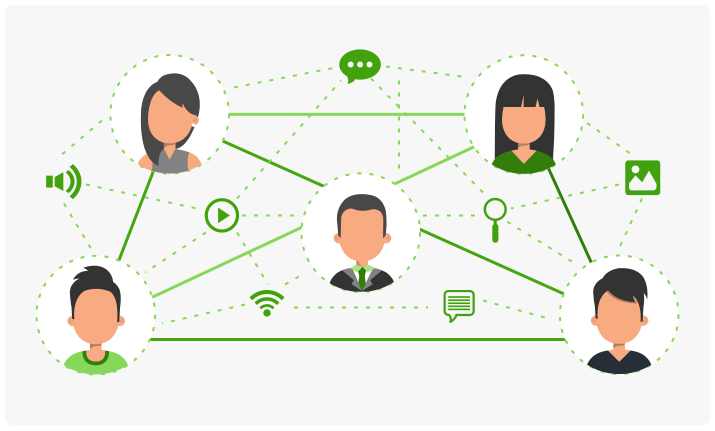 Referral marketing is another convenient way to attract more new customers and increase profits on your app. It is based on the fact that the users themselves are motivated to invite other users to perform certain actions in the application. Referral marketing allows you to create entire networks that work to attract new customers. With this model, developers earn money based on the actions of active users.
At the stage of its development, Uber used this model quite often. The app offered clients a promotion: if they invite friends with social media to the application, and those friends made their first trip, Uber rewarded them with bonuses or the next free ride. Thus, users were interested in attracting as many of their friends as possible.
This example of a free app making money best suits both startups and large businesses.
#7 Crowdfunding
Crowdfunding is a good way to make money without ads. It suits both startups and large companies. Here's how it works: you create an online platform where users can collect funds for their needs, and you take a percentage from each donation. For example, Kickstarter collects 5% per each transaction.
#8 Physical Purchases
Some applications provide users with absolutely free access, but they sell various real products related to the topic of the app. These can be branded T-shirts, caps, pens, glasses, phone cases, and so on.
One of the brightest representatives of this model is Angry Birds. The app is free at the AppStore, but offers many branded products, like plush toys or other items. As the game gained popularity, the company released bird figurines and a special stand that you could attach to your phone or tablet camera to scan birds right into the app to play.
This model is not practical for startups but works well for popular applications.
What Model to Choose When Making Money From Free Apps
So, we have reviewed the most popular business models for monetization. But to make a choice, you must analyze all aspects of the strategy. Here are some tips on how to choose a powerful way of making money from an app.
Determine App Goal
The success of any application depends on how well it can meet specific user needs. This should also form the basis for choosing a monetization method. You must clearly understand the purpose of your application. Thus, a subscription strategy will work effectively with dynamic applications, where the user will always be offered something new. And it would be bad for apps with static content, for example, as in games.
Set Target Audience
For your business to generate income, you must know your target user perfectly. Who they are, what they want, what they need, how much they can afford to spend, what region they are from, etc. Based on your users' portrait, you can choose the most relevant strategy to make money and form prices.
Examine Competitors
Another good idea is to do thorough research on your competitors. It is necessary not only to determine the advantages or disadvantages of your product but also to understand the monetization model's effectiveness. Try to study their strategy in more detail. This will allow you to understand how effective it is and apply it to your application. It's better to learn from the mistakes of others.
What OS to Choose for Creating an App and Making Money
Perhaps you already have an idea for building a custom application. Now you need to choose which platform is best to build it on. The mobile application market is divided between two main operating systems: iOS and Android.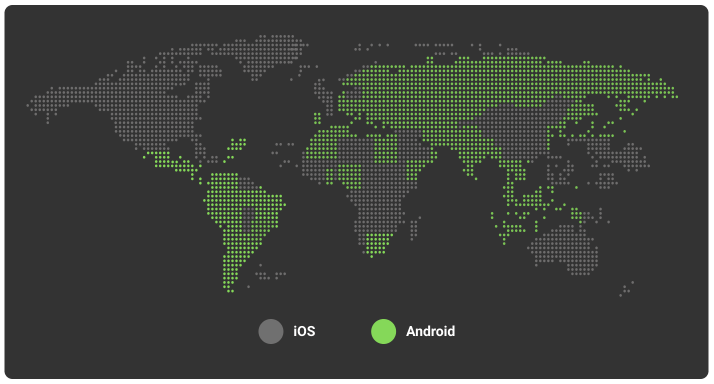 Apple devices are used by about 25.15% of users worldwide, while 74.5% favor Android-based devices. At the same time, the App Store has nearly 3 million applications, while Google Play Market offers 3.7 million. This shows that Apple users are more active consumers.
When deciding to make an app for iOS or create an app for android, you must determine in which region you want to work. In North America, the iPhone's market share is more than 50%, while in China, it is less than 25%.
Cross-platform development is also a good solution. It is different from native apps and means that one code is created, which will then be launched in AppStore and Google Play Market. Cross-platform development is a cost-efficient way to build apps that make you money in a pretty short time.
How Much Money Do Free Apps Make?
Sensa Tower published a report which shows that users spent $21.9 billion on apps across the App Store and Google Play in 2019. This makes the mobile app market very profitable for doing business.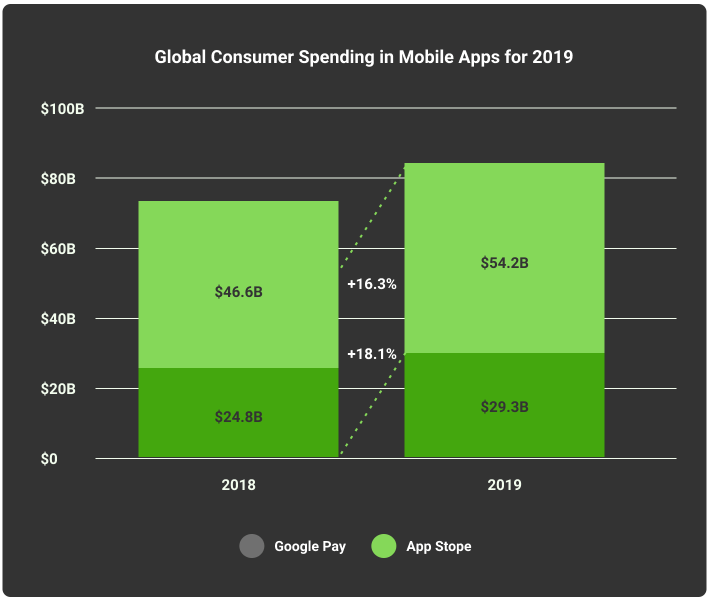 It is quite difficult to calculate precisely how much money providers are making from apps since this is a commercial secret. But it's possible to calculate the approximate value. If we talk about advertising, then the price starts at $0.10 for one banner. Interstitial ads cost $1-3, and each video is $5-10.
Final Words
Currently, free applications are significantly leading the market, while advertising is still the most profitable way to make money with apps in 2021. But it should be understood that each strategy has both advantages and disadvantages. So, before making a choice, you should carefully analyze the market and goals of your application. Note that you can also apply several monetization strategies in parallel to increase your income.