Booking trips, ordering food online, finding a soulmate, and many other types of services have become considerably easier with mobile applications.
In 2012, Manhattan Research/Physician Channel Adoption Study showed that around 98% of health workers use laptops, tablets, PCs, and smartphones for professional purposes. 48% of doctors are using mobile phones to search, while another 38% are using mHealth (Mobile Health) apps to schedule appointments, prescribe medications, contact patients, and other health activities.
In 2014, Apple launched a section in the App Store called "Apps for Healthcare Professionals"; and this initiative was followed by Google in its Google Play. As of 2020, App Store counted over 40,000 mHealth applications used actively around the world.
Taking this into consideration, in this article, we will explain why you should build a doctor appointment app, what features to integrate, and the costs needed for developing a doctor appointment app.
5 Reasons to Develop Doctor Appointment Apps
The primary goal of health-related apps is to organize the performance of doctors and manage the health history of patients to step away from paper documentation.
A survey conducted by the Hospital del Mar Medical Research Institute determined the use of health apps by age segment as follows: 16% of baby boomers, 26% of millennials, and 58% of generation X schedule their doctor appointments via applications.
Now, let's identify the reasons behind such active use of health apps from two perspectives: benefits for doctors and patients. But first, here is a brief list of facts why developing a doctor appointment app is a great investment for a startup idea.
The industry has an enormous target audience: 87% of health practitioners use smartphones for professional needs daily; meaning that creating a unique and functional application will be in demand.
Governmental support: these days, countries around the globe actively support the implementation of the mHealth system. WHO of the European Union noted that 70% of Member States have an electronic health policy while in the United States about 68% of medical centers have already adapted to the electronic health recording approach.
Relatively low level of competition: even though there are around 40,000 health apps on the market, customers are still in search of a convenient and well-organized application to manage their schedules and other activities.
Gaps in features. All doctor appointment apps have a great selection of features that considerably facilitate the process of booking and keeping health records. However, many of them still lack vital functions such as online payment or video consulting.
How mHealth Apps Benefit Doctors?
To begin with, the applications help organize routine work in a clinic. A doctor that has an online database of all visits can see the working hours, free spots, and can manage the working day much more efficiently. It can also help doctors track ongoing patients that require follow-ups, treatment revisions, and additional tests.
Therefore, in the application, they can see the progress of the patient (how long do they take particular medications), communicate with patients regarding their feelings, and organize appointments. Last but not least, a patient can easily reach out to a doctor in case any complications occur or if they need assistance.
When a new patient is looking for a free spot to set an appointment, the app shows a doctor's working hours to detect the time for a visit.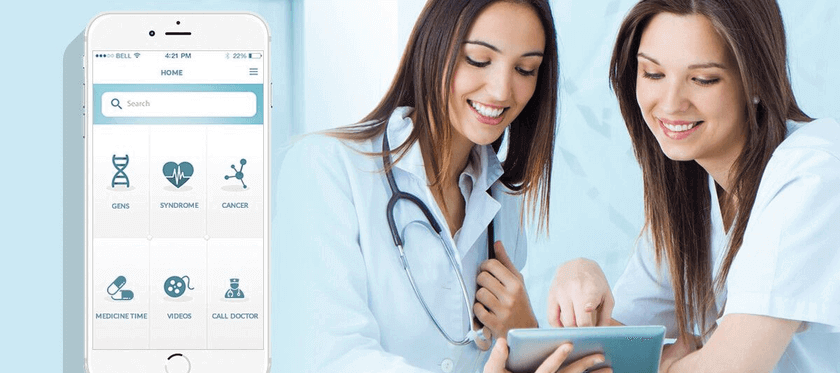 Healthcare Applications for Patients
Partially covered in the previous section, the central role of a doctor booking app for patients is the ability to schedule an appointment online, from anywhere, especially if they live far from a hospital. Another personal benefit for users is the app's feature to manage different information on the profile. For instance, they can indicate if any side effects have occurred after starting a new medication. Patients that suffer from low/high blood pressure can track their measurements daily, thus a doctor will see the changes to know what to do.
KeyUA developers are here to help you with developing a customized health app and fulfill your startup idea!
Contact Us
Create a Doctor Scheduling App: Vital Features Explained
Now that we have defined the benefits of investing in the development of a doctor scheduling app, it is time to delve into the features that will make it functional and user-friendly.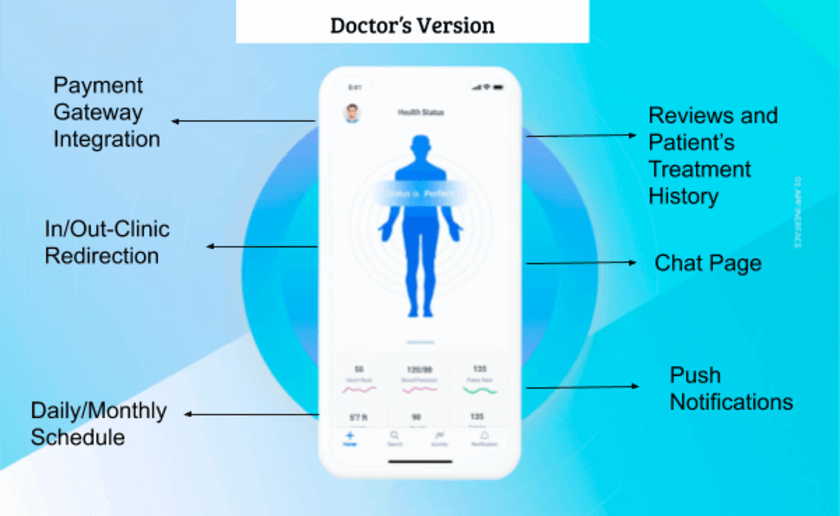 Feature #1 PGWs Integration. Online payments have long become common and desired. Patients find it easy to pay for services online without carrying loads of cash. Moreover, this feature has a cloud function, meaning that the payments can be transferred in parts or later.
Feature #2 In/Out-Clinic Redirection. When doctors detect a health disturbance that requires a consultation with another specialist, they can schedule an appointment by finding the necessary doctor in the same hospital or one located nearby.
Feature #3 Daily/Monthly Schedule. The doctors should have a planned and fulfilled working routine to make sure they complete the workload. This would also be useful for hospital administrators to track their working hours.
Feature #4 Patient's History and Chat Page. These two core features help the doctors to keep a record of a patient's illnesses, manage their medications, and contact them in case of emergency.
Feature #5 Push Notifications. Since doctors might be busy with other duties in the hospital, in-app push notifications or SMS reminders might be useful to keep informed on an upcoming visit. They can change the settings for this feature and receive notifications a day/two before.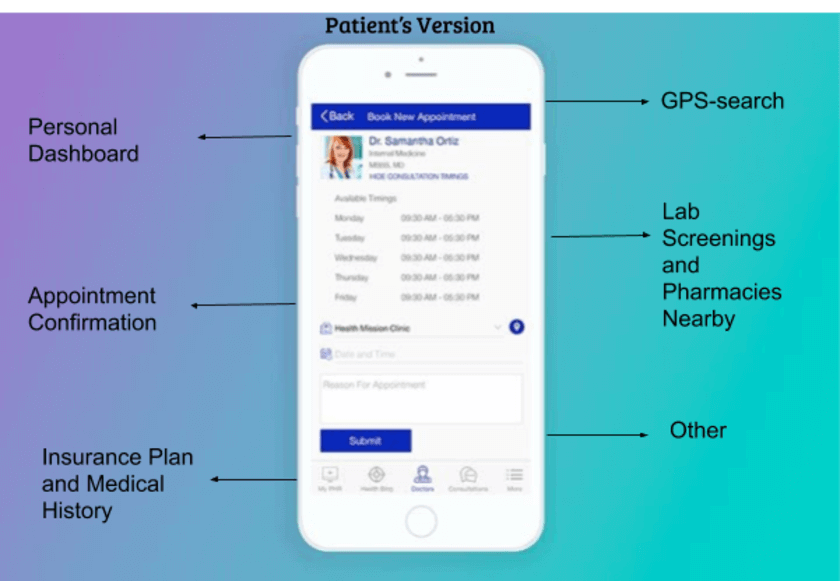 Feature #1 Personal Dashboard. This feature in a patient's version is the fundamental one; it is a page where they keep the test results, history of visits, prescriptions, recommendations, daily blood measures, and other health-related information.
Feature #2 Appointment Confirmation. In order to be sure that the application form is successfully passed to a doctor, patients need to receive a confirmation letter or a pop-up page on the app.
Feature #3 Insurance and Medical History. This folder on a patient's interface shows their insurance details to know what services will be covered. Medical history is a page that can be accessed by a doctor in case any corrections should be added.
Feature #4 GPS. This feature allows the user to search for the closest hospital where the specialist can be found.
Feature #5 Lab and Pharmacies Screening. Sometimes it can be challenging to find a lab to do tests or pharmacies with the prescribed medicine, so this tool will guide a user and show all available locations.
Other features include the same as for the doctor's version, such as push notifications, an online payment system, chat, and full info about a doctor.
Ways of Monetizing a Doctor Appointment App to get a Return on Investment
As a startup, all money invested in a business should be returned. In other words, at some point you want it to be profitable. In this section, we will explore ways to monetize an application for doctor appointments in the shortest period.
Offer subscriptions. Even though these applications have a free set of features, through subscription options, your users can open new or advanced services for a fixed fee.

Membership. For the doctors and patients who want to have more benefits from using your app, you may provide a membership that may include video consulting services and virtual assistance, among other things.

Urgent appointments for extra money. If a patient has an emergency and needs to see a doctor within one-two hours, this service will be provided for, let's say, $5.

Paid access for third-party facilities. Since these applications are mainly aimed at doctors and patients' use, other players like pharmacies and laboratories may be asked to pay to become a member.
Adding extra features to your application is not a big deal for KeyUA developers. Start making money with your doctor search app right away.
Contact Us
Top 4 Doctor Appointment Apps: Overview
In order to create a customized and functional application, you need to first overview what your potential competitors offer. We have selected four famous applications to demonstrate their useful features and identify gaps in functionality.
Practo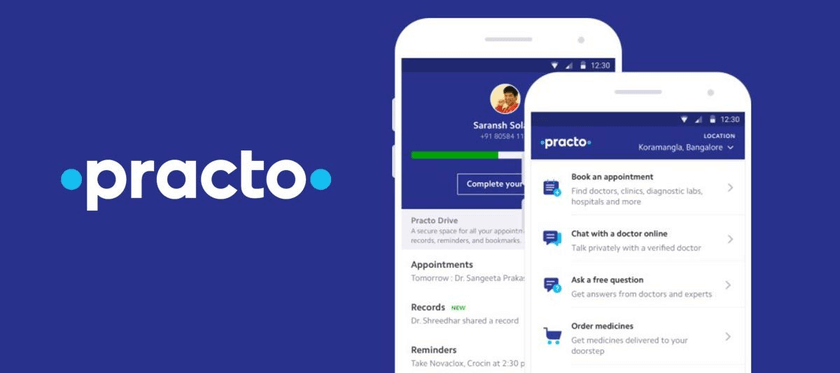 Known across all Asian countries, this platform offers the following features:
online appointment booking

excellent search engine to find hospitals, labs, pharmacies

medicines delivery per request

useful blog page with numerous health-related topics written by doctors

a section with beauty salons, spas, diagnostic facilities, and other places
Practo earns money via Practo Reach and Practo Ray, which are two business models that make the application profitable. Practo Ray is a software designed specifically for doctors and has two subscription options: standard ($13/month) and premium ($27/month). Practo Reach is a free product that allows ad placement from hospitals, clinics, and pharmacies.
HealthTap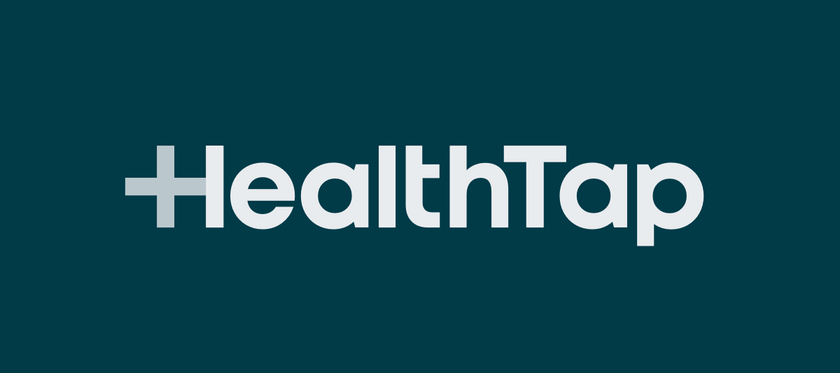 HealthTap is a US-based platform that offers the services of around 110,000 health specialists. With a humble beginning back to 2010, this application now has the following list of available features:
in-app messenger and push notifications

several programs to subscribe to

24/7 support services

FAQ section from doctors and other health workers
Similar to other doctor appointment apps, HealthTap makes money from prime membership for patients. It allows them to get online consultations, order medications with home delivery, and have a family package of services.
ZocDoc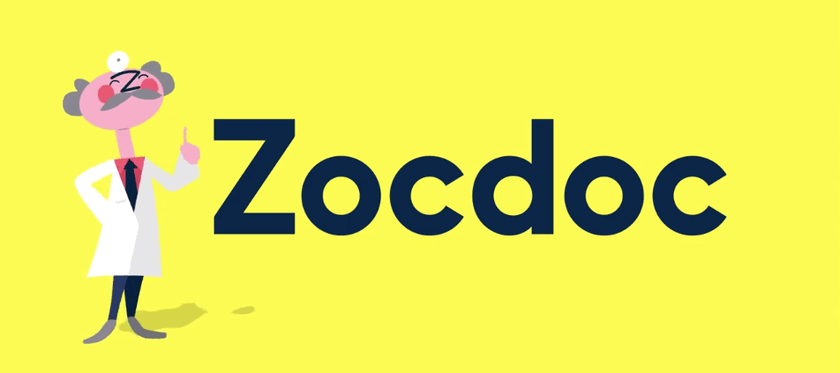 Probably one of the most preferred and recognized applications in the United States, ZocDoc is available in over 2,000 cities, offers around 1,800 health services, and has a great variety of medical specialists. Let's see the features that make this app so popular among American citizens:
over 50 different professional services, including dentistry, dermatology, psychology, and even chiropractors

in-app push notifications and instant messaging

GPS-based search

feedback section

online insurance booking and opportunity for last-minute doctor appointment bookings
Besides an annual subscription for doctors ($3,000/yr), ZocDoc has a Sponsored Results service that promotes doctors' services. Basically, doctors purchase this service, and the system elevates their position on the list. By appearing closer to the beginning of the list, they receive more attention from patients.
Otboo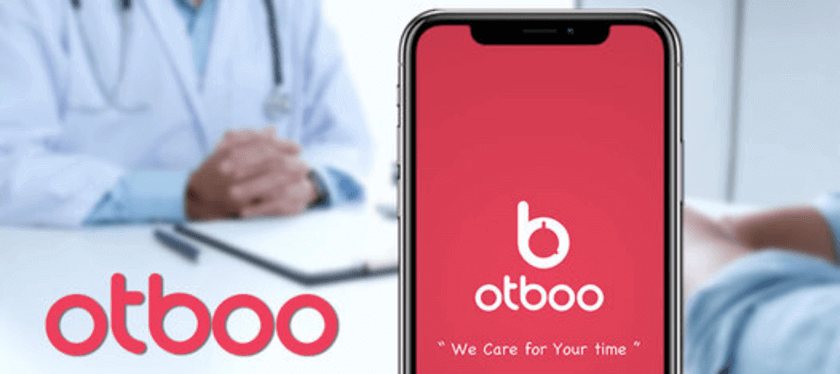 Otboo was established by Indian startup millennials with an essential purpose to offload people from annoying hospital queues. These days, features include:
easy and simple registration

a payment gateway which operates online and offline

free cancellation, booking, and reschedule options

OtbooCare support service

online consultations

the ability to download data in PDF or Doc files
The Best Doctor Appointment Apps Comparison
| | | | | |
| --- | --- | --- | --- | --- |
| Applications | Practo | Healthtap | ZocDoc | Otboo |
| Cancellation and rescheduling options | + | + | + | + |
| Order medications online | + | + | + | + |
| Instant in-app messages | + | + | - | + |
| Feature of video consultation | + | + | - | - |
| 24/7 support (doctor's assistance) | + | + | - | - |
| Integrated payment gateway | + | + | - | - |
4 Crucial Steps to Consider to Develop a Doctor Appointment App
In this section, we will briefly but specifically explain the most important steps needed to create a doctor online booking app and mitigate pitfalls.
Step #1 Do the Research and Hire a Solid Development Team
Analyzing the marketplace, investigating your competitors, defining the industry gaps, and determining your users' needs will help you create a perfect roadmap for your future app. When all these things are done, it's high time to build a team of IT specialists, preferably with previous experience in developing similar apps or software.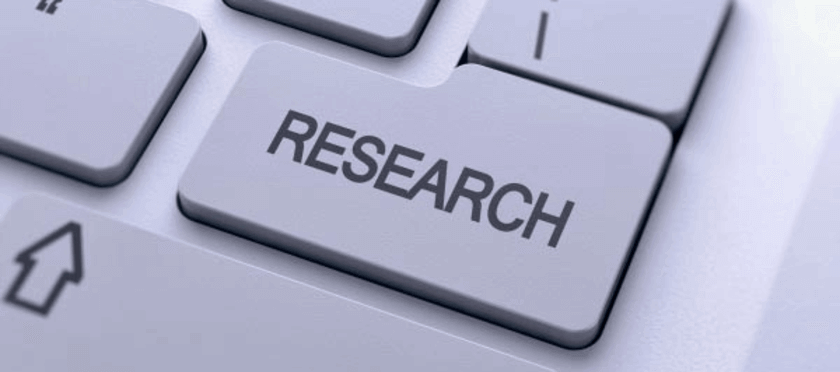 Step #2 Brainstorm the Functionality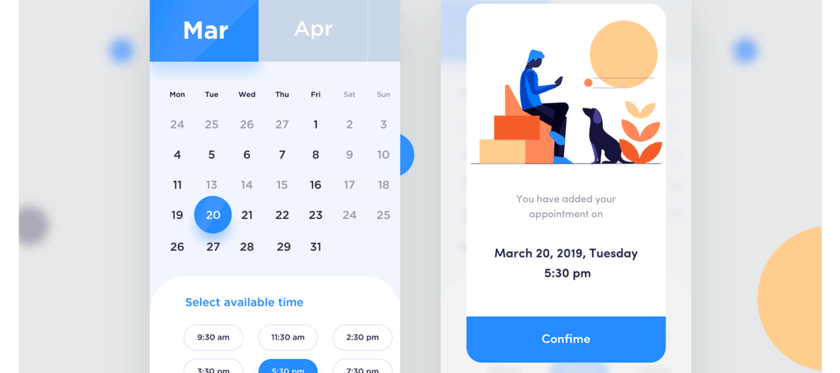 Surely you want your app to stand out, so consider customizing your product, adding whole new features, and implementing different options for subscription. In this step, it is important not to overload your app with too many features. Make sure your application is not only rich with functions but also has an attractive interface.
Step #3 UI/UX Design
UI design is crucial to give your application a unique appearance that will differentiate it from your competitors. Carefully consider organizing the colors of your app, choosing appealing fonts, theme pictures, and other details that will be eye-catching for a user. UX design, on the other hand, carries a bigger purpose of creating a positive user experience. A UX designer must consider not only the functionality of your application, but also cover matters of marketing, app accessibility, usability, and system performance.
Step #4 Define the Timetable and Requirements for Your Team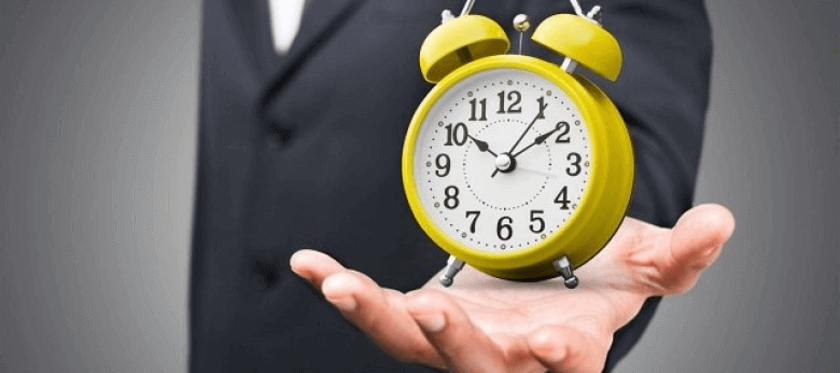 A proper working plan with accurate deadlines ensures your application will be on the market within the shortest time. Some developers suggest creating an MVP as a test version for your product. It requires less money and allows you to see how people will "consume" the application.
Cost of Developing a Doctor Booking App
Depending on the hiring model, timeframes, the number of employees involved in the development process, and the overall complexity of the app, the costs will vary. On average, a US firm that hires in-house developers will spend from $20,000 to $40,000. Some companies opt for outsourcing to cut down on labor expenses while still bringing cutting-edge technologies and proactive ideas to their project.
Outsourcing to Ukraine, for instance, is a cost-effective option to develop a doctor booking app. The overall project price will sway from $8,000 to $12,000 depending on the technology stack, the number of employees, which vendor you choose, and timeframes. Moreover, with such a rich pool of talent and a wide selection of outsourcing vendors in Ukraine, you can decide on your perfect match really easily.
Conclusion
The mHealth industry is growing and gaining momentum, giving startup businesses an opportunity to invade the market. Despite the fact that there are several preferred and loved players, there is always room for improvement. Doctor appointment apps are a handy platform to save time and money, get timely assistance, and keep a record of health conditions all in one place.
Make a doctor booking app with KeyUA developers: we offer innovative ideas, world-class quality of services, and the latest technologies!
Contact Us