Creating an application like Instagram is an idea that is as risky as promising. On the one side, you will partially compete with a world-known solution. On the other side, your venture may be quite valuable, getting mentioned in the same list as Instagram. Thus, let's take a closer look at essential insights into Insta-like application building, taking these specifics into account.
Instagram Success Story - Facts and Statistics
In 2021, Instagram will celebrate its 11th anniversary. The platform was originally created as a non-profit photo-sharing app, but everything changed after Facebook bought Instagram. Now, Instagram is a huge ecosystem that has brought together ordinary users, businesses, and influencers who help the latter reach the former. But that's not all you need to know about Instagram to create a similar app.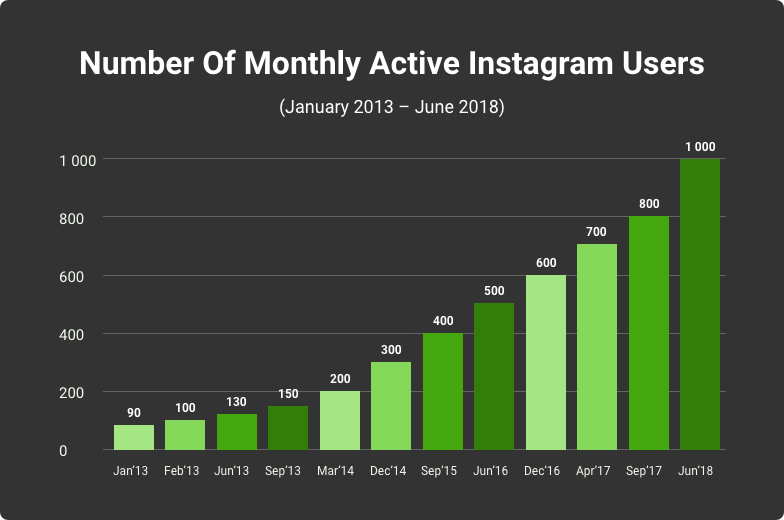 From 2018 to 2021, the number of active Instagram users continues to grow
Instagram Success Through the Prism of Psychology
What is the secret of Instagram's success? The main secret of success is purely psychological and lies in the fact that Instagram is an extremely egocentric platform.
According to the research, "Personal gratification is found to be a prominent behavioral belief about Instagram. It expresses a person's act to satisfy his or her own desire. Despite having multiple functions, the use of Instagram is more for personal indulgence as the purposes of using it revolves around what they just did either for their own keeping or for displaying to others. They are driven to tell their friends or followers about themselves and their activities."
In addition to allowing users to feel in the spotlight for a short time, Instagram is also the perfect place to brag, envy, get angry, insult, and compare yourself to others. The hard-hitting truth is that Instagram allows users to appear more successful and better than they really are. Fortunately, the rest of Instagram's features and opportunities are quite positive for both private users and businesses that use the platform as a marketing tool.
4 Core Instagram Values for Business and Private Users
Now let's look at Instagram in terms of its values to both businesses and ordinary users. These opportunities can be divided into four categories.
Instagram as a social media. Even though Instagram was created as a platform for posting photos, it quickly became a popular social media. Instagram allows you to stay in touch with friends, brands, and businesses, plus subscribe to celebrities and watch their life every day.

Instagram as a photo and video sharing platform. This is a key Instagram feature that allows users to keep something like visual diaries, and businesses to display their products and create a stunning first impression.

Instagram as an eCommerce tool. Businesses appreciate the capabilities of Instagram for product promotion. This platform has become an all-inclusive tool for user outreach and marketing campaign deployment. Plus, since advertising on Instagram is configured through Facebook, the possibilities for flexible and data-driven settings for marketing campaigns remained available for businesses for an affordable price. What's more, shoppable Instagram posts are already one of the strongest trends that will develop in 2021.

Instagram as an instant messenger. Instagram also allows ordinary users to stay in touch with each other and interact with their favorite brands. Users have begun to perceive social media communication as an essential part of customer service, so they expect a response from a brand in social media in a short time.
Before
Social Media App
Creation
The specific features of Instagram and its opportunities and benefits are clear. But how to make an app like Instagram? And does it really make sense to take into account the growing Instagram popularity? Surely, your startup idea triggered or inspired by Instagram has the right to exist and to be realized, so let's get started with this process step by step.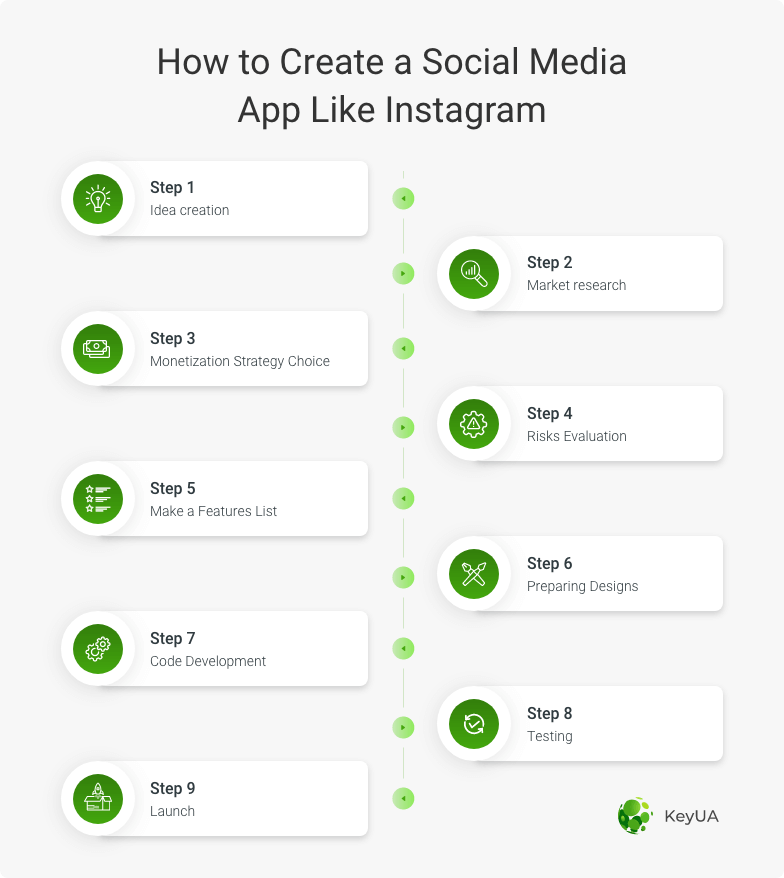 If you want to create a mobile app like Instagram, you need to go through 9 steps
Idea
Developmen
t
What is the must-know thing at this stage? The answer is that there is no point in creating an Instagram clone. Competing with world-leading brands by fully or partially copying them has never been a winning strategy. Instead, you should come up with something specific that will perfectly fit the functionality that Instagram has but still meet the necessity of a well-defined group of users.
For example, according to research, "During the last few years social networking has evolved into a fundamental daily activity for many individuals and a new frontier for business marketing. Besides "traditional" social networking, a recent trend is professional and domain-specific networking services focused on interactions and relationships of a business nature around a specific target domain. These online communities have the potential to become a platform for collective intelligence and open innovation, a medium for knowledge-centered collaboration, and a trustworthy decision-support tool."
Thus, your first step to an Insta-like social networking application development is coming up with a highly specific idea.
Market and Users Research
The next step is your idea validation through market and user research. At this stage, you need to carefully check whether your idea will work in a real-life environment. To do it, use the time-proven economic research methodologies like PEST, SWOT, Five Forces and also invite your target users to take part in your focus groups.
The results of this research will enrich you with dozens of insights into the market you are going to enter, the expectations of your users, and your main competitors. By the way, there are already many Instagram-like applications, so be sure to check the ways they work and find out their distinctive features and drawbacks.
Pay attention that each of the competitor apps has a unique value. For example, TikTok focused on short-videos only, while Pinterest allows for creating attractive and personalized boards. Thus, your task is to come up with something useful and valuable and make sure that this feature will distinguish you from competitors and fit your users' expectations.
Monetization Strategy Choice
Even though Instagram was created as a free and non-profit app, it was projected to earn $6.8 billion in revenues during the last quarter of 2020.
What's more, such an impressive figure results from using one monetization strategy only - paid ads in the news feed and Stories that can be set up with the help of Facebook.
And in this case, the secret of success is very simple - the advertising that users see on Instagram is extremely unobtrusive and neatly personalized. Of course, every advertising campaign is entirely based on user data and online behavior. As for Instagram, they collect a huge amount of data, including content and personal correspondence of users, tied to a person's already recognized face.
However, it would be difficult to argue with the significant advantage of Instagram - it gives businesses the opportunity to make money using paid advertising and influencer marketing. Moreover, Instagram itself does not earn directly from influencers but rather wants them to earn as much as possible by creating engaging content for an audience that will buy products advertised to them using the first strategy.
However, and thankfully, personalized campaigns and influencer marketing are not the only way to monetize the social photo and video sharing platform. Here are a few more options.
Video embedded ads that the user can skip after a few seconds.

Several subscription levels, each of which assumes access to a wide range of functionality - for example, opportunities for more advanced photo and video editing.

In-app purchases, however, in this case, you should offer something really valuable and, at the same time, something that will trigger users to purchase it further and further.

Listing fee. For example, the user can pay to have their content featured first in the feed or the search regardless of the search intent.
Risks Evaluation
Before starting the application's development, remember that you are entering a fairly competitive environment, even partially competing with Instagram. Therefore, it makes sense to reasonably assess all possible risks.
In short, risks are classified into positive and negative. The essence of the latter is clear - they have the potential to increase your costs, delay the market launch, and even wreck the business. At the same time, positive risks are new and promising opportunities.
For example, the recent coronavirus pandemic has become a positive risk for Instagram. Average Insta session time, user reach, and profits have increased significantly. Therefore, even though the risks are difficult to predict, you should still identify the most likely ones, assess their severity, and develop response strategies.
Focus on Mobile
In the past ten years, social media and mobile devices have become inseparable from each other. Moreover, a huge number of users use smartphone cameras (which are often no worse than professional devices) for instant photos and instant sharing.
Therefore, you need to focus on the mobile experience first. The best approach for delivering the best mobile experience is with a native app, which can sometimes be quite expensive. However, the experience it provides justifies the cost.
Next, we will also talk about the cost of developing an application for photo and video sharing like Instagram and about ways to reduce costs without risking quality.
Ready to get started with your own Instagram-like application development? We are ready too!
Hire Us
How to
Create a Social Media App Like Instagram
- the 3 Most Essential Steps
Even though the creation of Inta-like applications is quite complicated from the technical perspective, it is still possible to highlight three best practices you need to follow.
1. Take the Design Trends Into Account
Since you are working on a visual solution, your design should make the right first impression and attract users to try your app. To achieve this result, you may use some of the following social media design trends for 2021 but keep in mind that an intuitive UI and engaging UX should always come first. Thus, there is no point in following a design trend that may spoil your UI/UX. So be wise with your choice.
Gradients. They have been quite popular in Insta Stories, so the trend is expected to continue in 2021.

Collages. Collages were fashionable once then went out of style, but now they are gaining popularity again. Perhaps your users will also appreciate the ability to create collages as part of your application's functionality, or you can use this idea to design your home page.

Data visualization. This is one of the strongest trends in app design for 2020-2021 so pay attention to this trend if you plan to share data with your users, for example, if there will be a photo popularity report feature.

Even more animations. Animation usage is almost always the right strategy, so think about ways to employ it for a more engaging user experience.

Retro style. This is just the trend that will allow you to stand out among the competitors. However, make sure that your users love retro too.
2. Be Strategic With the Set of Features and the Technologies You Need
For example, Instagram is built using the Python programming language and Django framework. However, this doesn't automatically mean that you should use the same technologies. The choice of technologies largely depends on the features you want to implement and your future vision for scaling your product.
Also, native, hybrid, and cross-platform applications employ different technologies despite the fact that the created features don't differ. Below we have also listed the features you may need for your Minimum Viable Product (MVP) that will be transformed into a full-fledged application in the future.
Features list for an MVP
Registration/Sign in

Profile setting and editing

Photo sharing

User following

Subscription to other profiles/hashtags
An advanced features list
Photo editing

Likes and comments

Sharing other users content

Search for profiles/by hashtags

Personal chatting

Geolocation

Stories

Push notifications

Filters/masks

Live videos

Tagging people
3. Always Test Before Invest
We have highlighted some of the essential features and relevant design trends you may follow in your photo and video sharing app development. However, keep in mind that you should never make assumptions about the users of your future application. Instead, you should ask for their opinion, impression, and expectation before adding a certain feature or design element to your app.
This approach may seem tedious and lengthy, but as a result, it allows for getting a highly demanded application that successfully avoids all the possible pitfalls and risks.
What Is the
Cost to Develop an App Like Instagram?
The Next Web analyzed the cost to create the analogs of the most trending applications and found out that creating an Instagram clone may cost you $100,000-$300,000 depending on the complexity of your design and the set of features you want to implement. However, this sum may be too high for aspiring startups, so we decided to recheck this figure by breaking down the cost of each development stage.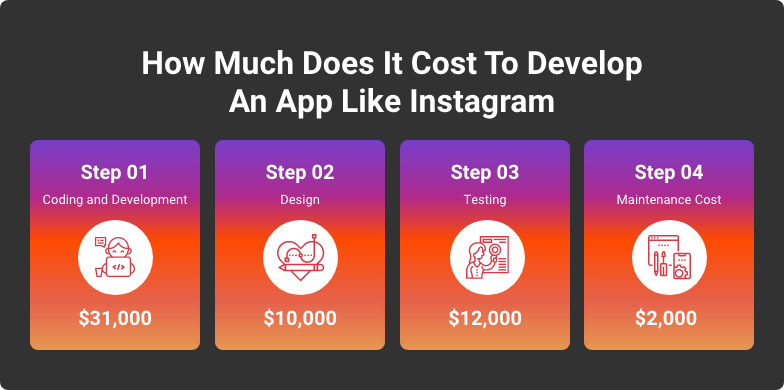 Estimated cost of developing an application like Instagram
1. Coding and development cost breakdown
This is the most costly and time-consuming part of the whole process, and the final price will still depend on the number of features you want to implement. The chart below contains the approximate evaluations of the iOS, Android, and backend version features for a full-fledged social media photo-sharing app. Keep in mind that the cost of creating an MVP to test your product may be two times lower.
| | | |
| --- | --- | --- |
| Feature | Time to develop/hours (approximate estimate) | Cost to develop/$50/hour (average hourly price for development services in Ukraine) |
| Registration/Sign in | 30 | 1500 |
| Profile setting and editing | 45 | 2250 |
| Photo and video sharing | 80 | 4000 |
| Photo editing | 80 | 4000 |
| Likes and comments | 80 | 4000 |
| Subscription to other profiles/hashtags | 32 | 1600 |
| Sharing other users content | 40 | 2000 |
| Search for profiles/by hashtags | 20 | 1000 |
| Personal chatting | 80 | 4000 |
| Geolocation | 40 | 2000 |
| Stories | 80 | 4000 |
| Push notifications | 10 | 500 |
| Total for coding | 617 | $30,850 |
2. Design cost breakdown
As for the design, it isn't the development stage you should save on. Surely, you may use some pre-developed or semi-customized elements in your design, but you still have to test it carefully. Since you are developing a visual solution, the first visual experience matters, and thus, you should make sure that your potential users will get it right.
| | | |
| --- | --- | --- |
| | Time to develop/hours | Cost to develop/$50/hour (average hourly price for development services in Ukraine) |
| Wireframes and design specs | 40 | 2000 |
| Design concept | 20 | 1000 |
| Prototyping | 80 | 4000 |
| Graphic elements design | 20 | 1000 |
| Design concept testing | 40 | 2000 |
| Total for design | 200 | $10,000 |
3. Testing Costs
As practice shows, the testing process usually takes up 30% of the total development budget on average. According to our calculations:
$40,850 (design+development)*30%=$12,225
4. Maintenance Cost
The cost of maintenance will be reasonable to calculate, being guided by the hours spent per month for this task. On average, apps need 40 hours per month to be supported, updated, and improved. Total: 40*50=$2000.
5. Final But Still Approximate Price
Thus, below is the approximate cost of a social media solution borrowing some of the ideas and functionality from Instagram.
| | | |
| --- | --- | --- |
| | Hours | Price |
| Design | 200 | 10000 |
| Development | 617 | 30850 |
| Testing | 244 | 12225 |
| Maintenance | 40 | 2000 per month |
| Total for app | ≈1101 | ≈$50,050 |
Some Tips to Lower the Cost Without Sacrificing Quality
The cost to build an app like Instagram largely depends on the complexity of the functions you will create and the specifics of the design. In any case, the sum is significant for an aspiring startup, so below are some safe practices that will allow you to save some money without risking the quality of your future solution.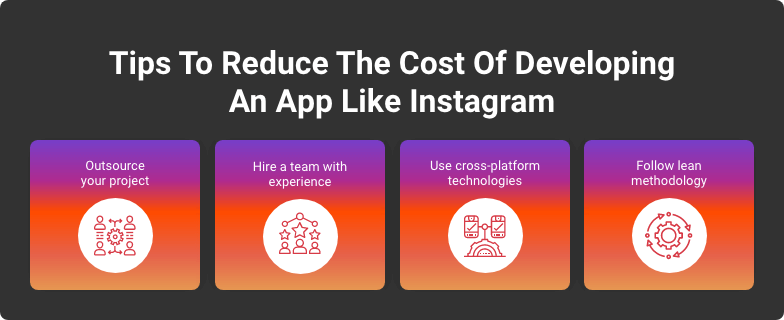 How to Reduce the Cost of Creating an App Like Instagram
Consider project development outsourcing. This is the top way of cutting software development costs while still getting outstanding quality if you make the right choice with your technology vendor.

Hire a team with social media development experience. A development team that has already overcome some social media development challenges will tell you how to do it right from the very beginning, thereby saving you time and money.

Pay attention to the cross-platform technologies. Creating two photo-sharing apps like Instagram for iOS and Android may be twice as costly, so consider using cross-platform technologies. However, keep in mind that you should be quite sure about this choice since most users have already gotten used to the native experience and expect it from new apps.

Follow LEAN methodology at every step. There is no better time and money-saving approach to software development than LEAN. It allows for carefully testing each of your steps and ideas before investing real money in their realization.

Be wise with your team and hire the specialists you really need. In other words, don't overload your development staff. However, a reliable and honest development vendor will never make you pay for the work of the specialists you don't need. In contrast, the right company will stay flexible and ready to adapt to new requirements and can quickly shorten/expand your development team if necessary. To get started with Insta-like native application creation, you will need 2-3 Android developers, 2-3 iOS developers, 1 Project Manager, 2 QA specialists, and 2 DevOps specialists.
How Long
Does It Take to
Create an App Like Instagram
According to The Next Web, it takes 3 to 6 months to make an app like Instagram. Our calculations have also confirmed this statement. It takes at least 1101 working hours to create such a solution, approximately 3.5 months of work.
Conclusion
Despite the popularity of Instagram and other leading social media apps, there is still free room for creating a social platform with advanced photo sharing opportunities. In this article, we covered all the essentials you need to know before getting started with developing an Insta-like solution, and we would be happy to answer your questions right now!
Feel like you're on the right path but need more competent support with Instagram-like solution creation?
Talk to Our Pros