There are many reasons why social media has become so popular, and the endless entertainment possibilities for all tastes are one of them. Various add-on applications have emerged in response to the increasing popularity of social sites and the growing demands for improved quality and content for entertainment and engagement. Applications for editing photos and videos using filters, creating selfie animations, and even face-swapping are examples of such solutions.
MSQRD has caused a real boom in the market. Given the popularity of social media and add-on solutions for improving content, the decision to build an app similar to MSQRD is reasonable. Let's learn more about the capabilities of such an application from a business perspective and the ways to create it.
MSQRD in a Nutshell
MSQRD, which stands for Masquerade, is a face swapping, photo and video editing, and filtering application created in 2016. It is an augmented reality application that has the following key features:
Face swapping. In simple terms, this is the ability to replace faces in your videos and photos (and thereby allow the application to recognize your face and link it to your personal data).

Masks. MSQRD contains a huge number of cool masks that users love to try on.

Selfie filters. You can edit your selfie beyond recognition.

Video selfies. You can create short videos with your participation.

And, of course, sharing, without which all the above functions would be less meaningful.
When MSQRD was first introduced, it was a real innovation. The application quickly attracted 1.6 million users and the attention of Facebook, which is famous for buying promising startups (Instagram serves as an example). Facebook transformed them into an even more promising and profitable solution.
Facebook bought MSQRD because its leaders quickly recognized the app's potential to create even more engaging Facebook content, thereby boosting user retention and engagement. This, in turn, served to attract even more companies to the platform and make them invest in paid advertising to reach even more users. The business model is simple enough, and what's more, after this acquisition, the number of MSQRD users reached an unprecedented 40 million.
However, in March 2020, Facebook announced that this project would be closed. Now it is no longer possible to download the application from official stores, which means that your startup has a chance to develop in a less competitive environment with an expectation of user loyalty.
The Reasons for MSQRD Striking Popularity
The reason for the popularity of MSQRD is simple. The ability to entertain yourself and entertain others with your content, attracting more subscribers. More than half of the world's population uses social networks, and of course, the main use is for entertainment purposes.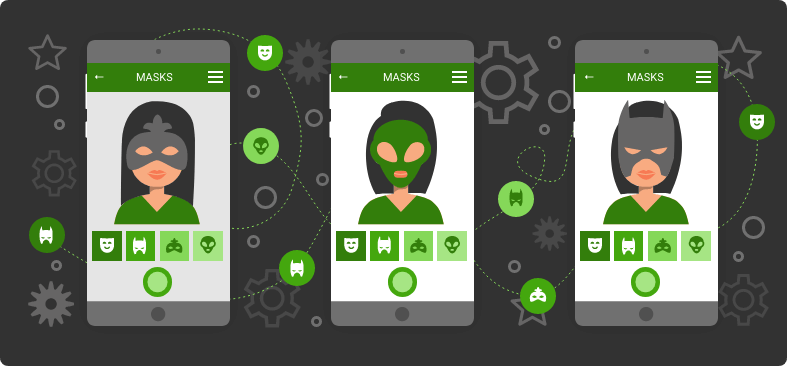 However, there are several more reasons why MSQRD has become popular and why startups of this type are quite promising, despite many competitive solutions.
The popularity of video content and TikTok in particular. Even edited and enhanced with filters, selfies are not as popular as video content, especially if it's funny and sometimes even a little silly. Let's be honest - we all love to laugh at something not too smart sometimes. Selfie videos quickly became popular on TikTok, and MSQRD helped make them even more attention-grabbing.

The popularity of selfie filters. Social media allows us to show only our best sides, and various filters allow for making our photos even more beautiful and attractive. According to research, beauty filters are especially popular among young women, and this popularity has also led to another social or even medical phenomenon.
According to the research, "With the spread of photo-editing technology through applications like Snapchat and Facetune, the level of physical "perfection" previously seen only on celebrity or beauty magazines is now all over social media. As these images become the norm, people's perceptions of beauty worldwide are changing, which can take a toll on a person's self-esteem and can trigger body dysmorphic disorder."
Thus, when deciding on the photo filtering and face swap app development, you should be not only business-focused but also socially responsible.
Ready to take the first step down this road? We are here to support your initiative and provide our technical expertise!
Contact us
What Are Some Examples of Face Swapping Apps Like MSQRD?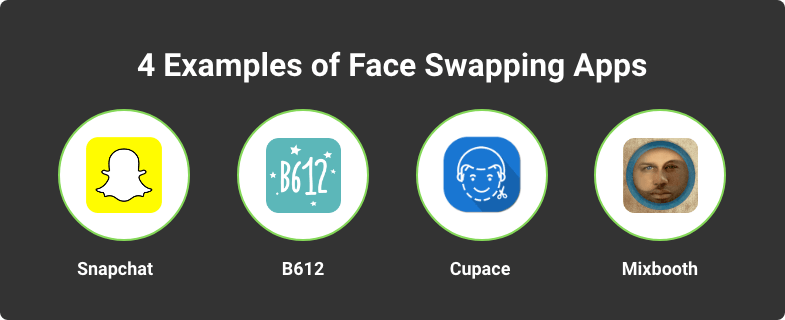 How to make a face swap app? Start with an analysis of your main competitors. It may enrich you with valuable insights into developing an even more unique value proposition and match your future solution with the current trends. Below are some of the MSQRD competitors you can learn from.
Snapchat. This social media for teenagers is famous for its augmented reality filters and is an excellent example of combining two promising solutions into a holistic one.

B612. This is a free native application available for iOS and Android. The core features are outstanding selfie filters. There are also a lot of details, emoticons, and elements you can add to your photo.

Cupace. This is a free app that is monetized with embedded ads and focused on face-swapping technology. According to user reviews, this is quite a good solution for making memes.

Mixbooth. This is a fun app that allows for playing with face images and coming up with unexpected combinations of facial features. For example, you may mix your face with the face of your grandma or a celebrity and enjoy the result.
Face Swapping Application Monetization Strategies

Most users expect a free entertainment experience from social media and add-on applications such as MSQRD, and most competing solutions on the market give them this opportunity. Fortunately, there are also some opportunities for free apps to be monetized. Here are some strategies.
In-app ads. Advertising is the easiest way to monetize a free app. In this case, try to make your ad unobtrusive and personalized, for example, like Instagram does, to avoid rejection among users.

In-app purchases. As part of this strategy, you can make certain filters or advanced face swap capabilities available for a cost. It is better for the user to pay once for the unlimited opportunity to use the function, as the need to pay constantly can be repulsive.

Subscription. This is a fairly complex strategy for a face swap application. First, your users must be extremely loyal to your brand to buy a subscription. Second, you need to think carefully about the value proposition, which is the set of features you will be providing as part of the subscription. They have to be advanced and solve some users' problems. Yes, even in this case, users have specific needs that they want to satisfy with the face swap and filtering application. The need to appear prettier is one of the simplest but most grounded examples.
How to Create a Mobile App for Face Swap - 5 Steps
So, here is how to come up with an app like MSQRD in five steps.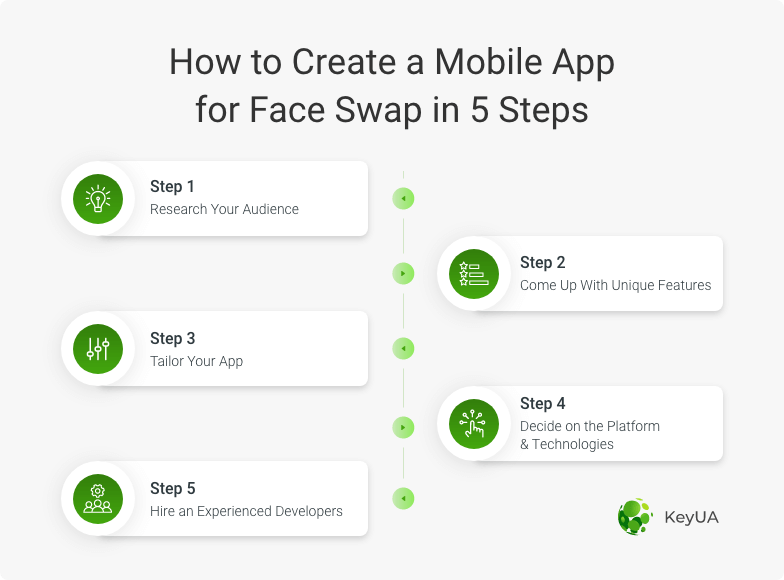 That's 5 steps to creating a face swapping app
1. Understand Your Target Audience
Before starting development, clarify the portrait of your target users. The truth is that not all social media users will use the face swap and filtering app. Such solutions are most popular among young audiences (16-25) who have free time and are unaware that 20 years ago, the world lived without social networks.
2. Come Up With Unique Features
This is the most challenging and most creative part of the development process. You need to come up with something truly unique, interesting, and engaging that sets your app apart from the competition. To develop such a value proposition, go back to your competitor analysis, try each of the apps, identify which features might be missing, and of course, do some research with your target users.
3. Tailor Your App to a Specific Social Media
Of course, you have the right not to get hung up on a particular social network, but analyzing your users' portrait will also indicate the specific social media they use. So, tying your app and its functionality with the specific content of a particular social network can be a good strategy. For example, there are many beauty filters for Instagram, so your task is to find a specific function that will help with a particular user problem within a specific social network.
Also, you should focus on the mobile experience since most people use social media via mobile devices. They also use the photos made by smartphone cameras, so editing photos and videos with a well-developed mobile app is quite logical.
4. Decide on the Platform and Technologies
A face swap application is a case when functionality is much more important than native experience. Yes, you can create two native apps for Android-powered devices and iPhones, but in this case, cross-platform technologies can also be a good and affordable solution. Of course, you need to discuss this idea with your development vendor.
5. Hire an Experienced Development Team
Since creating an MSQRD clone application is semi-creative and semi-technical, hiring developers with such experience would be the right strategy. Ask the development team to show the similar solutions they have worked on. Maybe you will also get one more opportunity to improve and re-develop your competitors' ideas.
The Approximate Face Swap App Development Cost
Since, in this case, we are dealing with creative application development, estimating the like-MSQRD app development cost becomes even more challenging. As a rule, the final price depends on the following factors.
Your design. In the case of a face-swapping app, the design can be quite simple and semi-custom since its core is its photo and video editing capabilities.

Your set of features. Here you need to be quite creative but still meet users' expectations. Indeed, you should offer something new to make your application popular. Thus, the lion's share of your budget will go to researching user trends and developing the specific face swapping, filtering, and edition features.

APIs. Fortunately, there is a way to simplify the lives of your developers for a face swap app by using pre-developed APIs for some of the features and thereby slightly reduce your budget.

The cost of maintenance. If you have done everything right with the development of your features, your users will never get bored or tired from their experiments. Thus, you need to constantly update and maintain your app not to spoil the user experience.

Promotion. Face swap apps are quite trendy, so you will have to invest in branding and marketing campaigns to stand out from the competitors.
On average, the price of creating a face swap app for Android and iOS may reach $20,000-60,000 per each, depending on your specific idea.
Conclusion
Creating a face swap and selfie editing application is quite a promising idea that needs lots of research and creativity. What's more, you should always stay trendy and develop an intuitive, entertaining, and bugs-free solution. Our technical team is happy to help you create such an application by investing all our tech and creative experience into your successful startup development!
Already have some ideas on how to make your face swap application outstanding and competitive? Our competent assistance is one click away!
Begin My Project