In 2020, for the first time, the number of active connections driven by IoT services (connected cars, smart home devices, connected industrial equipment) was higher than non-IoT connections (smartphones, laptops, and computers). And according to the same report, by 2025, there will be 30.9 billion actively connected internet of things devices. This is because the Internet of Things allows you to automate many processes both in production and in our home and significantly simplify everyday operations. Today we will consider the most popular IoT platforms, their impact on business, and comparative characteristics.
What is the
Internet of Things Cloud Platforms?
The Internet of Things includes several cases at once:
Devices themselves go online and interact with each other.

An M2M way of connecting, that is, machine-to-machine, without human intervention.

Big data that devices generate. Data that can (and should) be collected, analyzed, and further used to improve comfort or make business decisions.
IoT is used in any industry where something needs to be automated, but it is especially active in the agricultural sector, production, logistics, and Smart City.
IoT Cloud is the network that supports all IoT devices. In other words, it is the basic infrastructure that includes the servers and storage required to collect and process real-time information and the services and standards that operate to connect devices.
Why are Internet of Things Platforms Essential?
The Internet of Things (IoT) plays a crucial role in establishing intelligent interactions between people and surrounding entities and objects. When we talk about the high-quality and efficient collection and analysis of large amounts of data, IoT is irreplaceable. Such data is very difficult to process and store physically, which is why more and more companies are switching to cloud computing.
The Internet of Things cloud platform allows you to increase the productivity of processes associated with collecting, processing, and storing data, minimizing the associated costs. Here are some other significant benefits that users can get when handling IoT Platforms:
High reliability and security standards of cloud storages

Expansion of the business infrastructure following the requirements and goals of the company

Accelerate workflow and reduce downtime with near-real-time insight

Scan and update any application included in the infrastructure at any time
While deploying custom cloud infrastructure is invaluable to a business, in particular the ability to customize the system to meet all the needs of the business, in some cases, it makes sense to use a ready-made solution. Let's consider a list of the 10 top IoT platforms available today.
Amazon dominates the cloud services market. They were the first to provide such solutions, offering them back in 2004. Amazon Web Service IoT Core provides cloud platforms on demand to various clients, private companies, enterprises, the public sector, and even governments. AWS is considered the best IoT cloud platform in 2021.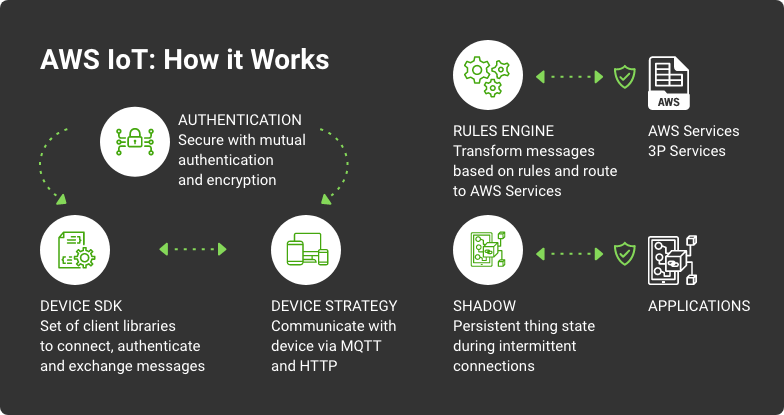 AWS IoT: How it Works
The platform has almost all the attributes of a computer, including hardware, preloaded applications, databases, operating system, CRM, and more. Amazon claims that the platform supports billions of devices and trillions of interactions between them. The service budget is calculated depending on messages between devices and the server. Prices vary by region and start at $0.08 (per million minutes of connection).
Azure IoT Hub allows you to create a reliable connection between your applications, IoT, and the devices it controls. The company provides powerful services, including cloud storage, machine learning, IoT services, and a complete operating system. Using Azure IoT Hub, you can connect practically any device to your network and expand your infrastructure from the cloud to the periphery.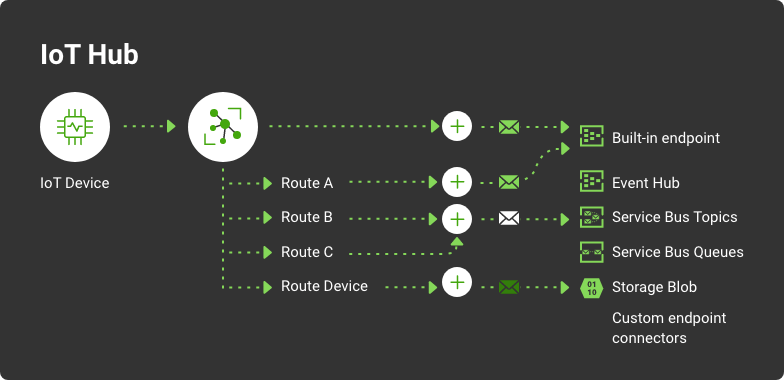 How the Message Enrichments Flow Works
Microsoft Azure is a good choice for businesses of all sizes. In general, the architecture of this cloud platform is quite complex. Still, thanks to the detailed documentation that the company provides, it can be configured and integrated into your business relatively quickly. The price also depends on the region and the number of messages. A company that expects to receive up to 8,000 messages daily per unit can count on free services.
It is another trusted platform from the cloud computing giant. Watson provides simple examples of applications and interfaces for IoT services, making them accessible to newbies. Every month the company gives 100MB for free so that any user can get acquainted with the platform.
Watson IoT Platform Architecture
Watson IoT Platform opens up the following opportunities:
real-time data exchange

secure connection

cognitive systems

obtaining historical information from your connections
The company provides different pricing solutions depending on the amount of data and the number of devices.
Integrate reliable IoT cloud-based solutions into your business quickly and efficiently with KeyUA.
Get in Touch
With a focus on machine learning (ML), Google provides a platform for ample storage, IoT, networking, and secure cloud connectivity. Google Cloud IoT Core is represented by a virtual machine. It gives developers access to PaaS (platform as a servant), log into "hosting on-demand," and use the SDK or Software Development Kit to build applications that work directly on the app engine.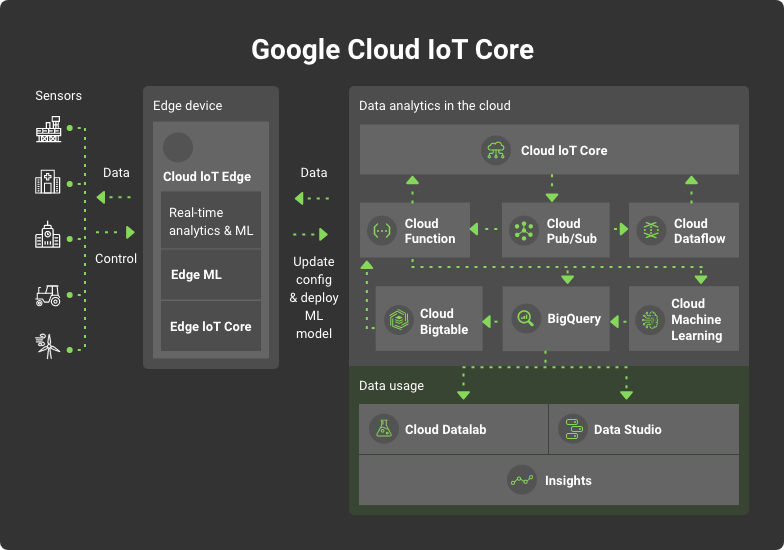 Google Cloud IoT Core
According to Google, its goal is to simplify the work of the entire business by giving instant access to information. However, the company also provides an entirely secure connection. On its website, you can find an online calculator to estimate the cost of services depending on the number of devices, types of machines, and workload.
This is one of the largest platforms created by the Chinese giant Alibaba Group and currently holds a strong market position. It provides scalable cloud solutions that enable IoT businesses of all sizes to communicate stably between devices and the IoT platform. Alibaba has only a small delay, whereby devices connected to the network can communicate with each other pretty fast.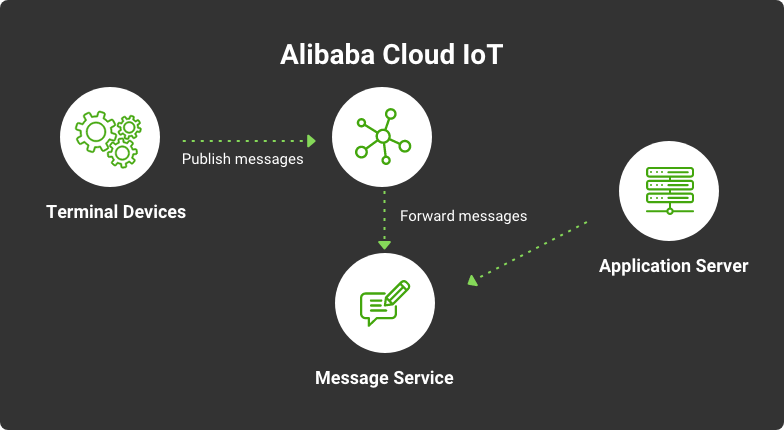 Alibaba Cloud Internet of Things (IoT)
Alibaba provides services such as hosting, storage, computing power, big data analytics, relational databases, artificial intelligence, and machine learning. Alibaba Cloud IoT platform also possesses strong encryption measures that ensure the security of individual devices and safe communication between them and the IoT platform. Pricing varies depending on the business peculiarities (number of devices and messages), but like other platforms, Alibaba Cloud IoT provides a Pay-As-You-Go model.
This is another leading IoT platform. While the previous vendors are focused on providing services to various industries, Oracle focuses more on manufacturing and logistics operations. The platform allows you to connect devices of any complexity, from simple sensors to complex machines.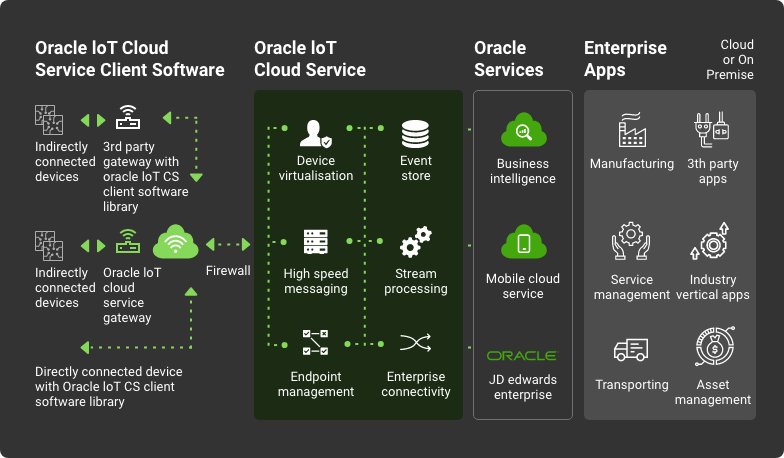 Oracle IoT Cloud Services
Oracle offers real-time data acquisition with its services, which is a significant advantage when managing a wide range of equipment or warehouse resources. The deployment of the system is simple enough so that new projects can quickly enter the market. The price depends on the number of connected devices.
IRI works through MQTT and helps detect integrations, migrations, manage data analytics, create reports, and protect streaming. Data is transmitted in real-time, and the system works on the principles of machine learning to improve forecasting and providing results.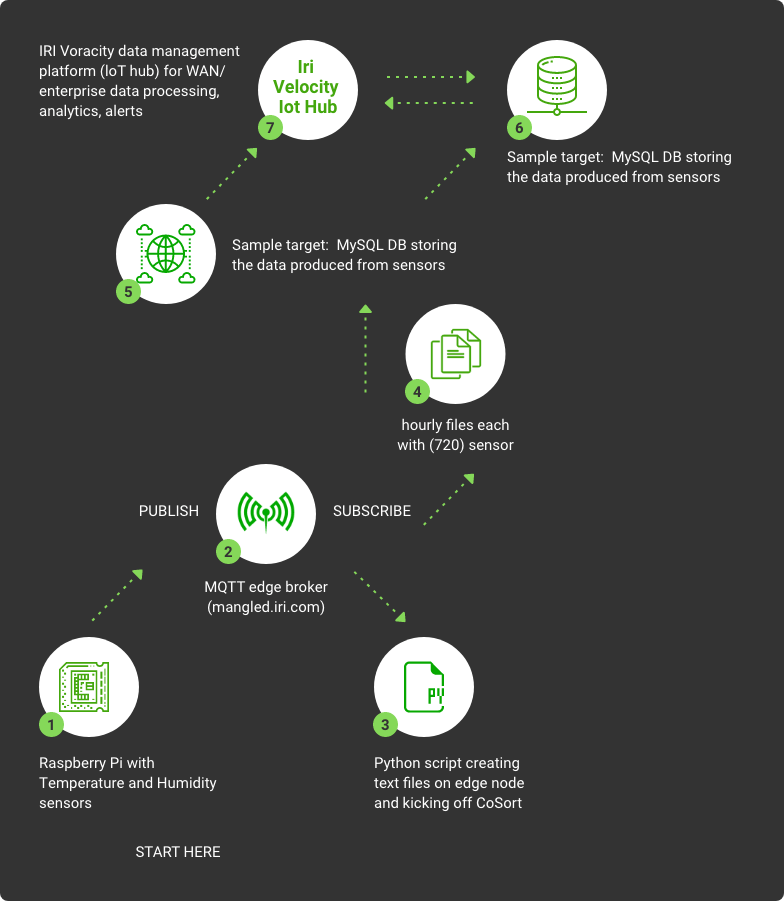 IRI Voracity Data Management Platform
Voracity provides the following internet of things cloud service: connecting and combining sensors and logs, quickly aggregating data on the periphery, working with a wide range of operating systems, blending, filtering, and processing data, add-on for universal messaging. In general, Voracity provides a versatile and high-speed way of processing and integrating data both on the periphery and in the core of the infrastructure.
Not sure which platform is better to choose? Contact KeyUA and get detailed advice according to the requirements of your business.
Contact Us
This is another reliable system for real-time data processing and visualization. It transforms the data generated by clients, devices, and sensors. The user-friendly interface allows you to start working with the platform immediately. Salesforce IoT Cloud uses the Thunder mechanism.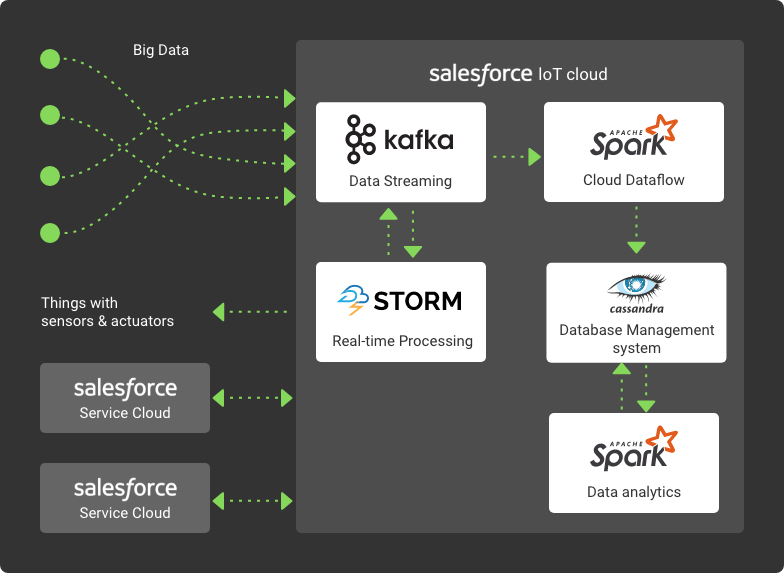 Salesforce IoT Cloud Platform
Thunder is presented as Apache Kafka (messaging system), Apache Storm (platform for processing big data and real-time events), Apache Spark (distributed large scale data processing framework for both batch and stream data), and Apache Cassandra (distributed database management system).
The next strong provider of cloud solutions for the Internet of Things is Bosch, which also poses a serious competitor to Amazon. The platform has open standards and is very flexible, which allows it to handle heavy workloads efficiently.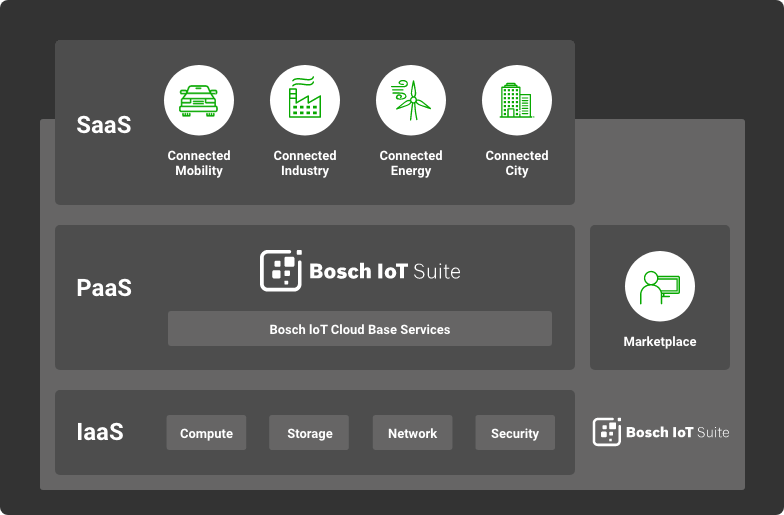 Bosch IoT Suite
The platform assumes reliable connection and management of devices, sensors, microcontrollers and gateways, access control and security, analysis and presentation of data from various sources, fast software deployment. Bosch IoT Hub is a reliable part of Bosch IoT Suite, which provides powerful and secure out of the box cloud solutions. The platform price varies depending on the number of connected devices and active time.
Cisco is recognized as a powerful and secure IoT platform provider. The multi-award-winning Cisco IoT Cloud Connect delivers top-notch data security. The platform is designed for intelligent devices and applications based on neural networks, machine learning, and voice recognition systems. Cisco is known to be the platform with the least connectivity issues.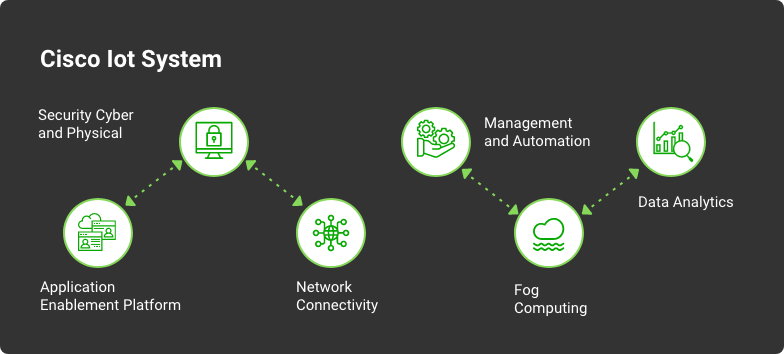 Cisco IoT Cloud Connect
Due to its functionality, the platform is well suited for use in various industries. It carries out quick and high-quality data analysis, connectivity of a wide range of devices, automation, and ensures the infrastructure's internal security.
Comparison of IoT Cloud Platforms
Even though the Intent of Things services have similar purposes, they may differ in their characteristics. We have prepared a summary table with lists of IoT platform comparisons to make it easier for you to understand their purpose and main features.
Platform Name

Services

Connection protocol

Device management platform

AWS IoT Core

Connect devices, data management, analytics

MQTT, HTTPS, MQTT over WSS, and LoRaWAN

Yes

Azure IoT Hub

Security-enhanced communication channel for sending and receiving data from IoT devices, device management, full integration with Azure Event Grid and serverless computers

MQTT, MQTT over WebSockets, AMQP, AMQP over WebSockets, HTTPS

Yes

IBM Watson IoT Platform

Connection Service, Analytics Service, Blockchain Service

MQTT and HTTP

Yes

Google Cloud Platform

Organizing, managing, and sharing documents

Solutions for smart cities and buildings and real-time asset tracking

MQTT and HTTP

Yes

Alibaba IoT

Hosting, storage, computing power, big data analytics, relational databases, artificial intelligence, and machine learning

MQTT, CoAP, HTTP

Yes

Oracle IoT

Connecting and monitoring devices, deploying an environment to create custom software for connecting clients

MQTT

Yes

IRI Voracity

Connecting and combining sensors and logs, quickly aggregating data on the periphery, working with a wide range of operating systems, combining, filtering, and processing data, add-on for universal messaging

-

No

Salesforce IoT

Gathering data from customers, partners, devices, and sensors, analytics, and visualization

-

-

Bosch IoT Suite

Extensive services for connecting and managing devices, as well as processing data in real-time.

MQTT, HTTP, AMQP 1.0, LoRaWAN, and CoAP

Yes

Cisco IoT Cloud Connect

Device management, data analysis on the industrial Internet of Things, high-quality connection

MQTT

Yes
FAQ
If the subject of the Internet of Things and cloud platforms is still a mystery to you, here are the most pressing questions from customers and answers to them.
1. What are the key features of an IoT cloud platform?
There are a large number of paid and open-source cloud platforms. Many large IT companies such as Microsoft, IBM, or Google provide a reliable and scalable solution. At the same time, network operators like AT&T, Vodafone, and Verizon also offer some products for the Internet of Things. But despite the diversity on the market, all cloud platforms for IoT have clear goals: configuring and managing networks, connecting and managing devices, collecting, analyzing, introducing, and visualizing data.
2. How does an IoT cloud platform differ from a traditional cloud infrastructure?
The traditional cloud computing model aims to provide on-demand access to hardware and software resources so that data can be prepared quickly and easily and presented with minimal effort. The Cloud IoT platforms use the same model but in a more advanced form. Thus, it increases the number of resources and capacity so users can receive larger volumes of data. In addition, cloud IoT platforms provide intelligent data processing (mainly through machine learning) and provide the opportunity to manage them effectively.
3. What are the key factors to consider when choosing IoT cloud platforms?
Each system has its pros and cons. The choice should largely depend on your business's needs. The main factors to consider are scalability, reliability, customization, support, architecture, technology, security, and price. When ready-made solutions do not fit the needs of your business, it is more expedient to design a custom IoT cloud platform to connect and manage all devices in the infrastructure.
4. Where is IoT used?
The Internet of Things is a network of physical objects, sensors, software, and other technologies built-in to connect devices to a shared infrastructure, manage them, collect and analyze data. IoT is widely used in many areas and industries, including manufacturing, healthcare, agriculture, energy management, military, environmental monitoring, smart homes, transportation, logistics, and more.
5. Is IoT the future?
IoT is rapidly developing, and soon more and more services and devices working with this technology will become available. The increasing flexibility of networks, the widespread use of artificial intelligence, and large-scale automation will contribute to the fact that the Internet of Things will be highly integrated into our lives.
Takeaway
IoT platforms are good at helping businesses of all sizes automate processes, gather and analyze data efficiently. Companies working with vast volumes of information can significantly increase their productivity by integrating cloud solutions into their infrastructure. It is worth noting that many of the popular IoT cloud platforms are relatively easy to use. But the high prices can be a significant disadvantage, especially if you need to connect a large number of devices. In this case, the development of a custom IoT app is a reasonable and effective solution.
Build your branded powerful IoT platform. Ask us for a free consultation.
Contact Us