The popularity of using cloud computing services is explained by resource optimization, cost reduction, and increasing fault-tolerance requirements to modern online applications. Instead of owning hardware data centers and computing infrastructure, companies can get the same facilities by renting them from a cloud services provider. To choose the right vendor for your enterprise needs, you should understand what is cloud computing services, and know the difference between available platforms. Learn about today's market leaders with the proven reliability and quality of service.
The Cloud Computing Pyramid
There are a few cloud service models. They are all typically represented as a pyramid with a different level of data control and management. The top of this pyramid is the end user that deals with personal data wrapped in a program or service with a user interface. A program/service is deployed on a specific platform that is the second pyramid level. And the basis of this pyramid is the cloud infrastructure that usually includes virtual servers, computing facilities, storage, and communication channels.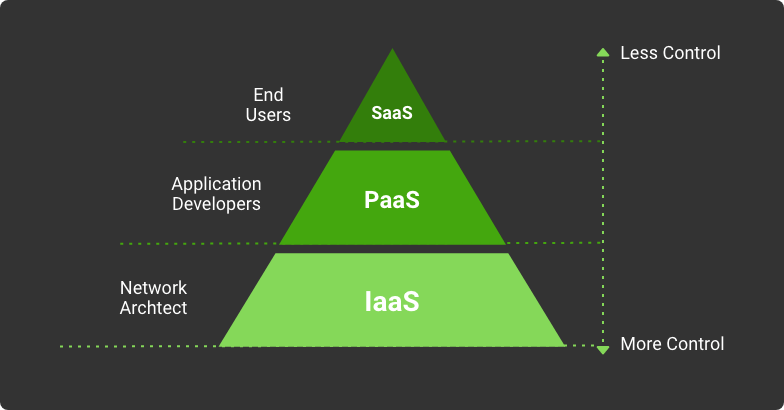 This is what a cloud computing pyramid looks like
There are three most common cloud computing models:
SaaS (Software-as-a-Service): it is the most popular cloud computing services model. The cloud provider develops and maintains programs and services, hosts them on the cloud, and offers the end-user to use them via a web browser or a desktop application. A usage, update, and customer support are available on a paid basis or for free. Samples of SaaS cloud services are file storages (Dropbox), office document processors (Google Doc, MS Office 365), photo galleries (Flickr), or messengers (Facebook).

PaaS (Platform-as-a-Service): it is a cloud solution where users are provided with an environment where they can perform application development, management, and delivery. Besides cloud storage and computing resources, users can get ready-made development tools, solutions for testing and maintaining their applications. IBM Bluemix, Google App Engine, Microsoft Azure, and VMWare Cloud Foundry provide their services on a PaaS model. The users of PaaS services are software developers.

IaaS (Infrastructure-as-a-Service): this model provides users with access to the computing resources such as servers, data storage, and networks. Web development companies and other organizations use their platforms and apps in the service provider's infrastructure. The provider owns and manages all hardware and controls the physical and virtual infrastructure. Hetzner Cloud, Microsoft Azure, Amazon EC2, IBM Softlayer, and Giga Cloud are examples of IaaS services. The end-user of such services are companies' system administrators.
SaaS is the leading model due to its clarity and usability for the end-user. If you are going to develop software, you'll need to choose PaaS or IaaS cloud services depending on your projects' specific needs. In PaaS, you are getting particular tools like a database management system, machine learning or big data processing environments, etc. However, you don't get access to the server OS, virtual server settings, and low-level platform settings. Renting an IaaS infrastructure, you're getting virtual servers, network settings, and cloud storage. You also get access to the server OS and almost complete freedom in setting and deploying apps.
The TOP Cloud Computing Platforms List
The list of leading cloud computing services:
Microsoft Azure

Google Cloud

Amazon Web Services

IBM Cloud

Oracle Cloud Infrastructure

Kamatera

Linode
They offer different configurations, pricing, and benefits. The right choice depends on your needs and budget. All of them give compelling facilities for digital transformation, improving performance, and optimizing costs. Let's go through the TOP 7 cloud service providers to clarify their capabilities and define major distinctions.
Want to configure a robust, scalable cloud environment for your development needs? Get the qualified assistance of our experts.
Reach Our Experts
1. Microsoft Azure

Key benefits: Linux-friendly, free tier, hybrid configurations, various pricing models, extensive features.
Possible issues: complicated setup
Pricing: starting from $24.99/month
Microsoft Azure was created in 2010 by Microsoft. It offers both Iaas and PaaS solutions that allow clients to run their projects purely on the cloud or combine the existing infrastructure with separate cloud services. The Azureplatform provides the ability to refuse physical servers and eliminate the on-site support team, as all technical support is cared for by Microsoft. It helps significantly cut the costs for software development and maintenance.
While the Microsoft Azure framework is Windows, it is fully compatible with most Linux distributions. Initially offered as a PaaS, Microsoft Azure is now blurring the limits between both models, similar to many other cloud computing companies. The idea of mixing both PaaS and IaaS offers unparalleled flexibility for the end-users, now able to match various services in the way they need.
One of the most significant advantages is a 1-year free tier plan with access to all popular services. The company also provides a decent credit to test their cloud services to ensure their suitability. Also, there are 25 "Always Free" services available for no cost. You can also pick up the specific services and configure your payment plan using their online cost calculator. If you need more add-ons or higher capacities in the future, the price will increase respectively. However, with the 'pay as you go' model, you will pay only for the resources you use.
2. Google Cloud
Key benefits: Linux-friendly, intuitive usability, Google web services, 24/7 live support
Possible issues: tricky setup
Pricing: $0.01/month, 1-year free trial
Google Cloud suite was released in 2008 as an IaaS, PaaS, and Serverless Computing platform. It runs on the same infrastructure used by Google for its multiple products. Other companies can now use its proven reliability and performance to produce their own software solutions based on Google's modular web services. In an IaaS variation, it comes with numerous built-in web services and a managed platform that can be configured to specific development and maintenance goals.
The distinct features of Google Cloud are comparative simplicity in arranging complex networking infrastructure and complete flexibility in settings. The platform is Linux-based, comfortable for developers and administrators used to a Linux command-line interface. Setting private and public subnets is perfect for both software development and production. You can quickly set up the required security measures like firewalls and configure all needed routers and gateways, no matter how complex the planned infrastructure is.
Google Cloud computing services are available on a 'Pay-as-you-Go' basis without upfront payment. Clients pay only for the services they currently use. If you decide to cancel using Google Cloud, no termination fees will be charged.
3. Amazon Web Services

Key benefits: the most popular solution, hybrid service packages, a vast range of available services, scalability
Possible issues: steep learning curve, higher fees compared to competitors
Pricing: 1-year free tier, various pricing models
Amazon is the most popular among the top cloud computing services worldwide. It released its cloud business in 2006 as a subsidiary of Amazon.com. Amazon Web Services (AWS) include various PaaS and IaaS solutions, including Elastic Cloud Compute (EC2), Simple Storage Service (S3), Elastic Beanstalk, and Relational Database Service (RDS). Generally, the entire service infrastructure is divided into four major areas: Compute, Storage, Content Delivery, and Networking.
EC2 provides complete control over your online computing resources. It gives the ability to purchase servers and other virtual facilities on the go to keep all your projects up and running within the changing scale.
AWS Elastic Beanstalk handles load balancing and auto-scaling after you upload all your apps to the cloud. It also scales the consumed resources automatically according to the growth of apps needs.
The security within AWS services can be controlled by its secure Web client and the users themselves, with lots of available options like audit, data encryption, various logging, and monitoring tools. AWS also manages all the hardware and system administration. You can easily change the infrastructure requirements according to your growing or reducing needs.
There are three pricing models available for user choice: 'Pay as you Go,' 'Pay less using more,' and 'Save when you reserve.' The price for each plan is configured individually based on the system parameters you order. There is also a free trial period (1-year free tier). After it expires, you'll need to subscribe to the paid plan.
4. IBM Cloud

Key benefits: single occupancy servers, sync cloud with on-premises, free tutorials
Possible issues: potential loading issues, rapid cost growth as the workloads increase
Pricing: free tier, 'Pay as you Go' model.
IBM Cloud is a service from another tech giant, IBM, that offers SaaS, PaaS, and IaaS cloud computing solutions. It is not purely a virtual system. IBM Cloud is an on-demand platform that combines hardware and virtual-based servers into one seamless infrastructure completely manageable by its users. If needed, a customer can purchase a separate, individual server with exclusive access to eliminate any 'noisy neighbor' effect and get a completely isolated environment for their development needs.
IBM Cloud features a single management system controllable from a web portal, mobile apps, and API. It offers complete server customization. A client can pick any combination of services they need and never pay for unnecessary resources.
You can test IBM Cloud with a basic set of resources under its 'Lite' tier. It implies 256MB of Cloud Foundry Memory. If this limit is reached, you can extend your subscription on a 'Pay as you Go' basis, paying only for the facilities you use. To find out the pricing for the required configuration, you can use its online cost calculator.
5. Oracle Cloud Infrastructure

Key benefits: lifecycle management, easy maintenance, integrated apps
Possible issues: limited load balancing capabilities, tricky UI navigation
Pricing: Free trial, 'Pay as you Go' pricing model.
Oracle Cloud Infrastructure provides a complete range of cloud computing services to build, deploy, and manage various applications efficiently. It also utilizes a combination of Machine Learning and Artificial Intelligence technologies for self-repairing capabilities.
Its PaaS platform features the most extensive range of services among today's cloud vendors. Its IaaS infrastructure also offers everything needed for efficient computing, data storage, DB management, app development, and big data analysis. It gives complete control of private cloud networks, powerful identity, security management, and compliance.
It is renowned for providing the best cloud computing services for dealing with advanced technologies like blockchain services, AI, ML, Big Data, etc.
6. Kamatera

Key benefits: 99.5% up-time, 24/7 customer support, flexible services
Possible issues: beginners sometimes confused with the range of offered services
Pricing: 'Pay-as-you-Go' pricing model, starting at $4/month, 30-day free trial
Kamatera is an international cloud computing provider founded in 1996. It is a pioneer among all cloud providers known today. It offers different types of cloud services with easy deployment and high speed and performance capabilities. Kamatera's cloud servers are highly flexible and cost-effective, operating in a virtual infrastructure cloud.
There are two main categories of cloud services—BusinessSolutions and Managed Solutions. BusinessSolutions are aimed at enterprise customers and big companies that require powerful scaling capabilities. Kamatera struggles to support rising entrepreneurs and start-ups. It has a unique Start-Up Solution with extra-level support and easy-to-learn management tools.
The company offers powerful cloud computing capabilities within its Managed Solutions with little to no effort from customers. Kamatera's technical team does all setup, management, and maintenance.
7. Linode
Key benefits: multiple tiers for support, powered by Linux, free data backup
Possible issues: no uptime and downtime statistics published
Pricing: flat-price model, starting at $5/month, $100 promotional credit for 60-days
As opposed to the global cloud computing giants listed above, Linode has a unique philosophy. The company believes that to speed up the innovation in the cloud, the virtual computing services must be maximally accessible, affordable, and easy-to-use. The company claims to be the largest independent open cloud services provider, servicing 800,000+ clients globally. They are also the first provider to offer cloud computing for a flat price, meaning no price calculator is required.
IaaS cloud-hosting services are among the flagship Linode products. There are multiple packages and prices available. Using its Linode Manager and NodeBalancer, users can manage multiple server instances in a single system. The company also offers numerous VPS hosting plans. Once you need more resources, you can easily upgrade your existing plan with proper add-ons.
Linode is a cloud computing and hosting provider for developers. To use all its benefits effectively, you should be experienced with Linux administration. Otherwise, it would be a bit challenging to maintain your virtual infrastructure.
Choosing the Right Vendor
Today's leaders in cloud computing services have a strong reputation and powerful offers for almost any need. As you see from the top cloud computing examples above, they hardly can be compared. To choose the right vendor, you should deeply analyze your current digital infrastructure, technical requirements, and growth plans. Our software development experts and system administrators have extensive experience with all the mentioned providers and can pick the most suitable one for your project's needs. It is essential to choose a plan that provides maximum capabilities within your budget. Our technical specialists are happy to assist in configuring your cloud environment and setting up all necessary cloud services for efficient project development. Let's make the right choice together.
Unsure which cloud computing services perfectly fit your project needs? Rely on the extensive experience of KeyUA.
Contact Us