Tinder gained 50 million users in the first two years, and users opened the application 11 times per day on average. Every new dating startup getting ready to enter the market aims to replicate Tinder's success or come close to its impressive statistics. So what Tinder app features helped it to become the #1 online dating platform globally? Let's do an in-depth review of its mechanics and options available for users with different subscription tiers.
The Secrets of Tinder Success From the Get-Go
Tinder's launch completely changed the concept of online dating in 2021. Now all dating app features seem so familiar and clear, as numerous apps like Hinge or Bumble have replicated Tinder mechanics, making them standard in the industry. So, how did one single product change the rules of the game for online daters?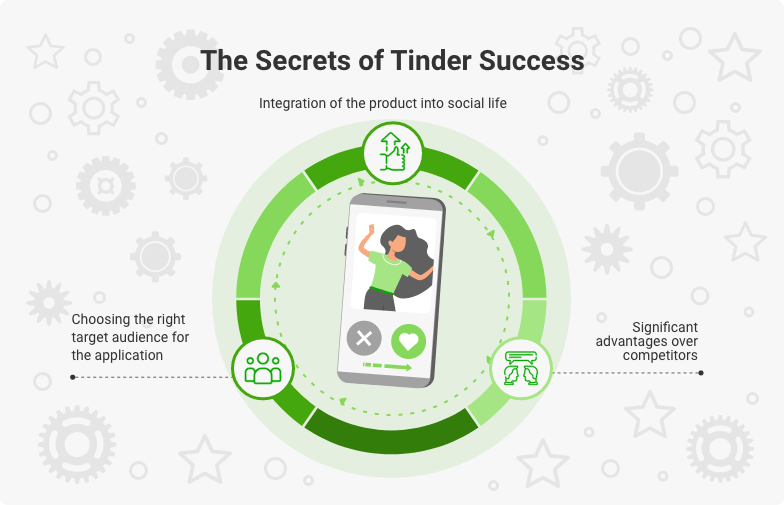 The most important secrets to the success of the tinder app
1. Tinder Said 'No' to Common Barriers
The Tinder team created a dating platform with significant advantages compared to its competitors:
The ease of use and settings: there is no need to fill out an exhausting questionnaire to make an account. A user can connect their Facebook account, and all required information will be in place. Begin to find matches right away! If users want, they can fill in basic information by themselves or manually edit the imported data.
There is no fear of being rejected: a user doesn't see who swiped them left. All their attention is focused only on mutual matches. It forms a feeling of being in demand and success.
Location-based profiles pool: a user can set their matching filter to display only candidates located nearby.

It speeds up the chances of having a date today or finding a suitable partner sitting next to you at a conference.
It solved those long-time online dating market problems, offering a genuinely handy and straightforward way of use.
2. The Right Target Audience
Initially, Tinder betted on students as their primary audience. Whitney Wolfe Herd, Tinder's Marketing Director at that time, visited dozens of colleges and universities with presentations. First, she went to female communities calling on girls to join Tinder. Then she moved to fraternities. When guys saw all the nice girls nearby that joined the app, they gladly signed up too. The first wave of users liked using Tinder, and its popularity grew by word of mouth.
Andriy Onopriyenko, the Chief Technology Officer at KeyUA, points that "The portrait of your target user directly defines the features to be developed. That is why we begin working on dating startups from in-depth marketing research and target audience analysis. Investigating the target users' habits, expectations, and demands helps focus on the core functionality and optimize project time and cost without sacrificing product quality.
3. Integrating the Product into Social Life
Soon after the marketing campaign for students, Tinder hired numerous ambassadors to promote it offline. The team arranged student parties with different challenges to install the app and make a profile. Finally, it came into fashion. It became widely discussed, and everyone heard about it. It went beyond student life and spread further among other user categories.
However, non-trivial marketing, the correct choice of audience, and playing with human psychology would be nothing without a high-quality, functional, and usable product. Check how to create a dating app with our step-by-step guide. There are multiple features of the Tinder app to consider before launching your own dating startup. See what the product offers for free users and what additional options paid tiers include.
Free Tinder Feature List
At Tinder, a user can only send messages to other people if there is a mutual Like. Users like profiles that seem interesting to them. Two people can begin chatting only after a match. This mechanic is simple and effective. You know for sure that the other person is also interested in starting to talk. And all potential profiles are filtered by location. This way, Tinder breaks any social and physical barriers to create a new relationship, which is the app's secret to success.
Let's see what Tinder free features are available.
Profiles
Users create profiles after signup. You can sign up via email, Facebook account, or phone number. Profile photos, education, work, and interests are imported from Facebook (if you choose this option). Otherwise, a user can fill it in manually.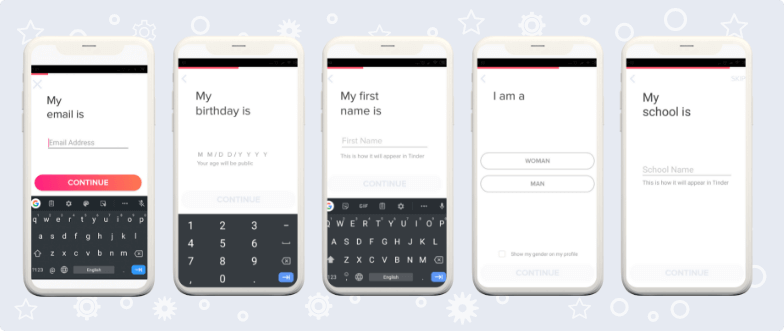 Tinder Profile Registration Process
After all necessary profile details are in place, you can start swiping profiles right away. There are different settings available from the start. For instance, you can make your profile private, and it will not be shown to other users. Also, Tinder suggests excluding people from your contact list so that you won't connect with them through the app. This way, you can control who sees you and keep your online dating activity private from your family, colleagues, and other unwanted witnesses.
Location
One of the most useful features of Tinder is setting the location for a profile search. For example, you can set profile suggestions to the maximum radius from your site.
If you only find a few profiles in the set radius, you can always extend the search by making it bigger. It helps people in small towns with very few potential matches of the desired age.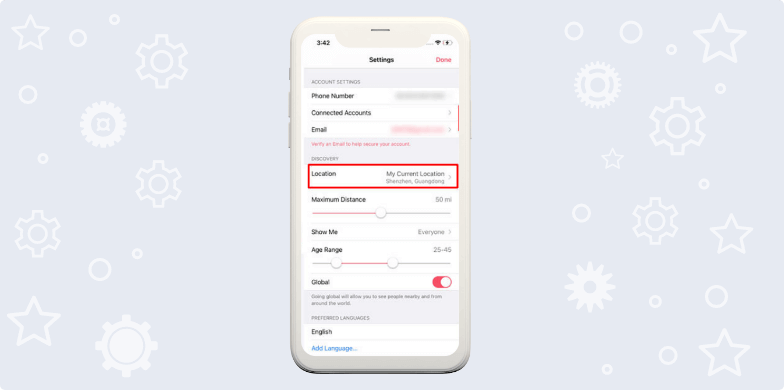 Tinder Discovery Settings
Swipe
Swipe is the central mechanic of the Tinder UI/UX. The list of potential matches based on geographic location, mutual friends, interests, desired gender, and age range is displayed to a user one by one. A user can swipe the offered profile to the right if they like it or to the left if they don't.
The Swipe feature was first seen on Tinder, and 'Swipe Right' has become the product's tagline. The nature of a swipe is irreversible. You cannot undo the swipe unless you upgrade to Tinder + or higher.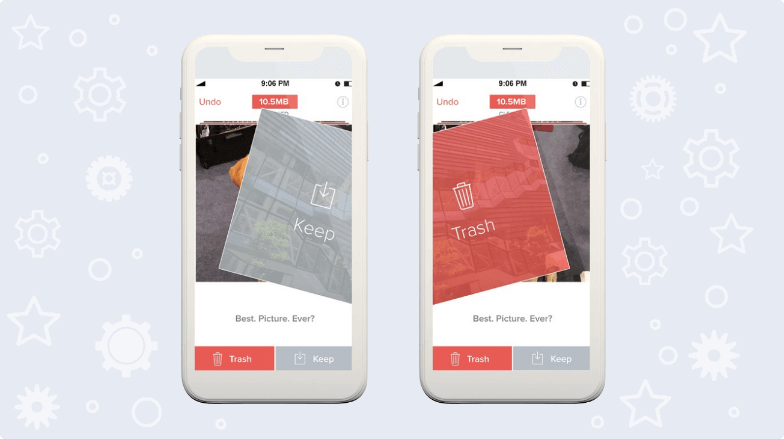 Tinder Swipe Right and Left Mechanic
Match
Two users get matched when they both swipe each other's profiles right. A Match is required to start a conversation.
The matching algorithm is not random. It may seem that the profiles a user sees are simply a random bunch of users that fit the preset age/gender parameters and live in the defined radius. However, Tinder sorts out profiles based on a so-called desirability score.
The ML-based algorithm defines the user's 'desirability' level and pulls profiles close to the same score. In other words, the platform shows you people that are likely to swipe you right.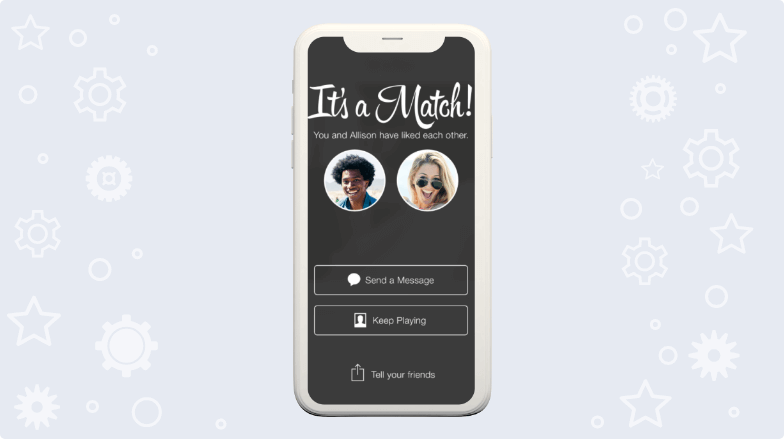 Tinder Match Screen
A Super Like
Users swipe profiles right anonymously, meaning that liked people won't find out you liked them until there is a match. A Super Like allows you to let a potential Match know that you liked them.
Your profile appears with a blue border and a star, pointing that you Super Liked a user. A free version offers one Super Like a day, and you can purchase more if necessary. Paid subscribers get 5 Super Likes a day with the ability to attach a message.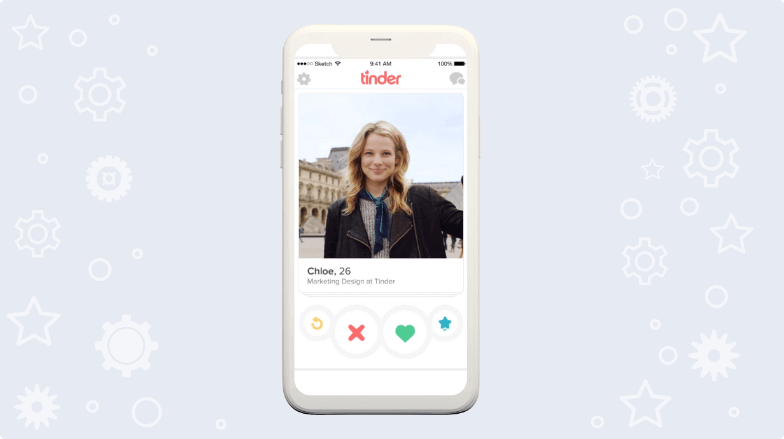 Tinder Super Like
Premium Tinder Features
While there are 66 million monthly active users on Tinder, 6.7 million prefer using Tinder paid features. It means the company brings tangible benefits to motivate people to pay.
Let's see how Tinder's new features have brought such growth of paid users. The company releases new subscription plans every few years, inventing new interesting add-ons for premium daters.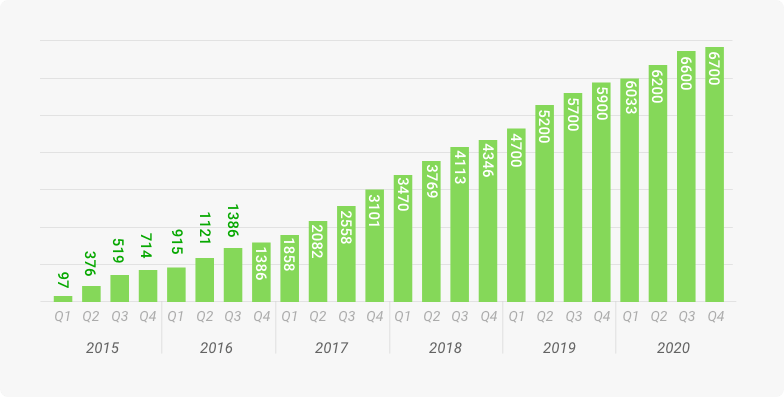 The Number of Paid Tinder Users 2015-2020
Unlimited Likes
While the number of swipes is unlimited, a free user can do up to 25 likes per day. After you reach this limit, you will be offered unlimited likes by subscribing to the Tinder Plus features plan.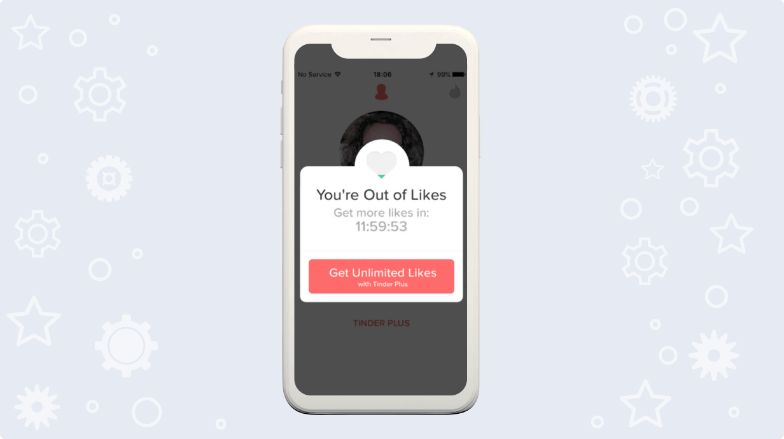 Tinder Likes Limit
Rewinds
Paid users can rewind the last right or left Swipe or Super Like if it was done by mistake. For example, if you swipe a profile to the left on a free plan, it won't be shown to you anymore. Often people can occasionally make a wrong swipe. By tapping on a yellow arrow on the screen, you can cancel your last action. All paid subscribers get unlimited rewinds.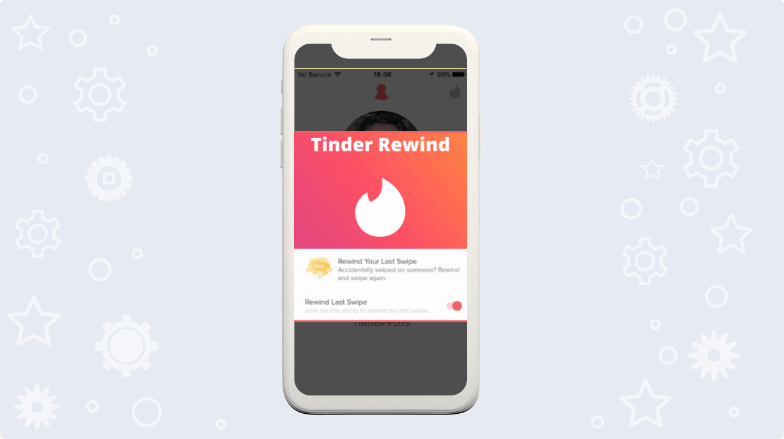 Tinder Rewind
Free Boost
The success of online dating directly depends on how often a user profile is shown to others. It defines how many potential matches one can get in the system. In 2016, a new Tinder feature was released to help paid subscribers get more Matches — Tinder Boost. It allows you to get up to 10 times more profile views by tapping on the flash icon.
One Free Boost a month is given to any paid subscriber, while anyone can purchase a Boost if necessary. It allows you to go to the top of the profiles in a specific location for 30 minutes. In the USA, a Boost costs $7.99.
Tinder Boost Feature
Passport
Tinder Passport feature was released together with its first paid plan, Tinder +, in 2015. This feature allows you to change the location for browsing profiles. A user can be in one city at a time. Still, it is possible to change the location for unlimited times within the Passport option. In addition, your profile will be visible for people you liked under the Passport feature for up to 24 hours.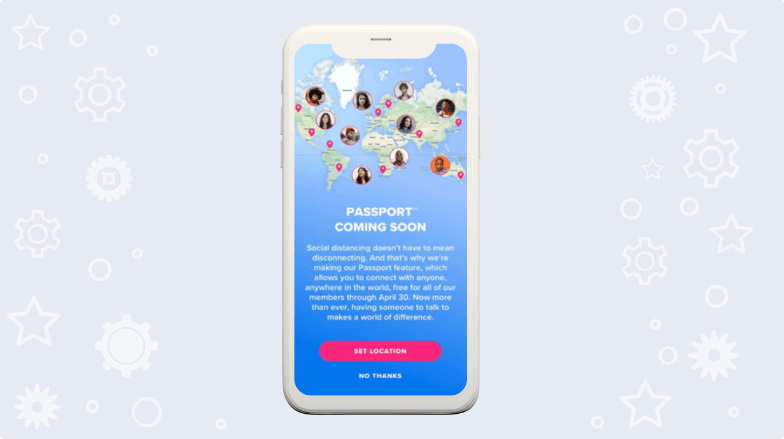 Tinder Passport
No Ads
Tinder earns money on free users mainly by showing advertisements and offering one-time premium features for an additional price. However, paid users don't see any ads while navigating through the app, making their online dating experience much more comfortable.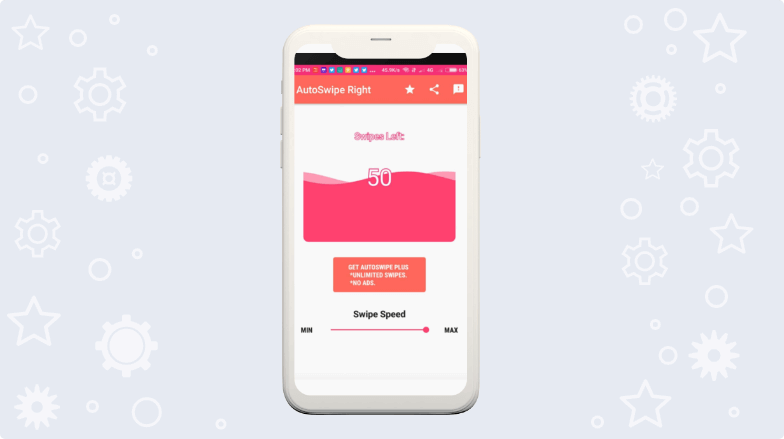 No Ads Feature on Tinder
Match. Chat. Meet
Paid users get richer capabilities for a chat feature: they can send GIFs and emojis to make their communication more emotional and comfortable. This option is available for all paid plans.
GIFs in Your Tinder Messages
Likes You
This option was released in 2017 under Tinder Gold features. It lets a user know who liked them. A user can view all profiles that gave them a Like and decide whether to swipe them right to match or left to dismiss.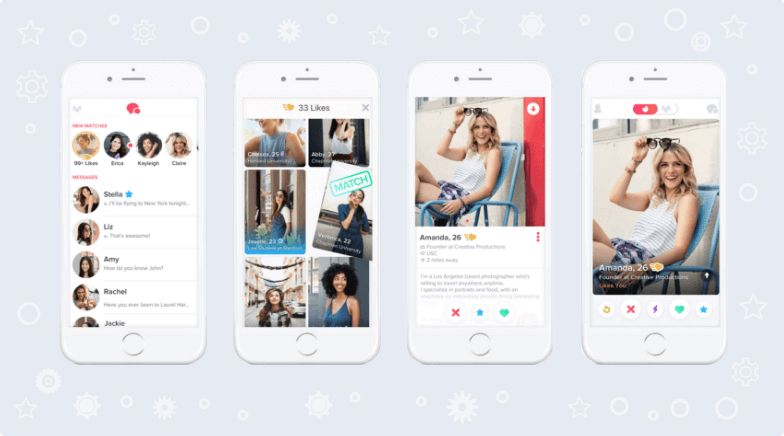 Tinder Likes You Feature
Top Picks
The Top Picks feature is designed to show a user the most swipe-worthy profiles for their choice. It is another new feature for the Tinder Gold and Platinum plans. Tinder + and free users get only one Top Pick per day, while Gold and Platinum members get a set of such picks that is refreshed every 24 hours.
Tinder's AI-based algorithm picks based on a user's previous activity and matching history, defining the most suitable candidates for a perfect match.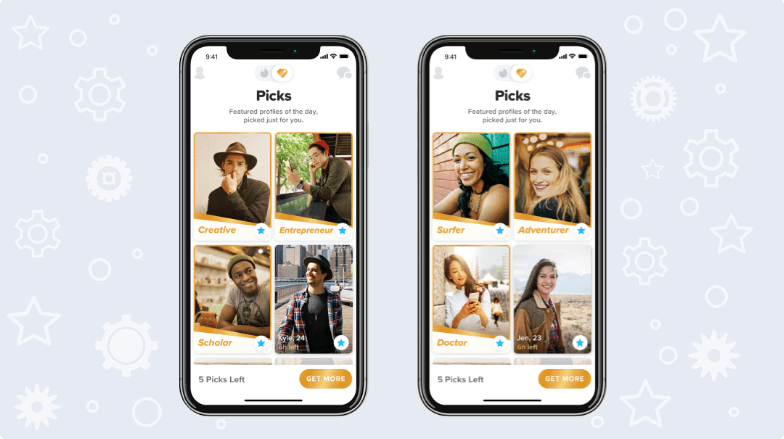 Tinder Top Picks Screen
Messaging Before Matching
Users can attach a note to their Super Like. A person can read a message of up to 140 characters before deciding whether to like back to make a Match. It was one of the new Tinder features released in 2020 under the Platinum plan.
Only Platinum subscribers can message people before matching by applying a Super Like.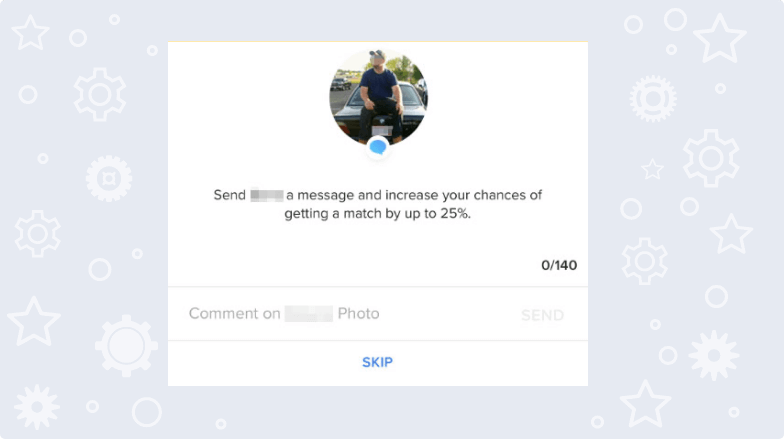 Tinder Message Before Matching Screen
Priority Likes
This is another exclusive feature for Platinum users. Potential matches see prioritized Likes and Super Likes before the Likes of non-Platinum users. Thus, it increases the chances of getting matched.
Tinder Features By Subscription Plans
Tinder implemented an effective monetization strategy based on paid subscription tiers, offering additional value for each plan upgrade. Find out how to monetize a dating app using a subscription model and other practical approaches.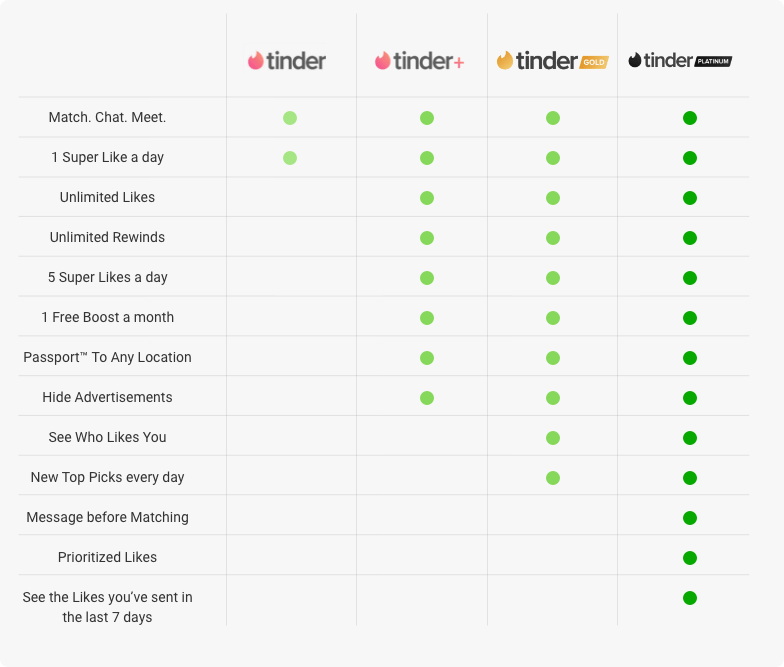 Tinder Subscription Plans
The pricing for a 1-month premium subscription is $9.99 for features of Tinder Plus, $29.99 for Tinder Gold, and $39.99 for Tinder Platinum. The price per month gets lower if a user pays for 3-, 6- and 12-month plans.
Sometimes the premium features become available for Tinder free use to engage users, test new options, and upgrade their subscriptions. For example, in April 2020, a Passport option was free for all singles. It was done to support online daters during the pandemic. Many of them got stuck away from home with no ability to get back.
An utmost service can partly explain Tinder's success for both free and paid features. The company regularly extends capabilities for online daters by releasing new premium add-ons. They tangibly improve the dating experience, making each subscriber completely satisfied with the purchase.
Final Thoughts
Planning features for a new online dating startup is not only about the technical aspects of the future service. The right choice of options should rely on in-depth marketing research. If you want your business model to bring expected financial success and form strong loyalty to a new brand among customers, it is a must. The example of Tinder functionalities can be a good starting point for building your own feature list.
Please check Tinder alternatives to get more inspiration. KeyUA software engineers, designers, and marketing experts can help you define the most demanded elements of user experience and implement them properly.
We can also assist in creating a lucrative business model for your online dating platform to monetize it effectively. It's time for a new name to thrill the global dating industry!
Need to create up-to-date, unique features for your dating startup? Get the best dating software experts from KeyUA to assist.
Get In Touch