Online dating is the most popular way for LGBT+ singles to find a partner for relationships or hookups. Some top dating services are inclusive of all genders and sexual preferences. There are also platforms specifically tooled for gays, lesbians, transgender people, and other LGBT+ groups.
Niche online dating applications have gained popularity within the last few years. Let's analyze the ten best LGBT dating apps and find out what services LGBT+ online daters would like to see on the app market. Uncover the right insights for launching a lucrative LGBT+ dating startup.
TOP LGBT Dating Apps Summary
Check the comparison table below to get a quick overview of the available dating platforms for non-traditional sexual preferences. Some of these dating apps are tailored explicitly to gay singles.
In addition, some of them support multiple LGBTQ categories to cover all possible relationship types. We've chosen products with different features and target audiences to give a complete overview of dating apps for the LGBT community.
| | | | | |
| --- | --- | --- | --- | --- |
| Name | Purpose | Free account | Monthly pricing, $ | Desktop version |
| Grindr | A social networking platform for gay, bi, trans, and queer people. | Yes | $9.99 for 1-month$3.99 in a 12-month plan | Yes |
| Scruff | The best gay dating app for travelers | Yes | $14.99 for 1-month$10.00 in a 12-month plan | No |
| HER | The best lesbian dating app for friendship and romantic dates | Yes | $14.99 for 1-month$7.50 in a 12-month plan | No |
| Planet Romeo | A dating app for gays looking for gay, bi, and trans partners for hookups, friendship, and romantic relationships. | Yes | $10.11 for 1-month$7.86 in a 3-month plan | Yes |
| Thurst | A dating app for queer people of all genders (LGBTQIA+ community) | Yes | Free | No |
| Adam4Adam | The leading free gay dating app for hookups and casual dating | Yes | Free | no |
| BiCupid | A pioneer dating app for bisexuals | A free trial | $15.95 | Yes |
| ZOE | The top-ranked app for queer women | Yes | $15.99 for 1-month$9.99 in a 12-month plan | No |
| Taimi | A dating app for LGBTQ+ members with robust social media features | Yes | $41.99 for 1-month$6.00 in a 12-months plan | No |
| MenNation | The world's biggest gay dating website | Yes | $34.95 for 1-month$14.95 in a 12-month plan | Yes, website only |
Yana Trihub, KeyUA Chief Executive Officer, explains the demand for LGBT+ dating platforms: "Creating separate dating apps for LGBTQ+ daters is not about discrimination or isolation. In modern society, gender or bedroom habits don't limit the right to communication and self-expression. Creating virtual communities of people with the same likings, lifestyle, and choices helps them find a perfect couple much easier than in real life. In addition, a wide diversity of genders and sexual identities gives the unlimited potential for entrepreneurs to launch new niche dating products.
Launching a new startup in a niche dating category requires a new product to be developed. Here is a full guide on how to create a dating app.
Have an idea for a new LBTQ+ dating app? Let KeyUA fuel your project with the best development and marketing expertise.
Contact Us
1. Grindr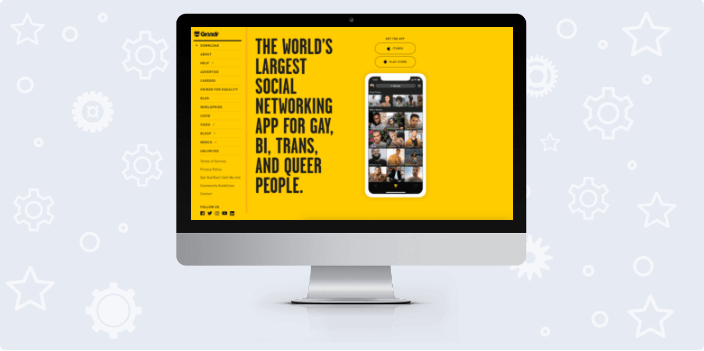 Grindr was launched in 2009, and from a technical point of view, it is very similar to Tinder. It is a location-based matchmaking platform that helps to discover gay singles in the user's area.
Grindr is available in 200+ countries worldwide and is mainly used for casual sex and hookups. People looking for something more serious are recommended not to sit on the app late at night. As opposed to most popular LGBT dating apps, Grindr allows users to disclose their HIV+ status.
Pros:
Big audience: 6+ million users
Most users are clear about their intentions
Supports sending text, graphic, and audio messages
Allows adding profiles to favorites
Completely anonymous
Allows changing the app icon, if a user doesn't want others to know he's using Grindr
Cons:
Messaging to people outside your location is available only for paid subscribers
Very few women in the app (lesbian, transexual, or straight)
Fee-based live chat.
A user could cross paths with people from their inner circle (family, work, friends)
2. Scruff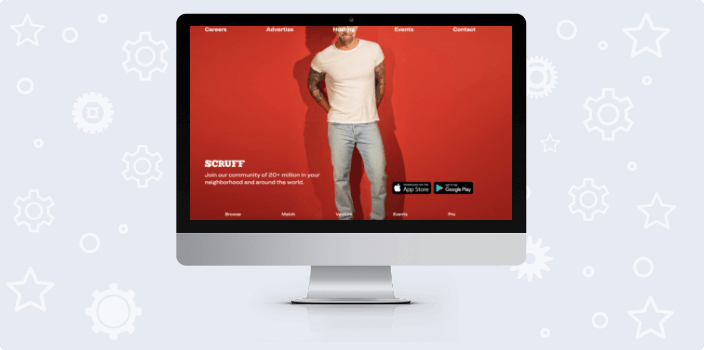 Scruff is another dating app designed specifically for gay men singles (GTBQ community). It was launched in 2010 and now counts about 20 million members worldwide.
Each user can clearly state their preferences by ticking off all communities they are open to in the settings. The available choices include bisexual, trans, military, bear, cub, discreet, jock, daddy, muscle, poz, and many others. Thanks to its 'Scruff Travel' feature, it is one of the top LGBT dating apps for travelers. A user can set their destination city to arrange dates with locals when they arrive.
Pros:
20+ million gay singles worldwide
Inclusive for all existing GBTQ communities
Allows chatting with people out of your location
Unique 'Scruff Travel' option
AI-based matchmaking
Cons:
Lots of ads and pop-ups for free users
The app is famous for occasional crashes
Few filters to refine the profiles search
No web version
3. HER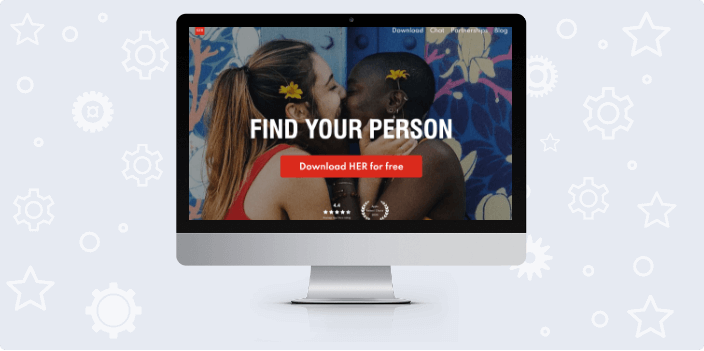 HER is one of the most popular LGBT apps for lesbian singles. It was initially released in 2013 as Dattch (Date Catch), and in 2015 was renamed to HER. It positions itself as a social media platform that connects queer women to the LGBTQ community.
The system confirms only female profiles, and there is no chance to fool the system. 4+ million active users are quite a lot for a lesbian-only dating app. However, most of the app members are from the USA. It is excellent for both romantic relationships and online friendships.
Pros:
Free and unlimited messages
Easy and quick sign up via Facebook or Instagram
Only verified profiles for safe communication
Regular off-site events hosted by the app (before pandemic)
Cons:
No web version
No search option
Matches are based only on location and age preferences.
4. Planet Romeo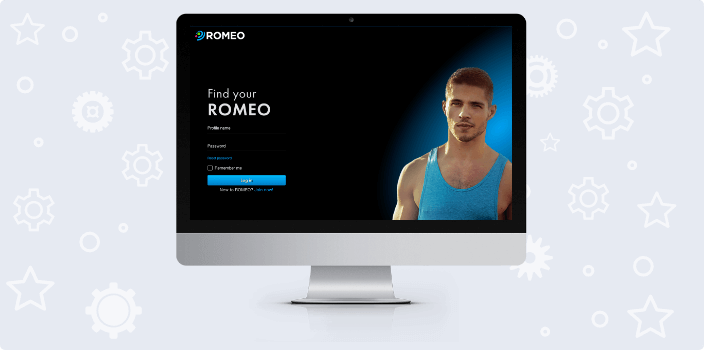 Planet Romeo is one of the oldest niche gay dating platforms founded in 2002. Originally it was available only in Germany and German-speaking countries. Here gay, lesbian, and transgender singles can look for hookups, serious relationships, and friendship. However, it is available globally for gay men looking for gay, bi, and trans partners for the time being.
The app categorizes users by their best traits and activity. Also, it features advanced search options to filter potential matches by location, activity, newest sign-ups, etc. Each user also needs to specify what type of partner he is looking for.
Pros:
Messaging, instant chat, sending stickers, adding friends and favorites, viewing profile visitors are available for free
Members can present a paid subscription as a gift to other users
Fair pricing compared to other apps
Advanced search features
Cons:
Lots of ads for free accounts
No profile verification that leads to security concerns
Adult nudity and other NSFW content
5. Thurst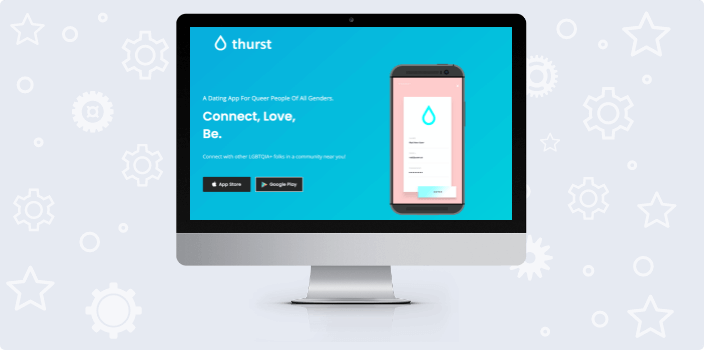 Thurst is a dating app for all genders and races. According to its founder, Morgen Bromell, it is "working to prevent racism and discrimination among users by creating not only a platform but a team that maintains anti-racist values." His aim is developing an LGBT dating app where users don't need to state their gender when signing up. Optionally, a registered user can point to any gender in the profile and change it whenever they want.
Thurst doesn't connect user profiles to their social networks and doesn't share any private user data. Instead, it gives users privacy and freedom for communication.
Pros:
A safe dating platform for all genders and sexual preferences
High ethical standards and strict community guidelines
Gender settings are optional
Free to use
Cons:
Buggy layout
Can be very few matches based on the user's goals
No web version
6. Adam4Adam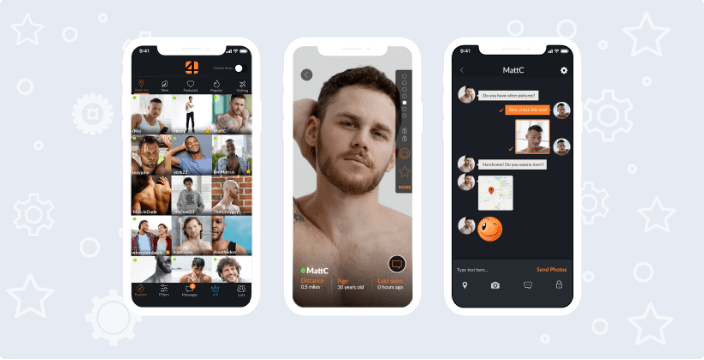 Launched in 2003, Adam4Adam is one of the best gay hookup apps completely free of charge and one of the oldest dating apps for the LGBT community. There are about 12 million users on the platform. The service generates profit from advertisements, donations, and pay-per-view adult videos. It is created specifically for men regardless of their community (gay, bi, twink, metrosexual, closet, etc.).
The app features detailed search settings to output the potential matches that perfectly fit a user's preferences. Besides location, age, and sexual preferences, you can select various appearance parameters, HIV status, bad habits, and many others. Most users are looking for casual flirting and dating with no serious, long-term intentions.
Pros:
Completely free of charge
Moderation of photos, age verification
Built-in live stream service
Sex shop
Ability to create a secondary "Visitor" profile when traveling
Cons:
Loads of ads
Inactive chats are deleted in 10 days
No profile verification
7. BiCupid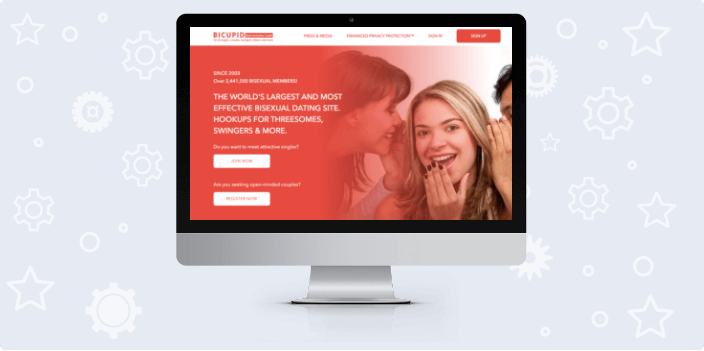 BiCupid is a specialized dating platform for bisexual singles. It has a 2.4 million user base worldwide, which is not much compared to other dating platforms. Yet, it is the most significant dating service dedicated to bisexuals. It allows meeting singles or open-minded couples open for experiments with a bisexual person.
It offers a quick sign-up via Facebook. If users don't want to connect to a Facebook profile, they can sign-up manually. BiCupid allows users to search for a specific type of bi-curious user (men, women, or couples) and filter matches by age and location. A paid subscription unlocks many additional filter options that help to find a perfect match with ease.
Pros:
Detailed and comprehensive profiles
Users disclose their relationship status and their interests
Available for both web and mobile
Cons:
Requires premium subscription after the free trial is over
Outdated website layout
Fake profiles
8. ZOE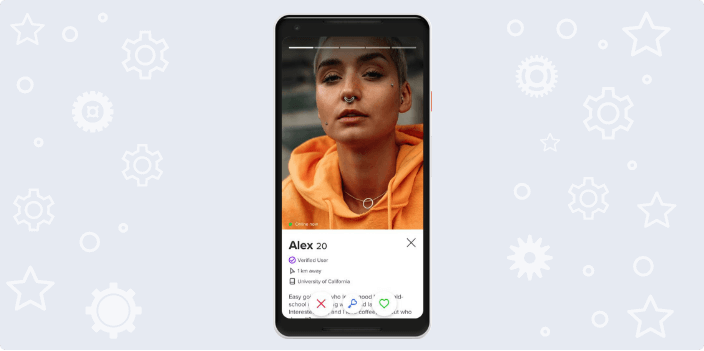 Zoe is an online dating service for women seeking women. It is one of the best LGBT dating apps for queer women worldwide. It is focused on open, real-time communication to engage romantic connections in LGBT female community. ZOE's matchmaking algorithm is based on mutual preferences. A profile can appear in match suggestions if users both fit each other.
It features a Tinder-like swiping mechanic that allows one to like a profile or pass it and move to the next. Then, after the match is done, two ladies can exchange photos, videos, and real-time messages.
Pros:
Suitable for queer women looking for more serious relationships
Advanced compatibility analysis for match suggestions
Messaging anyone in the app is free
Customizable UI: a user can switch off any unneeded feature
Cons:
Not big user base
No web version
Linking to a Facebook account is a must
9. Taimi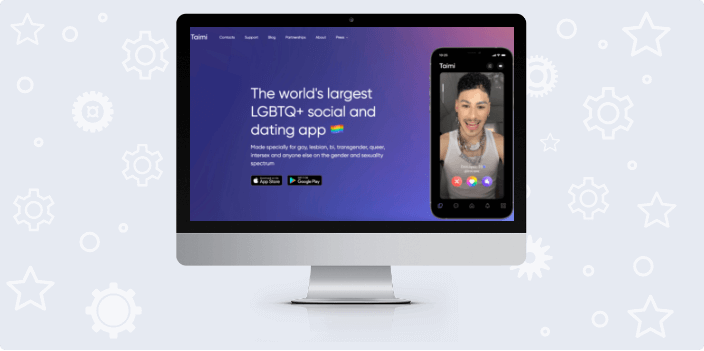 Taimi is an inclusive social media platform for LGBTQ+ members looking for communication and dating. It is inclusive of all LGBT categories, suitable for both casual dating and serious romantic relationships.
Aside from the traditional swiping interface and messaging features, Taimi has exciting options like posting Stories, undoing swipes in case of a wrong gesture, and live video streaming. It features custom invisibility settings. Users can browse profiles in incognito mode or select the list of people who can see their activity.
Pros:
Great social media aspects for ultimate communication
Inclusive for all LGBTQ people
Decent functionality for a free app version
Great privacy settings
Cons:
App crashes and glitches
Complex payment tiers
Poorly working customer support website section
10. MenNation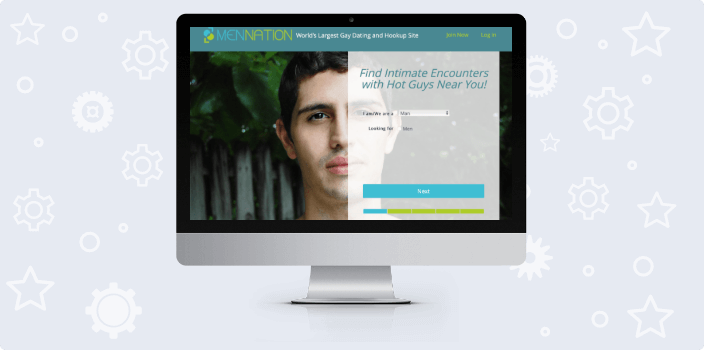 Just imagine, online dating platforms for gays existed in the last century too! MenNation was founded in 1996, and it is still one of the best LGBT dating apps for gay singles. It boasts more than one hundred million members globally — enough for any purpose, from casual dating to serious romantic relationships.
Gender, date of birth, and location are enough data to create a profile. MenNation allows users to register accounts for both male singles and couples looking for a polygamic experience. By default, the platform shows all profiles located close to a user. Additionally, users can apply different filters to sort out potential matches more compatible with specific preferences.
Pros:
The most extensive gay user base in the world
Easy and quick sign up
Multiple communication options for free
Available in 10 languages
Ability to disable displaying nude photos in settings
Cons:
No Android and iOS apps
A lot of explicit content
Only premium users can see the complete profiles
Rather pricey tiers
To go with the time, MenNation needs mobile apps, as more than 8 of 10 users prefer mobile apps over a browser. Find out how much does it cost to build a dating app to weigh the required investments.
Conclusion
The online dating industry is still wide open for experiments. From a business point of view, a narrower target audience can be compensated by higher subscription tiers and a wider choice of alternative monetization approaches.
Review our guide on how to monetize a dating app with maximum results. LGBT+ customers are more flexible and open to communication. That is why LGBT+ dating platforms boast higher user activity compared to traditional mainstream products.
KeyUA software app developers and marketing specialists can help you enter this market segment successfully with a new dating application. Let's create more room for an inclusive dating experience together!
Looking for a development partner to launch an LGBT+ dating app? Let's discuss your project and find the right approach to make it successful.
Contact Us