Over the past decades, the logistics industry has expanded significantly, conquering new markets and countries. The latest estimates put the global logistics industry between $8 trillion and $12 trillion a year, with 10% of GDP in the United States alone attributed to the logistics industry. The logistics itself includes a lot of work, from packaging goods to delivering them to an end-user. It is a large-scale and time-consuming process that can be optimized using modern technology. Mobile apps offer significant benefits for businesses of all sizes and a great way to gain a competitive advantage. So, in this article, we will talk about what creating a custom transportation mobile app can bring you and what steps you need to take to develop it.
9 Benefits of Having a Mobile App for Transport & Logistics Companies
You've no doubt heard of Uber. This startup has grown its influence from San Francisco to 69 countries worldwide in a relatively short time. This is an excellent example of how successful a custom mobile app for transportation can be. Applications can help run the business efficiently, even for startups. It opens up many new opportunities for the development of the company and promotes an increase in profit. Below we have given the main reasons why it is still worth creating an app like Uber for the trucking industry.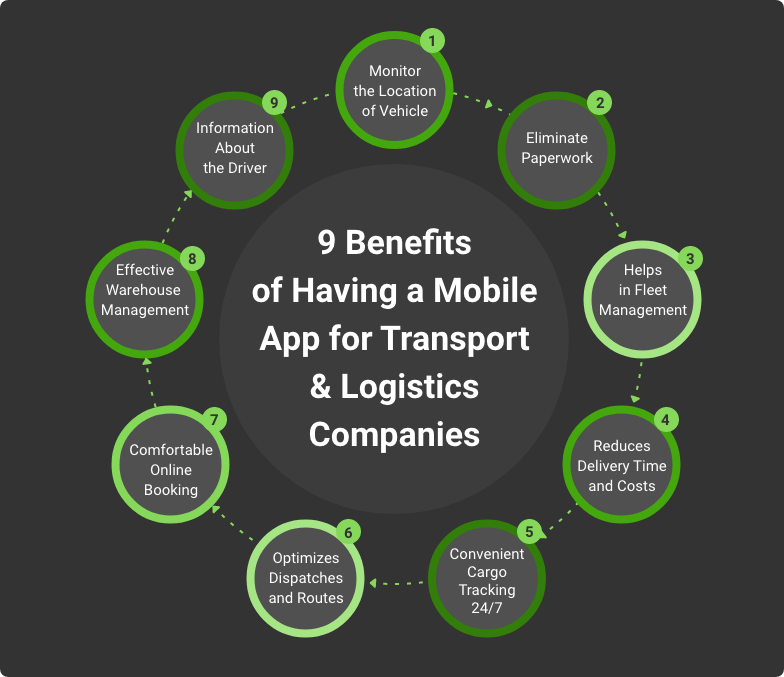 There are at least 9 advantages of a mobile application for a logistics company
Let your business grow with a quality application developed by KeyUA.
Contact Us
1. Monitor the Location of Vehicle
The world has become much simpler thanks to GPS technology. This feature is now available in all applications designed for the transportation industry. It uses a mobile and satellite network to track the location of the vehicle. Thus, extensive coverage is created, making it easy to track the vehicle's movement in almost any area in real-time.
2. Eliminate Paperwork
Paperwork can turn any work process into hell. But things get easier when you can automate this process. Electronic databases, paperwork using tablets, and sending data online are possible thanks to the mobile application. In general, this makes it simple to accept online payments, issue receipts, and maintain an electronic budget.
3. Helps in Managing your Fleet Appropriately
A company may have its own vehicle fleet. And the more cars there are, the more difficult it is to manage. The development of an application for the freight industry allows improving vehicles' maintenance and expanding services to transport goods.
The app will collect, update, and store all information regarding the truck fleet, including the operating time, the next maintenance schedule, the condition of the engine, brakes, and so on. It's an excellent option to make your cargo transportation fleet as safe as possible.
4. Reduces Delivery Time and Сosts
Developing a mobile app for a logistics company allows you to predict fuel costs automatically, create the most efficient plan, and reduce empty miles. All of these together are great ways to make delivery cheaper and faster, thereby increasing your competitive advantage.
5. Convenient Cargo Tracking 24/7
Another important feature you get by developing a logistic app is tracking every shipment. You will be aware of where any parcel is going from your warehouse, on which truck it is located, and the approximate delivery date. In addition, a light version of such an option can be added to the customer application to increase the transparency of transportation and thereby attract even more customers. You can use RFID / NFC technologies or QR codes to track your cargo.
6. Optimizes Dispatches and Routes
Another reason why logistics companies need a mobile app is to optimize shipping. By automating internal processes, you can calculate the most optimal route and adjust the dispatch schedule to significantly reduce downtime.
7. Comfortable Online Booking
Various companies offer the option of online booking of parcels, through which customers can easily order delivery. This brings you closer to the receiver by skipping some steps in the delivery chain. For example, you no longer need to go to the courier service center to receive the delivery. You can take orders online and significantly save your time. As a result, you will be able to make more deliveries. This is a good opportunity for startups to grow a business.
8. Effective Warehouse Management
The delivery industry involves not only the transportation of goods but also the storage of parcels. Thus, you will need to pay special attention to the management of the warehouse, namely the departure and arrival of cargo. Using the application, you can easily choose the most convenient storage location for each parcel and always know where all cargo is located, its route, and so on.
9. Information About the Driver
Another thing you will always know about is the profile of each driver. The trucking industry application can contain an extensive database of all your employees, including their schedule, hours worked, personal data, and whether any fines or legal proceedings are registered with them.
Types of Apps for the Transportation and Logistics Industry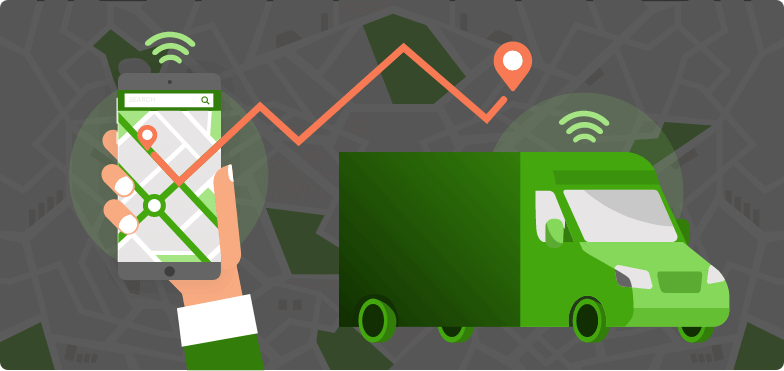 You can already see how much logistic mobile application development allows a business to grow and expand. But it's worth remembering that there are different types of applications. Let's take a look at all of them so that it is easier to decide which one you need.
Fleet Management Mobile Apps
This type of application is especially important for companies with a large vehicle fleet. It allows you to track all trucks, receive new information about their condition, and enables trucks to be serviced and inspected in a timely manner. You will also see a report on the funds spent on the vehicle fleet, fuel accounting, which will make your expenses even more transparent.
This type of application has two aspects. First, it is available for drivers and staff to update truck data, and second, you will have a personal admin panel where you can track the statistics of your fleet, the state of cars, and so on. Other important features include reporting, real-time data validation, problem reporting, truck tracking, fast data updates, and a database with photos and documents.
Logistics On-Demand Mobile Apps
Logistics app development includes the ability to better interact with customers, allowing them to place orders 24/7. The essence of such software is that it connects logistics companies and shippers, helping to make delivery even faster. Thus, the application consists of a carrier part, a shipper part, and an admin panel.
Here's how it works: the sender places a request for the carriage of goods to indicate the destination, weight, volumes, and cost. The platform determines the driver closest to the warehouse, ready to pick it up, and sends him a notification. The driver accepts the request and picks up the cargo. You and the shipping company can track the movement of the vehicle in real-time. Once the driver arrives at the destination and delivers the shipment, the platform closes the delivery and generates an invoice for the shipping company.
Warehouse Mobile Apps
This kind of application is especially useful for companies that have their own warehouses. Its essence boils down to ensuring that all goods are delivered on time and sorting out their location. In general, you will be able to keep track of all your deliveries in real-time, thereby receiving timely information.
The application is usually based on QR code technology to quickly get information about each cargo in the warehouse. This is also a great opportunity to save money on the purchase of scanners since the code recognition function exists in almost every smartphone. Such applications will help optimize the warehouse management process by checking details and effectively managing domestic and international deliveries. It also calculates the arrival time at the destination, travel time, truck speed, and plots the most optimal route.
Tracking and Monitoring Apps
Another option for the company's digitalization is to track the driver's movement and get information about the route. You will be able to see the driver's journey 24/7 and the condition of the truck. In general, this is very convenient when you have an extensive fleet of vehicles, and you need to make a lot of parcels every day. A mobile app for vehicle location tracking will cover all trucks at the same time and send the latest reports and data.
Key Features Needed for a Custom App for Transport & Logistics Companies
For a mobile application to be successful and help a business in development, it must contain a number of essential functions. Below we will analyze which ones.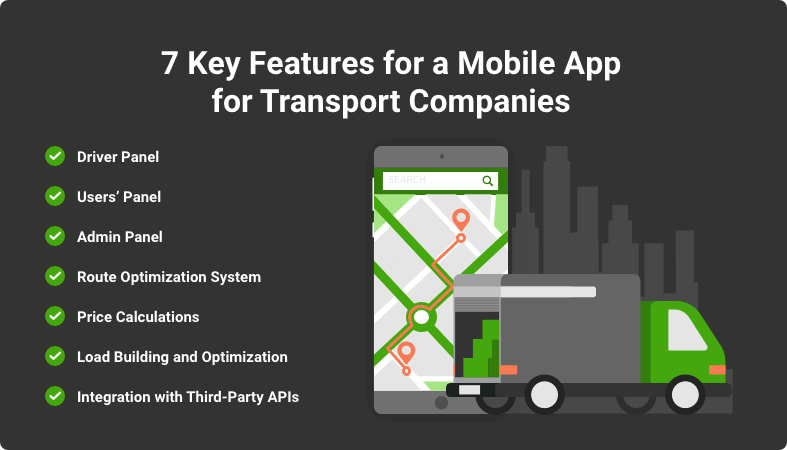 1. Driver Panel
These driver tools are designed to help the driver perform their duties more efficiently by making it easier to connect with customers. The driver's panel should include the ability to register via phone or email, receive notifications about customer inquiries, view and accept orders, see customer data, including their location and phone, and build routes, maps, and GPS technology.
2. Users' Panel
In turn, the client panel has a little bit of different functionality. Its goal is to help customers place an order for transportation and track the movement of a package. Like drivers, customers should also be able to register via phone or email, book transportation, be notified and warned in real-time, contact the driver, view the route, evaluate the quality of delivery, and leave feedback.
3. Admin Panel
Another player in deliveries is the admin, who helps both customers and drivers. The admin panel should contain all information about orders and deliveries, routes, customer reviews, questions, and wishes. In addition, it also reflects the status of all shipments, the movement of trucks, sends notifications to the client about the status of delivery, calculates the fuel consumption, and so on.
4. Route Optimization System
This essential tool, which allows you to plan a route with the most favorable fuel consumption and the shortest delivery time, selects the most suitable vehicle at the right time. With these functions, old routes can be optimized, and shipping costs reduced. Modern technologies allow intelligent routing to thoroughly and comprehensively monitor problems on routes and plot the most optimal way.
5. Price Calculations
Every day, a logistics company has to make many calculations, including assessing the required amount of fuel, salaries for drivers, costs of maintaining a fleet, insurance, and so on. In order to reduce errors to a minimum, it's better to use effective automated tools. Besides, the system can also increase the delivery prices for certain days of the week or month and fully calculate the client's delivery cost, taking into account all indicators.
6. Load Building and Optimization
The warehouse and drivers' load can significantly reduce the company's productivity if it is not distributed correctly. Special algorithms make this process simple, efficiently dividing the load among employees and premises. It also works within the framework of the load so as not to put too much pressure on the truck. In general, this is an excellent tool for efficient order fulfillment.
7. Integration with Third-Party APIs
Third-party systems and tools allow you to significantly expand the capabilities of the application, using minimal effort. For example, payment systems are third-party resources that you can easily integrate into your software and ensure that transactions are reliably protected.
How to Develop Uber for Delivery Trucks and Cargo Shipping
Logistics software development consists of several basic steps. We've put together a rough blueprint to help you build a robust application.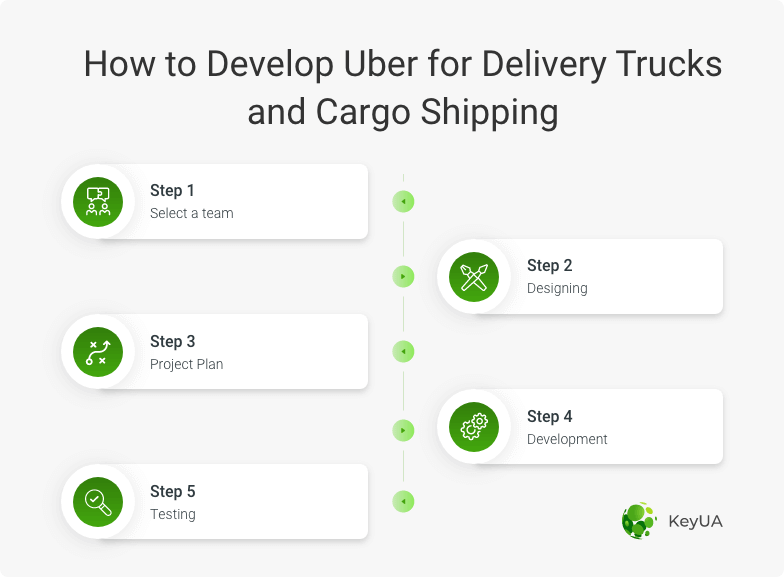 Step 1. Select a team
It's worth starting by finding a reliable development team and contracting with them. Many outsourcing companies offer collaboration with dedicated teams, which is more profitable than interviewing and hiring specialists to the office. The outsourcing companies are also attractive because they offer prices lower than in-house developers while still providing high-quality software.
At KeyUA, we are fully focused on the wishes of the client and develop high-quality mobile applications of any complexity. We guarantee complete transparency of the development process and the high speed of delivery.
Contact Us
How to pick a good team? Pay attention to reviews on Clutch and study the company's profile on LinkedIn. Talk to the Chief Technical Officer and ask for an assessment of your project. Reliable companies will send you an entirely adequate and understandable implementation plan. Also, find out if the company signs a development contract and a nondisclosure agreement. Avoid teams who don't want to sign contracts with you.
Step 2. Designing
The next step is to take care of creating the layouts of your application. Please note that the design for iOS and Android will differ slightly due to the functional features of each operating system. Many outsourcing companies also have professional designers on their staff. But if you want, you can hire them separately.
Step 3. Project Plan
You need a project implementation plan that will cover all stages and calculate the time required for delivering each functionality. Typically, such a document is drawn up by the project manager based on the assessments of technical specialists.
Step 4. Development
The longest stage is software development. It takes at least 3 months, depending on the complexity of the tasks. You can also release an MVP, a project that includes only the basic functions of the application. It will help you assess how effective the app is and its advantages and disadvantages, which will serve as a sound basis in the future building of a full-fledged product.
Step 5. Testing
The final part of the development of a mobile app for cargo tracking is testing. It consists of testing all product functions, simulating the behavior of real users. In the process of testing, critical and not so critical errors can be found that need to be fixed before release. This is a crucial stage that should not be neglected to avoid significant costs in the future.
What is the Approximate Cost of Transportation and Logistics App?
And now we come to another significant issue - the cost of development. It can vary greatly depending on the development company you choose. There are two basic interaction models: fixed price and hourly rate. With a fixed model, you pay a certain amount monthly for developers' services. With an hourly rate, you pay only for the time that the developer spent on the project. The highest hourly rate is in North American, where developers charge $100-150 per hour. The most optimal choice is developers from Eastern Europe, where the hourly rate is $30-40 for the same high-quality product.
Final Words
Developing a custom mobile application for the logistics industry is an excellent chance to increase the efficiency of your business, reduce costs, and get new customers. If you want to evaluate your project, find out the exact amount required for its implementation, and receive an estimated time frame, contact our specialists. We will be happy to provide you with a free consultation.
Hire a reliable software development team from KeyUA with 12+ years of experience delivering top-notch logistics & transportations Software.
Contact Us