Finding a parking spot can be a real challenge, especially in large cities. Independent research shows that 30% percent of traffic happens due to drivers looking for a parking space. The modern market offers various applications for finding a place to leave a car, but they cannot fully satisfy users' needs. That is why this niche is so popular, and the global smart parking market is expected to grow by almost $ 3.8 billion by 2023. Hence, today we will talk about mobile app development for car parking, share essential tips, and explain where to focus your attention.
How Parking Mobile Apps Work
Market conditions show that parking apps will be popular for a long time to come. But before we talk about development, let's look at the basic principle of how such applications work.
Determine the location. First, the drivers determine their location. They can do it manually or let the program automatically find the vehicle using GPS technology.

Search. Next, the software searches for available parking slots closest to the driver.

Compare. Users can compare available parking slots based on their distance or cost.

Book the Spot. Then the driver books the selected place and gets a password for it.

Driveaway. Once the customer has chosen a location, they can use the navigation built into the application to get there.

Payment. Users can pay for a parking space using a card through the application or with cash.

Park the vehicle. Finally, a client drives up to the reserved slot and parks their car.

Safe parking. Some apps help to park a car neatly without hitting nearby objects.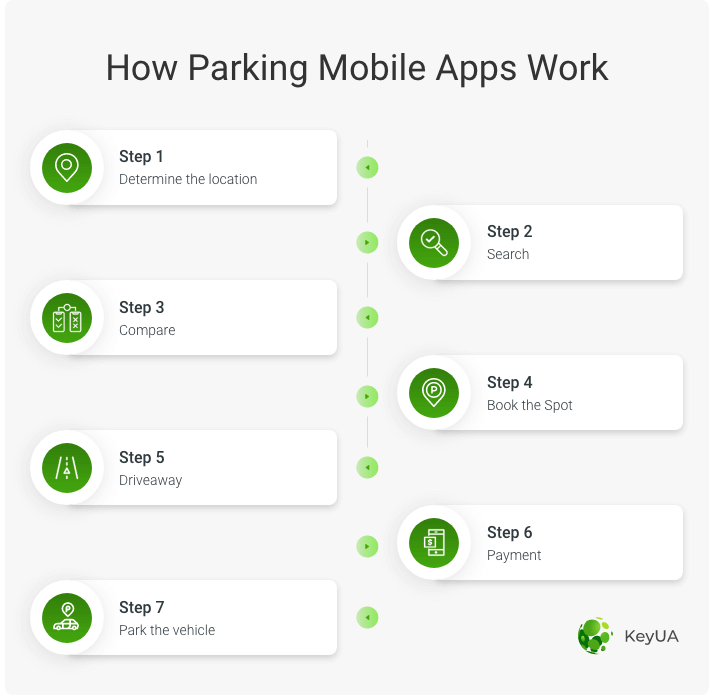 The principle of car parking app functionality is very simple and consists of 7 steps
Car Parking App Business Models
In order to create a successful application, it is necessary to understand market trends and analyze competitors. Car parking software can have various functions and even services. Below we will consider the main business models of such applications.
Dedicated (Navigation only). This option involves the inclusion of only basic functions, so it is well suited for startups. This refers to the creation of a minimum viable product. Such an application allows users to find the nearest available parking spot but does not offer booking functionality. MVP makes it possible to assess how effective the product concept is and determine which direction to develop further.

Aggregated (Navigation + Booking). Unlike the MVP, this is a more advanced version that allows drivers to book parking spaces and pay online. It also has built-in navigation and GPS. Some apps also help the driver to park safely. The bottom line is that special sensors are attached to the car body, which transmits information about nearby objects to the phone via Bluetooth. And based on this data, the application helps you to park the car.
Full Parking App. Such applications completely cover the functionality of the previous type but have advanced capabilities. They also offer door-to-door functions and valet parking. How does it work? The user pre-selects a parking space in order to book it, indicating the time and place to hand over the keys to the valet. The parking person takes the car, puts it in the parking lot, and returns it to the owner at the stated time.
Want your app to outperform the competition? Hire experienced KeyUA developers to build a powerful mobile app.
Contact Us
Monetization of Parking Lot Apps
Before you start building a custom mobile parking app, determine how it will generate income. This is an important step, as your product development will depend on this as well. Below we have listed a few of the most popular ways parking apps can be profitable.
Commission Per Booking
This is the most common type of income for the company. The parking owner charges a commission every time a driver makes a reservation. Then part of this amount is returned to the owner of the application through which the slot was booked.
Subscriptions
The subscription assumes that a driver will use the booking services without limits for a certain period. Customers who use parking lots often prefer this because a monthly subscription is a more profitable option than one-time bookings.
Reward Points
This is an additional way to make a profit. The driver receives points for using the application, and then they can pay for parking with these bonuses. For example, a customer is rewarded for inviting friends to the app. In this way, the software improves user experience, retains existing customers, and attracts new ones, increasing income.
Marketing and Branding for Parking Owners
Companies can generate income by promoting certain parking lots. The parking owner pays you to prioritize their lots in users' search to show their parking spaces first.
Build In Ads
You can place ads inside your app from third party vendors. For example, videos or banners, and get paid for putting their content.
Types of Parking Mobile Apps
Applications are divided into types depending on their functions. However, this division is rather arbitrary, and software can combine several of the following options.
By Geography
Apps are categorized by region. Initially, all companies go to the local level. For example, they offer services only in one city. As a product grows, it expands into the global marketplace and may span multiple countries.
By Functionality
Products also differ in their primary purpose. The first category is the parking management apps. They are aimed at enabling the customer to find and reserve a suitable parking space. The second category is parking assistance. They help the driver to park their car safely.
By Tools
Products may offer a variety of tools, namely:
Search. Apps have the main function of finding available parking spaces, even when customers need to park immediately.

Reservation. Some applications allow you to book a parking slot a week or even a month in advance.

Payment. Some applications only offer online planning, while others allow cash payments or combine these two functions.
By Parking Place
Some software finds available parking spots on the street. There are also apps for looking for places to park your car off-street.
By Search Options
Some applications that search for available parking space can perform other functions as well. Even though this is the most demanded service, the software is also being developed for finding a car. This is especially relevant among large parking lots.
Most Popular Parking Applications
Studying examples of popular applications will allow you to thoroughly analyze the market and find out exactly what functionality you need to implement for your product.
1. BestParking

This service is represented in many cities in North America. The main merit of the app is that it helps you find available places at the best prices. It also makes it possible to reserve parking spots at major US airports, like LAX, ORD, and JFK. Another handy feature of the app is advanced booking.Thus, customers can reserve a place in advance by choosing a precise time. Using the application, you will see all prices directly on the map, simplifying selecting a parking space even more. BestParking is available on the web, Android, and iOS.
Official website:
bestparking.com
2. Parking Panda

Inside the app, you can find about 2500 different areas and garages. Parking Panda helps you find and reserve free parking spaces near your location. The app provides top-notch services and is available for the USA and Canadian residents, including those who live in NYC, Chicago, Toronto, Boston, and more. The application creators claim that they fully protect payments by processing them when Apple Pay or Google Pay. You can use Parking Panda through a desktop browser or download it from the AppStore or Google Play Market.
Official website: parkingpanda.com
3. ParkMobile

It is one of the most proven apps in the world and was created in Europe in 1999. In the 2000s, ParkMobile developed rapidly and conquered the US market. Nowadays, the app is top-rated in the USA, Canada, Europe, Australia, and New Zealand. The application allows you to book spots at various locations, including businesses, centers, and even airports. ParkMobile has additional features like booking concerts, airports, sporting events, campuses, and more. Moreover, it has various convenient payment methods. The app has an interesting history of ups and downs, which is a great example to help you better understand the market. Like its competitors, ParkMobile is also available on the web and mobile versions.
Official website: parkmobile.io
4. ParkMe

This application advertises that it covers over 16,000 cities and is available on 7 continents. It has been very popular since 2009. It is one of the largest parking spot databases that allows users to keep track of their parking time to avoid time-exceeding fines. The app provides up-to-date information on pricing policies for various types of parking. ParkMe can set a timer, as a result of which you will avoid delays and take your car on time. In some regions, customers can see real-time parking information.
Official website: parkme.com
5. Parkopedia

It is a user-friendly product that covers 89 countries and about 15,000 cities. It gives the ability to search for an available parking space by address or using GPS technology. The app also has a navigation system that helps users get to the parking spot. In Parkopedia, you can find over 70 million different parking spaces. The product has been on the market for over 10 years and successfully continues to expand its boundaries. Parkopedia is available for desktop versions, as well as iOS and Android operating systems.
Official website: parkopedia.com
Features to Consider for Mobile Parking App Development
Now let's take a closer look at what functions an effective application should have.
Driver's Side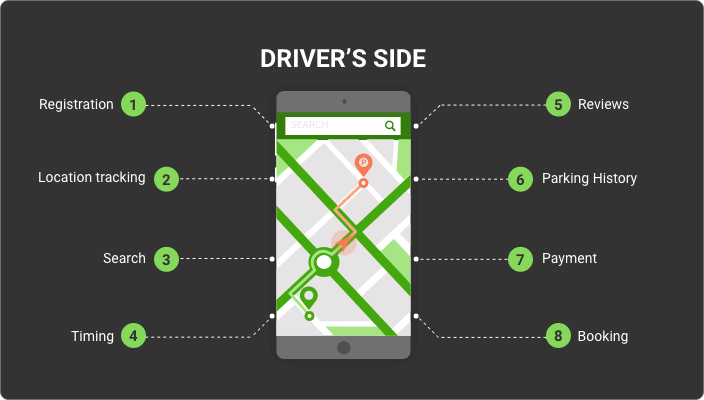 Registration. The driver must be able to register in the app and fill in their details. It is a good idea to implement the signup function via social networks, which will improve user experience.

Location tracking. The next must-have functionality is tracking the car's location and calculating the distance to the parking space. You can also add the ability to mark any places on the map to make it easier to book them in the future.

Search. Another essential function is the search for an accessible parking space. It is helpful if the driver has both local and global search capabilities. They should also be able to find a parking space in the selected city or area.

Timing. The client must be able to indicate the time of arrival at the parking space and the time of departure. Based on this data, the application will calculate the cost of the service.

Booking. Allow drivers to reserve a parking space while they are at home. Also, the ability to compare parking places by price or convenience of location is another crucial aspect of improving user experience.

Payment. Set up integration with a trusted payment processor to ensure that payments for using your services are credited to your account. It is good if drivers will have different payment options, for example, using a card, PayPal, Apple Pay, or Google Pay.

Parking History. The user should be able to view their booking history, including parking location, date, time, and total cost.

Reviews. This is a useful feature for user engagement. Let customers share their experiences by giving feedback and ratings to the parking lots they've visited.
Parking Owner Side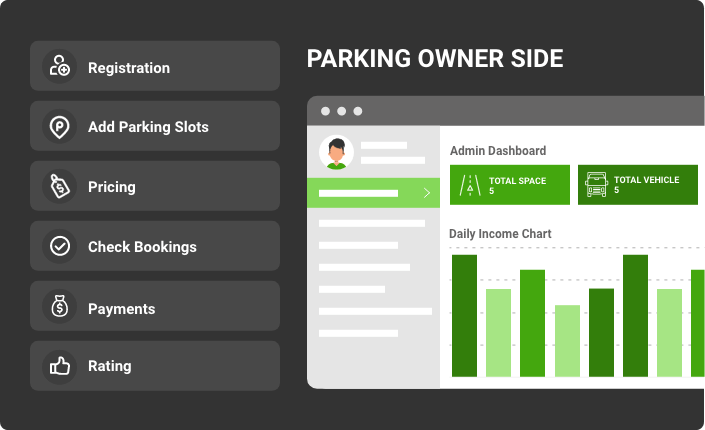 Registration. Like drivers, parking lot owners should be able to register in the app and leave relevant information about themselves.

Add Parking Slots. Further, the owners must be provided with the functionality by which they add parking spaces in the application.

Pricing. Another important function is pricing. It may vary depending on the time spent in the parking lot and the type of vehicle.

Check Bookings. The owner must see how many places are booked to assess the occupancy of the parking lot.

Payments. There are two options here. First, the owner should receive a booking commission from the app. Second, if you plan to allow parking lot owners to post their advertising content, they should be able to pay in the app.

Rating. Customers need to see the reviews left by drivers in order to improve the quality of their parking.
Admin Panel
The creation of a parking app also includes building an admin panel, which will be accessible from the web version. Its purpose is to monitor and manage the driver's and parking owner's sides and control the application.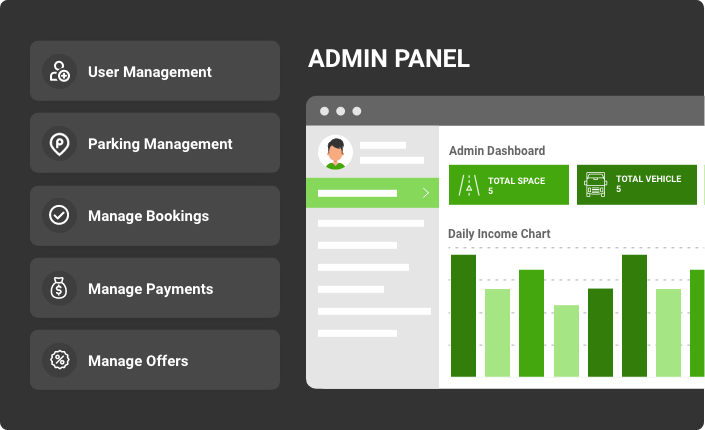 User Management. The administrator should be able to manage users, view their accounts, registration date, important information, transaction date and amount, and so on, depending on what is needed for the business. This functionality aims to assist users in resolving their requests and providing uninterrupted service.

Parking Management. This helps the administrator manage individual users, for example, approving parking owners, viewing, or editing their parking fees.

Manage Bookings. The purpose of this tool is to help you manage or change booking details. The administrator, upon the driver's request, can edit the parking location or time. In addition, they can also check the booking conditions, including taken and available parking spots.

Manage Payments. A parking spot app should be able to track pending payments, control the number of parked vehicles, and view final payments.

Manage Offers. With the help of these tools, the administrator will be able to manage special offers, create discount programs, and schedule mailings. In general, this piece of software is built to create and implement marketing campaigns.
When developing a mobile app for parking, you don't have to limit yourself to the above features. They only form a basic list. You can add any tool depending on the needs of the parking lot business and your goals. For example, push notifications or a multilingual interface.
How to Build a Parking App in 8 Steps
Now you have a basic understanding of parking applications and can use this knowledge to create a plan. Let's move on to the steps you need to take to make your own car parking app.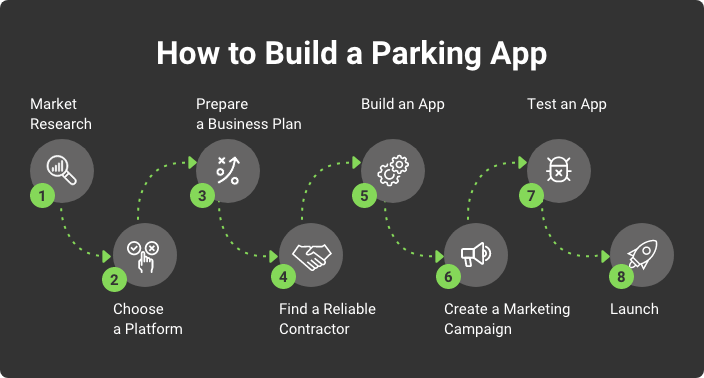 #1 Market Research
The first thing is to carefully study the market to understand which applications exist, their advantages, and the disadvantages. See what features are already implemented and read reviews from real users. It will help you determine the most meaningful functionality for your application. Another important step is researching potential users. The more information you collect about them, the more convenient your application will be. A successful product is one that can satisfy users' needs.
#2 Prepare a Business Plan
Many startups skip this step, and this is a big mistake. A business plan is one of the most reliable ways to attract investors. Its primary purpose is to show them and your team the goals of the product and how you will achieve them.
#3 Choose a Platform
Since we are talking about creating a mobile application, you must decide whether you want it to be available at AppStore or Google Play. Focus on what mobile operating systems your potential customers use. If they use both android and ios, take a look at building a cross-platform app. This means creating a container so that you can relatively easily deploy an application under two operating systems.
#4 Find a Reliable Contractor
Next, you need to find someone who will implement your project. Building an in-office development team has long been too costly. The market offers many development companies or freelancers around the world. You can even collaborate with a team from another continent. In general, location is not a key factor when choosing a contractor. Reliable companies can always provide a transparent development process and fair prices, regardless of where they are. Pay attention to the reviews about the contractor and their portfolio. Also, be sure the company will sign an NDA.
#5 Build an App
After you sign the appropriate contract, it's time to start developing a parking app. You will need designs of the interface and navigation. It's good if the development company has a designer who, together with the programmers, can carefully consider the user experience. If they don't have a designer, you will need to look for an outside specialist.
The basis of development is page layouts and a description of the product functionality that you should receive after analyzing the market. The process of mobile parking app development is time-consuming and will take at least a few months.
#6 Test an App
The next step is testing the project. You need to approach it with the utmost responsibility. You check the actual functionality and design of the application with the expected result. Many startups fail because they introduce a low-quality product into the market and thereby alienate customers. After the QA team has finished validating the software, research it to ensure your parking spot app meets business needs and goals.
#7 Create a Marketing Campaign
Along with the testing, it's worth starting to prepare material to promote your product. Ask your service provider if they have a marketer on board. This will greatly simplify your task. The marketing campaign needs to be well thought out and based on the interests of your potential users.
#8 Launch
Once you are convinced that the application's functionality meets the requirements, it's time to push your software to the market. Launch a parking app by publishing it in the App Store and/or Google Play Market (usually, the developers do this). At this stage, it is worth starting your marketing campaign.
Take care of the high-performance code of your project and a successful marketing campaign.
Contact Us
Car Parking App Development Cost
This question is of interest to many entrepreneurs. But to be fair, it is very difficult to give an accurate estimate of the project's price without knowing its details. The cost to create a parking app depends on the product's functionality and the time spent on development.
Software developers usually charge a price based on their hourly rate. Due to the nature of technology, iOS programmers are worth a little more money in comparison with android developers.
These are the mobile developer's hourly rates, depending on the location:
| | |
| --- | --- |
| Destination | Average Rates |
| North America | $100-$150 |
| UK | $55-$75 |
| Europe | $30-$50 |
| Ukraine | $25-$40 |
| South America | $20-$30 |
| Asia | $15-$30 |
At the same time, developers from Ukraine demonstrate a high quality of product implementation at a relatively low price. They are a reliable partner in mobile app development for car parking.
Final Thoughts
The market for smart parking continues to expand, and this is an opportunity for you to start your own parking mobile app. To do this, you need to carefully study your competitors and potential users, paying special attention to their satisfaction. In general, a good product can be realized in a few months. If you want to get a more accurate assessment of your project, please contact our specialists, and we will be happy to provide you with an extended consultation.
Build the first-class app with mobile development experts from KeyUA.
Contact Us