According to Statista, the global e-learning industry will be worth $243 billion in 2022 compared to $165.36 billion in 2016. And that's not surprising: the traditional education system is going through difficult times. Apart from increased tuition fees, students face a global lockdown and the need to study from home. That is why the majority is looking for alternative ways of getting a good education from home for a reasonable price.
The rising popularity of e-learning platforms makes this a great business idea. Coursera's spokesperson has confirmed that the company is now worth over $1 billion and has more than 47 million users. Apart from being flexible and affordable, these platforms can help to master literally anything from gardening to science.
In this article, we will discuss why Coursera and Udemy have gained so much success, how to build an eLearning platform from scratch, and what features to include. Get familiar with our step-by-step guide and learn about one of the fast-growing and profitable niches on the global market.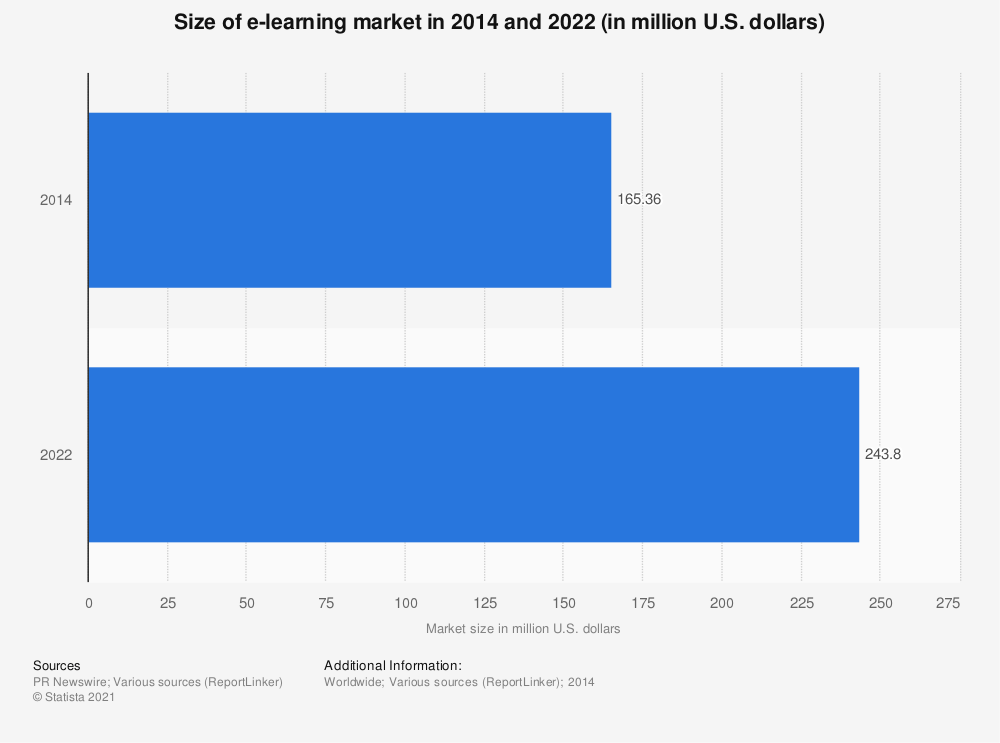 E-Learning Market Size in 2014 and 2022
eLearning Platform Definition
To create a platform like Coursera or an app like Udemy it is important to understand what e-learning platforms are and how they operate. This term was first mentioned at the CBT seminars in 1999 and referred to online lessons. Now e-learning gives millions of students a chance to study at leading universities and academies, and even obtain degrees without leaving their homes. By using a smartphone, laptop, or tablet, users join a virtual classroom and can study at their own speed.
At the moment, there are dozens of e-learning platforms with Udemy and Coursera at the top of the list. Here are the types of digital platforms available:
Massive Online Open Courses (MOOCs)

Virtual learning environment (VLE)

Video streaming services like YouTube

Podcasts

Forums

Discussion boards

Visual instructor-led training (VILT)
The most popular platforms are MOOCs, and below we will discuss how to build a website like Udemy or Coursera that will be a success.
Udemy vs Coursera: a Brief Comparison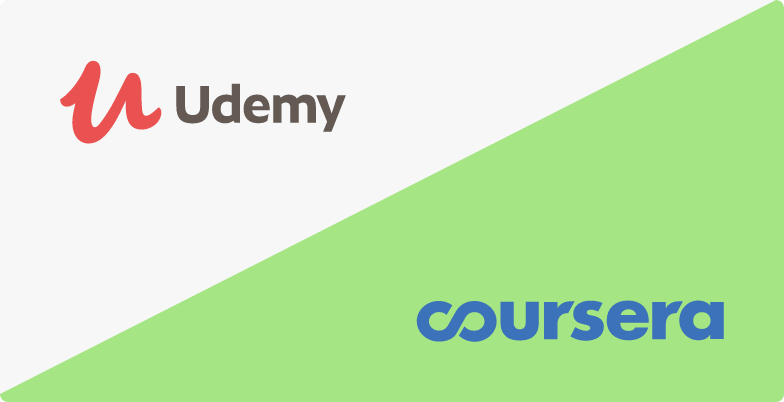 To build an online education platform it is necessary to look up to successful market representatives like Udemy and Coursera. While both of them are MOOC representatives, their business models differ.
At the moment, Udemy offers more than 130,000 short-term courses and training sessions created by individual tutors and instructors. The prices per course vary from a few dollars to hundreds of dollars. Compared to Udemy, Coursera has only 2,700 courses, but the platform works with colleges and universities and gives access to lectures recorded by professors.
Coursera cooperates with almost 150 institutions in 29 countries including Stanford, University of Michigan, and London Imperial College. Half of the courses are free and students only need to pay to get a certificate. There is also a chance to obtain a Bachelor's or Master's degree for $10,000-$15,000 per year.
Here is a comparison table with key indicators of both platforms:
| | | |
| --- | --- | --- |
| | | |
| Launched | 2010 | 2012 |
| Number of users | 50+ million | 47+ million |
| Number of courses | 150,000 | 3,600 |
| Number of partners | 42,000 instructors | 150 universities |
| Number of categories | 3000 | 310 |
| Estimated value | $2 billion | $1 billion |
What Makes Them Successful
More and more businesses are interested in how to develop a website like Udemy and Coursera which will significantly outperform competitors. Let's look at several features that make these e-learning platforms so popular:
Experienced tutors. Students get access to courses and programs from skilled instructors and leading universities;

Multi-language platforms. There is no need to know English because many courses are recorded in foreign languages;

Rating system. Before joining a course, users can see how others rate the tutor and the content. There are also feedback sections available;

Free and paid courses. There is the opportunity to pick from thousands of offers that fit any budget.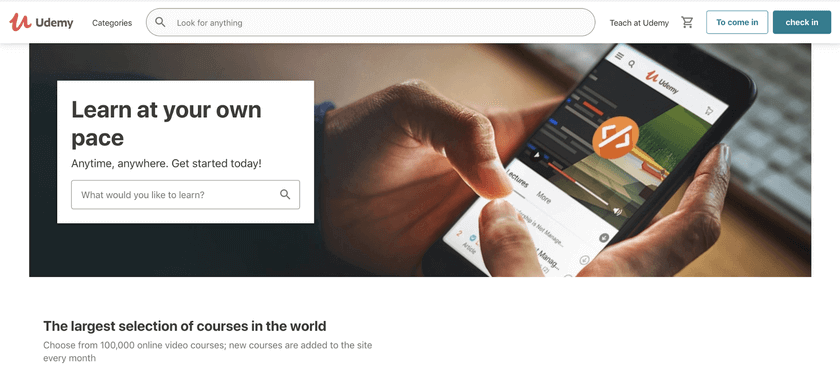 Udemy is the largest online learning and teaching platform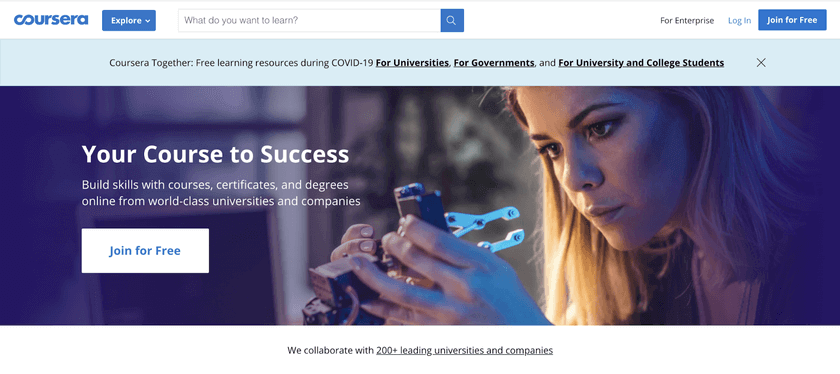 Coursera is America's largest open source online course provider
Reasons to Develop Your Own eLearning Platform
If you still wondering whether building a website like Udemy or Coursera is a good idea, here are a few facts to consider:
As you can see, the industry is growing at a fast speed and there is plenty of room for new participants.
How to Create Your Own e-Learning Website Step by Step
Creating a website like Udemy or Coursera requires time and attention. Below you will find steps to take to create a modern and profitable e-learning platform.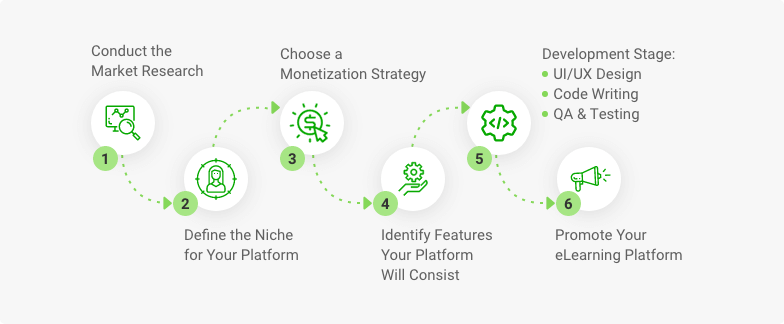 Conduct Market Research
All over the world people are looking for affordable remote education which means that e-learning platforms will continue to evolve. The first stage to creating one is to conduct a market analysis and understand what users want and how they behave. You should analyze the audience and understand what they need. Here are the metrics to collect:
Age, gender, and educational background of learners

Their goals and learning preferences

Skills that the audience possesses
When you know the learners and their interests, it's much easier to create customized and useful content that will meet their needs.
Define the Niche
To make a website like Udemy, it's important to understand what courses your platform will offer. Will they cover several subjects or will they be tailored to a particular industry and market?
To start out, we recommend focusing on the most common niches, like Business, Health, Personal Development, and Technologies. They will gain more popularity among students and increase profitability faster.
Choose a Monetization Strategy
When MOOCs were first introduced, they were free to use and supported the idea of open access to education. However, once leading colleges and universities started joining e-learning platforms, their owners decided to monetize the business. Here are a few strategies that platforms like Coursera and Udemy use to make money:
Certificates. Many platforms have free courses, but to get a verified certificate, students need to pay a certain fee. For example, a single MBA course on Coursera brought the platform over $20 million in revenues through certificate purchases.

Subscriptions. Platforms like Udacity grant learners with access to hundreds of areas for a fixed price. For example, $399 a month.

Donations. Non-profit e-learning platforms like Khan Academy are free to use but they get donations from learners and institutions. For example, AT&T donated $2,25 million for developing Khan Academy's mobile version.

Premium accounts. Upgrading an account for a certain fee may give access to more classes or a chance to download lessons and study offline.

Corporate programs. Both Coursera and Udemy have materials and tools for companies that are willing to train their staff. For example, Adobe paid Coursera around $150,000 for machine-learning courses.
Create Specification
Once the market, niche, and monetization strategy are defined, it is time to identify what features your e-learning platform will consist of. Specification enumerates elements that you want the developers and designers to include in the future platform.
Here are the core features to consider if you want to create a website like Udemy:
Filters and search with autocomplete. Courses should be found by keywords, categories, price, rates, and language.

Recommendations with trending and popular courses.

Rating and feedback from learners.

Specialization catalogs and categories.

Learning Management System or LMS.

Simple and user-friendly sign-up via Facebook, Google, and LinkedIn.

Student profile with learners' achievements, purchases, and wish lists.

Teacher profile where students can communicate with the tutor and find relevant educational materials.

Course pages with general information, curriculum, and reviews. The majority of courses should also include videos, recordings, textbooks, podcasts, and chats.

A dashboard. It helps both learners and tutors to monitor progress and get information about studies and work. For example, learners can see the courses and programs they have completed and the number of hours spent on the platform. Tutors can monitor added courses, traffic, and earnings.

Creating a course. Instructors without technical background should be able to create a course with ease. Class-building tools should allow for developing the structure of the course, adding exercises and materials, and uploading audio, video, and text files.

Payment options. On the platform, learners spend and tutors earn, so you need to take this feature seriously. Consider the most reliable payment methods like debit/credit cards and e-wallets. Also use SSL encryption protocols.

Administrative panel with statistics and blacklists.

Notifications. They will inform learners about updates, events, and new courses. But avoid being intrusive. Notifications should come once every two or three weeks and contain only the most important information

A blog with the latest categories, courses, and useful articles.

Customer support. Managers should be available via email, live chat, social media accounts, and a phone number. Considering that the audience is international, it is a good idea to make customer support work 24/7.
Development Stage
Finally, it is the right time to develop the architecture of project specifications, build a plan and schedule, and distribute tasks among designers, developers, and testers. Here are the stages this process includes:
1. UI/UX design. Your platform should be user-friendly, intuitive, and appealing.
2. Code writing. Software providers write the code to create features that your platform should include.
3. Testing. The platform is tested both automatically and manually to make sure that it is free from bugs and can withstand the load
Looking for developers to bring your ideas to life? KeyUA is a team of 50+ experts and more than 150 successfully completed projects.
Develop a project
Promotion Stage
When the platform is transferred to the server and introduced to the audience, it is important to reach as many potential customers as possible. Use blogs, specialized websites and forums, and social media to grab and hold the interest of the learners. Reach out to influencers and bloggers who will tell their subscribers about the platform.
In addition, you can offer users a passive income. A chance to make money by bringing new learners to the platform is a tool that both Coursera and Udemy apply.
Minimum Tech Stack for Creating eLearning Platforms
Technology stack is a list of technologies that are used to create and run a particular application. It includes frameworks, programming languages, and other tools that make products viable. Below we will discuss Coursera's and Udemy's tech stacks in more detail. After which, you will be able to pick correct technologies for your own e-learning platform.
Udemy's Stack of Technologies
There are dozens of programming languages at the moment, so everything depends on your own preferences, as well as on the experience and skills of the development team. When Udemy was launched, it used open-source PHP and a custom MVC framework.
However, as the market and technologies evolved, it started using Python and the transition still continues. When it comes to databases, Udemy stopped their choice on MySQL. Many e-learning platforms use ElasticSearch for search and analysis. Udemy utilizes Cloudflare for content delivery and Fastly to manage a heavy workload.
Udemy is using HTML-5, CSS3, Angular JS, and JavaScript to make the platform modern, convenient, and functional.
Apart from regular technologies and programming languages, Udemy uses a variety of tools to achieve multiple goals. For example, Slack, Trello, Salesforce, Dropbox, and Zendesk.

Udemy Web Application Technology Stack
Coursera's Tech Stack
In an interview, Brennan Saeta, Coursera's infrastructure engineer, said that the first code lines of the platform were written on PHP. When the team increased and technologies evolved, they started using Go and Python.
At the moment, Coursera uses Scala and applies Play framework. Like Udemy platform specialists, this e-learning website uses MySQL databases. They also utilize Amazon S3 cloud storage and Nginx web server.
To ensure positive user experience and comfort, Coursera has chosen JavaScript, Bootstrap, and ReactJS.
To improve productivity and cooperation, this platform uses such applications as G Suite, Slack, and Jira. To create an e-learning platform, you will also need various plugins and APIs to connect the website to third-party tools.

Coursera Web Application Technology Stack
How Much Does it Cost to Develop an Online Elearning Platform?
Now that you know how to create a website like Coursera the only thing left is to estimate the required budget. To develop an e-learning website you will need such specialists as back-end and front-end developers, designers, QA testers, and project managers. Here are the estimated duration and costs of launching a teaching platform with a basic set of features:
Creating specifications. 40+ hours, starting from $1,200

UI/UX design. 100+ hours, starting from $3,000

Back-end development. 240+ hours, starting from $7,500

QA. 24+ hours, starting from $720

Management. 30+ hours, starting from $950
Completion of an MVP e-learning website takes around 2 months.

Estimated Cost of Building an E-Learning Platform
Final Thoughts
Udemy and Coursera are among the best e-learning platforms with thousands of courses, millions of learners, and over a billion dollar in revenues. Considering the growing interest in remote learning, building such a platform is a great business idea.
However, it is impossible to succeed by cloning market leaders. Your platform should be unique and offer new functionality and services. If you are looking for experts to build an e-learning product, KeyUA is the right option. We use the latest technologies and unique approaches to launch profitable and demanded products.
KeyUA is a software development company with 12+ years of experience. Entrust your project to those who understand your needs and are committed to your goals.
Contact Us