Engaged users are loyal users. More robust engagement leads to higher retention and improves revenue per user. While there are certain general retention practices among all app categories, dating applications remain very specific in this aspect. Curious about how dating apps keep users engaged?
Find out what makes people renew their subscriptions and how to increase user engagement and retention in your dating application.
What Is User Engagement, Retention, And Churn?
Attracting new customers is not the only thing needed to keep a dating app popular and profitable. It is essential that users stick with your brand and become regular customers. A measurement of how much time a user spends with an app is called "user engagement".

Engagement Rate Calculation Method
When a customer comes back after their initial use, the continued app use is called "user retention".

App Retention Rate Formula
There is one more parameter used to evaluate user statistics called app churn. Investors always consider it to assess whether or not a product is worth an investment. While app retention rate shows customer loyalty within a specific period, app churn rate reveals when the app lifecycle users start dropping off.

Churn Rate Calculation
Andrey Onopriyenko, KeyUA Chief Technology Officer, admits that "These parameters are dynamic. While companies aim to increase their dating app retention rate, it is important to evaluate the changes in statistics after adopting various marketing campaigns and software updates. It helps balance investments correctly between numerous approaches. It also defines the most efficient engagement and retention triggers for a specific dating product.
Retention and churn rates are opposite parameters that give 100% in sum. For example, if a monthly app retention rate is 8%, the monthly churn rate will be 92%.
Statista reveals that an average monthly retention rate for dating mobile applications is 5.1%. Almost 95% of daily active users are gone within a month from install. However, the dating app users are naturally very engaged, providing high potential for their monetization.
Engagement & Retention Marketing Drivers
The best way to understand how to increase user engagement on a dating app is to analyze the behavior and needs of your customers. The psychology behind user actions can prompt the right strategies to make your product a favorite on a user's smartphone.
Finding an exclusive partner for romantic relationships or someone for casual sex is not the only reason people use online dating services. According to FinancesOnline report, 39% of online daters find it something exciting and funny to do in their spare time: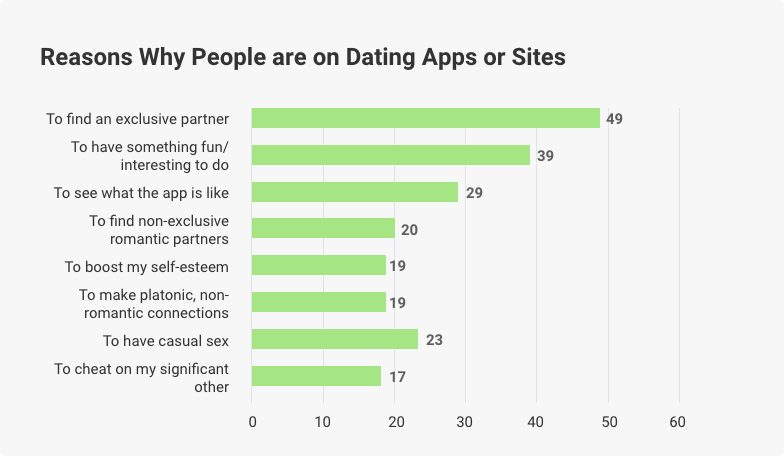 Reasons Why People Use Dating Applications
To get more insight regarding online daters' demands, check our Dating App Revenue and Usage Statistics (2021) in our separate post.
Desire to stop being lonely, have fun, curiosity, and diversity are the key drivers that engage online daters. These insights give a clear understanding of what features can potentially increase user engagement on dating apps. Quick registration, timely and helpful onboarding tips, profile accessibility, security, and safety are among the must-haves of a successful application.
Combining a well-thought website functionality and a suitable retention marketing strategy can improve user engagement and retention rates, eliminating drops. Keeping those metrics stable is highly important, as a decrease of just a few percentages may lead to up to a 90% profit loss.
Find out how to create a dating app to please the customers' expectations in terms of functionality. Also, check the best techniques for engaging users below.
10 Ways to Boost Engagement Metrics
Some methods work well for boosting user engagement and retention for a dating app. Relying on the latest marketing researches in the industry, users prefer applications that give more:
Convenience: quick user journeys, straightforward UI/UX
Diversity: for a dating app, it mostly means a big pool of suitable candidates
Personalization: the ability to sort out profiles by preferable criteria, personalized interactions, and content
Security: no scam and other inappropriate experiences
Privacy: flexible profile visibility settings, ability to hide notifications, keep communication secured
Fun: gamification mechanics and rewards
Here are techniques that help adopt these practices into a dating app.
1. Simple Onboarding
A seamless onboarding experience helps reduce the abandonment rate. The easier it is to begin using a dating app, the more likely users will stay with it. The first impression is imperative, and the right and timely onboarding can bring up to 50% higher user engagement. Here are some tips on how to optimize your dating app onboarding routine:
Is your onboarding tips right: do not load the screen with too many tips at once. Focus on the key features necessary for a user to move on with their specific journey.
Value the user's time: don't make users swipe through dozens of text-heavy tutorial screens before they try the app features by themselves. It's too dull to read tons of information without any action and result.
Teach by doing: show the hints when some action is triggered to explain how to move to the next. Walk a user through the main steps to see the result.
End with a call to action:

engage a user to take action at the end of each onboarding session.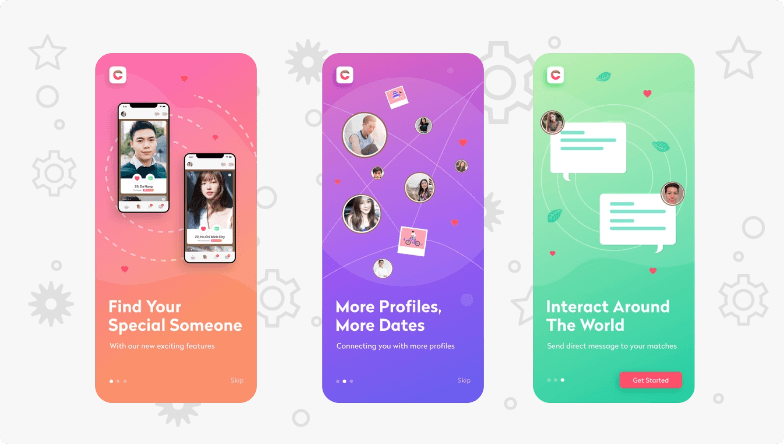 Call to Action Variations in a Dating App
Provide a user with a detailed tutorial if they want to know more about using the app. Make an easy-to-use search menu to let users find relevant tips for their requests.
2. Optimized Account Creation and Sign in
An online dater wants to access potential matches as soon as possible after downloading the app. However, many users may abandon the application if asked to fill in too much personal info when creating a profile. To engage users from the very beginning, follow these recommendations:
Provide several ways to create an account for the user's choice: sign-up via Facebook, Google, phone number, etc.)
Only ask to fill in essential data during the account creation and leave the rest for later.
Extended profile information is better to make optional: a user wants to choose what details to make public.
Add context to your requests: explain why you ask for information and how a user will benefit from it.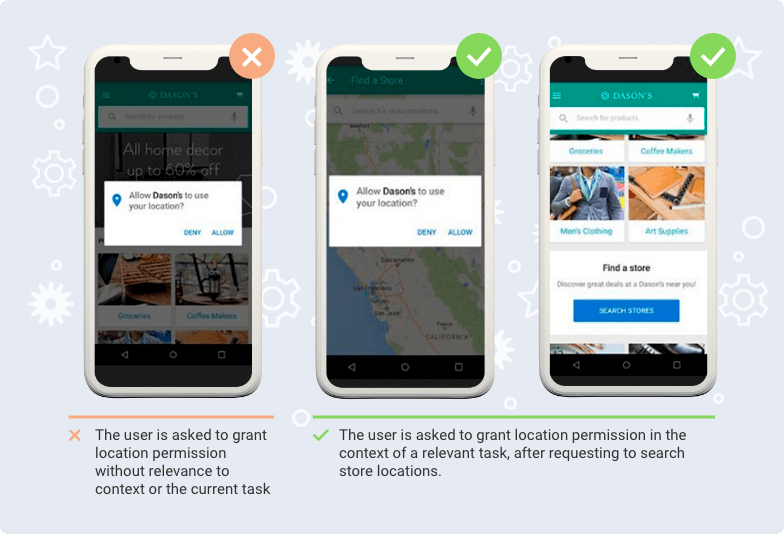 The Right Context for Asking Location Tracking
Another good point is to consider a login-free experience. You can demonstrate the benefits of your dating app in action before asking a user to sign-up to increase engagement in your dating app. Let a user see the actual value of your app content to motivate them to join.
3. Relevant Push Notifications
Numerous studies confirm that sending some push notifications is better than sending none. An Airship report shows that brands can increase a 90-day app retention rate by 190% if they integrate push messages. It would be best if you deliver personalized notifications. Otherwise, 52% of consumers would consider switching to another application. A few tips that will help to get maximum retention:
Build messages based on profile info and user behavior.
Put clickable buttons as a call to action.
Launch local-based notifications based on the events on the user's device.
Embed media content (images, video, etc.) inside messages.
Be creative in your texting to catch the user's attention.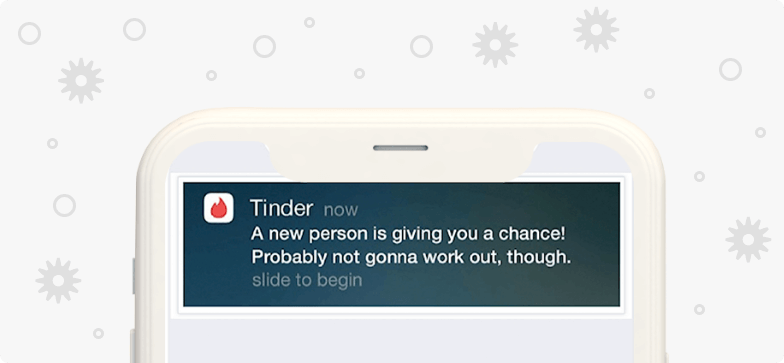 Tinder Push Notification
You can use push notifications to return users who haven't used your dating application for some time. A reminder with some personalized content helps decrease the churn rate.
4. Better Matching Filters
A GWI survey revealed that 28% of UK and US daters would use a dating app more if it provides personalized matches based on individual preferences. There is a standard set of filtering criteria, including age, gender, height, weight, occupations, etc. Think about a couple more filtering options that can extend the capability to sort out better matches for a user.
One of the most popular filters in dating is geolocation. 25% of respondents in the GWI study confirmed that having more choices in their location would engage them to use a dating service more. It would be great for a user to search based on their home city or define a radius for the search. It helps users living in small towns to get more suitable matches and determine a comfortable distance for meetings.
5. Better Security
Online daters prefer keeping their activity private and restricting access to their profiles from colleagues, family, or friends. Confidentiality and safety significantly improve dating app retention, as users feel comfortable and develop high-level loyalty to your brand. There are a few critical points for enhancements:
Account verification: daters want to communicate with real people
Profile privacy: for example, hiding your profile from specific users or phone contact lists
Scam-free platform: the ability to report suspicious activity at any moment, profile monitoring, and authentication
No inappropriate content or abuse: automated content moderation, reporting, and timely support
It is especially vital for dating sites aimed at older audiences. While youngsters are more tolerant of obscene content and less concerned about privacy, it can become a decisive factor for older users to switch to another brand.
6. Deep Linking
Deep links are unique URLs that take a user to a specific part of an app. If the application is installed on your smartphone, a user will go directly to the linked screen. If there is no app installed, the deep link will redirect a user to the app install page in the proper app store.
Deep links are used for retargeting users who have uninstalled a dating application after some time. You can create a marketing campaign targeting users with a unique 'comeback' offer with bonuses or lower subscription costs. Deep links are widely used in promotional campaigns to increase downloads and reanimate customers' activity. Users get directly into the app with no need to google for its name or search for the appropriate content inside the app.
7. In-App Messages
In-app messages pop up inside the application. These are different from push notifications that appear on the phone's lock screen. In-app messages help to boost dating app engagement by delivering personalized and valuable content to users. To make it work, follow a few rules:
Deliver relevant information useful for a customer.
Make in-messages feel like an organic part of your app instead of a marketing campaign.
Build in-app messages based upon the user's behavior instead of sending bulk messages with some general information.
For example, you can notify a user when it's time to renew the subscription. If they have tried some feature for the first time, you can send a guide on using it to their inbox. Various studies reveal up to 30% growth of dating app engagement after adopting the relevant, organic in-app messaging strategies. Moreover, it is an effective way of communicating with users who switched off push notifications.
8. Gamification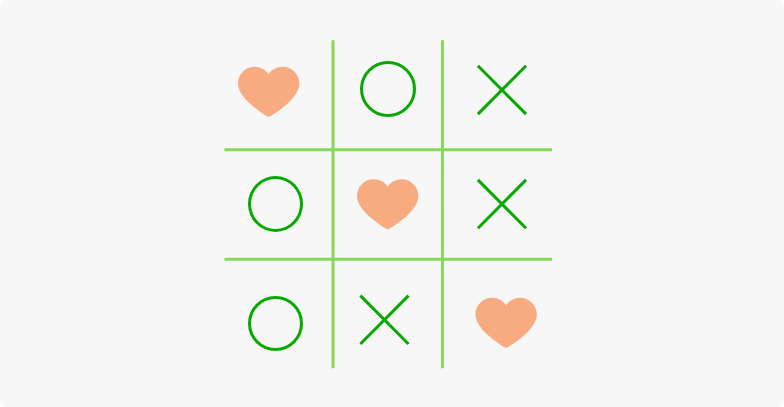 Gamification for Dating Apps
The natural human desire to win, achieve and get encouragement can work to benefit your software product. For example, numerous gamification mechanics help boost engagement in a dating app, stimulating users for regular activity. Tinder, Hinge, Bumble, and other market leaders turned the dating process into a game. They offer a user to swipe profiles left and right to get matches and win the ability to start communication.
There are many other techniques besides swiping that may help you gamify the user experience:
Scoring system
Badges
Challenges
Leaderboards
Game-like incentives
Achievements, etc.
You can grant users different freebies, discounts, or special offers based on their activity. As a result, the online dating experience becomes fun and exciting to continue besides helping users achieve their main goal - finding a partner for dating.
9. Incentivization
Giving users an incentive to use your dating application drives their engagement and retention. It is often applied as a part of gamification yet can be used separately if your product type doesn't imply any gaming experience. Additionally, incentives to access premium content, coupons, unlocked features, promotions, discounts, and other perks increase engagement and drive conversions.
It is also a way to connect a brand to important events. For instance, many dating services, including Tinder, Bumble, Match, Hinge, and OkCupid, launched various incentives for vaccinated users. Such users get special profile badges and access to premium features.
10. Regular Features & UI Updates
Dating applications are iterative, meaning they regularly update their functionality and user interface to stay competitive and up-to-date with modern trends. However, it also plays well with increasing engagement, as updates help keep users interested and excited with their experience.
To make the right improvements from version to version, rely on analytics and track your users' behavior and feedback. It helps determine the most valuable and compelling updates expected by customers. Competitor analysis also gives insights for the next product iteration. You can replicate your market rivals' success and create a product better than they did.
Takeaways
Acquiring users is essential, yet keeping them engaged is equally, if not more valuable, in terms of business success. Combining high-quality product development with effective retention marketing techniques from the list above is the right strategy for increasing the number of loyal, long-term customers for your dating service.
KeyUA experts can develop and implement an individual engagement & retention strategy based on your business goals and project peculiarities. If you are interested in getting the most from your customer base and keeping users excited with your product in the long run, let us know!
Looking for ways to boost your dating app retention and engagement? Consult the KeyUA team.
Contact Us